This is possibly my most proud creation!
I am seriously in love with how this turned out and equally in love with how easy it really was to make!
I first made this Chocolate Engagement Ring Box cake topper on my old blog, before I turned vegan.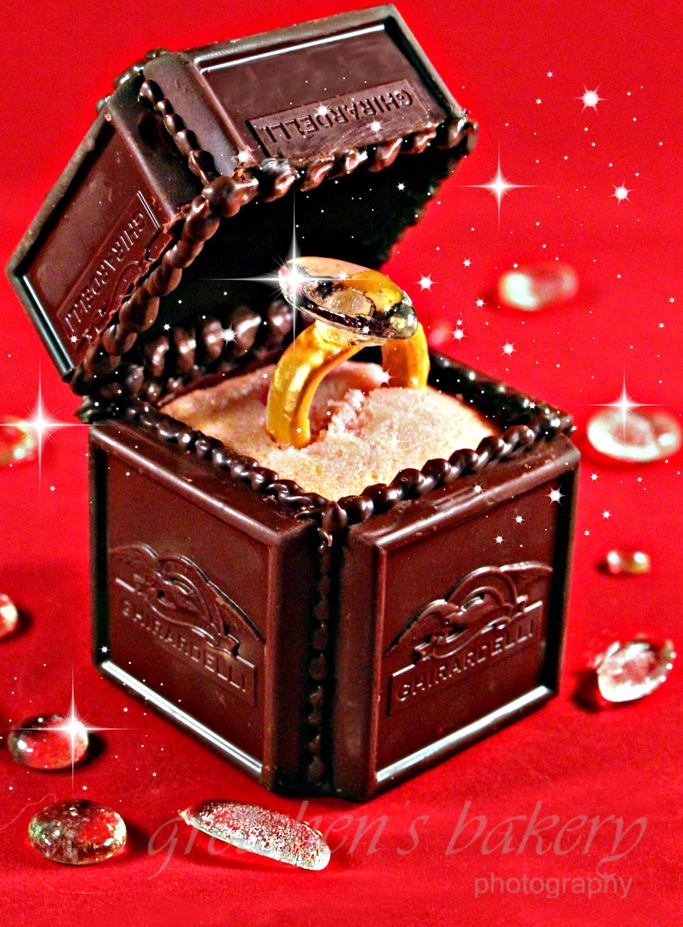 The only changes you will have to make this time around is to be sure to buy the Ghirardelli Chocolate Squares in Dark Cacao to be sure there is no milk in them.
Otherwise pick your favorite cake recipe to make the little cupcake to fit inside the box and you are golden! Literally!
I used my pink champagne cupcake recipe from my past life, (which I have not yet recreated) but this time the Red Velvet Cake or even just a standard Vanilla Cake tinted pink would work great!
It may look intimidating at first glance, but the video tutorial shows you just how easy it can be!
So I hope you will try it!
There is no recipe, just make a few cupcakes (yes you will have extra because you only need 1 to make this little box!)
But who's ever complained about extra cupcakes?
Then grab your bag of Ghirardelli chocolate squares 
and you will need some extra tempered chocolate to glue everything together.
Of course the little sugar and fondant engagement ring to place inside… I know I know I told you it seems daunting, but trust me!
It's not so bad and actually alot of fun!
The video tutorial explains everything so check it out!