It's hard to imagine a Valentine's Day without Red Velvet Cake!
So in honor of Cupid's Love Day~ I present to you my Vegan Red Velvet Cake for Valentine's Day!
This cake is so moist with cream cheese filling and buttercream icing.
I even dug out my set of Russian Piping Tips to decorate these little individual cakes!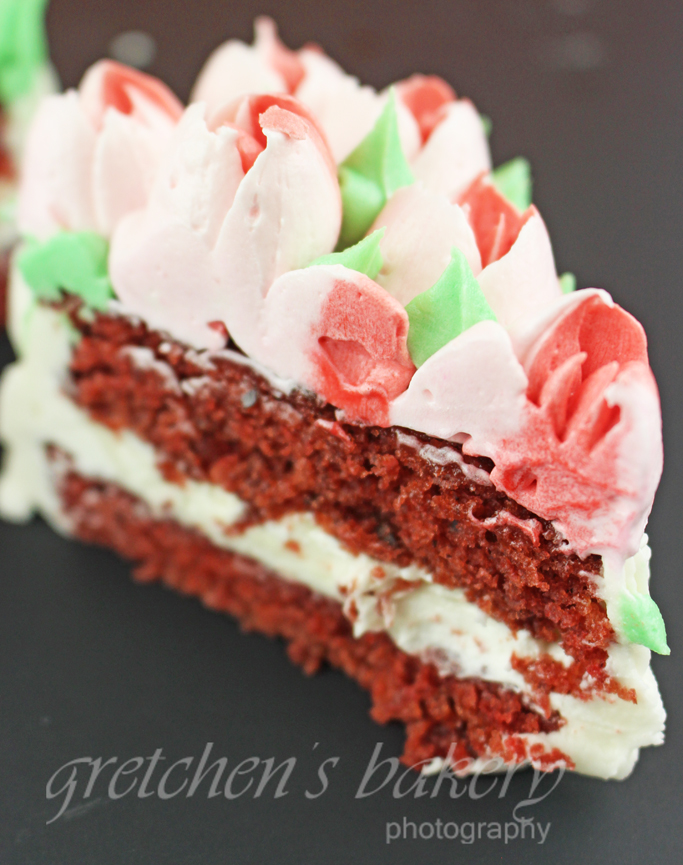 Of course you can make this entire recipe into an 8″ layer cake instead, just by dividing the cake batter evenly into 2 greased and parchment lined 8″ cake pans.
But if you want to spend a little bit more time on this project to make these adorable little individual cakes like I did, you would simply bake all the batter into a 9″ X 18″ half sheet pan and then cut out each heart shaped layer!
Yeah, I know, "totally extra" but totally worth it when you give these mini cakes as gifts to the special people in your life!
By the way for those wanting to cut back on the amount of red food color we normally use click here for my updated version for a No-Dye Red Velvet Cake
I am using straight up cream cheese filling with buttercream icing here on mine.
Another option is to make a combination of those two recipes for a perfect Cream Cheese Buttercream!
Click here for Cream Cheese Buttercream, as shown in my carrot cake video, using all vegan ingredients of course! 🙂
Vegan Red Velvet Cakes for Valentines Day
This is a
building on recipes project
so be sure to prepare the cream cheese icing and buttercream recipes while the cakes are baking, or even up to 3 days ahead of time
If you are not using fresh beet juice, increase the hot water in the flax meal to 5 Tablespoons total
Prepare a
12"X18" sheet pan
with
pan grease
and parchment lining
Serves:
8- Individual Heart Cakes
Ingredients
For the Red Velvet Cake
All Purpose Flour 2½ cups (312g)
Granulated Sugar 1½ cups (300g)
Baking Soda 1 teaspoon (5g)
Salt ½ teaspoon (3g)
Natural Unsweetened Cocoa Powder 2 Tablespoons (12g)
Vegetable Oil ½ cup (120ml)
Almond Milk 1 cup (240ml)
Flax Meal 2 Tablespoons (16g)
Hot Water 3 Tablespoons (45ml)
Fresh Beet Juice 2 Tablespoons (30ml)
Red Food Color optional
White Vinegar ½ teaspoon
Vanilla Extract 1 teaspoon (5ml)
For the Cream Cheese Icing:
Vegan Cream Cheese 1 tub (8ounces)(113g)
Earth Balance Buttery Sticks or any vegan butter 4 tablespoons (56g)
Confectioners Sugar 1 cup (120g)
Vanilla Extract ½ teaspoon
For the Vegan Buttercream:
Earth Balance Buttery Sticks ¾ Cups (1½ sticks) (170g)
Hi Ratio Solid Vegetable Shortening ¾ Cups (170g)
Confectioners Sugar (Domino Brand 10X Sugar) 3 cups (360g)
Almond Milk 2 Tablespoons (30ml)
Vanilla Extract 1 teaspoon (5ml)
Salt ¼ teaspoon
Instructions
For the Red Velvet Cake:
First combine the flax meal with the hot water and whisk smooth, let it stand for 5 minutes to thicken
Combine the vinegar with the almond milk to sour
In a large mixing bowl combine the sugar with the oil, vanilla extract and beet juice (if using) and whisk smooth
Add the flax paste and the soured milk and whisk smooth
Sift all the dry ingredients into the sugar/oil mixture and whisk smooth again
Add optional red food color to spike it up then pour into a greased and parchment lined 12" X 18" pan and bake in a preheated 350°F oven for approximately 25-30 minutes or until it is springy to the touch when you gently press the center
Meanwhile prepare the cream cheese icing:
Smooth the vegan cream cheese with the room temperature vegan butter
Add the sifted confectioners sugar and then vanilla extract
Refrigerate while you prepare the vegan buttercream as follows
For the Vegan Buttercream:
Cream the earth balance with the shortening on high speed for 3 minutes then add the salt
Add the sifted confectioners sugar all at once then mix on high speed again for another 3 minutes
Add the almond milk very slowly while mixing on high speed then continue whipping for another 3 minutes
Combine the cream cheese icing with 1 cup of the buttercream for the filling, and reserve the rest of the buttercream for the icing
Continue as per the video instruction