Everyone needs the perfect cupcake recipe and here it is!
Chocolate and Vanilla Vegan Fudge Cupcakes.
These are my two go-to recipes that are easy to whip up and the fudge icing can be made while the cupcakes are baking.
You can literally have two dozen cupcakes in less than 2 hours!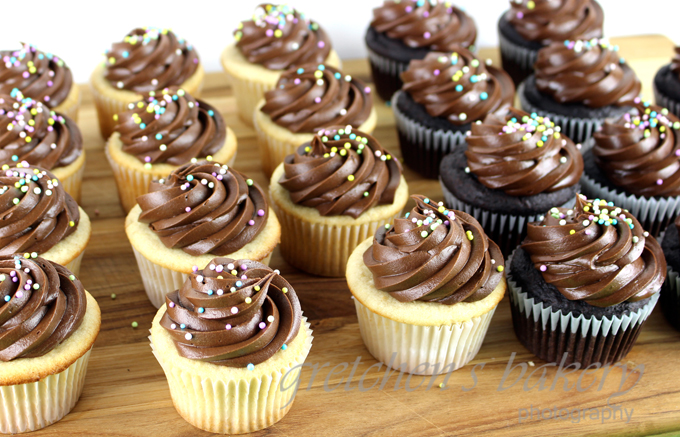 This fudge icing recipe is almost a exact replica of the one I made when I had my bakery.
It's been veganized of course and that is so simple to do just by using vegan butter!
Silky and smooth icing that pipes onto cakes and cupcakes like a dream!
Although I am a double chocolate gal, let's first start with moist, fluffy and amazing vanilla cupcakes!
My recipe for vanilla cake is so amazing and no weird ingredients or egg replacers to buy.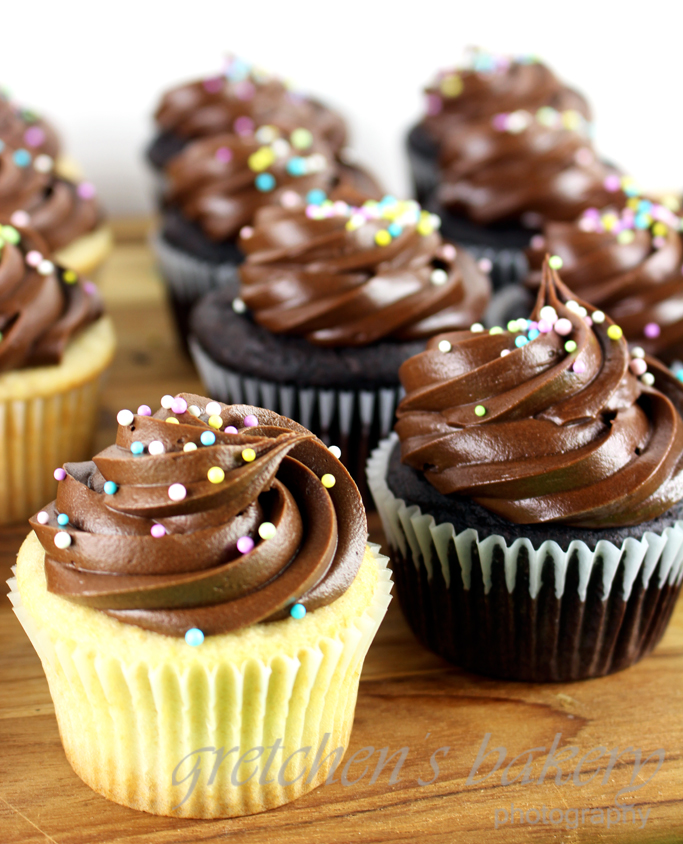 I use flax meal for the "egg" and the rest is literally flour, sugar and vegan butter!
Ok maybe a few more things that you already have like baking powder & vanilla extract!
But really that's it!
The vanilla cake recipe is a creaming method cake recipe so an electric mixer is needed to get that fluffiness required which helps rise the batter for this amazing texture!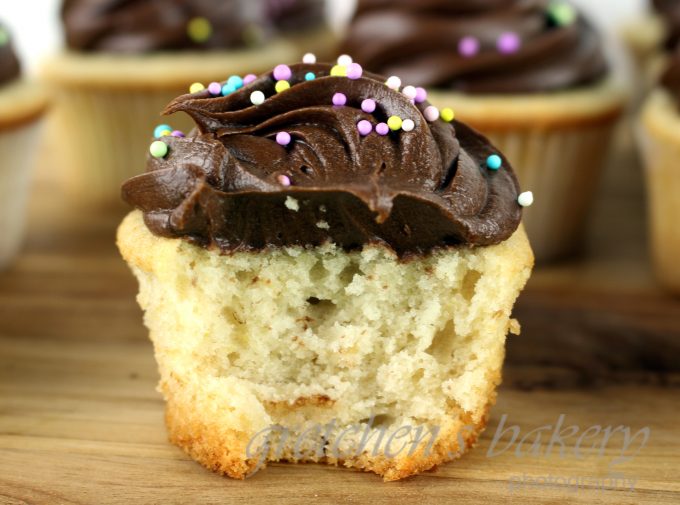 For those who are looking for an easy one bowl vanilla cake mix no mixers required, look no further!
Super Easy Vanilla Cake is a recipe from my cookbook Modern Vegan Baking and I just highlighted it recently for my New Year's Eve Egg Nog Cake!
So you don't even have to buy my book!
Although I think you may want to anyway!
CLICK HERE FOR THE FULL VIDEO TUTORIAL ON YOUTUBE FOR HOW TO MAKE THESE CUPCAKES FROM START TO FINISH!

Vegan Vanilla Cupcakes
Ingredients
Ground Flax Seeds 2 tablespoons (16g)
Hot Water 5 tablespoons (75ml)
White Vinegar 1 Tablespoon (15ml)
Soy Milk ½ cup (120ml)
Vanilla Extract 1 teaspoon (5ml)
Cake Flour 1¼ cup (150g)
Granulated Sugar ¾ cup (150g)
Baking Powder 2 teaspoons (10g)
Salt ½ teaspoon (3g)
Vegan Butter 6 Tablespoons (84g)
Instructions
Combine the flax meal with the hot water and let stand for about 5 minutes to thicken
Add the vinegar to the soy milk to sour
Sift the flour with the baking powder and salt
Cream the vegan butter with the sugar until light and fluffy and this may take about 3-5 minutes on medium to high speed
Add the thickened flax paste while mixing on medium speed, scrape the bottom and sides of the bowl to incorporate evenly, add the vanilla extract
Add about ⅓ of the flour to the creamed mixture then add half of the soured milk
Add another ⅓ of the flour and then the remaining sour milk
Add the last amount of flour and mix just to combine evenly.
Scoop batter into lined cupcake molds and bake in a preheated 375°F oven for 15 minutes then turn the oven down to 350°F for the remaining time, approximately 10 minutes more or until springy to the touch when you gently press the centers
The next recipe for easy "no mixer required" chocolate cupcakes originated with my
Black Chocolate Cake for Halloween
If you don't have dutch process cocoa though, you can simply try my Best Vegan Chocolate Cake recipe which is also no mixer required.
They are both equally amazing so pick which one works better for you ingredients wise.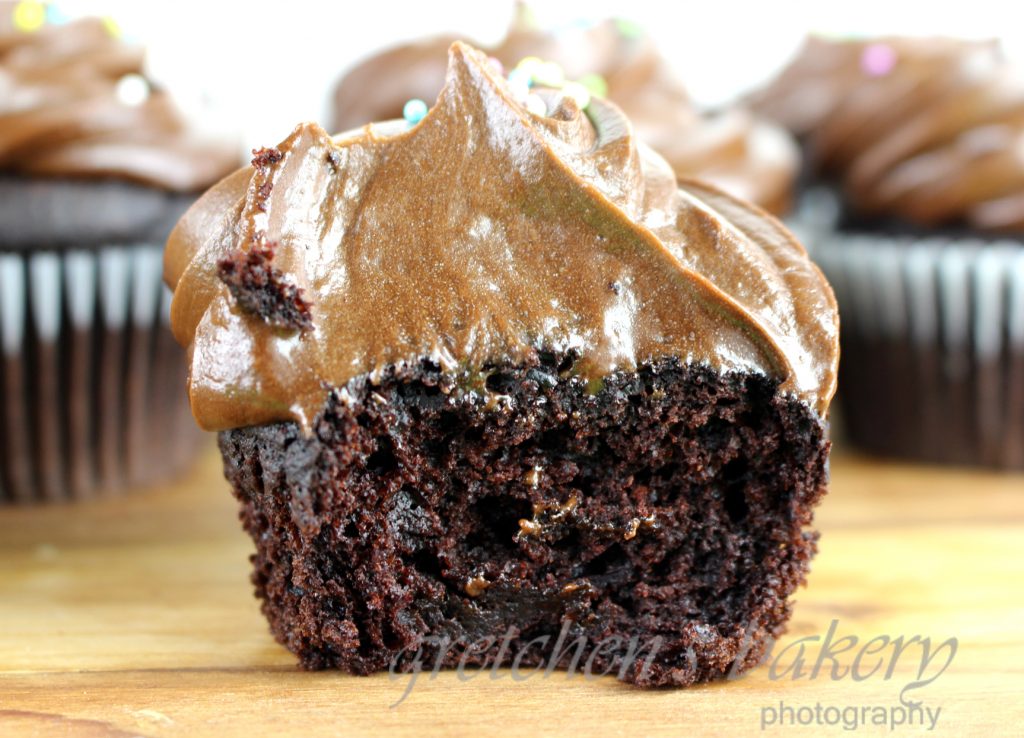 CLICK HERE FOR THE FULL YOUTUBE VIDEO TUTORIAL FOR HOW TO MAKE THESE CUPCAKES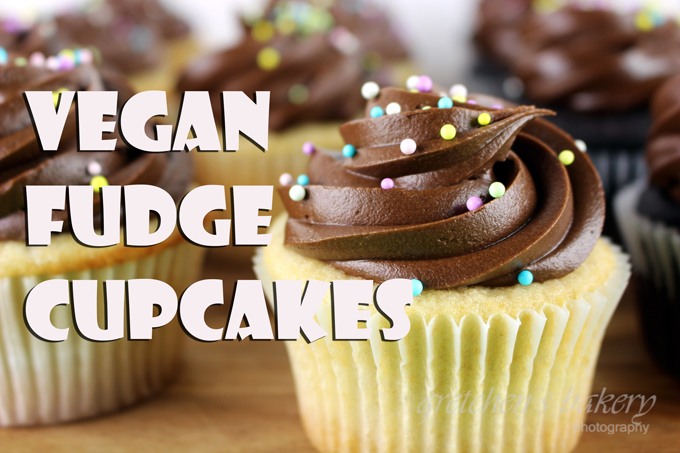 For more cupcake recipes click the links below!
Taco Tuesday~ Dulce de Leche Stuffed Cupcakes
Vegan Chocolate Cupcakes
Ingredients
All Purpose Flour ¾ cups + 2 Tablespoons (105g)
Granulated Sugar ⅓ cup (75g)
Salt pinch
Baking Powder 1 teaspoon
Baking Soda ½ teaspoon
Coconut Oil 3½ Tablespoons (50g)
Boiling Water ¾ cup (180ml)
Dutch Process or Natural Cocoa Powder ⅓ cup (35g)
Ground Flax Seeds 3 Tablespoons (24g)
Hot Water 5 Tablespoons (75ml)
Vanilla Extract 1 teaspoon (5ml)
Instructions
Combine ground flax seed with the 5Tbs of hot water and whisk smooth
Let stand for at least 5 minutes or up to 30 minutes to thicken to a paste
Combine the flour, sugar, salt, baking powder & soda together in a large mixing bowl
Combine the coconut oil, ¾ cup boiling water and cocoa powder together and whisk smooth
Add the cocoa mixture and the flax eggs mixture along with the vanilla extract to the flour mixture and whisk smooth
Scoop batter into cupcake liners filling slightly more than half full and bake in a preheated 350°F oven for approximately 22 - 30 minutes or until the cupcakes are springy to the touch when you gently press the centers
Now for the
Fudge Icing Recipe 
Vegan Fudge Icing
Ingredients
Granulated Sugar 5 Tablespoons (63g)
Water 5 Tablespoons (75ml)
Corn Syrup 2 Tablespoons (40g) (30ml)
Unsweetened Cocoa Powder 1 Cup (90g)
Vegetable Oil 2 Tablespoons (27g) (30ml)
Solid Vegetable Shortening 2 Tablespoons (25g)
Corn Syrup 4 Tablespoons (80g) (60ml)
* you can sub glucose or golden syrup here
VeganButter softened 8 ounces (2 Sticks) (226g)
Vanilla Extract 2 teaspoons
Confectioner's Sugar or Icing Sugar 2 lbs (8 cups) (900g)
Cold Water 4-6 Tablespoons to adjust the consistency
Instructions
In a small pot on the stove, combine the first 3 ingredients and bring to a boil for about 2-3 minutes then pour into a bowl and allow to sit in the freezer to rapid cool while you gather the other ingredients.
In the bowl of your Kitchen Aid mixer fitted with a paddle attachment, or in a large mixing bowl with a hand blender, add the cocoa powder and cooled but still warm simple syrup and mix until it forms a firm mass.
Add the vanilla extract
Add the Vegetable Oil and Solid Vegetable Shortening and mix well.
Add the corn syrup and the softened butter, mix smooth.
Add the sifted confectioners sugar a little bit at a time and mix until smooth.
Slowly add some of the cold water about 1 tablespoon at a time until you reach the desired consistency
Alternatively you can make up a batch of Ganache Icing instead for a LESS SWEET decadent icing for these cupcakes!