Crunch Bar meets Rice Krispy Treats in this new layer cake creation that I dreamed up.
Introducing Vegan Rice Krispy Crunch Bar Cake!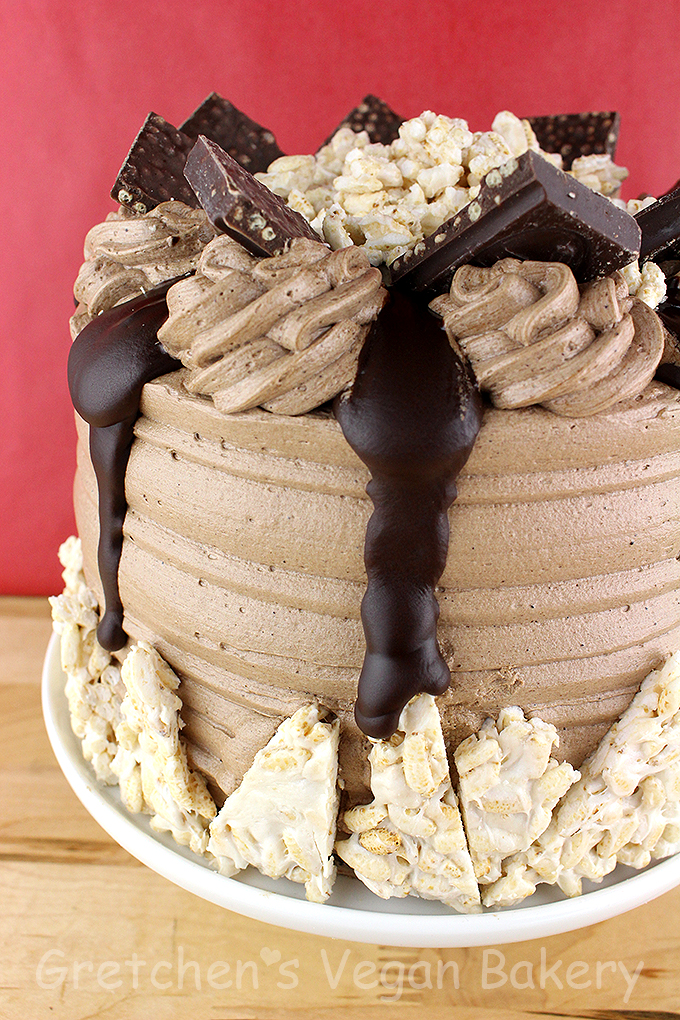 My original idea was to just make a rendition of the Nestles Crunch Bar candy bar in cake form, but my imagination starting running away as I couldn't get my mind off Rice Krispy Treats too!
So why not use them both!?
And I did!
Here I took my moist chocolate cake layers, chocolate buttercream and thin layers of rice krispy treats for a nine layer cake (Yes 9!)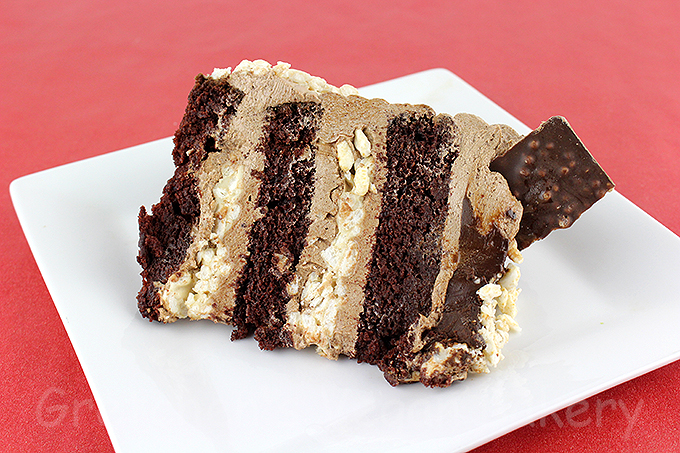 This cake turned out really great, but not on the first try!
If you have ever tried to put fresh rice krispy treats into a cake; it makes it impossible to cut!
The taste was amazing though so I didn't want to ditch the entire idea!
After a couple days of wondering how the heck I was going to get these krispy treats into my cake, the started to stale.
Serendipity!
Problem solved!
Stale rice krispy treats are crunchy and brittle and just perfect layers inside the cake!
Just like a crispy dacquiose would be, the marshmallow got crunchy and the rice resembled the crispness in a Crunch Bar!
Exactly what I was looking for!
This cake was meant to be and I know you will agree once you try it!
Just plan ahead since you do have to let those Krispy Treats stale for at least 3 days before assembling the cake!
By using Dandies vegan marshmallows and these Rice Milk Crunch Bars from Enjoy Life Foods you can recreate the cake exactly as I show you here!
Vegan Rice Krispy Crunch Bar Cake
I use earth balance vegan butter for my buttercream recipes, this is salted so I do not add any salt to the recipe, use your best judgment depending on what brand you use.
Ingredients
For the Cake
All Purpose Flour 1½ cups + 3 Tablespoons (212g)
Granulated Sugar ¾ cup (150g)
Salt ½ teaspoon (3g)
Baking Powder 1½ teaspoon (6g)
Baking Soda 1½ teaspoons (6g)
Coconut Oil 7 Tablespoons (98g)
Boiling Water 1½ cup (360ml)
Dutch Process or Natural Cocoa Powder ¾ cup (70g)
Ground Flax Seeds 6 Tablespoons (48g)
Hot Water 9 Tablespoons (135ml)
Vanilla Extract 2 teaspoons (10ml)
For the Chocolate Buttercream
Vegan Butter 1½ Cups (3 sticks) (336g)
Hi Ratio Solid Vegetable Shortening 1½ Cups (336g)
Vegan Confectioners Sugar 6 cups 720g)
Vanilla Extract 2 teaspoons
Cocoa Powder ½ cup
Hot Water ½ cup
For the Rice Krispy Treats
Coconut Oil 2 Tbs
Vegan Butter 2 Tbs
Dandies Marshmallows mini or large 5 ounces (half of a 10oz bag)
Puffed Rice Cereal 2 cups
For the Ganache
Vegan Chocolate semi sweet 4 ounces
Soy Milk 3 ounces (6 Tbs)
Instructions
First prepare the rice krispy treats about 3 days ahead of time to let them stale.
Combine the coconut oil and vegan butter in a medium sized sauce pot over medium heat to melt.
Add the marshmallows and whisk smooth to melted then remove from heat
Add the puffed rice cereal and stir to coat evenly
Divide krispy treat mixture into parchment lined cake pans the same size as your cake layers, be sure they are no more than ¼" thickness and the remaining gets spread onto a silicone mat also to ¼" thick
For the cake layers combine ground flax seed with the 9Tbs of hot water and whisk smooth
Let stand for at least 5 minutes or up to 30 minutes to thicken to a paste
Combine the flour, sugar, salt, baking powder & soda together in a large mixing bowl
Combine the coconut oil, the other measure (1½ cup) boiling water and cocoa powder together and whisk smooth
Add the cocoa mixture and the flax paste mixture along with the vanilla extract to the flour mixture and whisk smooth
Pour batter into 3 greased and parchment lined 7" cake pans and bake immediately in a preheated 350°F oven for approximately 25 -35 minutes or until the layers are springy to the touch when you gently press the centers
Cool cakes in the pan then flip them out onto a cooling rack to cool completely while you prepare the buttercream recipe as follows
Pour the hot water into the cocoa powder and whisk smooth set aside to cool
Combine the vegan butter and shortening in the Kitchen Aid (or stand mixer) bowl with the paddle attachment
Whip on medium to high speed for about 3 minutes.
Scrape the sides and bottom of the bowl to make sure it is evenly mixed then add the sifted confectioners sugar all at once.
Add the vanilla extract and *optional salt
Mix on low speed until incorporated , scrape the bottom and sides of the bowl and then mix on high speed for 3 minutes.
Add the cocoa paste then increase speed to high and whip for another 2 minutes
Prepare the ganache by combining the vegan chocolate and soy milk in a sauce pot over low heat stirring constantly until melted and smooth, cool before pouring over the cake
Assemble cake as shown in the video