Can't decide if you want chocolate mousse or cheesecake?
Make them both!
Chocolate Mousse piled on top of creamy New York style cheesecake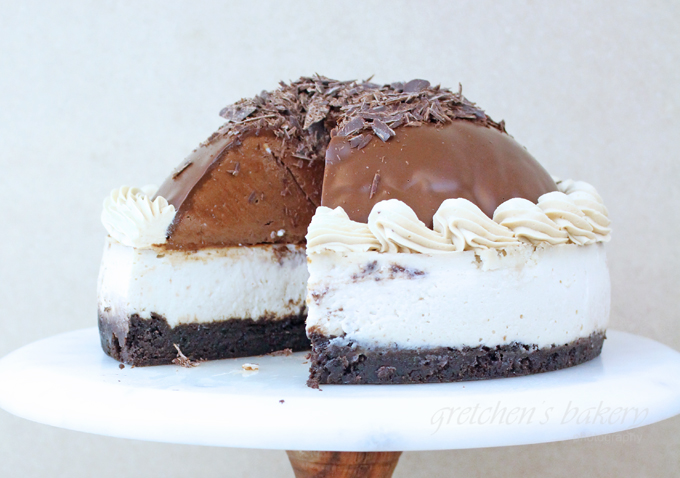 And if that is not enough it has loads of ganache icing and rum cake truffles!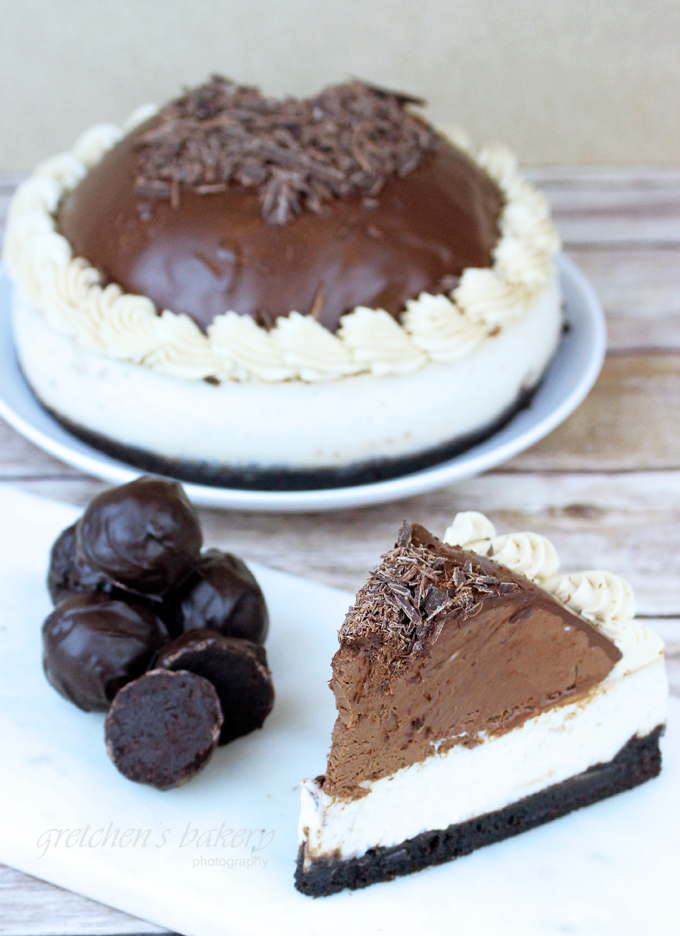 All baked on top of a fudge brownie!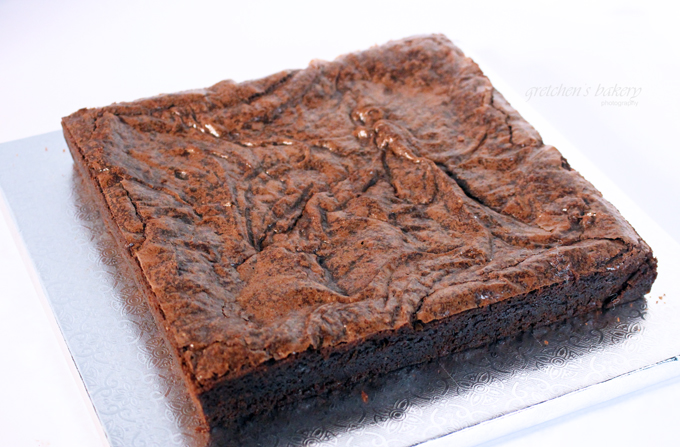 The Rum Cake Truffles are an optional garnish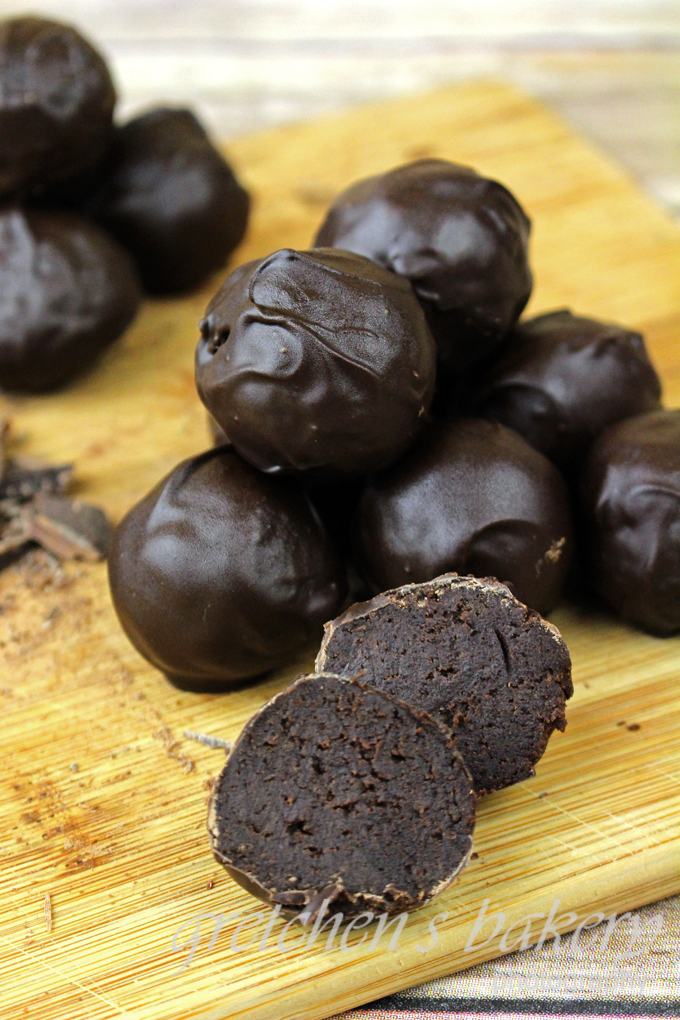 I had some leftover  cake scraps from my most recent recipe for Girl Scout Samoa Cake!
Ad  you know you never throw out your cake scraps!
Obviously this is an extra step that is not needed for this chocolate mousse cheesecake, but I think I got a little bit carried away!
So will you when you taste this combination!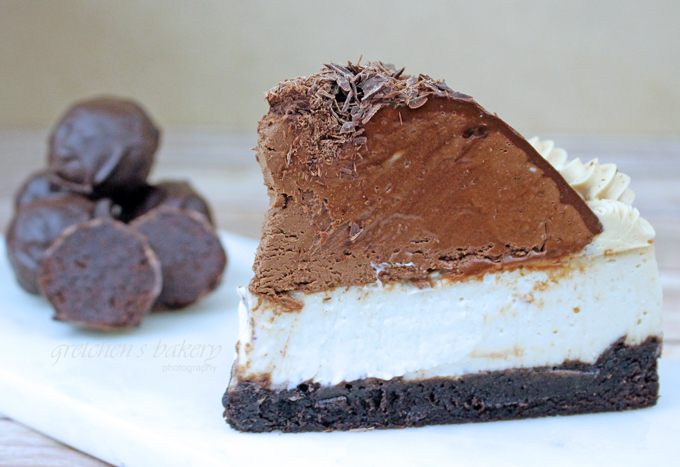 As with any over the top dessert like this one, you will have to prepare several recipes in advance.
In the video tutorial I show you step by step how to tackle this project to make your life easier in the kitchen.
CLICK HERE FOR THE STEP BY STEP YOUTUBE VIDEO TUTORIAL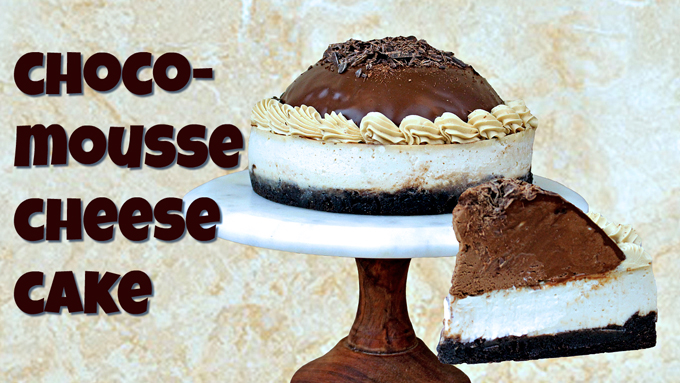 Literally everything can be made several days ahead of time, so when you are ready to slap it all together it is a really fast assembly
Note for Success:
I only use Tofutti Cream Cheese for my BAKED recipes. *not sponsored
I have not had success with any other brand in BAKED recipes.
For some reason the other more expensive brands I've tried have broken down into an oily mess when baked.
Cornstarch is a very difficult ingredient to measure consistently with a volume spoons measure
So while I list both measures below I cannot stress enough how the grams measure with a scale is going to give you the best results.
Many times people have complained that their cheesecake is like rubber and they don't know why!
This is from a heavy measure of cornstarch when using volume measuring spoon vs the 100% accurate scale measure in grams.
For more of the best vegan cheesecake recipe click the links below!
Chocolate Mousse Cheesecake
I am using the brownie that I showed you in my tutorial for how to veganize a box mix brownie. If you prefer to make a total scratch brownie recipe instead I have several to choose from
CLICK HERE
You will notice I am also using
the Plant Based Egg egg replacement
in this recipe, and while it is not imperative, I do think it adds great body to the final texture and creaminess of the cheesecake. If you do not have it or do not want to buy it, you can leave it out and add 2 teaspoons more cornstarch.
The agar in this recipe is not essential, this is a very sturdy mousse for molding so if you do not have agar- you can totally leave it out and it will still be great, sliceable and durable!
Serves:
serves 8-10 people
Ingredients
½ Recipe Fudge Brownies *You can make the full batch but you only need 1-7" layer for this recipe
For the Cheesecake:
Vegan Cream Cheese 16oz (226g)
Melted Vegan Butter 2 tablespoons (28g)
Sugar ¾ cup (150g)
Cornstarch 3 Tbs (40g)
All Purpose Flour 2 Tablespoons (15g)
The Plant Based Egg 1 teaspoon (2.4g)
Plant Milk 1 cup (8 fluid ounces)
Vegan Lactic Acid 1½ teaspoons (or 1½ teaspoons apple cider vinegar)
Salt ¼ teaspoon
Vanilla Extract 2 teaspoons
For the Rum Cake Truffles:
Leftover cake scraps 2 cups
Ganache ¼-½ cup
Rum 3-6 Tablespoons
Vegan Semi Sweet Chocolate tempered *Or non tempering chocolate 8 ounces
For the Chocolate Mousse:
Semi Sweet Vegan Chocolate 8ounces (226g)
Hot brewed coffee 2 Tablespoons (30ml)
Vanilla Extract 1 teaspoon (5ml)
Aquafaba *Chickpea Water from Canned Chickpeas ¼ cup (60ml)
Agar powder ⅛ teaspoon *see note above
Granulated Sugar 4 Tablespoons (50g)
Cream Of Tartar ¼ teaspoon
Coconut Milk Full Fat 1- 15ounce can (*refrigerated overnight)
Instructions
First prepare the brownie recipe as per the instructions on that blog post.
If you made the full recipe, divide the batter in half and bake 1 half in a greased and parchment lined 7" cake pan.
The other brownie batter can be baked as you wish 🙂 Get creative 🙂
Bake in a preheated 350°F oven for 18 minutes and meanwhile you can prepare the cheesecake batter.
For the cheesecake combine all the ingredients together in a food processor or blender and process smooth
Wait for the brownie to be done baking, and let it cool for about 30 minutes in the pan before pouring the cheesecake batter over top.
Bake in a water bath in a preheated 350°F oven for 50 minutes.
Turn off the oven, but leave the cheesecake inside to cool for another 50 minutes, then let it cool completely on the counter for about an hour.
Refrigerate for at least 5 hours or overnight before unmolding.
Prepare the Rum Cake Balls by combining the cake scraps, ganache and rum together in a large mixing bowl and mix just until everything is combined.
Scoop balls onto parchment paper and then roll them to perfect shaped balls.
Dip in tempered chocolate and refrigerate until needed
For the Chocolate Mousse:
Combine the hot coffee and the agar powder and whisk smooth. Keep it warm or the agar will set and you will have to remelt.
Meanwhile open the can of coconut milk that has been refrigerated overnight and carefully scoop out the fat that is on top and place in a mixer with a whip attachment, use the coconut liquid for something else (like a smoothie or a recipe that calls for no fat coconut water)
Whip the coconut cream to soft peaks and reserve in the refrigerator
Melt the chocolate in a large bowl over a double boiler or in a microwave safe bowl
Add the hot brewed coffee with the agar and the vanilla extract to the melted chocolate all at once while whisking vigorously to incorporate well.
Add the reserved whipped coconut cream and whisk smooth
Whip the aquafaba/agar with the cream of tartar to stiff peaks while adding the sugar slowly
Take a small portion of the AF meringue and fold into the chocolate mixture to lighten.
Fold in the rest of the AF gently
Line a bowl that is 6" in diameter across the top with plastic wrap and pour the mousse into the bowl.
Refrigerate until set - it will actually set within 30 minutes! (That agar is a dream!)
Unmold the cheesecake, then the fully set chocolate mousse and assemble the cake as shown in the video tutorial
Notes
Chocolate mousse cheesecake must be kept refrigerated at all times.

It will stay fresh in the refrigerator for up to 10 days wrapped well to prevent drying out.

I do not like to freeze vegan cheesecakes, the texture changes to drastically