One more recipe from my cookbook Modern Vegan Baking!
Rich, exotic spices are infused into the cream to make this chocolate orange truffle tart.
Cardamom, orange, anise and cinnamon bring out the very best of the chocolate with this winning combination of flavors.
This is one recipe where you can choose how easy or difficult you want to get with it all.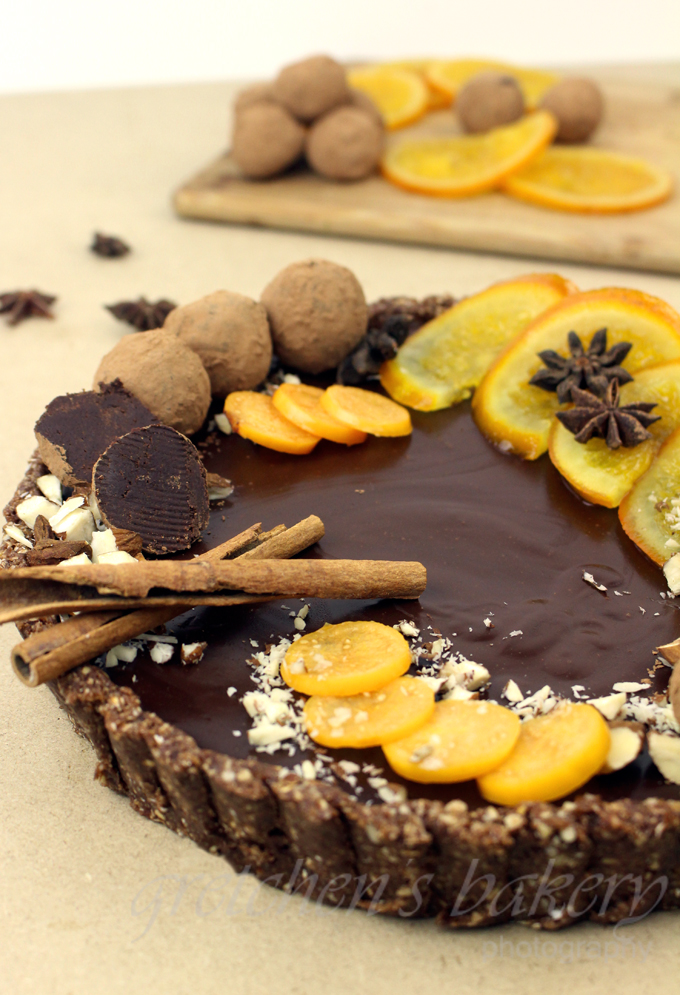 You can go super simple and forget about the candied oranges and truffles for an equally impressive, very fast dessert option and be done with the whole thing in less than an hour.
Or you can spend a little more time like I did and make those two extra recipes.
The candied oranges take the most time, but you can always make that portion of the recipe ahead of time; like weeks ahead if you want!
Honestly it is more for effect than anything, but it really makes the final tart look stunning.
The truffles can also be made several days ahead and just store them in the refrigerator until you are ready to decorate the tart (if they last that long!)
But again they are also more for stunning decor effect than for the actual dessert itself.
Or if you just  came for the truffles~ By all means!
You can have those done in no time!
So as you see this is quite the building on recipes project!
Pick out bits and parts or go for the whole thing!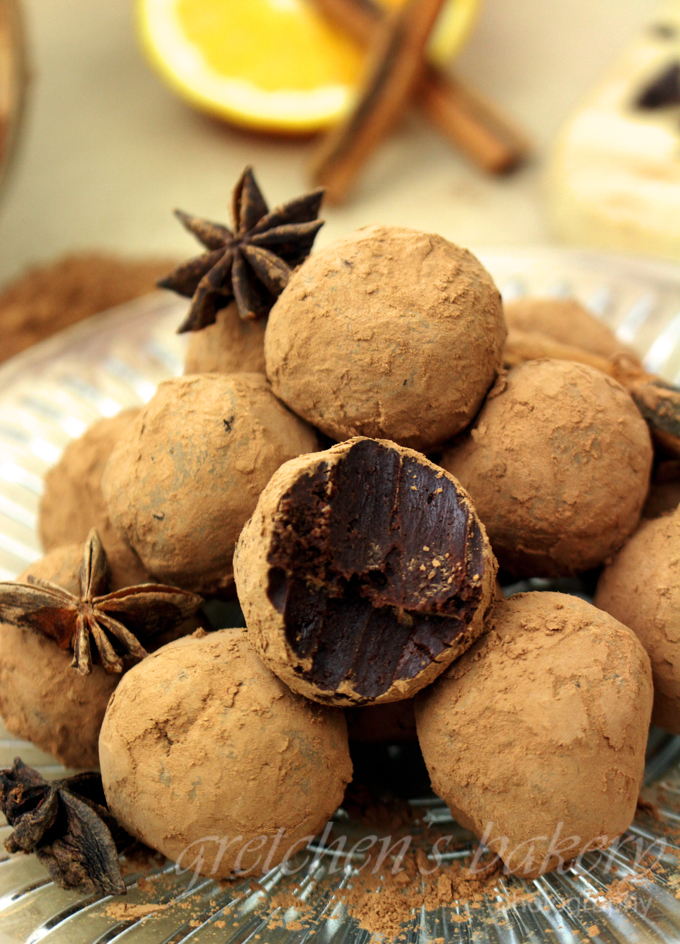 Whichever way you decide, this will be one unique twist to your holiday desserts table this year.
One note about the crust I am using, I understand so many people are allergic to nuts and seeds, so you can absolutely change the crust to a shortbread cookie crust or even a crushed cookie crust like graham crackers or chocolate sandwich cookies like when we make cheesecakes.
Chocolate Orange Truffle Tart
Don't be confused on the "cook time" listed below. This is a NO BAKE dessert, the cook time simply refers to the candied oranges.
The recipe for the truffles makes 18-20 truffles
Ingredients
For the Candied Oranges
2 large oranges *preferably seedless
1 cup Sugar
1 Cup Water
For the Truffles
Vegan Chocolate preferably dark bittersweet 70% cacao 9 Ounces
Coconut Milk (or any plant milk you prefer) ¾ cup
Anise pods 6
Cinnamon Stick 1 large
Orange Zest from 1 large orange approx 2 teaspoons
Ground cardamom ¼ teaspoon
Cocoa powder approx 4 Tbs for rolling
For the Crust
Rolled Oats 1½ cups
Almonds lightly toasted ½ cup
Cocoa Powder 2 Tablespoons
Dates 12 large (150g)
Coconut Oil melted 2 Tablespoons
Maple Syrup 2 Tablespoons *or the orange syrup from the candied oranges
For the Ganache Filling
Vegan Bittersweet Chocolate preferably 70% cacao 12 ounces
Coconut Milk (or any plant milk you prefer) 1 cup
Anise pods 6
Cinnamon Stick 1 large
Cardamom ¼ teaspoon
Orange Marmalade ½ cup
Instructions
First prepare the candied oranges by slicing them carefully on a mandoline slicer to ⅛" thick
Bring a large pot of water to a boil, add the sliced oranges and boil for 1 minute then shock them in a bowl of ice water to stop the cooking
Bring the sugar and water to a boil in a large saucepot and then reduce the heat to a simmer and add the drained orange slices.
Simmer for 45 minutes to 1 hours turning every 10 minutes or so and be careful they are not layered on top of each other.
Transfer the candied oranges to a rack with a slotted spoon to cool (you can store them in container in the refrigerator for up to 2 months at this point)
Reserve the remaining simple syrup for the crust or another cake project.
To make the truffles bring the coconut milk, anise, cinnamon, orange zest and cardamom to a boil and then turn off the heat and let it steep covered for about 20 minutes.
Meanwhile finely chop the chocolate and place in a large mixing bowl
Bring it back to a boil and pour it through a mesh sieve directly into the chopped chocolate in a large mixing bowl whisk smooth. Discard the spices or use it as added flavor in the ganache filling recipe below
Refrigerate until set and them scoop into 1" balls and roll to shape.
Roll them in cocoa powder and refrigerate for up to 1 month or until you decorate the tart.
For the crust combine all the ingredients in a food processor and process to fine grind the nuts and oats and until the mixture comes together.
Press into a 9" tart pan with a removable bottom, spread with the orange marmalade and then refrigerate while you prepare the ganache filling
For the ganache filling chop the chocolate fine and place in a large mixing bowl
Combine the milk, cardamom, anise pods and cinnamon stick in a sauce pot and bring to a boil.
Let it steep for 15-30 minutes then bring it back to a boil and pour directly over the chocolate in the bowl, discard the spices
Whisk smooth and pour into the prepared tart crust
Refrigerate until set
Decorate with the candied oranges, truffles and other edibles of your choice
Notes
Chocolate tart should be kept refrigerated but will be fine at room temperature for up to 4 hours.

Store in the refrigerator for up to 1 week

The candied oranges can be made weeks in advance and stored in the refrigerator in the cooking syrup in a clean container