How cute are these chocolate shortbread Reindeer Cookies?
No Christmas Cookie platter is complete without an appearance by the one and only Rudolph the Red Nosed Reindeer!
Complete with mini pretzel horns!
These cookies were quite possibly my favorite addition to my 12 Days of Christmas Cookies recipe series!
Not only because they are totally adorable, but I love me some chocolate shortbreads!
Crispy chocolate shortbread decorated with vegan royal icing and those salty pretzel horns were the perfect contrast of flavors!
I love a crispy, sandy textured shortbread cookie and this easy to make recipe is going to become a year round addition to your cookie recipe file!
This is part 3 of my 12 Days of Christmas Cookies recipe series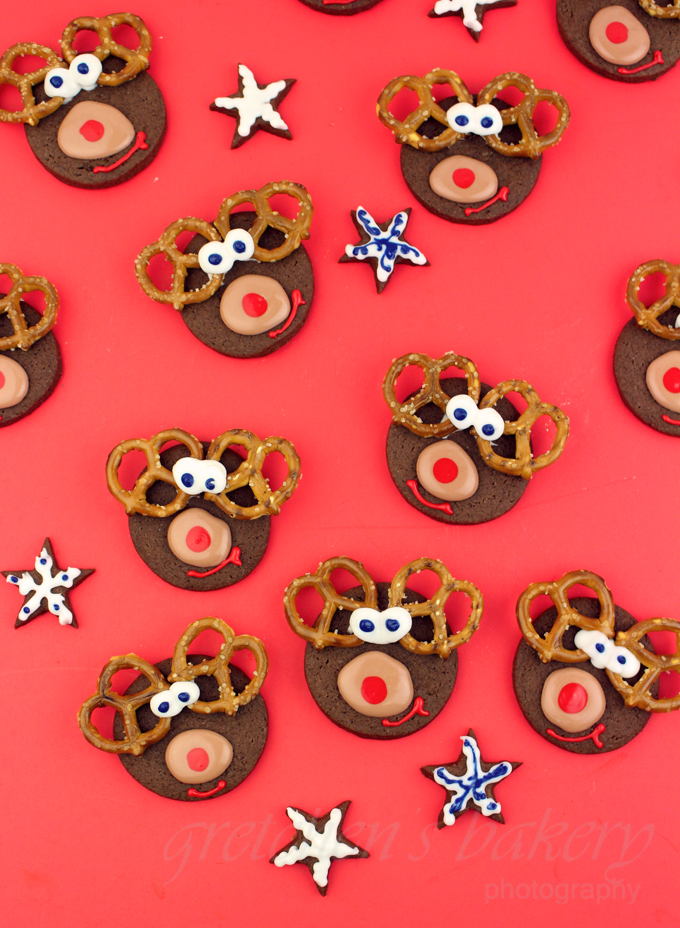 Reindeer Cookies
Serves:
approximately 30 cookies
Ingredients
For the Chocolate Shortbread Dough:
All Purpose Flour 2½ cups (312g)
Cocoa Powder ½ cup (40g)
Baking Powder 1½ teaspoons (7g)
Salt ½ teaspoon (3g)
Vegan Butter 1 cup (226g)
Granulated Sugar 1 cup (200g)
Aquafaba 4 Tablespoons (60ml)
Vanilla Extract 1 teaspoon (5ml)
For the Royal Icing:
EnerG Egg Replacer 4½ teaspoons (20g)
Warm Water 6 Tablespoons (90ml)
Vanilla Extract ½ teaspoon
Confectioner's Sugar 4 cups (480g)
Mini Pretzels for the Horns *as needed
Instructions
For the cookie dough
Cream the vegan butter with the sugar until light and fluffy, about 4 minutes.
Add the aquafaba and the vanilla extract and then stop the mixer and scrape the sides of the bowl
Next sift together the flour, cocoa powder, baking powder and salt and add it all at once to the creamed mixture. Mix just until it is all combined.
Wrap this dough disc in plastic wrap and chill for at least 2 hours or overnight before using or you can store it for up to 1 week wrapped in plastic wrap in the refrigerator.
You must re work this dough with some additional flour to a pliable consistency after it has been chilled. Do not skip this step.
Knead it with a small bit of flour until it is no longer a crumbly mass, but a soft pliable dough
Roll out the dough to ½ or ¼" thick depending on how thick you like your cookies, and cut them out with a 2½" cookie cutter
Transfer cookie cutouts to a parchment lined sheet pan and bake in preheated to 350° F oven for approximately 22 - 25 minutes depends on the size and thickness
For the Royal Icing
Combine the egg replacer with the warm water and whisk smooth
Place the sifted confectioners sugar in a mixing bowl and then add the vanilla extract and the egg replacer mixture.
Mix on medium to high speed until it is smooth
Color the icing brown, blue and red leaving some white.
On completely cooled cookies, decorate as shown in the video.
Allow cookies to dry slightly at room temperature
Notes
Store cookies in an airtight container for up to 2 weeks