This Chocolate Raspberry Truffle Cake is the ultimate fix for your chocolate craving!
Made from my very best chocolate cake recipe which also happens to be the easiest to mix! (No mixer required)
A deep, rich chocolate truffle ganache for the filling and a layer of raspberry preserves.
I was originally going to use my fudge icing recipe for the filling, but decided with that addition of raspberry preserves, I'd better go for something a bit more sophisticated and way less sweet than fudge filling!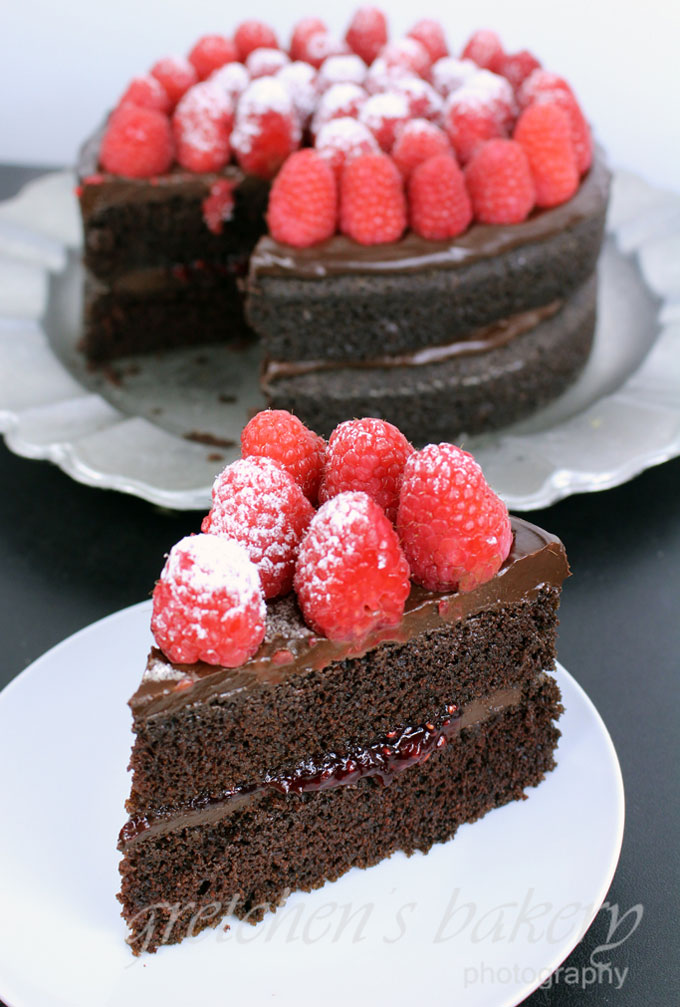 What a great choice (if I do say so myself!) because this cake was perfect in every way.
Not too sweet at all and this super moist chocolate cake was the best landscape to build these flavors.
The fresh raspberries on top were slightly tart which in my opinion gave another excellent balance to this profile!
So easy to make with just 2 recipes and a jar of jam!
Just one note about Cake Flour, as you will see I have a combination of both cake flour and all purpose here in this recipe.
Many people cannot get or don't know what cake flour is and get confused that it is simply self rising flour, this is not true CLICK HERE to learn more!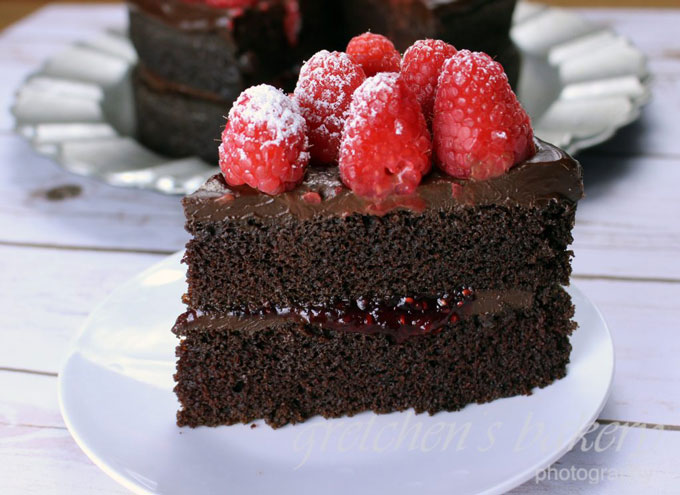 Chocolate Raspberry Truffle Cake
Ingredients
For the Cake:
All Purpose Flour 2 cups (250g)
Cake Flour 1 cup (120g)
Natural Cocoa Powder 8 Tablespoons (40g)
Granulated Sugar 2 cups (400g)
Salt 1 teaspoon (6g)
Baking Soda 2 teaspoons
Apple Cider Vinegar 2 teaspoons
Vanilla Extract 2 teaspoons
Vegetable Oil ¾ cup (177ml)
Strong Brewed Coffee 2 cups *Or add 3 teaspoons instant coffee to the water (approx 18g)
For the Ganache:
Semi Sweet Vegan Chocolate 8ounces (226g)
Soy Milk ½ cup (137ml)
Fresh Raspberries for the top 1-2 pints
Instructions
Sift both flours, baking soda, salt, and sugar together in a large mixing bowl.
Combine the natural cocoa powder with the hot coffee and then add the vinegar, oil and the vanilla extract.
Pour the wet ingredients into the sifted dry ingredients and whisk vigorously with a hand whisk until smooth (about 15 strokes)
Pour batter into greased and parchment lined 8" x 2" cake pans
Bake immediately in a preheated 350°f oven for approximately 30 minutes or until a toothpick inserted into the center comes out with moist crumbs
Meanwhile prepare the ganache by heating the soy milk until it just starts to boil, pour hot milk over the finely chopped chocolate in a large mixing bowl and whisk smooth
Let the ganache cool at room temperature while the cakes also cool
Build the cake as per the video tutorial