This is the chocolate truffle cake that will have everyone thinking you bought it at a bakery!
It's an easy one bowl mix for the chocolate cake and two ingredient truffle ganache for the icing and filling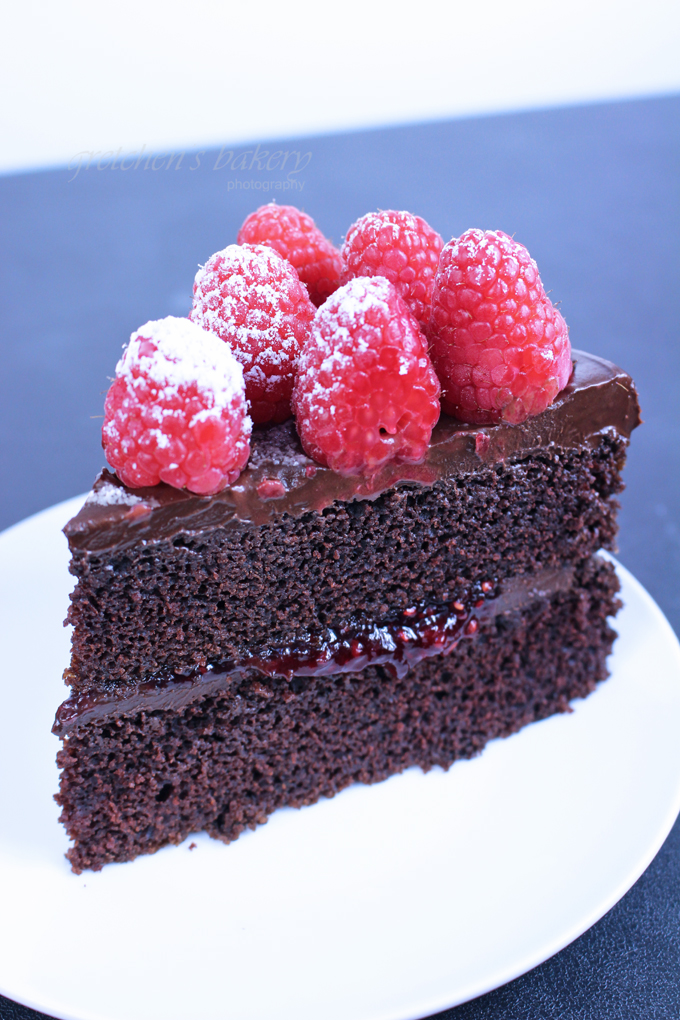 Good quality raspberry jam filling seals the deal with fresh raspberries on top!
This cake is perfect in every way and it's so easy to make with just 2 recipes and a jar of jam!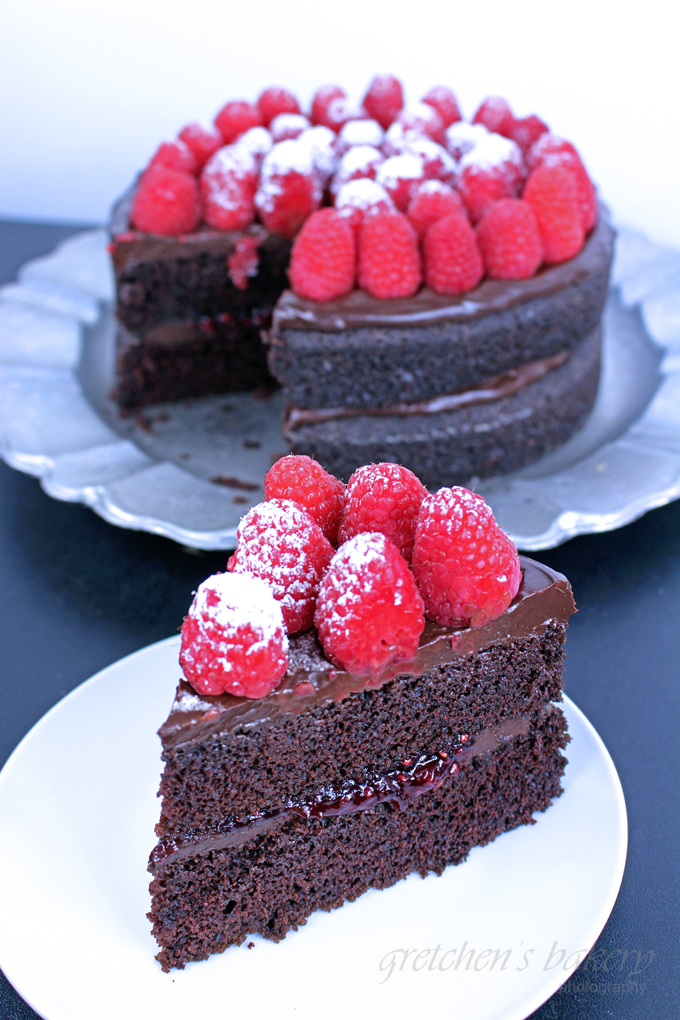 NOTES FOR SUCCESS:
Many people (across the pond) are not sure what "cake flour" is and it is not the same as self raising flour click for more info!
If you cannot get cake flour it is totally fine to use all – all purpose flour (plain flour) instead just use 1/4 cup (30g) less than the recipe lists for the total weight/volume of both flours
Most people are against using coffee in their recipes but please understand that coffee enhances chocolate recipes.
While you cannot taste the actual coffee in the final recipe it does wonders for the overall taste!
However if you still cannot use coffee you can replace with water or plant milk
Typically I use 7″ cake pans for all my layer cakes but for this one I finally went back to my 8″ cake pans
This chocolate cake recipe will make 2 very thick layers so you can use 9″ pans as well!
While you may be tempted to use Dutch Process Cocoa powder here, but be sure to use natural or the cake will not turn out well!
Click here for more info on Why Dutch Process is not Always Better than Regular Cocoa Powder
CLICK HERE FOR THE FULL YOUTUBE VIDEO TUTORIAL ON HOW TO MAKE THIS CAKE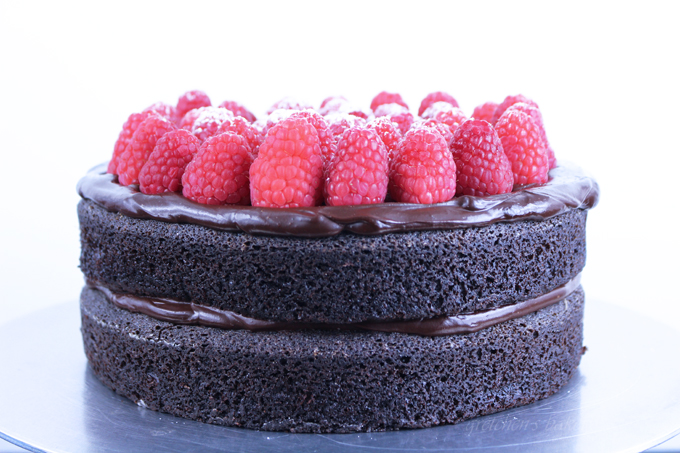 FOR MORE RECIPES USING THIS CHOCOLATE CAKE CLICK THE LINKS BELOW!
CHOCOLATE SHEET CAKE BIRTHDAY CAKE
Yield: serves 12
ChocolateTruffle Cake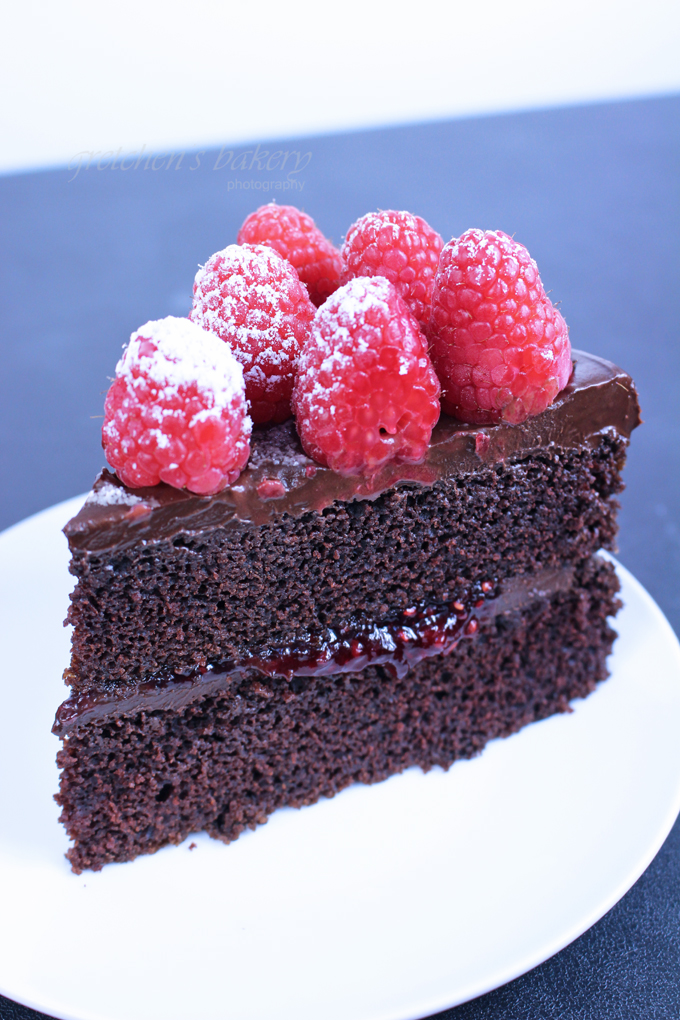 Total Time
2 hours
30 minutes
Ingredients
For the Cake:
All Purpose Flour 2 cups (250g)
Cake Flour 1 cup (120g) *see notes
Natural Cocoa Powder 8 Tablespoons (40g)
Granulated Sugar 2 cups (400g)
Salt 1 teaspoon (6g)
Baking Soda 2 teaspoons
Apple Cider Vinegar 2 teaspoons (10ml)
Vanilla Extract 2 teaspoons (10ml)
Vegetable Oil ¾ cup (177ml)
Strong Brewed Coffee 2 cups
Or add 3 teaspoons instant coffee granules to the water
For the Ganache:
Semi Sweet Vegan Chocolate 8ounces (226g)
Full Fat Plant Milk ¾ cup (177ml)
For the Garnish & Filling:
Fresh Raspberries for the top 1-2 pints
Raspberry Jam 1 cup
Instructions
Preheat the oven to 350°F and then grease & parchment line 2-8" Cake pans
Sift both flours, baking soda, salt, and sugar together in a large mixing bowl.
Combine the natural cocoa powder with the hot coffee and then add the vinegar, oil and the vanilla extract whisk smooth.
Pour the wet ingredients into the sifted dry ingredients and whisk vigorously with a hand whisk until smooth (about 30 strokes)
Pour batter into greased and parchment lined 8" x 2" cake pans
Bake immediately for approximately 30 minutes or until a toothpick inserted into the center comes out with moist crumbs and the cake is springy to the touch when you gently press the center
Meanwhile prepare the ganache by heating the soy milk until it just starts to boil, pour the hot milk over the finely chopped chocolate in a large mixing bowl and whisk smooth
Let the ganache cool at room temperature to a soft spreadable consistency while the cakes also cool
Build the cake as per the video tutorial
Notes
Chocolate raspberry truffle cake can stay at room temperature without the fresh raspberry garnish for up to 3 days.

For longer storage & for storing it with the raspberries on top, keep refrigerated in an airtight container for up to 1 week