I always feel like I have to say "for Valentine's Day" whenever anything looks all pink and red and amazing!
But honestly this Chocolate Bundt Cake is perfect any time of the year!
I actually made a Thanksgiving version several months ago and it was a hit!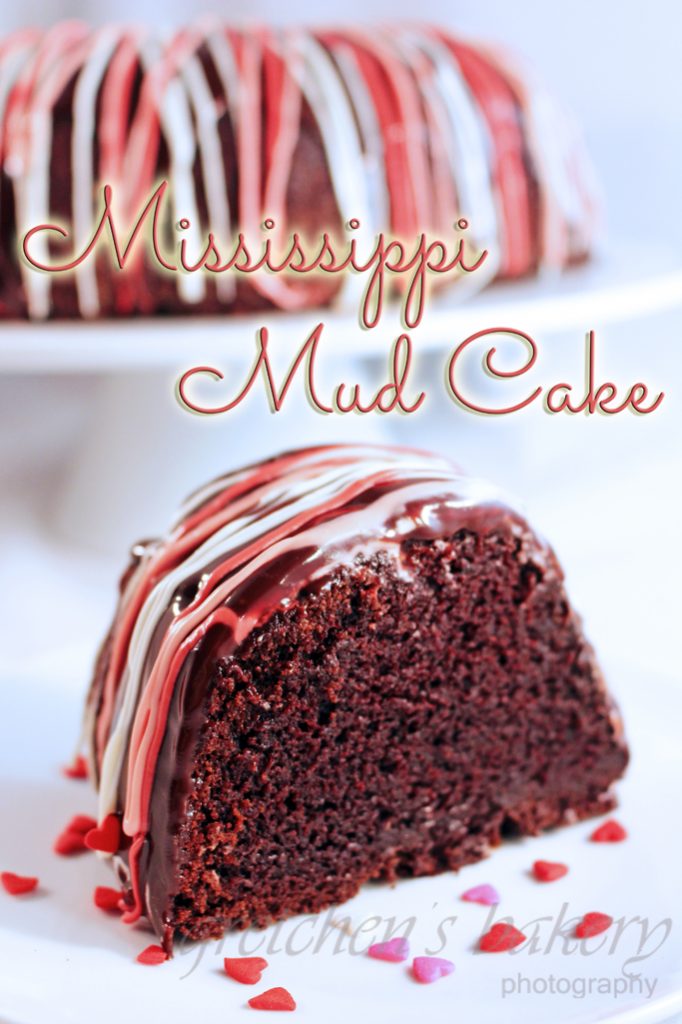 Super moist chocolate mud cake needs no icing!
How often can you say a cake can stand alone with no icing needed?
A thin glaze of chocolate just so it doesn't look so "naked" and of course the colorful chocolate to make it perfect for whatever holiday you are celebrating!
This recipe has quite alot of ingredients which for some people may be a turn off right away.
But once you taste this rich, dense, chocolate heaven in a plate, you will realize how worth it, it all is!
I've made this recipe into layers for layer cakes, cupcakes for the best cupcakes you will ever eat; and miniature bundt pan style too!
Just try it! I know you will thank me and hate me (since you won't be able to stop eating it!)
Oh yeah, by the way I add bourbon to this recipe for an amazing depth of flavor that is unmatched!
You can omit that and just replace it with another liquor like Rum or Frangelico or even Grand Marnier would be awesome!
Or more coffee if you want to forgo the alcohol altogether.
If coffee is something you also look to replace (I am crying now) you can just use all water, but be aware the flavor will just not be the same.
Coffee really brings out the richness of coffee and why it is so often used in cake recipes.
Chocolate Bundt Cake for Valentine's Day
Generously grease (with my
pan grease recipe
) and lightly cocoa powder your
12 cup capacity non stick bundt pan
and preheat the oven to 375° F
For the chocolate glaze combine 4 Tbs coconut oil witih 5 Tbs cocoa powder and 1½ Tbs agave, heat stirring constantly over a low heat
For the colored glaze: 2 cups of confectioners sugar with 2-3 Tablespoons of almond milk makes a very pourable glaze (just be sure the cake is 100% cooled before you do it) add color to your liking
Serves:
serves 8-10 people
Ingredients
For the Cake Recipe:
Vegan Butter or Coconut Oil 8Tablespoons (113g)
Vegan Semi Sweet Chocolate 3ounces (85g)
Unsweetened Applesauce 2 Tablespoons
Light Brown Sugar ½ cup (105g)
Granulated Sugar ½ cup (100g)
Flax Meal 2 Tablespoons (16g)
Warm Water 5 Tablespoons (75ml)
Vanilla Extract 2 teaspoons (10ml)
Whiskey 2 Tablespoons (30ml)
Strong Brewed Coffee ½ cup (120ml)
*Or do what I did and use 1 tablespoon instant coffee granules and hot water
All Purpose Flour 1 cup + 1 Tablespoon (133g)
Natural Cocoa Powder 3 Tablespoons (30g)
Baking Soda ½ teaspoon
Baking Powder ¼ teaspoon
Salt ¼ teaspoon
Chocolate Glaze recipe in the summary above
Colored Glaze, recipe in the summary above
Instructions
Combine the flax meal with the warm water and let stand to thicken about 10 minutes
Melt the vegan butter or coconut oil with the chocolate over a low heat stirring constantly
Sift together half of the sugar(s) with the flour, baking powder, baking soda, salt and cocoa powder
In a mixing bowl combine the other half of the sugar(s) with the flax paste, applesauce, vanilla extract, coffee and whiskey, mix well.
Add the melted chocolate and butter and mix well.
Add the sifted dry ingredients a heaping spoonful at a time while mixing on low until it is all incorporated
Pour into the prepared bundt pan and bake in a preheated 375° F oven for 15 minutes then turn the oven temperature down to 350°F for another 20-25 minutes
The cake will rise a lot and then fall slightly as it nears the end of bake time and when you insert a a toothpick into the center it will come out clean, you will know it's done
Cool completely and then ice with chocolate glaze and colored sugar glaze as I mentioned in the above text.