A tropical spin on the Classic Strawberry Shortcake!
I've added shredded coconut to my recipe for fluffy vegan white cake and it is divine!
With some fresh strawberries, a few blueberries and some whipped cream~ it's a party!
This Coconut Strawberry Shortcake is the perfect summer dessert!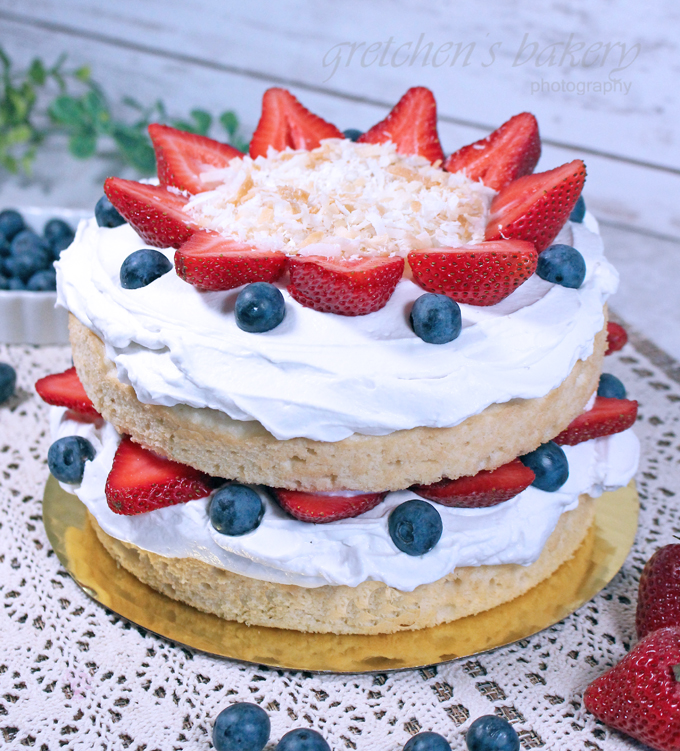 It's so incredibly easy to make with just two recipes and one of them isn't even a recipe if you take the easy route for vegan whipped cream
With all the different options for Vegan Whipped Cream you can really make your life easy by purchasing it rather than making it!
However I do understand that not everyone can get the same products depending on where you reside in the world
So naturally I have all the homemade options for you right here!
My famous recipe for Vegan Whipped Cream is one way to go
Super stable and pipes like a dream!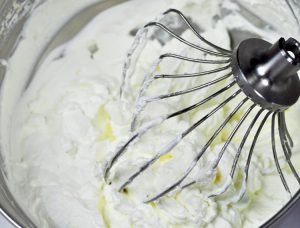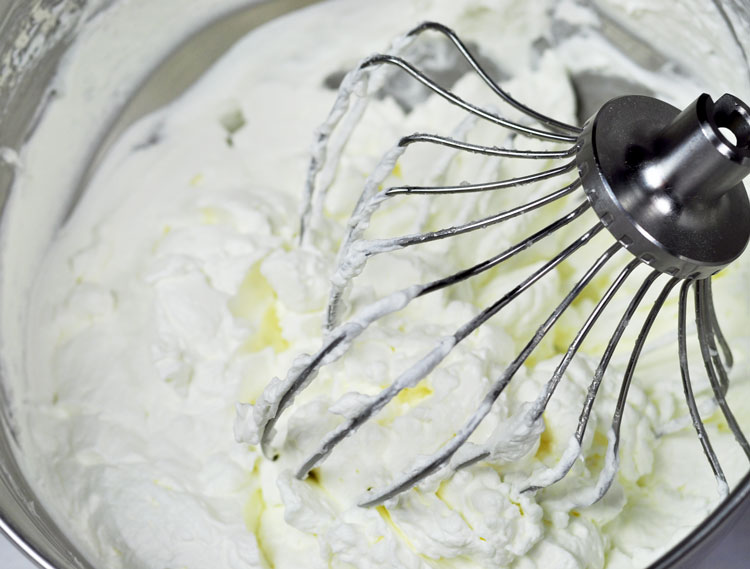 Just be sure to give yourself a day ahead of time to prep the cream base as it has to chill overnight
Otherwise if you are lucky enough to have SILK brand heavy whipping cream available to you *not sponsored
Your life just got way easier!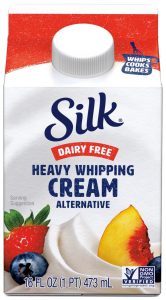 Now all you need is a pint or two of fresh strawberries and blueberries add a color burst just in time for the USA Fourth of July!
This whole cake from start to finish is quite possibly the easiest of all my recipes to make!
Honestly the hardest part of this whole cake project was slicing it for the picture!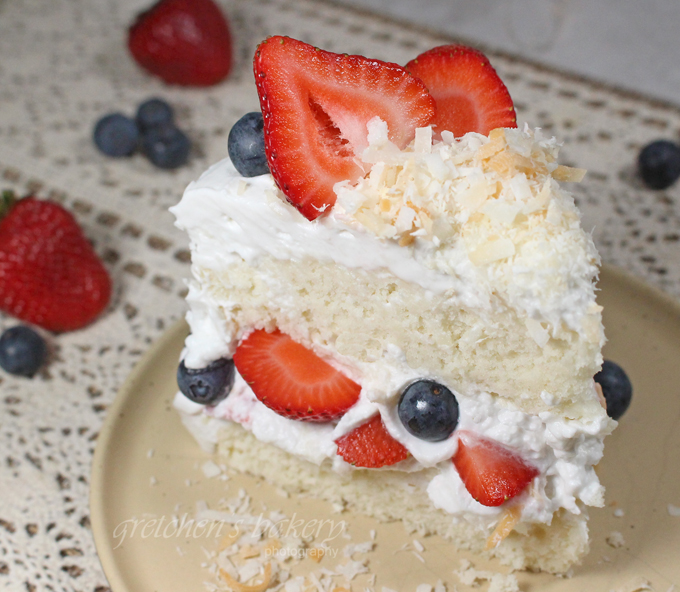 The cake layers can be baked ahead of time so all you have to do the day of the party is whip that cream and ice it up!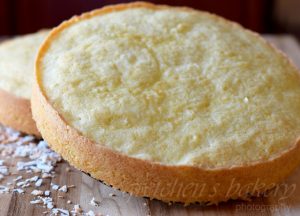 Here is the inside view of how I arranged the fruit between the layers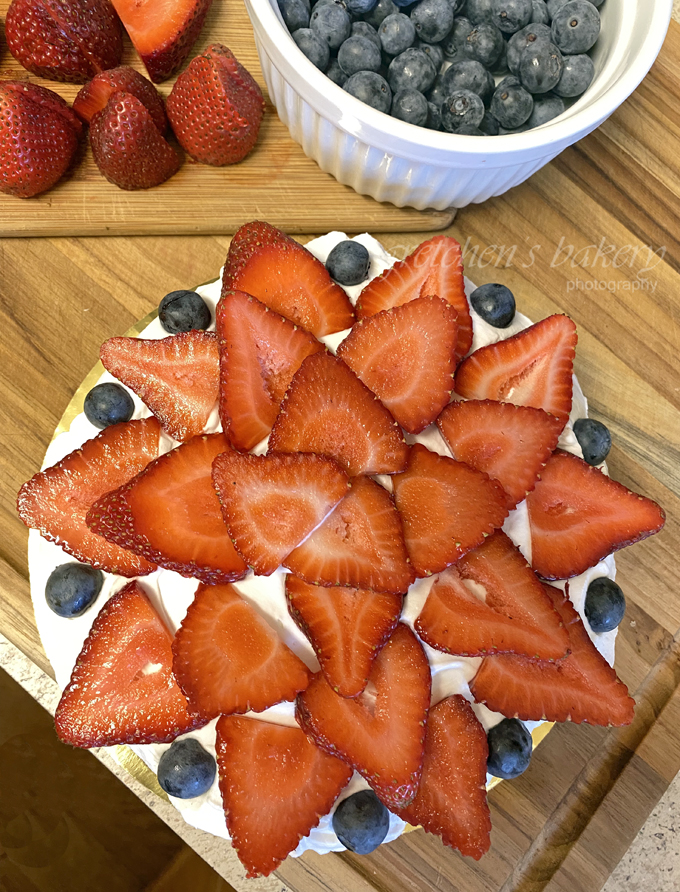 Of course you can assemble this cake anyway you like and even change whipped cream to buttercream if that's easier!
I have about five recipes for buttercream here on my website with an explanation of each one
Click here to read all about Choosing The Best Buttercream Recipe!
For more summertime recipes using fresh fruit and whipped cream click the links below!
Vegan Strawberry Banana Cheesecake
Vegan Peach Blueberry Cobbler Recipe

Coconut Strawberry Shortcake
Coconut Strawberry Shortcake Prep time: 20 mins Cook time: 30 mins Total time: 50 mins Serves: serves 12peopl As I mentioned in the article, there are many options for Vegan Whipped Cream.
I am using SILK brand whipping cream here today, but have also used SoDelicious Brand Coconut Whipped Topping.
If you cannot find any store brands of vegan whipped cream you can make my recipe for homemade vegan whipped cream~ the link is below in the recipe ingredients list.
Ingredients
1 cup unsweetened coconut flakes
2 Pint Cartons SILK brand Whipping Cream OR
1 recipeVegan Whipped Cream *see notes above for more options
1 Pound fresh strawberries
½ cup fresh blueberries
½ cup toasted coconut
Instructions
Grease and parchment line 2-7" Cake Pans and preheat the oven to 350°F
Prepare the cake recipe as per the instructions on that blog post
Add the unsweetened flake coconut at the last stage of mixing
Divide the cake batter between the 2- greased 7" pans and bake in a preheated 350°F oven for about 30-35 minutes or when a toothpick inserted into the center comes out clean.
Cool the cakes in the pans and then turn them out onto a cooling rack to cool the rest of the way.
Once the cakes are completely cooled, whip the vegan whipped cream *I add ½ cup of confectioners sugar to each PINT of SILK brand heavy whipping cream~ adjust to your liking
Assemble the cake with a layer of whipped cream, the fresh sliced strawberries and blueberries then the other layer of cake and more whipped cream on top.
I left this cake as a "naked" style cake decor but you can of course decorate as you prefer.
Notes
Whipped cream cakes must be kept refrigerated at all times and this cake will stay fresh for up to 5 days in the refrigerator.

The cake layers can be wrapped and stored in the freezer for up to 1 month
3.5.3251