Bringing you more confusion around the term Coffee Cake here today with this rendition of Coffee Cream Cake!
Depending on where you reside on the world, coffee cake means different things to different people.
I talked all about it on my recent recipe post for Coffee Cake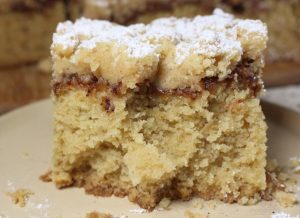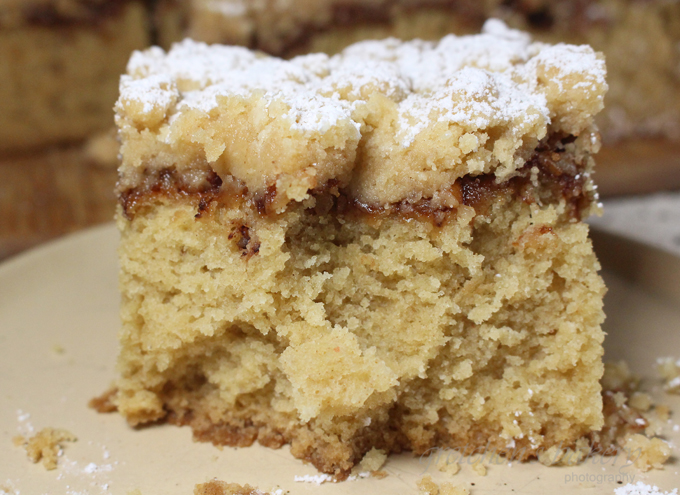 So if you ended up here looking for that fluffy hunk of buttery breakfast cake click the link for Cinnamon Struesel Coffee Cake
But if you are here because you want a coffee flavored sponge cake layered with Kahlua cream filling, stay right where you are!
This coffee sponge cake is so moist with Kahlua cream filling and icing.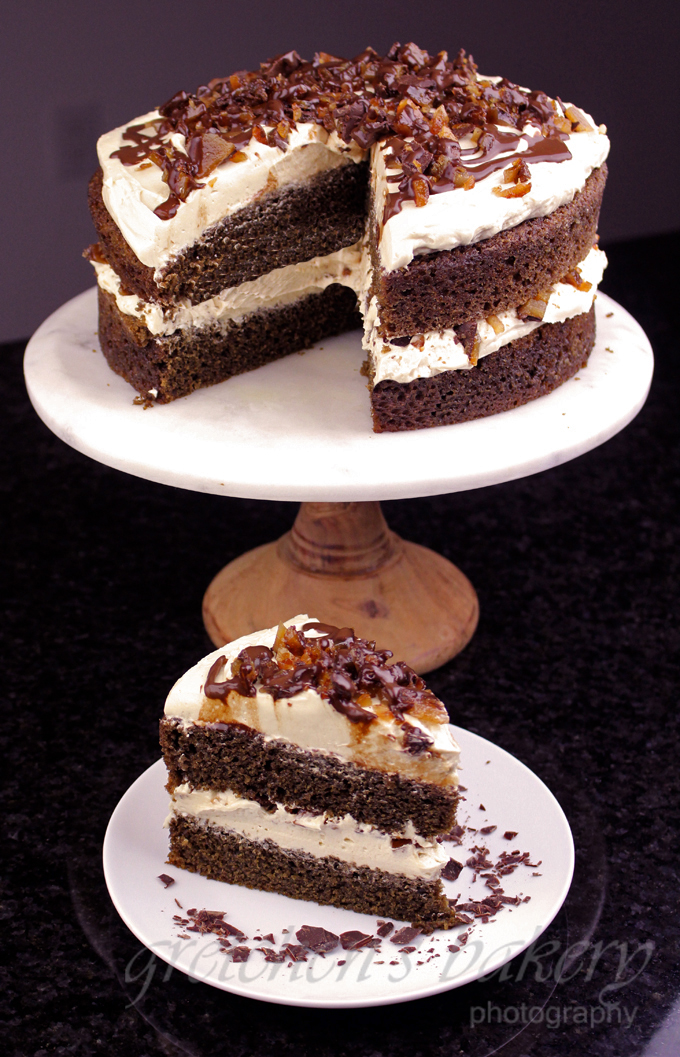 I've also made a small recipe of my favorite Toffee Bark for an added crunch
I have to just mention how easy this cake recipe is to make.
The sponge is a recipe out of my recent cookbook Modern Vegan Baking called Super Easy Vanilla Cake!
It's a one bowl mix, no mixer required and it just doesn't get any easier!
I've added some instant coffee granules to make it coffee flavor
And the buttercream is my favorite American style buttercream with flavored with Kahlua
If you are alcohol free just add some instant coffee granules dissolved in warm water for the coffee icing and you won't miss a thing!
CLICK HERE FOR THE MOCHA ICING RECIPE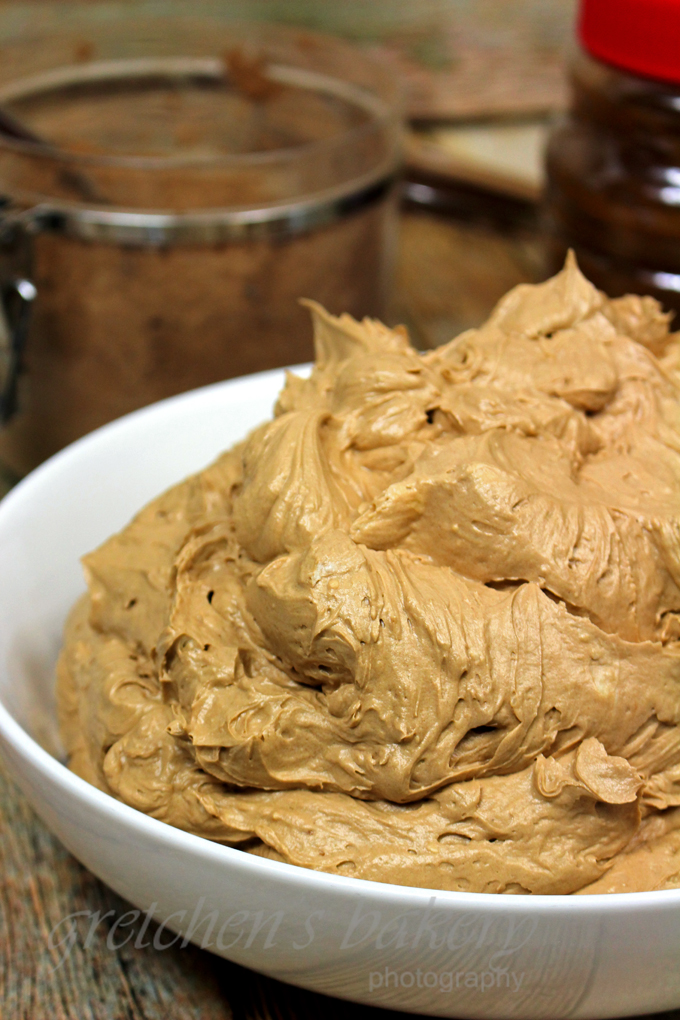 Some people may think my buttercream to cake ratio is a bit excessive, but hey I gotta be me!
Of course you can adjust the amounts to your liking
But I just had to get some chocolate in there and decided to do so by drizzling ganache all over the top of the cake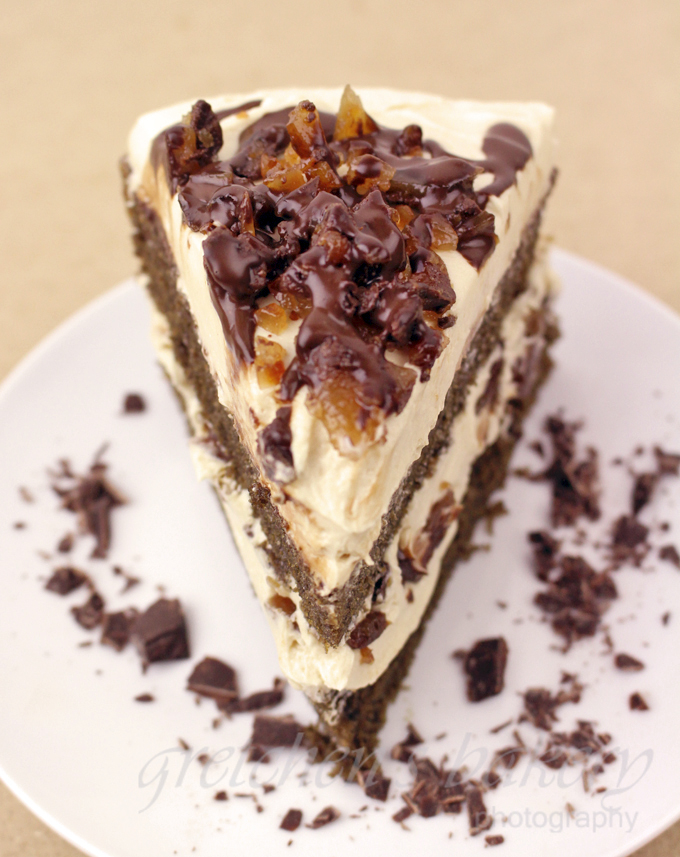 I know by the picture it looks as if the cake is actually chocolate, but it's just the coffee granules that turn it darker.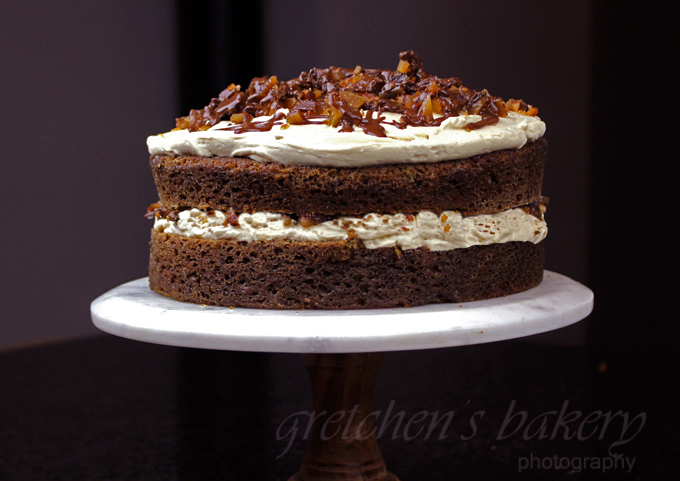 See my note in the written instructions about that!
CLICK HERE FOR THE YOUTUBE VIDEO TUTORIAL FOR HOW TO MAKE THIS ENTIRE CAKE!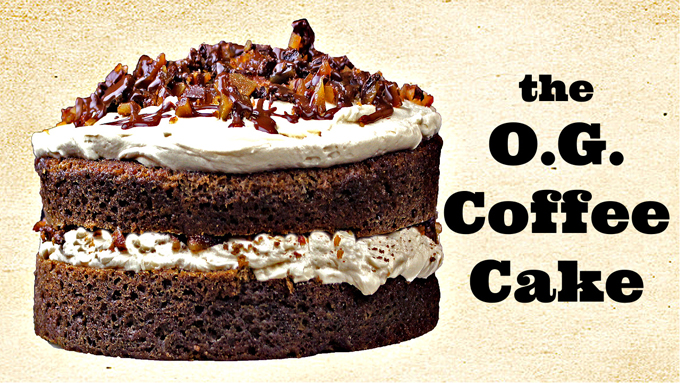 Vegan Coffee Cream Cake
Instead of Kahlua for the icing use 2 Tbs instant coffee granules and 3 Tbs hot water to dissolve, cool before adding to the buttercream.
Ingredients
All Purpose Flour 3 cups (375g)
Baking Soda 2 teaspoons
Salt ½ teaspoon
Coconut or Vegetable Oil 1 cup
Granulated Sugar 1¾ cup (350g)
Vanilla Extract 2 teaspoons
Plant Milk * I prefer soy milk 1½ cups (355ml)
Apple Cider Vinegar *or white vinegar 2 Tablespoons (30ml)
Instant Coffee Granules 3 Tablespoons (*You can use 1½ to 2 Tbs instead if you want a lighter colored cake)
½ Recipe Toffee Bark minus the almonds
Kahlua ½ cup or if alcohol free see note above
Instructions
In a large mixing bowl combine the sugar, oil and vanilla extract
Add the instant coffee granules to the room temperature soy milk and stir to dissolve, add the vinegar
Add this soy milk mixture to the sugar mixture in the bowl and whisk smooth
Sift the flour, baking soda and salt into the liquids and whisk smooth
Divide the batter between 2 greased and parchment lined 8" x 2" pans and bake immediately in a preheated 350°F oven for 35 minutes or until springy to the touch when you gently press the centers
Cool in the pans until you can safely touch them without burning your self then flip them out onto a cooling rack or a parchment lined sheet pan, cool in the refrigerator while you prepare the buttercream icing and the toffee recipe
Fill and ice the cake as shown in the video
Notes
This cake will be fine at room temperature for a couple days, unless it is too hot in your area.

Refrigerate for longer shelf life (up to 7 days) but bring to room temperature before serving for best results