Did you know that creating your own buttercream flavors is the simplest Building on Recipes technique there is?
You can create just about any flavor under the sun and add it straight away into the base recipe of whatever buttercream recipe you love the most!
There is just one thing to keep in mind when you start experimenting with adding this or that to your buttercream.
DO NOT OVER SATURATE.
Buttercream is an oil based formula (butter=fat)
Oil and water (in the form of purees, or extracts or emulsions) do not typically mix well together.
A certain amount of vigorous blending will do the trick, but watch carefully as you add the flavorings.
You will see if the mixture starts to separate or "break" this means over saturation and once you get to that point, there ain't no going back!
Unless of course you add more buttercream to even out the ratios.
Watch this video for more about buttercreams as an emulsion and How to Save a Broken Buttercream!
I have always flavored my buttercream by "eye" simply by adding a little at a time of whatever I am adding to it and tasting it along the way.
Much of the flavorings are "to taste" and when I say this, it simply means, start with a tablespoon of extract or emulsion and then taste it.
Purees are not the greatest to add, since their concentration of flavor is not as pronounced as an extract or emulsion, so you will tend to want to add more to the buttercream causing breakage.
Don't get me wrong, I do it in certain instances like adding a really strong Strawberry Puree is great for this!
But even better than purees would be to use freeze dried fruit powders
Literally just freeze dried fruit in little snack packs that you find at the supermarket can be ground down in a spice grinder
To a powder for the most intense fruit flavors with no added liquid!
Just add the fruit powder to your buttercream at the last stage of mixing!
Oh yeah, and in the fall- I do not hesitate to add pumpkin too it too! Just like I did here in my Pumpkin Mousse Cake!!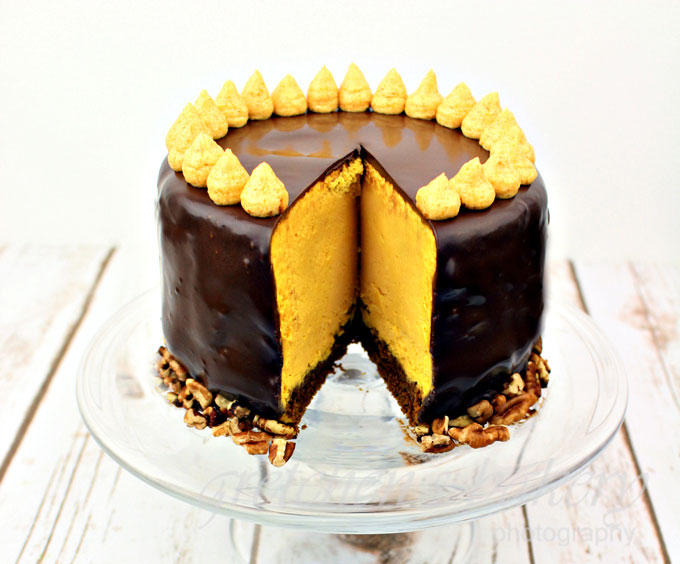 But if you are going to give the puree method a try, no problem! I have done it and still do it!
Typically about a ¾ – 1 cup of super concentrated puree to the entire recipe of buttercream
I know many of you want a chart that says exactly how much of this to add to the buttercream, but not all BRANDS are crated equally!
I once purchased a mint extract from another source than what I was used to getting and wow!
It was like Listerine Mouthwash!
So again I prefer the "taste test"method versus me telling you to add a few tablespoons of something that I don't even know what you are using.
I encourage you to play around with flavors whenever possible.
BE BRAVE GUYS!
No recipe needed!
Start to rely on your TASTE BUDS to guide you to perfect balances.
Just remember, anytime you add ANYTHING to an already soft base (like buttercream) it is going to get SOFTER!
So be prepared to refrigerate many flavored buttercreams not because they will go bad (unless you are using curds or custard of course) but because they are going to be super soft!
Here are just a few suggestions off the top of my head that you can achieve simply by adding some liquors, flavor oils or emulsions, extracts or fruit purees. Simply stir desired amount into the buttercream and off you go!! (Be sure to refrigerate accordingly if you are using an addition of fruit curds)
Amaretto – add liquor
Vegan Bailey's Irish Cream- Add liquor
Peanut Butter – add peanut butter
Nutella – add nutella
Lemon Buttercream -add lemon Curd and lemon zest
Coconut – add toasted coconut and coconut extract

Key Lime – add key lime juice and grated lime zest
Cinnamon- Duh!
Kahlua- add instant coffee and Kahlua liquor
Pineapple- add canned pineapple (drained first and patted dry)
Marachino Cherry – add the Juice from the canned cherries and even some pureed cherries too