Peach season is coming upon us, so what better idea than to make a Peaches and Cream Cake!
My best recipe for vanilla cake takes center stage once again
And to compliment those perfect moist layers is a fresh peach compote, peach syrup and billowy vegan whipped cream!
This is a really simple cake to put together since it is just three easy recipes.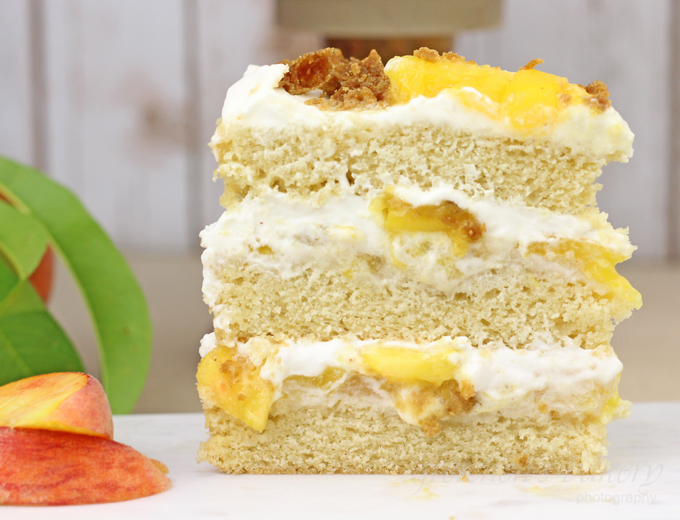 The syrup that cooks down after making the fresh peach compote is so amazing for soaking those vanilla cake layers!
Although the look of my "cake crunch streusel" didn't exactly manifest as I had envisioned
But it sure adds a cinnamon & nutmeg crunchy texture amidst all those clouds of vanilla cake and peaches and whipped cream.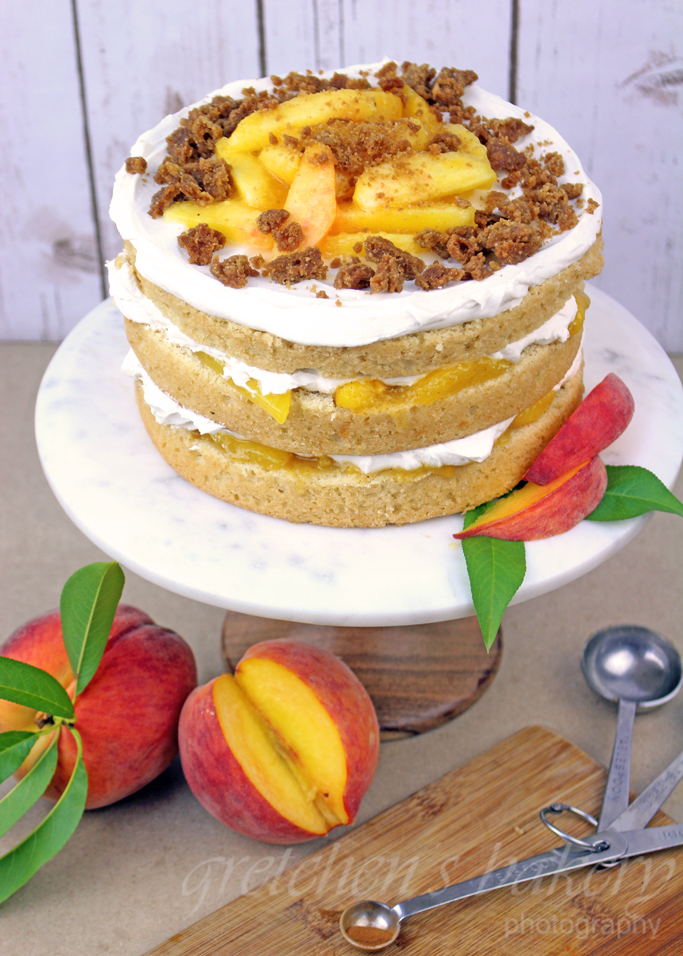 I used a slightly adjusted Miyoko Schinner's recipe for the whipped cream as listed below
I though it was "okay" but not very stable for icing cakes
And have since then created several options for Vegan Whipped Cream right here myself that I think are way better options that the original one I used here
Be sure to read the entire blog post about Vegan Whipped Cream though to decide which is the best option for you
Otherwise, grab yourself some peaches
Get that vanilla cake baking
And in about three hours you will be in Peaches and Cream Cake heaven!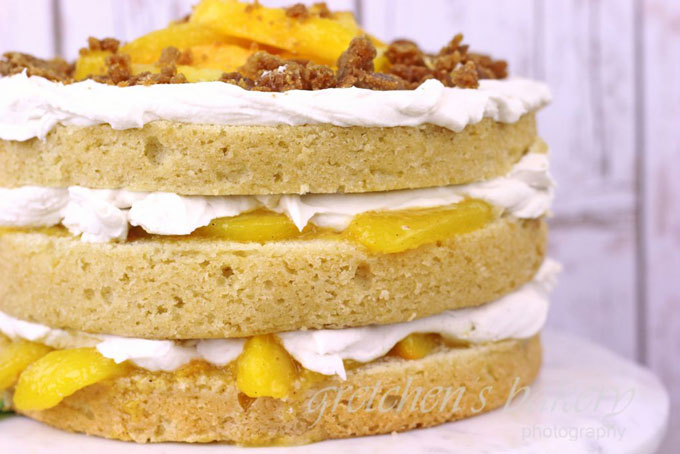 CLICK HERE FOR THE FULL YOUTUBE VIDEO TUTORIAL FOR HOW TO MAKE THIS CAKE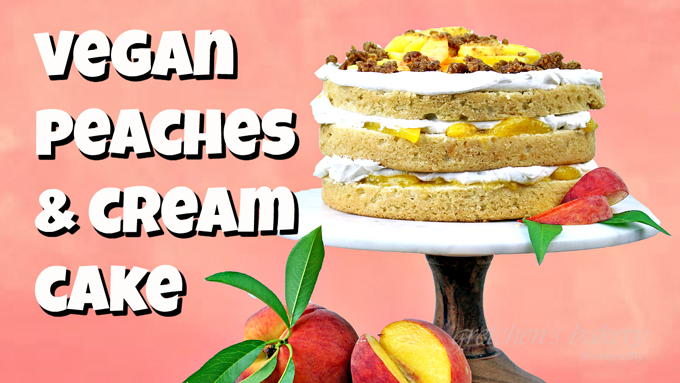 Peaches and Cream Cake
A note about the whipped cream I am making here. I used (a slightly adjusted) Miyoko Schinner's recipe as listed below. And while I included the cashews in the video as well as the ingredients listed below, I have since made it without the cashews, but increased the coconut oil and added ¼ teaspoon xanthan gum. I do prefer my altered recipe as it is more stable, I didn't have to use the cashews ( so this cake remains nut free) and the xanthan really keeps it nice and thick like you remember heavy cream to be!
Serves:
serves 8 - 10 people
Ingredients
For the Vanilla Cake
White Vinegar 1 Tablespoon (15ml)
Soy Milk 1 cup (237ml)
Vanilla Extract 2 teaspoon (10ml)
Cake Flour 2½ cups (312g)
Golden Flax Meal 4 Tablespoons (32g)
Hot Water 10 Tablespoons (150ml)
Granulated Sugar 1½ cup (300g)
Baking Powder 4 teaspoons (20g)
Salt 1 teaspoon (6g)
Vegan Butter 12 Tablespoons (170g)
For the Peach Filling
Fresh Peaches 3-4 large peeled and sliced into ¼" thick slices *you can use frozen sliced peaches too (approximately 2 cups total)
Cornstarch ½ teaspoon
Agave Syrup 2 Tablespoons
Ground Nutmeg ¼ teaspoon
Ground Cinnamon ¼ teaspoon
Juice from 2 large oranges (approximately ¼ cup- my oranges were NOT juicy at all in the video!!)
For the Vegan Whipped Cream *See additional recipe below
Soy Milk 1 cup (237ml)
Melted Coconut Oil ¾ cup (177ml)
Soaked Raw Cashews ¼ cup (50g)
Granulated Sugar ¼ cup (50g)
Vanilla Extract 1 teaspoon (5ml)
For the Cake Crunch Streusel
All Purpose Flour ¼ cup (31g)
Cinnamon pinch
Nutmeg pinch
Light Brown Sugar 3 Tablespoons
COLD vegan butter 1½ Tablespoons
Instructions
First prepare the whipping cream by combining all of the ingredients listed: the milk, coconut oil, vanilla, sugar and cashews together in a high speed blender and blend until perfectly smooth and there are no traces of nuts.
Transfer the liquid to a mixer bowl and refrigerate until ice cold (several hours) I find this whips best when it is as cold as possible and I have sped the process by freezing, just be careful not to freeze solid or you will have to wait until it thaws to whip.
Meanwhile, prepare the cake batter by first adding the vinegar to the soy milk to sour and combine the flax meal with the hot water to thicken.
Sift the flour with the baking powder & salt
Cream the vegan butter with the sugar until light and fluffy and this may take about 3-5 minutes on medium to high speed
Add the thickened flax paste and the vanilla extract then mix on high speed for about 10 seconds to develop the batter
Add about ⅓ of the flour to the creamed mixture while mixing on low speed just until combined, then add half of the remaining soured milk
Add another ⅓ of the flour and then the remaining sour milk
Add the last amount of flour and mix just to combine evenly.
Portion the batter between your greased and parchment lined cake pans and bake immediately in a preheated 350°F oven for approximately 25-30 minutes or until they are springy to the touch when you gently press the centers.
Next prepare the Cake Crunch Streusel *optional step - by combing the flour, brown sugar, cinnamon and nutmeg in a mixing bowl then add the cold diced vegan butter and mix just until it resembles coarse meal.
Transfer to a sheet pan lined with parchment paper and freeze it while you pre heat the oven.
Bake at 350° f for 13minutes or until it is browned and crunchy, cool completely and reserve for later
Next prepare the peach filling by peeling and slicing the peaches into a large bowl.
Add the cornstarch, nutmeg, cinnamon, orange juice and agave and toss to coat evenly.
Transfer the peach mixture to a medium sauce pot and cook over medium heat for about 5 minutes, the juice will start to bubble and thicken slightly.
Remove from heat and cool rapidly in the refrigerator until you are ready to build the cake
Once you are ready to build the cake - Whip the ice cold whipping mixture with a balloon whip attachment for about 5 minutes on medium high speed, until soft peaks form. It will look a little like mayonnaise.
Be careful not to over whip or it will get grainy.
Build the cake as shown in the video
Improved Whipped Cream Recipe (No cashews)
CLICK HERE FOR THE FULL WRITTEN RECIPE WITH MORE INFO!

Whipped Cream - no cashews
Be sure the soy milk is not cold or the coconut oil will congeal when it hits the cold milk
Ingredients
Soy Milk 1 cup (237ml)
Coconut Oil melted 1 cup (226g)
Granulated Sugar ¼ cup (50g)
Xanthan Gum ¼ teaspoon
Vanilla Extract 2 teaspoons (10ml)
Instructions
Combine everything in a high speed blender and blend for about 20seconds
Pour into a clean container and refrigerate until cold (I freeze it for under an hour but not so it is getting hard)
Whip with a balloon whip attachment for about 3 minutes until soft peaks form