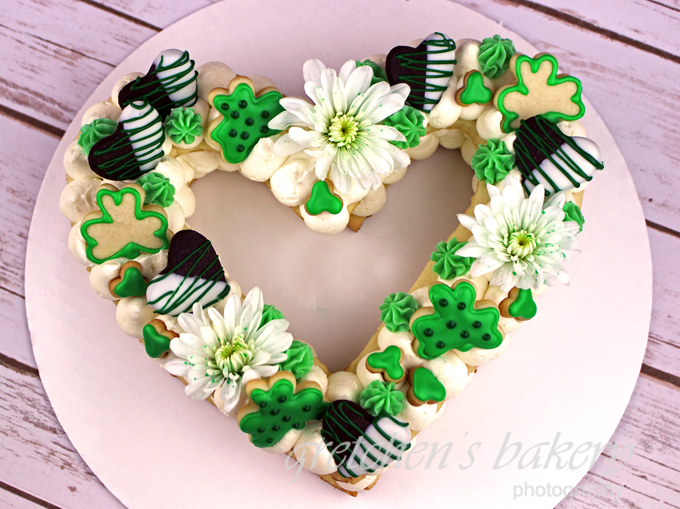 Yes, I've jumped on the bandwagon for this Cookie Cream Cake.
The Trending Cream Tart or Cake or Cookie or whatever you want to call it!
Back in 2018 this style "cake" started showing up just about everywhere!
I'm sure you have probably seen it as it hasn't really gone out of style
Most people are doing them in alphabet or numbers
But I wanted to get this one done for Valentine's Day (which I did not)
So I melded my heart template for Valentine's Day into a St. Patrick's Day design instead!
But it really works, and as you can see you can use this idea for the Cookie Cream Cake idea for any occasion!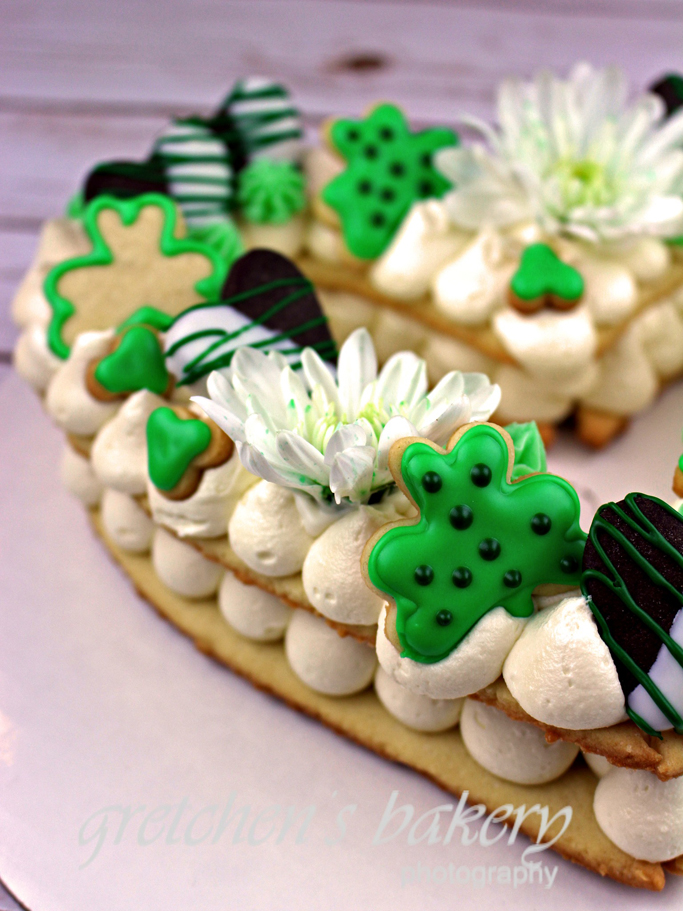 All you need is two simple recipes and a few edible decorations
Then of course the fresh flowers is really what brings it all home.
Store bought decor like cookies, candies, chocolates and the like is a fast way to go
Although when trying to stay with vegan options, it's much more difficult to find store bought versions so I decided to just make my own.
With a chocolate spin on a my shortbread cookie recipe I made some hearts dipped in vegan white chocolate
Vegan royal icing to decorate the rest.
You can actually use the chocolate shortbread recipe listed below for the entire cookie if you prefer.
My shortbread cookie dough recipe is a really versatile recipe and just perfect for a project like this since it won't spread in the oven and it tastes amazing!
Have fun with this one
I know I did!
CLICK HERE FOR THE FULL YOUTUBE VIDEO TUTORIAL FOR HOW TO MAKE THIS!
Cookie Cream Cake
The chocolate shortbread recipe below is optional, I used it for the little heart cookie decor (obviously it is a larger recipe than you need for the decor, but you can never have too many cookies!)
If you want to make the entire Cream Tart with the chocolate dough, double the recipe
Ingredients
For the Cookie Dough
All Purpose Flour 3 cups (375g)
Baking Powder 1½ teaspoons (7g)
Salt ½ teaspoon (3g)
Vegan Butter 1 cup (226g)
Granulated Sugar 1 cup (200g)
Aquafaba 4 Tablespoons (60ml)
Vanilla Extract 1 teaspoon (5ml)
Lemon Extract *optional ¼ teaspoon
Lemon Zest 1 lemon approximately 2 teaspoons
1 recipe Buttercream of your Choice
For the Chocolate Shortbread Dough:
All Purpose Flour 1 cups (125g)
Cocoa Powder ½ cup
Baking Powder ½ teaspoons
Salt ¼ teaspoon
Vegan Butter ½ cup (112g)
Granulated Sugar ½ cup (200g)
Aquafaba 2 Tablespoons (30ml)
Vanilla Extract ½ teaspoon
For the Quick Royal Icing to Decorate the cookies:
Confectioners Sugar 1½ cups
Aquafaba 1-2 Tablespoons
Vanilla Extract 1 teaspoon
Instructions
For the Dough: *The chocolate dough will be mixed the same way
Cream the shortening with the sugar until light and fluffy, about 3- 5 minutes.
Add the lemon zest, the aquafaba and the extracts to the creaming butter/sugar mixture and then stop the mixer and scrape the sides of the bowl
Next sift together the flour baking powder and salt and add it all at once to the creamed mixture. Mix just until it is all combined.
Wrap this dough disc in plastic wrap and chill for at least 2 hours or overnight before using or you can store it for up to 1 week wrapped in plastic wrap in the refrigerator, or in the freezer for 2 months.
You must re work this dough with some additional flour to a pliable consistency after it has been chilled. Do not skip this step.
Knead it with some flour until it is no longer a crumbly mass, but a soft pliable dough
Roll out the dough to ¼" thick and cut shapes as desired
Bake on a parchment lined sheet pan in a preheated 350°F oven for approximately 20 minutes or until the cutouts are golden browned and baked through *it's difficult to say exactly since all shapes and sizes of cookie bake differently
For the Royal Icing
Add the aquafaba and vanilla extract to the sifted confectioners sugar and mix well, adjust the consistency with more aquafaba for a runnier icing or more confectioners sugar for a stiffer icing. Add color as desired
Prepare the Buttercream recipe as per the instructions on the recipe you choose then assemble the cake as shown in the video