Vegan chocolate chip cookie dough brownies.
As if the picture doesn't just scream "I am amazing!"
Sometimes there are no words necessary to explain the amazing-ness of a recipe and this is one of those times.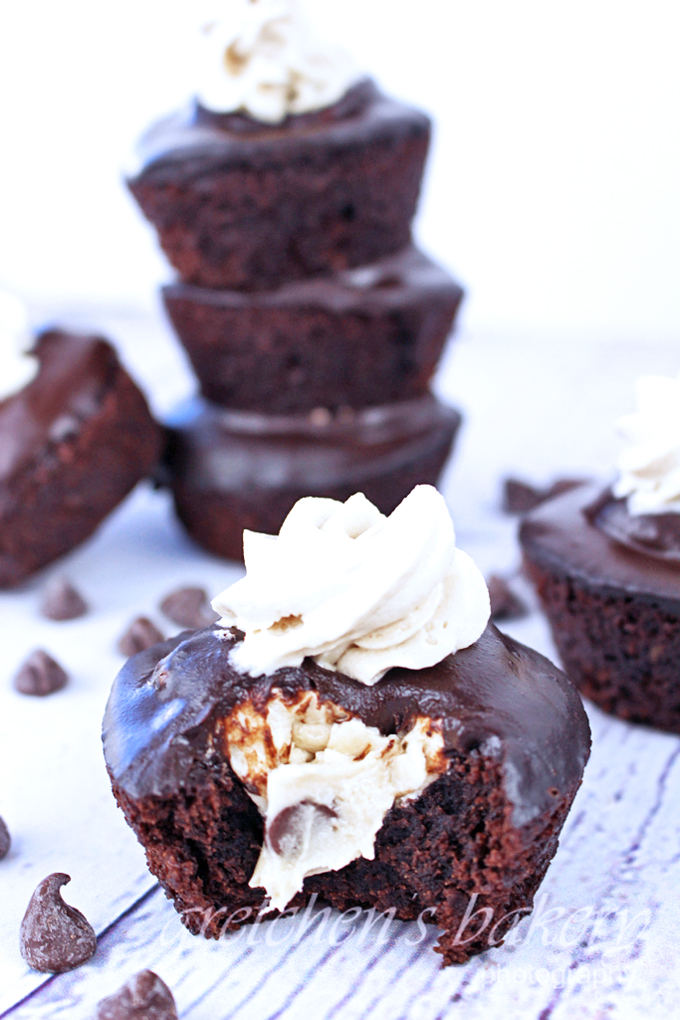 One bite and you will surely know the truth!
Stuffed with egg free ~ dairy free edible cookie dough
Actually it's cookie dough mixed with buttercream!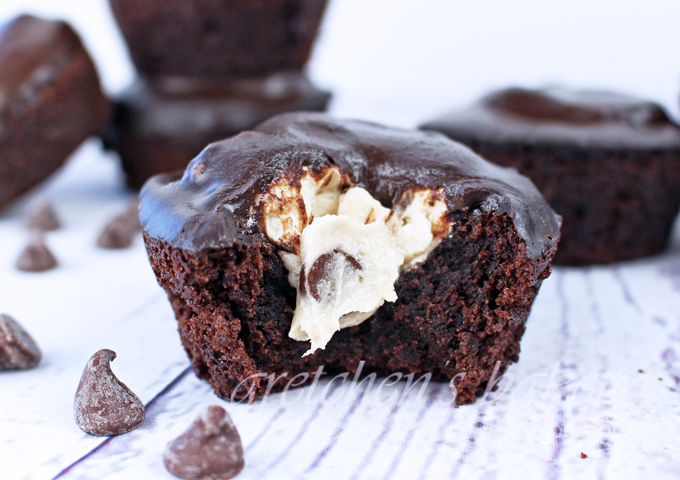 Yep, it just keeps getting better because the whole thing is then topped with chocolate ganache.
You will see in the video tutorial that I decided to bake them in individual cupcake portions but you can of course bake the entire batter in a 8″ X 8″ pan and go traditional style brownies in a sheet.
But I just felt so special with my own little cupcake-like cookie dough stuffed gem all for me!
However you can absolutely make this entire recipe in an 8″ x 8″ pan for a traditional brownie square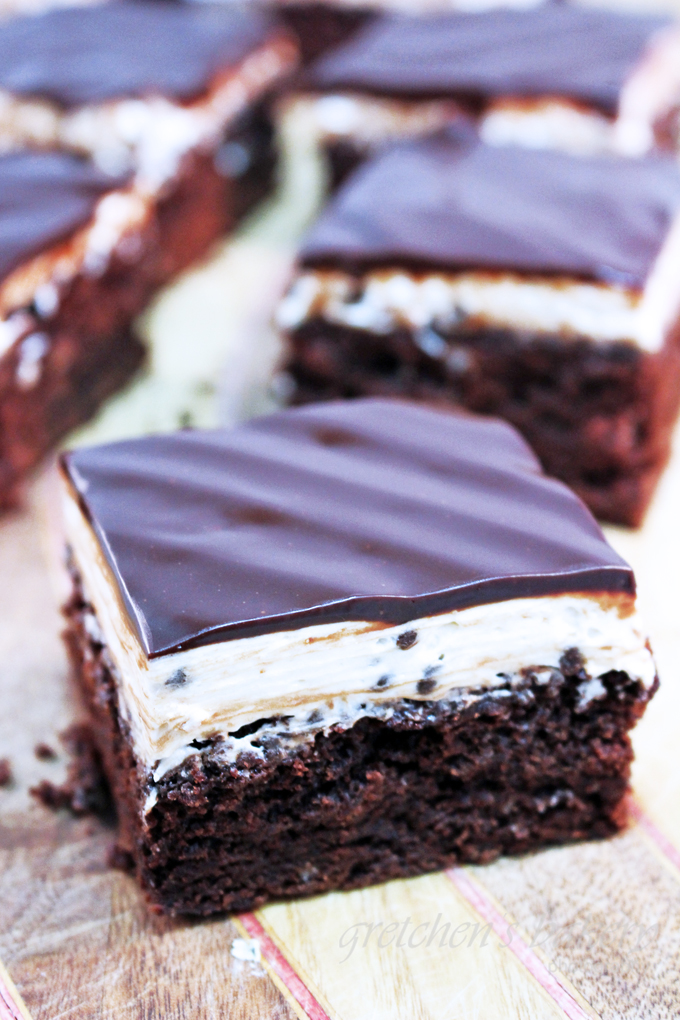 I've also use the cookie dough buttercream as an icing for cupcakes!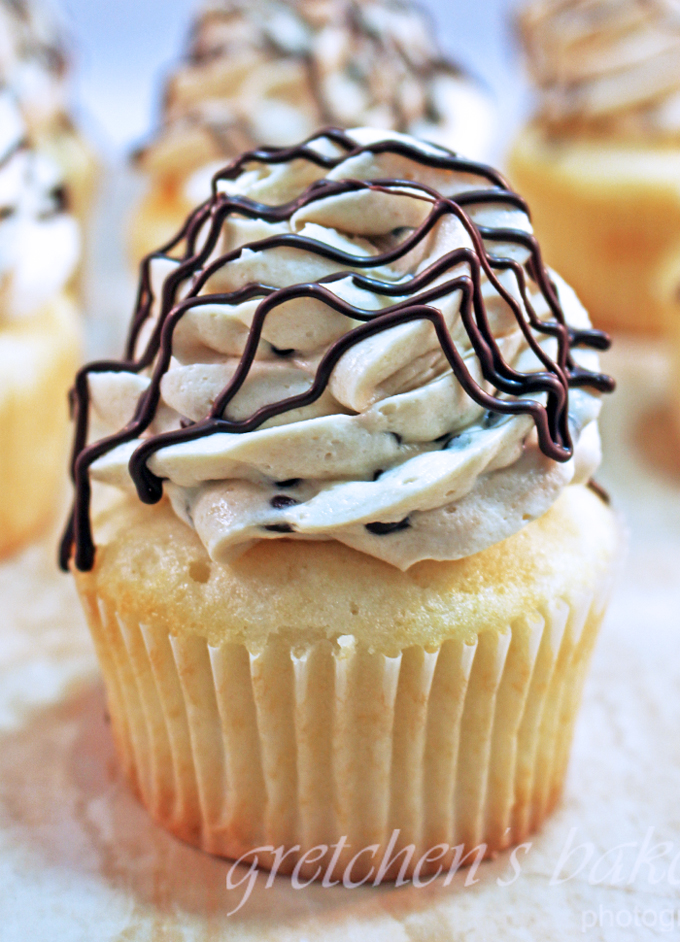 Or for a super easy treat just roll the cookie dough filling in some cocoa powder for instant truffles!

Whatever way you want to eat this edible chocolate chip cookie dough is up to you!
But I know whatever you do with it, you will be happy!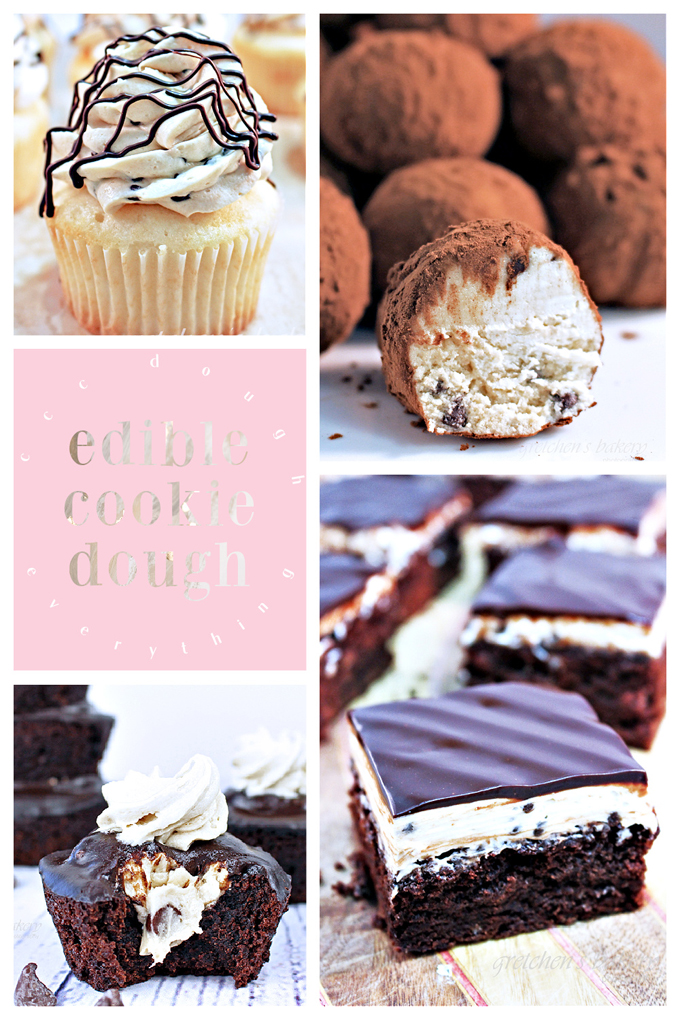 CLICK HERE FOR THE FULL YOUTUBE VIDEO TUTORIAL FOR HOW TO MAKE THESE!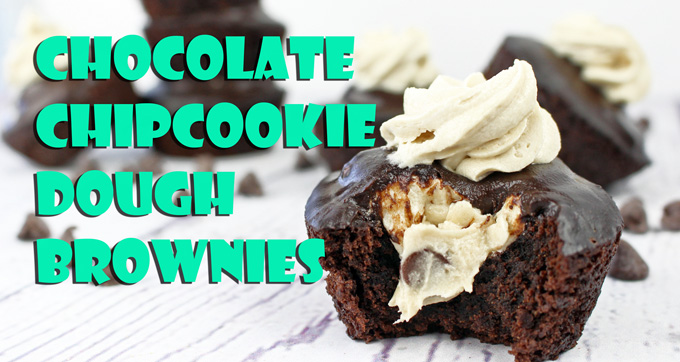 Important Notes!
Be sure to toast your flour and cool it to cold before making the raw cookie dough
It is no longer deemed "safe" to eat raw cookie dough anymore due to possible risks of contaminated raw flour.
But toasting the flour in a 350°F oven for 5-7 minutes will prevent any illness from occurring!
For more awesome brownie recipes click the links below!
Yield: 8
Cookie Dough Brownies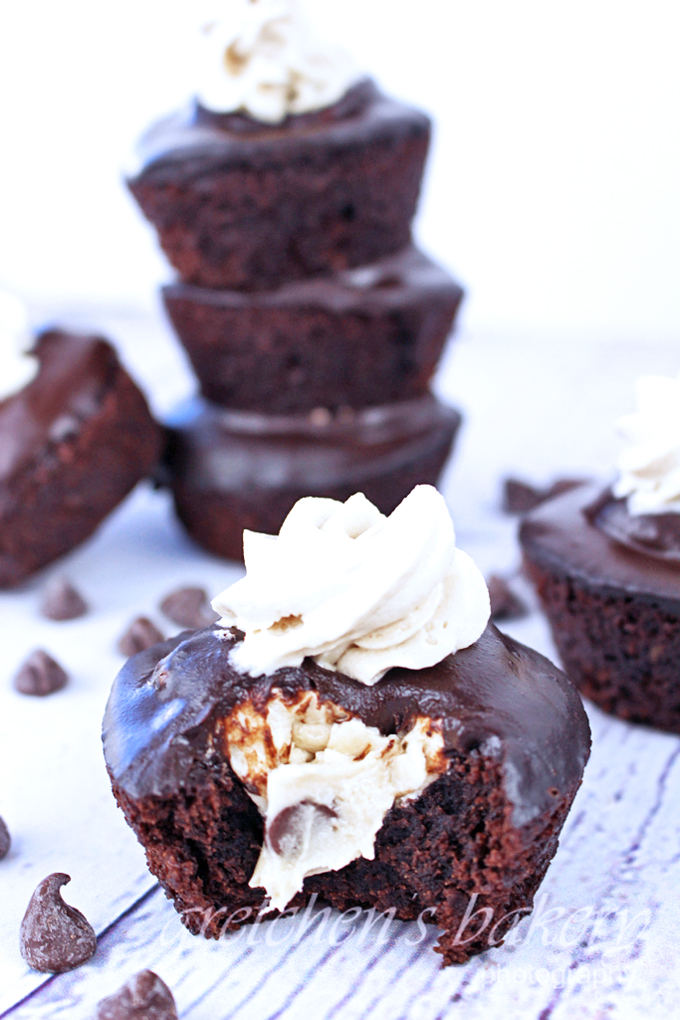 Ingredients
For the Brownie Batter:
Granulated Sugar ¾ cup (150g)
Coconut Oil 4 tablespoons (60ml)
Natural or Dutch Process Cocoa Powder 1/3 cup (30g)
Hot Water 1/3 cup (80ml)
Ground Flax Seeds 3 Tablespoons (24g)
Hot Water 4 Tablespoons (60ml)
Vanilla Extract 1 teaspoon (5ml)
All Purpose Flour ½ cup + 3 Tablespoons (87g)
Salt ¼ teaspoon
Baking Powder ¾ teaspoon
For the Cookie Dough:
Vegan Butter 3 Tablespoons (42g)
Granulated Sugar ¼ cup (50g)
Light Brown Sugar ¼ cup (52g)
Plant Milk ¼ cup (60ml)
Vanilla Extract 1 teaspoon (5ml)
All Purpose Flour ¾ cup (94g)
Salt pinch
Vegan Chocolate Chips ¼ cup (40g)
For the Ganache:
½ cup Vegan Chocolate
¼ cup plant milk
Instructions
For the brownie batter:
Combine the ground flax and 4 Tbs hot water and let stand for 5 minutes to thicken.
Combine the cocoa powder with the other measure of hot water (the 1/3 cup) and whisk smooth
Add the melted coconut oil
In a large mixing bowl combine the sugar, flax mixture, cocoa paste mixture and vanilla extract and whisk smooth
Sift the flour with the salt and baking powder and add to the chocolate mixture, whisk smooth
Portion into prepared cupcake tins filling half full and bake in a preheated 350°F oven for approximately 18 minutes
Cool for about 3 minutes and then with a tablespoon measure press the center to create an indent~ cool the rest of the way.
For the cookie dough:
Cream the vegan butter with both sugars until light and fluffy (this will take about 5 minutes on high speed)
Add the vanilla extract and slowly drizzle in the plant milk while mixing on medium to high speed.
Add the salt and flour and mix just until combined then add the chocolate chips.
Add the buttercream last if using *optional
Fill the indents of the cooled brownies with the cookie dough filling
Dip the tops in ganache
*To prepare the ganache chop the chocolate finely and add the boiling plant milk and whisk smooth, cool slightly before dipping the brownies
Notes
Brownies can be stored at room temperature for up to 3 days in an airtight container or refrigerate for 1 week

For longer storage freeze wrapped well for up to 2 months