One base recipe for bakery style spritz cookies makes life so much easier!
Yes it's true, in the bakery we only made one base recipe and then transformed it into whatever holiday was upon us!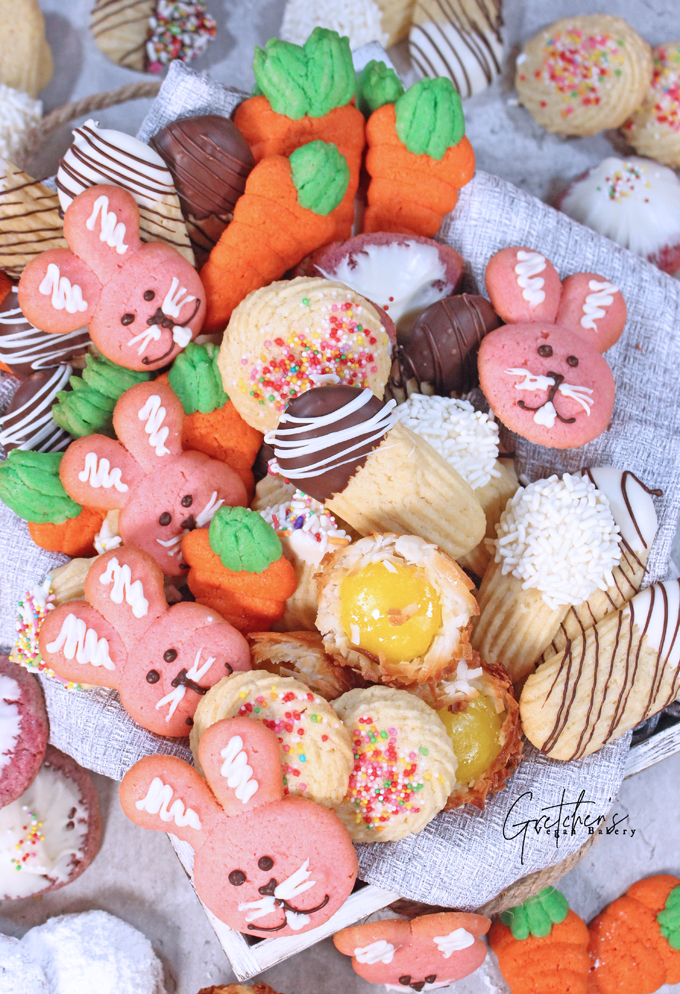 Simply by coloring some of the dough to match the season
Then use sprinkles for dipping that match the holiday!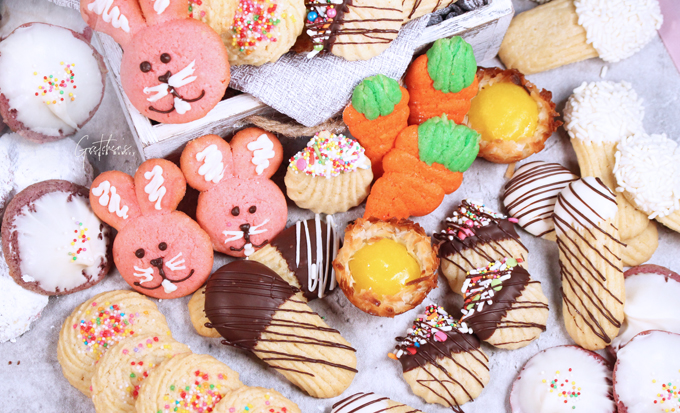 Make dozens of cookies for Easter from just one recipe!
Holiday bakery style cookies for Easter is my favorite thing to do and it has never been easier!
Piping, spritzing, scooping and dipping is what it's all about and it's really fun too!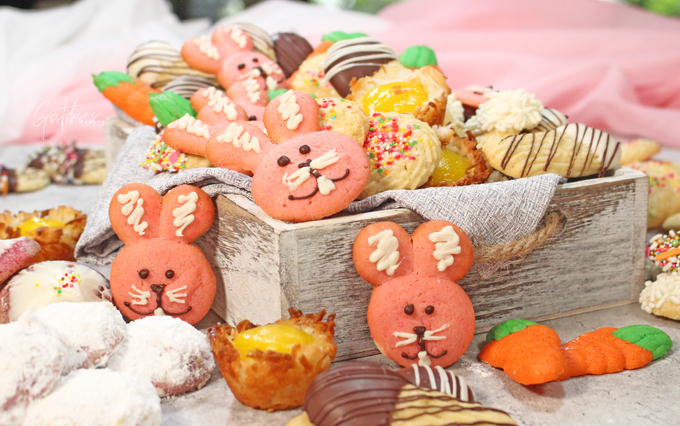 I'll admit I did add some lemon stuffed coconut macaroons to my platter
So this is a completely separate recipe, and probably the easiest one you will ever find!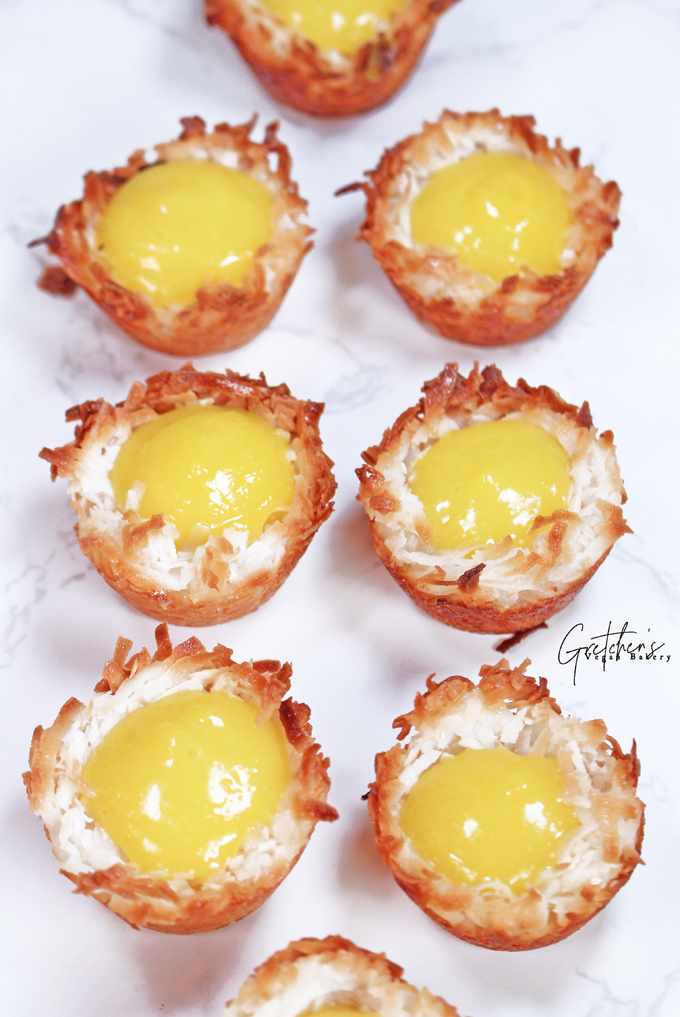 I did not film a video for these cookies because I have shown how to make the base recipe for bakery spritz cookies several times!
WATCH THE YOUTUBE VIDEO FOR HOW TO MAKE BAKERY STYLE SPRITZ COOKIES HERE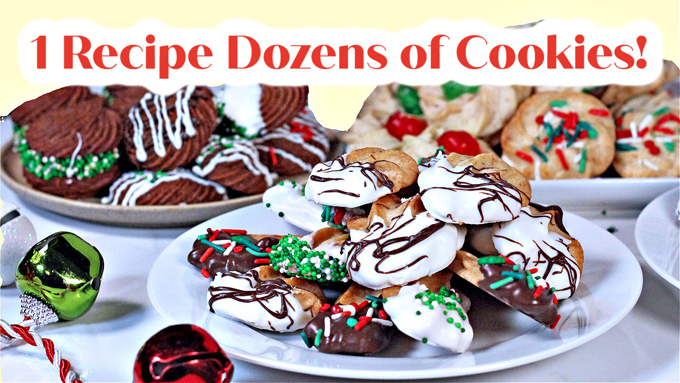 Then just gather up your prettiest spring sprinkles, a pastry bag and some sheet pans and you are on your way!
Notes for Success:
This recipe will work great with a cookie press, but I always hand pipe with a pastry bag and Ateco tips #824 and #826
If you cannot find vegan sprinkles you can always make your own!
CLICK HERE FOR MY RECIPE FOR VEGAN SPRINKLES
Traditional butter spritz recipes are typically very stiff doughs to work with, so do not be alarmed if your dough is really hard to pipe!
However you can always add more plant milk at the last stage of mixing to get it to a more manageable consistency, I have added up to 6 additional tablespoons at various times
A few commenters say their cookies took significantly less time than my recommended 20-22 minutes and one person said hers were done in 8 minutes!!!
This can be due to varying ovens (convection or not – although I do not use convection!) not to mention the cookie sizes.
I have found that the cookies will certainly be "done" and starting to get golden on edges at around 12 minutes but the insides were slightly chewy and almost still raw looking after cooling.
So I have always left mine in the oven for closer to the 20 minute mark to ensure they stay crispy even after days in storage!
Additionally a double sheet pan will help insulate and prevent over browning on the bottoms.
Some people have complained that their cookies spread too much in the oven loosing their shape, refrigerating the piped dough on the pans before baking can help keep their shape
Spreading can also be caused by over creaming the batter.
Just about 3-5 minutes on high will get it to light and fluffy.
This recipe is really versatile with the egg replacer of your choice I have used flax meal and other proprietary blends (like bobs red mill)
I have also used aquafaba with great results or a combination of flax meal and aquafaba for super flax egg!
For more awesome bakery style cookies click the links below!
Butter Pecan Chocolate Chip Cookies
Bakery Style Cookies for Easter
Ingredients
Vegan Butter or Shortening 1 cup (226g)
Granulated Sugar 1 cup (200g)
Egg Replacer 2 teaspoons (4.8g) **see notes above
Plant Milk 5 Tablespoons (75ml) * see notes above
Vanilla Extract 2 teaspoon (10ml)
All Purpose Flour 2½ cups (312g)
Baking Powder ½ teaspoon
Salt ½ teaspoon
Instructions
Cream the vegan butter or shortening and sugar on high speed until light and fluffy about 3 minutes.
Combine the vanilla extract with the room temperature plant milk and then add it to the creaming mixture 1 Tbs at a time, but using only 3 Tbs. The rest goes in last.
Be sure to stop and scrape the bottom and sides of the bowl for an even mix.
Add the sifted flour, salt, plant based egg egg replacer and baking powder by the heaping spoonful in about 4-5 additions while mixing on low speed.
Once the flour is incorporated, add the rest of the plant milk
Mix on high speed for about 10 seconds to develop the dough.
With your with the #826 tip or with a cookie press pipe the dough onto a parchment lined sheet pan spaced about 1 inch apart.
Bake in a preheated 350°F for about 20-22 minutes ** See note above! or until the cookies are medium browned on the edges. I find that the vegan version of spritz cookies take longer to bake for a crispy cookie than non vegan spritz cookies, so be sure to bake them a few minutes longer than lightly golden
Cool completely and fill with jams, vegan chocolates, vegan ganaches, vegan buttercream or your choice of fillings and then dip in nuts, sprinkles of your choice.
Notes
Cookies will stay fresh for several weeks in an airtight container
You can freeze the cookies although the thawing can cause condensation which is not great for chocolate and could cause bleeding of the colors of the sprinkles