The original seven layer cake happens to be called a Dobos Torte
Or sometimes called the Dobosh Torte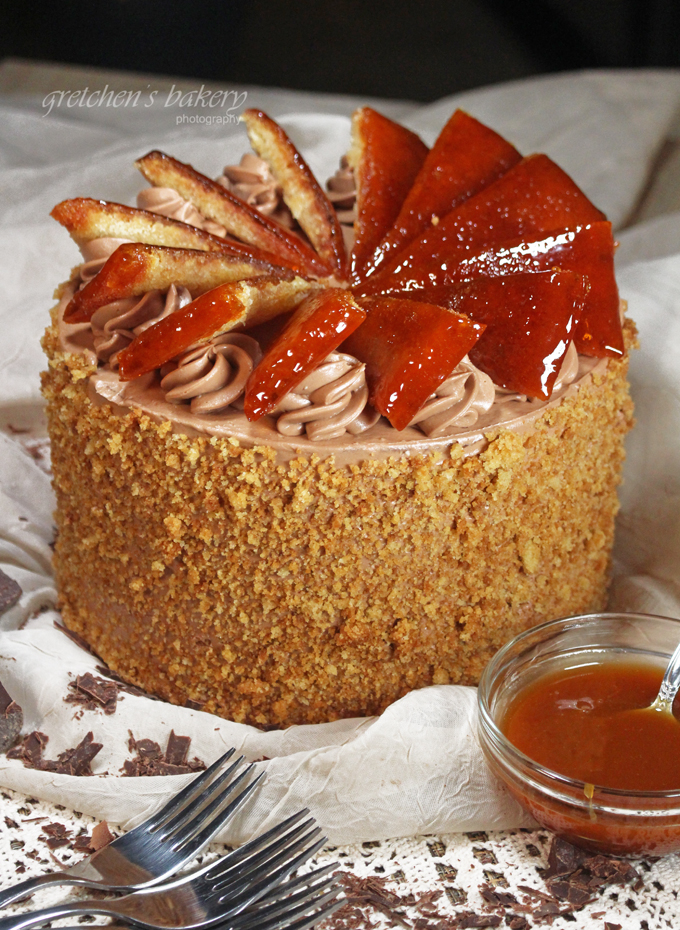 This classic cake hails from Hungary where József Dobos a delicatessen owner in Budapest put it on the map
The Dobos Torte has definitely stood the test of time adding it to the classic cakes list!
Luscious layers of vanilla sponge cake and silky chocolate buttercream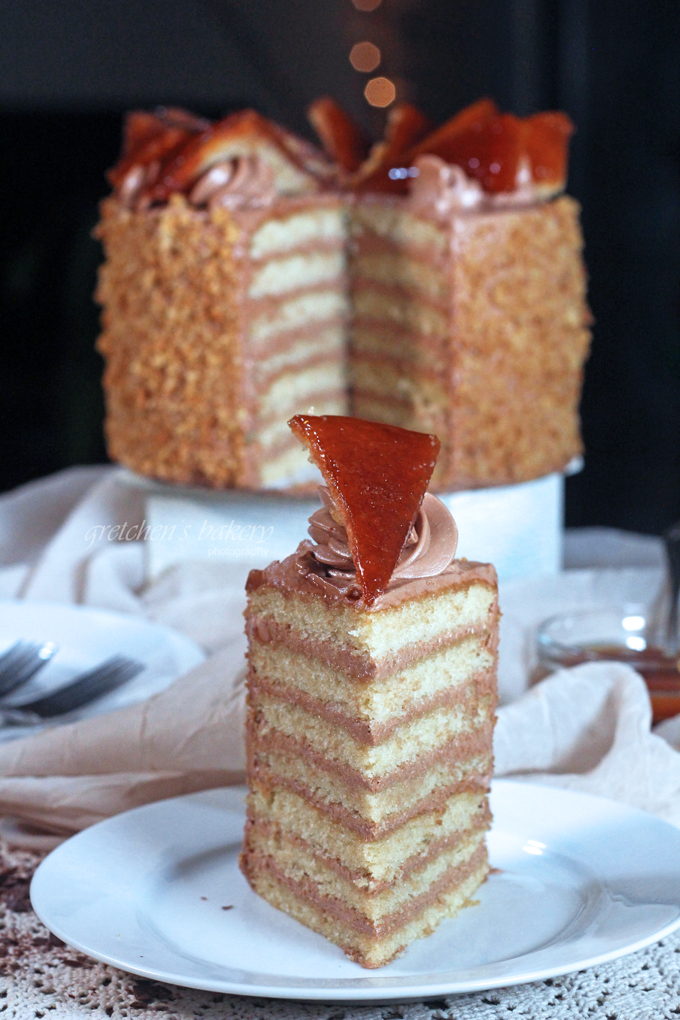 Each slice topped with caramel decor is what makes it an authentic Dobos Torte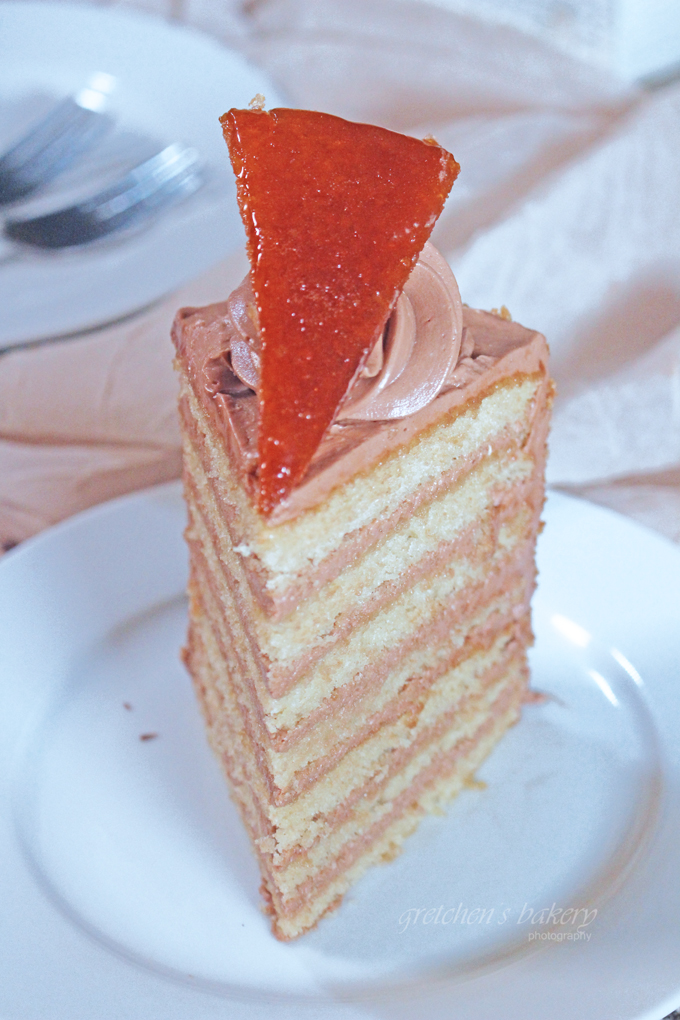 What is a Torte?
There is some mixed information about what exactly defines a Torte Vs a Cake
For me I classify a torte as any cake that has multiple layers
In fact, the act of "torting" a cake means just that
Slicing or baking the cake into thin multiple layers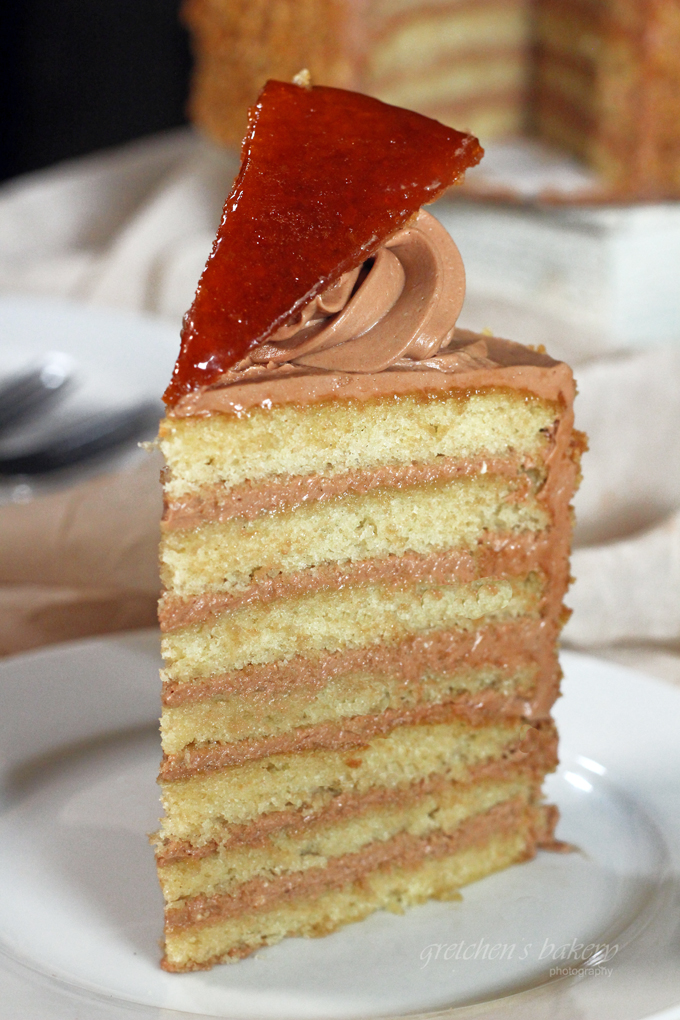 Some will say in order to be classified as a torte, the recipe should not have flour, but instead be made with nut flour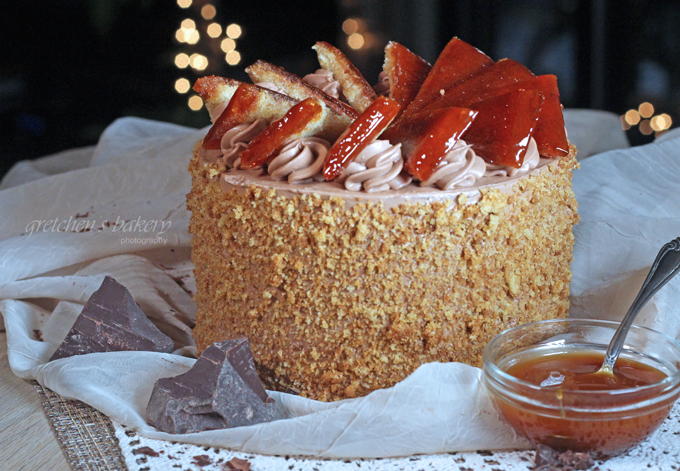 But if we use this classic Dobos Torte as the example
Indeed it is a sponge cake with multi layers!
With just two simple recipes and a bit of caramelized sugar
You are on your way to advanced classical pastry with a vegan flare!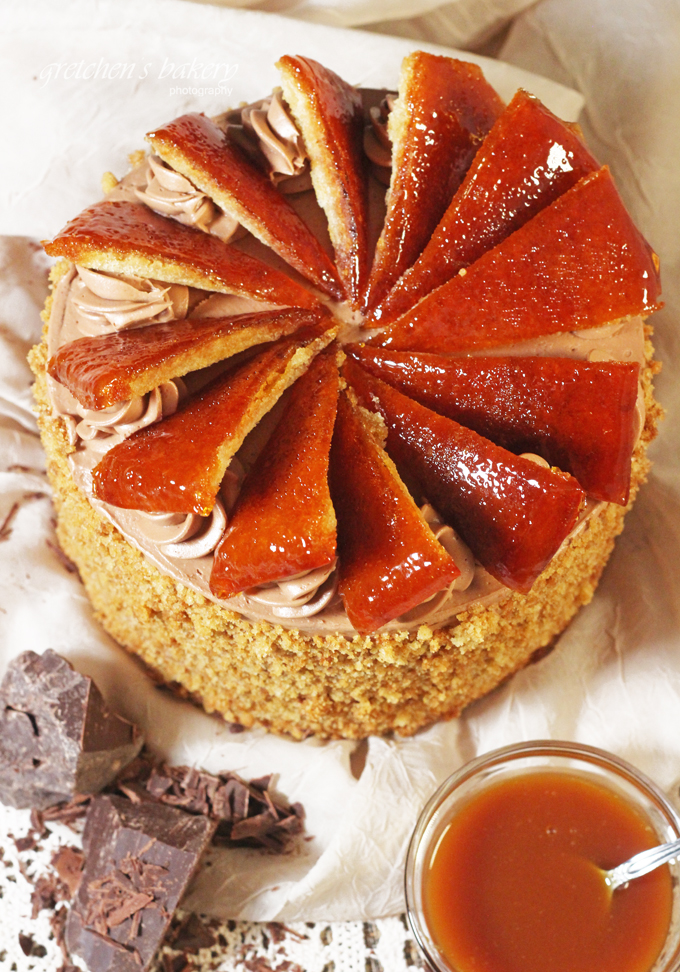 Notes for Success:
Cooking sugar for caramel is very dangerous so please take care and watch it ever step of the way
A heavy bottom sauce pot is essential as we are cooking the sugar to 330°F
A candy thermometer is not necessary as you can rely on sight to tell you when you have reached this temperature
Watch the full video tutorial to see the visuals for how to make the caramel decor for the Dobos Torte.
It is helpful to have several cake pans since we are baking each layer separately for a perfect thickness on each layer
I am using 7″ cake pans for mine and the recipe below is worked out perfectly for that size pan at 170g per pan
If you have 8″ cake pans I would say to increase the batter per pan to 250g each
Thus requiring you to have to increase the recipe to 1½X or double the ingredients
Just be careful with your math conversions if you do increase the recipe size.
Dobos Torte will stay fresh for up to 4 days at room temperature, however the caramel decor could prove a problem in humid warm climates.
Refrigeration will keep the cake fresh for longer~ up to 1 week, but the caramel will most likely condensate & melt even faster upon refrigeration
Cake is best served at room temperature, so be sure to let it sit out for at least an hour before serving
CLICK HERE FOR THE FULL YOUTUBE VIDEO TUTORIAL FOR HOW TO MAKE DOBOS TORTE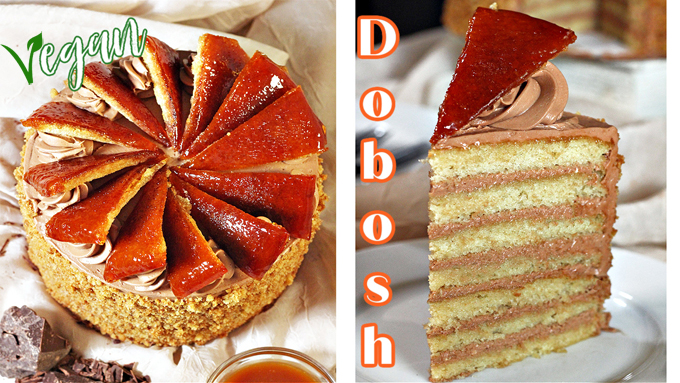 For more classic cake recipes click the links below!
Dobos Torte~ The Original 7 Layer Cake
The recipe below is for exactly enough batter for the 8 layers in 7" pans. The last layer may be slightly thinner but that's OK because it is for the caramel decor top layer anyway.
If you are baking into 8" pans you will have to do the recipe below 1½X~ be careful of your math on the conversion!
Ingredients
For the Cake Batter:
Soy Milk 1½ cups (355ml) *soy milk is the only plant milk that will thicken like buttermilk, but you can use whatever plant milk you prefer
White Vinegar 1½ Tablespoons
Vegan Butter ½ cup (113g)
Vegetable oil of your choice ½ cup (117ml) *or more vegan butter melted
Granulated Sugar 1¾ cup (350g)
Salt ½ teaspoon
Vanilla Extract 3 teaspoons (15ml)
All Purpose Flour 2 cups (250g)
Cake Flour 1 cups (120g) *see notes in body of the text article for more info on cake flour
Baking Soda 2 teaspoons
1 Recipe Your Favorite Buttercream *I used American Buttercream
Cocoa Powder 3 Tablespoons (
Hot Water 2 Tablespoons (30ml)
Semi Sweet Vegan Chocolate 4 ounces melted
For the Caramel Layer:
Granulated Sugar ¾ cup (150g)
White Vinegar ¼ teaspoon
Water 3 Tablespoons (45ml)
Instructions
Preheat your oven to 350° F
Grease and parchment line as many 7" cake pans as you have, but you will need 8 layers total
First combine the vegetable oil with the melted vegan butter add the vanilla extract and set aside
Combine the soy milk with the vinegar and let stand for 5 minutes to thicken.
Sift all the dry ingredients together in a large mixing bowl, including the sugar.
Pour the wet ingredients into the dry ingredients in a large mixing bowl and whisk smooth, this liquids will be the plant milk mixture and the butter/oil mixture
Divide the batter 170g in each pan and bake for approximately 12 at 350°F or until they are golden browned
If you don't have 8 pans, it's ok the remaining batter can sit on the counter at room temperature while the other cakes bake
Once the cakes are done, cool them slightly them carefully flip them out onto a parchment paper or cooling rack and quickly clean, re-grease & re-parchment the pans and bake the remaining batter
YOU WILL HAVE JUST ENOUGH FOR THE 8th layer, it may be slightly thinner but that;s OK~ it's for the caramel layer anyway
When the cakes are done baking, cool them just enough to be able to flip them out of the pans onto a cooling rack or a parchment paper lined sheet pan, and then wash, re-grease & re-parchment the pans to bake the remaining batter
Once the cakes are all baked, cool them completely then refrigerate the layers so they get cold & firm (it's easier to handle them when they are cold)
Prepare your buttercream recipe as per the instructions on that page and at the last stage of mixing, add the cocoa paste and cooled melted chocolate
The cocoa paste mixture is made my combining the cocoa powder with hot water, whisk smooth then cool completely
*As I state in the video it is not necessary to add both to make chocolate buttercream, however I prefer that combination. You can add one or the other it is your choice
Build your cake with 7 of the cake layers and about ¼ cup of chocolate buttercream per layer, then crumb ice it and give it a final ice with the remaining buttercream.
*I had about 2 cups of buttercream leftover after I made this entire cake
With the extra cake - grind it in a food processor to crumbs and then toast for 25 minutes in a 300°F oven cool it and use it for the final garnish for the cake
Once the cake is fully iced, prepare the caramel.
Combine the water, vinegar and sugar together in a heavy bottom sauce pot and stir to dissolve the sugar over medium to high heat
Once the mixture begins to boil DO NOT STIR
let it come to a full boil and watch it closely for caramelization
As soon as the sugar starts to turn light amber it will go to burnt very quickly!
Remove from the heat and it will darken in color and continue cooking!
Let it stand for 5 minutes to settle down then using a metal ring mold pour the hot caramel into the mold over the last layer of cake
Let it set for about 5 minutes then using an oiled knife, cut the caramel cake into 12 portions
Decorate each slice of cake with a caramel cake shard
Notes
Dobos Torte cake will stay fresh for up to 4 days at room temperature, however the caramel decor could prove a problem in humid warm climates.

Refrigeration will keep the cake fresh for longer~ up to 1 week, but the caramel will most likely condensate & melt even faster upon refrigeration

Cake is best served at room temperature, so be sure to let it sit out for at least an hour before serving