Classic Banoffee pie is made from a combination of bananas and toffee and loads of whipped cream
Banoffee Pie hails from the UK and hopefully my rendition of Vegan Banoffee Bars is an acceptable form of flattery!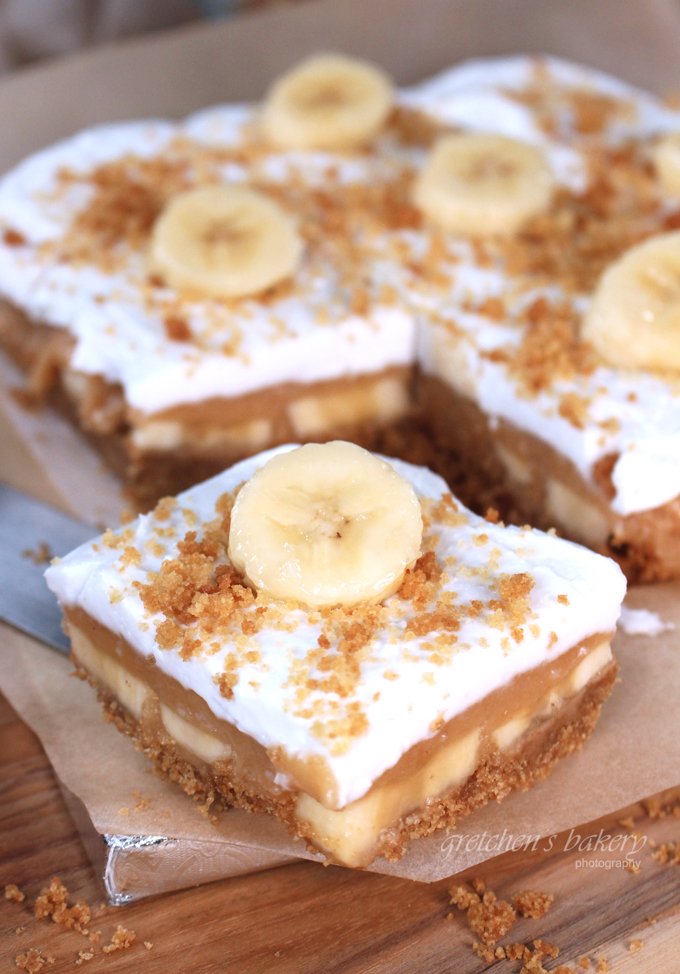 I have tweaked my caramel recipe to more closely resemble a thick sticky toffee!
Since Banoffee is traditionally made with toffee, hence the name "Ban-Offee"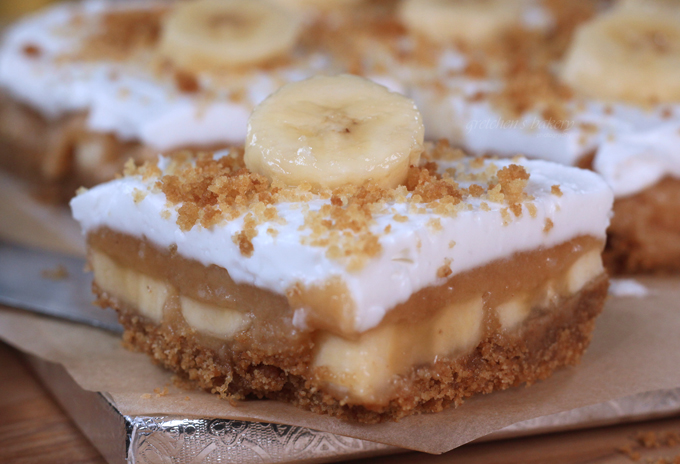 Graham crackers for the crust can be substituted with your favorite cookie like Biscoff or Digestive Biscuits
Even chocolate shortbread cookies would be an amazing substitution!
I've developed an easy no bake recipe for you today with several variations for the caramel layer and the vegan whipped cream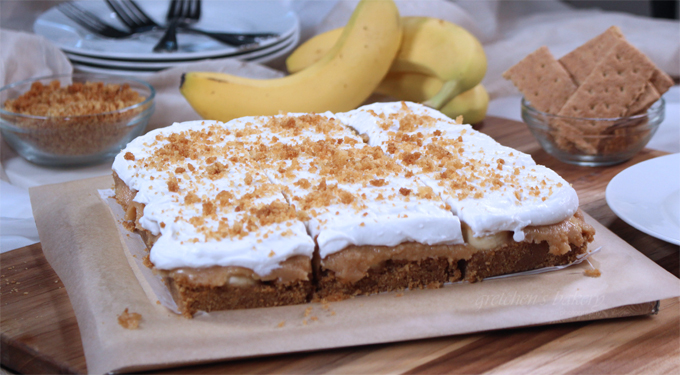 Notes for Success:
I have several options for vegan caramel so you can choose the one that suits you best.
The recipe listed below is the one I used in the video where not only did I whip the freshly made caramel to aid in thickening
By whipping your slightly cooled vegan caramel recipe with an electric mixer (preferably a stand mixer with a balloon whip attachment)
The resulting caramel is super thick!
But this time I also used reconstituted creamed coconut in place of the plant milk or coconut cream that is typically used in vegan caramel recipes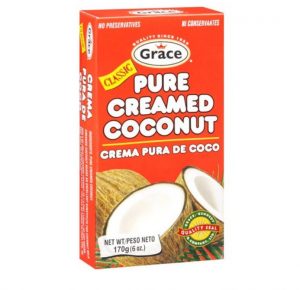 This made the caramel so thick that when I cut these bars not a bit of it oozed out!
Which is exactly what we want when serving caramel cakes and bars!
However the taste was extremely coconut from that super concentrated creamed coconut!
So be sure to read the entire article for Vegan Caramel 3 Ways so you can pick which one you want to make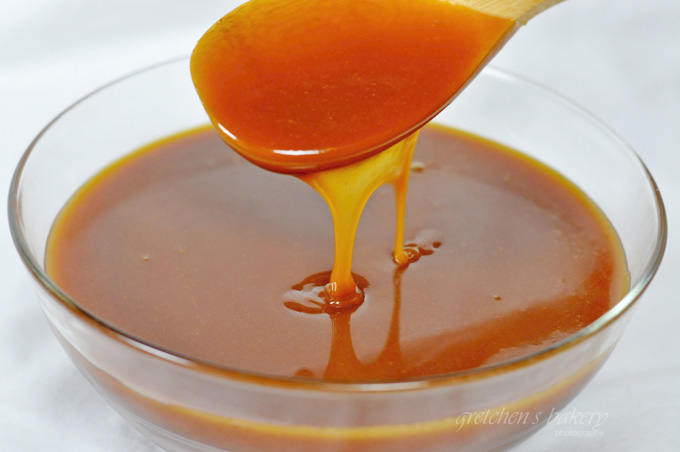 For the Vegan Whipped Cream
I also have some different options since not everyone can get the same products and ingredients
I have an awesome homemade recipe that used soy milk instead of coconut for those who are super sensitive to coconut taste.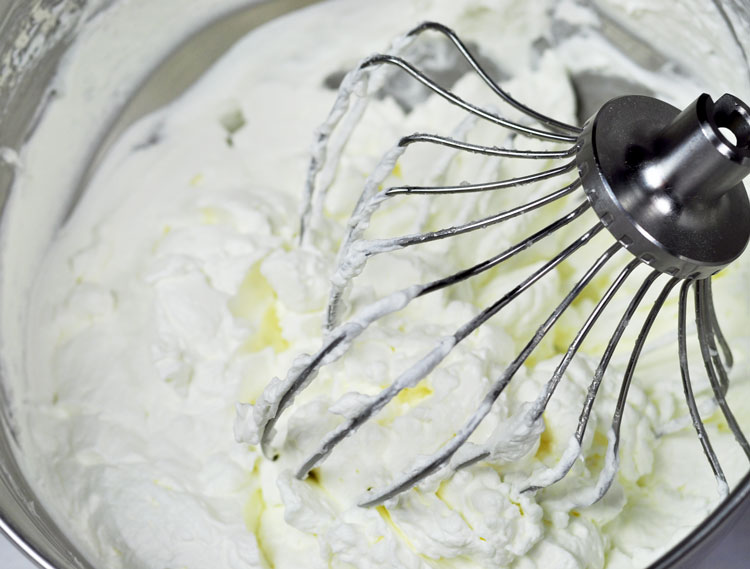 CLICK HERE FOR ALL THE VEGAN WHIPPED CREAM OPTIONS!
Be sure to read the entire post for my Homemade Vegan Whipped Cream Recipe before beginning since it can be tricky and temperamental!
CLICK HERE FOR THE YOUTUBE VIDEO FOR HOW TO MAKE THESE BANOFFEE BARS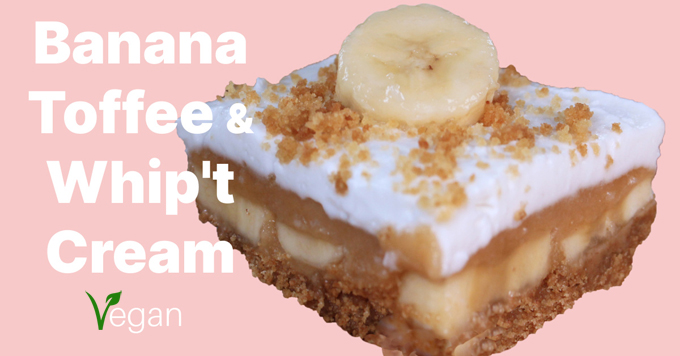 For more recipes with caramel click the links below!
Yield: serves 9-12ppl
Vegan Banoffee Bars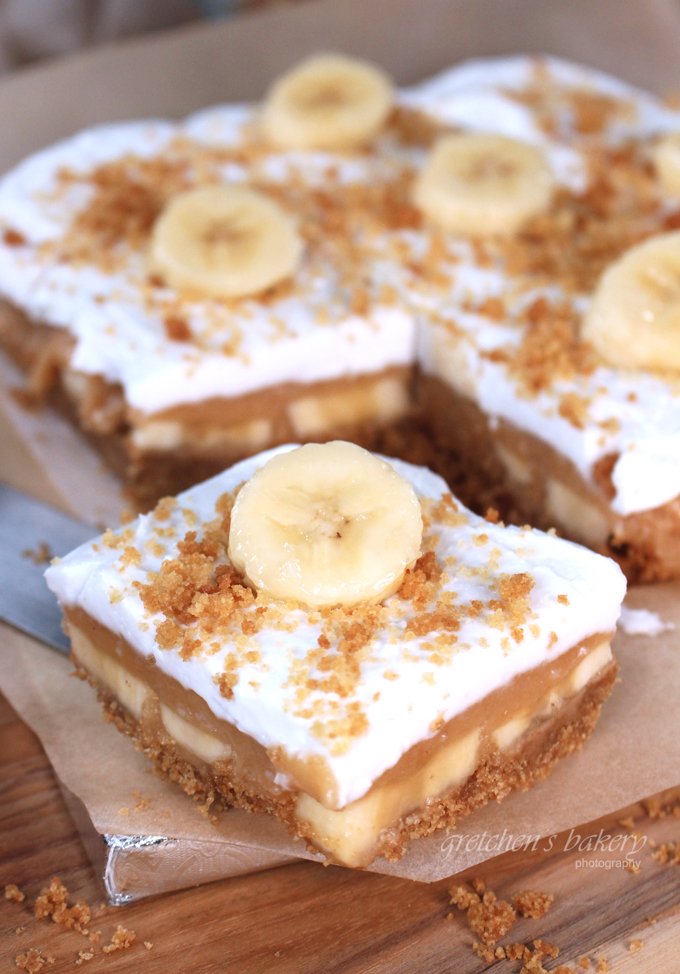 Ingredients
For the Crust
Graham Crackers or Digestive Biscuits 2 package of graham crackers= 20 sheets (280g)
Vegan Butter melted 8 tablespoons (113g)
Granulated Sugar 2 cups (400g)
Water 6 Tablespoons (90ml)
White Vinegar 2 teaspoons (10ml)
Vanilla Extract 1 teaspoon (5ml)
Salt 1 teaspoon
Creamed Coconut 6oz package
OR Full Fat Canned Coconut Milk 1 cup (240ml)
Vegan Butter 2 Tablespoons (28g)
Fresh Banana 3 medium bananas
Instructions
Parchment line an 8" x 8" square cake pan and let the excess parchment hang over the sides for ease of removal later.
Decide which vegan whipped cream you are using and prepare in advance if using my homemade recipe~ do not whip until you are ready to ice the finished bars.
First prepare the graham cracker crust by crushing the graham crackers in a food processor to fine crumbs.
Add the melted vegan butter and pulse until it resembles wet sand
Press the crumbs into the prepared greased & parchment lined cake pan evenly on the bottom refrigerate until needed
If you are using Creamed Coconut for super extra thick caramel, you must reconstitute the entire 6ounce box with 12Tbs of boiling water. **yes this is less water than recommended on the box, but I want it super thick!
I placed the creamed coconut & hot water in my high speed Magic Bullet blender and it whizzed up perfectly smooth!
Refrigerate to thick then prepare the caramel recipe
Prepare the caramel by combing the sugar, vinegar & water together in a heavy bottom sauce pot, stirring to dissolve the sugar before it comes to a boil
Once the sugar mixture is boiling DO NOT STIR
Bring to 300° or 320°F or once the color of the syrup turns from pale yellow to medium amber then remove it from the heat
Let the pot stand for about an minute then add the creamed coconut OR the coconut milk and the vegan butter ~gently~ while stirring BE VERY CAREFUL AS THE HOT SUGAR SYRUP WILL BUBBLE UP & SPATTER!
Add the salt & vanilla extract then pour into a heat proof container to cool slightly
Pour the caramel into the work bowl of your stand mixer with the balloon attachment and whip on low speed first to be sure there is so spattering, then slowly increase the speed to medium and whip for about 8-10 minutes.
The caramel will cool as you whip while incorporating air, turning it lighter and thicker.
Slice the bananas and line the graham cracker crust with them covering the entire surface
Next spread the caramel over the bananas, refrigerate to set & until cold
Next whip your vegan whipped cream & spread over the caramel layer
Top with crushed graham crackers and/or fresh banana slices
Notes
The prep time listed does not reflect the time needed to make homemade whipped cream! This will take much longer to pre-prep so please read that entire recipe post for homemade vegan whipped cream.

Banoffee bars must be kept refrigerated and will stay fresh for up to week.

The fresh bananas where the cuts are will start to turn brown after about 3 days