*This recipe was sponsored by Olive Nation.
In order to have the best double chocolate chip cookies
You must start off with the best chocolate chip cookie recipe!
Once you've established that, it's a very simple tweak to double chocolate heaven!
By taking out some of the flour and replacing it with cocoa powder you have instant double chocolate chip cookies!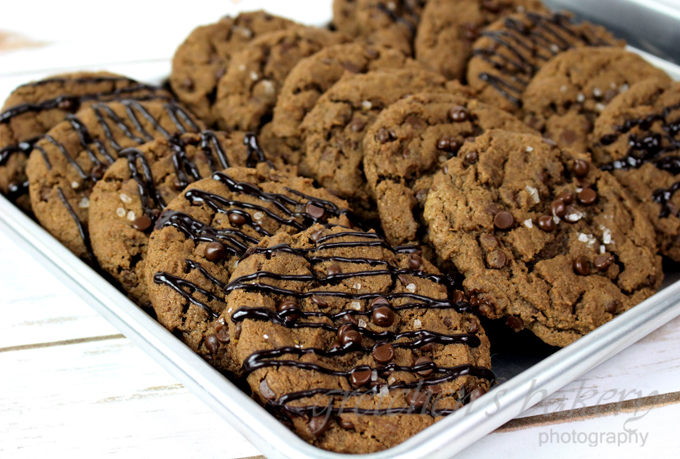 But not without some other minor changes that I will get to in a minute!
According to me, the best recipe for chocolate chip cookies is out of my Cookbook Modern Vegan Baking
Shameless plug 🙂
On page 115 of my book you will find this original recipe as well as some tips for modifying your cookie recipes to change them as you prefer.
Some people like super fluffy and chewy cookies
And others may like crispy and crunchy cookies.
This one though, is a perfect blend of crispy outsides and chewy soft insides!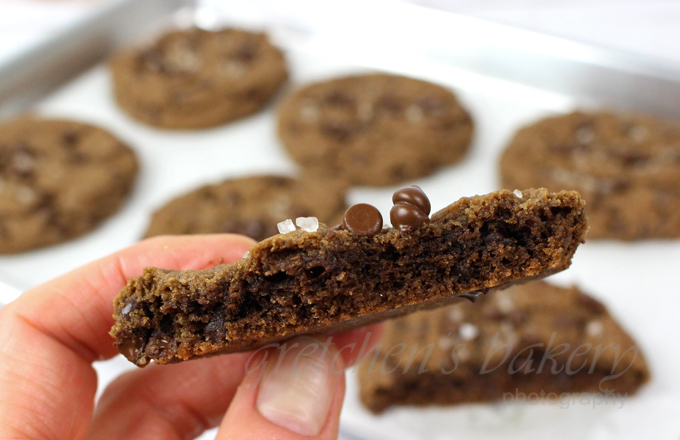 But due to the addition of cocoa powder here and the tendency it has to really suck up moisture in a recipe
I've had to alter a few other ingredients too.
Read more about cocoa powder here, and why dutch process may not always be the best for your recipes
I've also tweaked the plain flax "egg" from the original recipe to a super flax "egg!
If you have not yet delved into the world of Super Flax Egg ~ wait until you see this!
It's essentially just adding flax meal to aquafaba rather than water for a super gelatinous binding ingredient that adds a ton of moisture too!
Super Flax Egg really transforms cookie recipes into something of next level greatness!
I decided to put sea salt flakes on mine because I love the contrast of salty with rich, sweet chocolate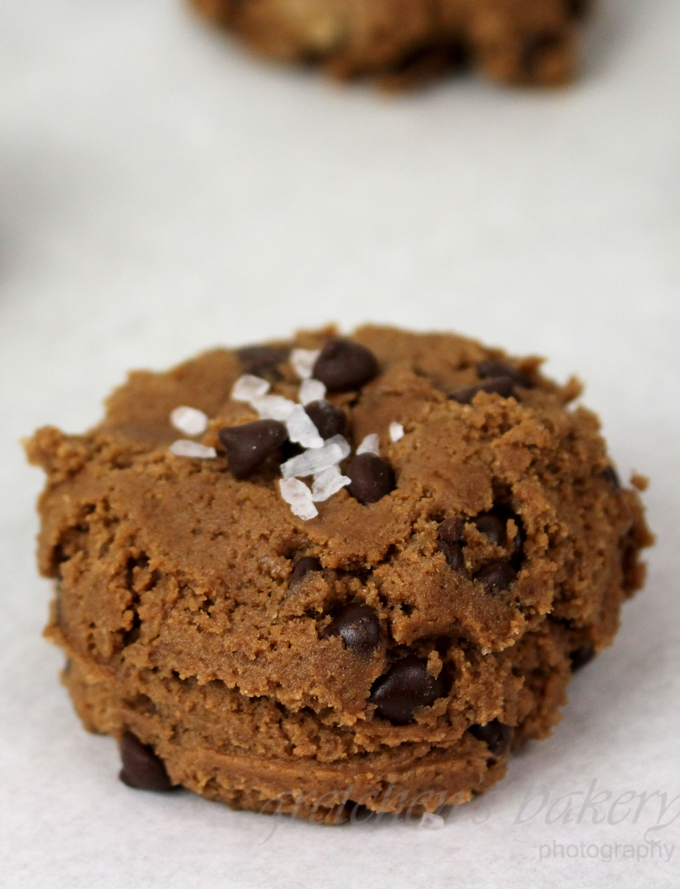 But this is completely optional
As is the chocolate ganache drizzle once they were cooled!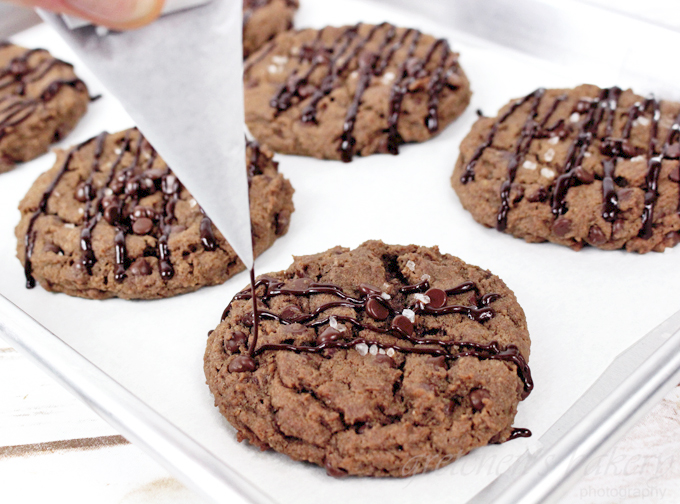 I'm also using Vanilla Bean Paste for an amazing addition to the depth of this cookie!
And Callebaut Vegan Chocolate Chips both courtesy of Olive Nation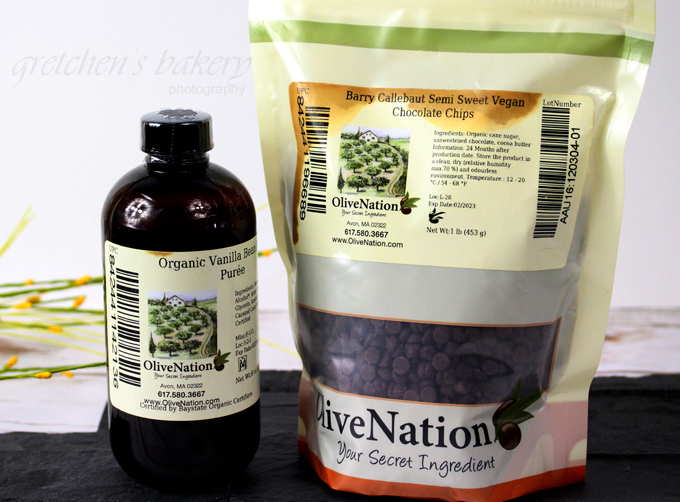 They were so kind to offer me samples of their amazing products to test out in some recipes!
I know it can be difficult to find many of these vegan ingredients and chocolate chips are definitely one of them!
Olive Nation has very reasonable prices and are USA based out of Massachusetts.
They carry everything from extracts, chocolate, nuts and spices and so much more!
Their website is vast and impressive and a literal food festival for us bakers!
My creative juices were flowing as soon as I saw the array of wonderful ingredients to play with!
They offer wholesale prices and fast shipping so if you want to check out more be sure to click through!
Get 20% off your order by using this code in the coupon area at checkout!—–> GVB20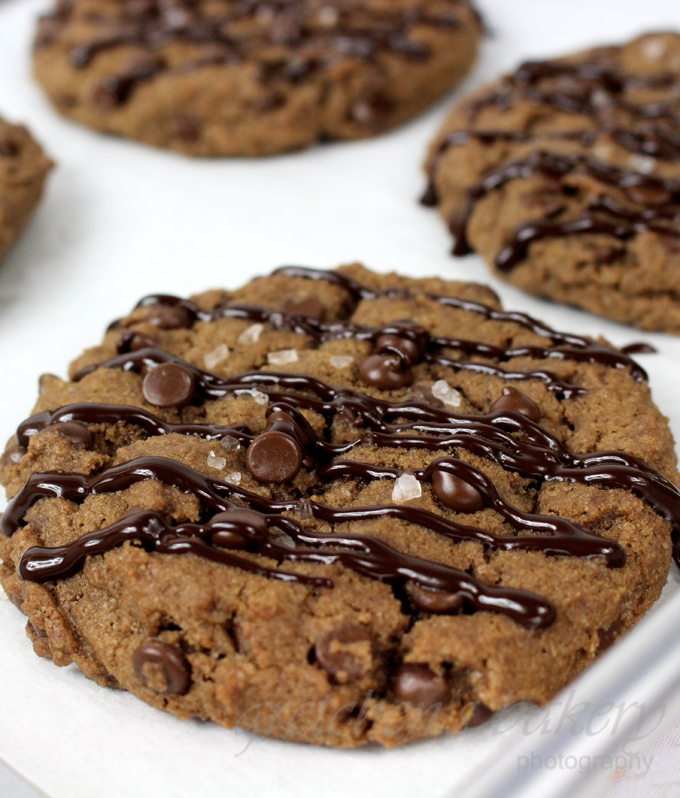 For more recipes courtesy of Olive Nation check out:
Double Chocolate Chip Cookies ~ Vegan
Double Chocolate Chip Cookies ~ Vegan Prep time: 10 mins Cook time: 12 mins Total time: 22 mins Serves: 24- 2ounce cookies Be sure all ingredients are at room temperature before beginning.
Natural Cocoa Powder will work much better than Dutch Process in this recipe
Ingredients
Vegan Butter 1 cup (224g)
Granulated Sugar ½ cup (100g)
Light Brown Sugar 1½ cup (300g)
Salt 1 teaspoon (6g)
Aquafaba *the water from a can of chickpeas ⅓ cup (78ml)
Flax Meal 2 Tablespoons (16g)
Vanilla Bean Paste 2 teaspoons
All Purpose Flour 3 cups + 2 Tablespoons (390g)
Natural Cocoa Powder 6 Tablespoons (36g)
Baking Soda 1 teaspoon
Baking Powder 1 teaspoon
Instructions
Preheat the oven to 350°F
Line 2 Half sheet pans with parchment paper *or if you only have one pan that is ok too- this recipe makes 24 cookies
In small bowl whisk the flax meal with the aquafaba and set aside to thicken
With an electric mixer cream the vegan butter with both sugars and the salt with a paddle attachment on medium to high speed until ilght and fluffy - this will take approximately 3-5 minutes.
Scrape the bottom & sides of the bowl for an even mix.
Add the thicken super flax paste and then whip on high speed for 30 seconds to emulsify
Sift the flour with the cocoa power, baking powder & baking soda and add all at once to the creamed mixture.
Mix on low speed until well blended then add the mini chocolate chips
Scoop the cookie dough with a 2 ounce scoop or drop the dough by rounded tablespoons full onto parchment lined sheet pans - 12 dough balls to 1 Half Sheet Pan.
Press the balls of dough just slightly to help them take shape as they bake and if desired sprinkle a few more chocolate chips onto the tops of each.
Bake cookies in a preheated conventional oven for 12-14 minutes ~ until no longer raw & doughy in the middle.
It's harder to see "golden browned" for done-ness with a double chocolate chip cookie like this one
Cool slightly before serving
Notes
Double chocolate chip cookies will stay fresh at room temperature in an airtight container for up to 1 week.

Dough can be frozen for up to 2 months
3.5.3251