Just when I thought my cheesecake recipes couldn't get any better!
Introducing Vegan German Chocolate Cheesecake!
Double chocolate and creamy NY style cheesecake piled with Coconut Caramel Pecan topping.
Many people are confused as to just what German Chocolate is.
And are surprised to find out it is merely referring to a combination of coconut, caramel and pecan.
It makes sense when you think about it though, because although I have never been to Germany I would wage a pretty hefty bet that there are no coconuts growing there!
The history behind this recipe and it's name stems from German's Chocolate.
Which is a brand of chocolate.
Way back in the 1950's a Texas newspaper was running a contest for who could come up with the best recipe using German's brand chocolate.
Thanks to Mrs George Clay for the recipe!
So if coconut, caramel and pecans are your thing~this will become one of your favorites!
I use this same topping as a filling for my German Chocolate Cakes too!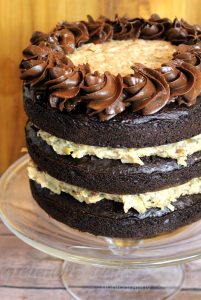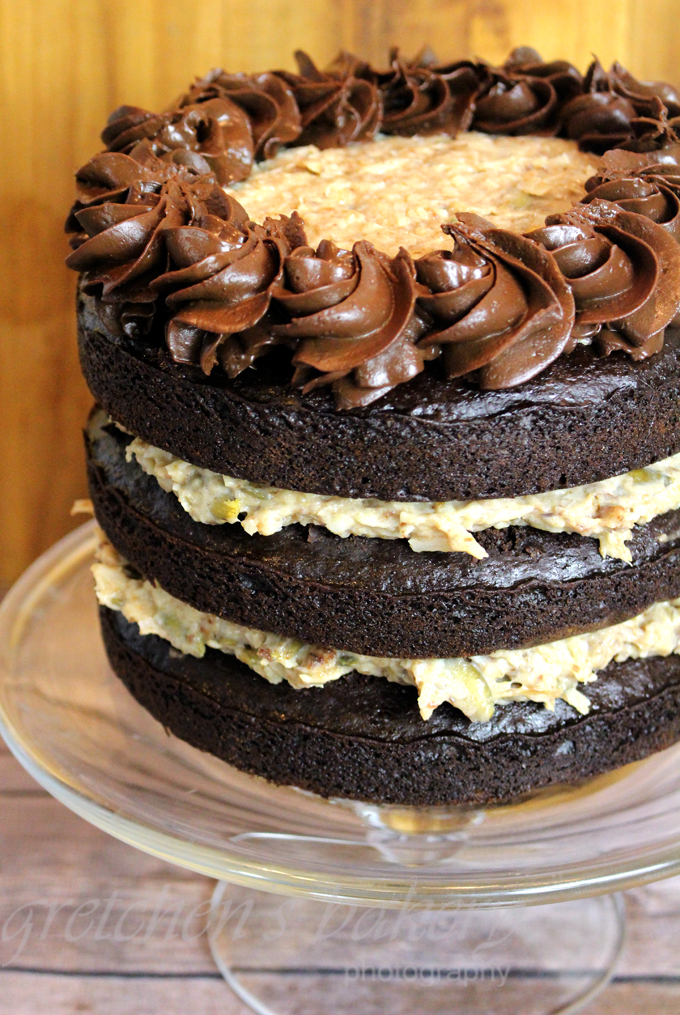 It is an amazing recipe that uses dates for the "caramel" so it is slightly healthier than the original recipe!
I've served my vegan cheesecakes to so many non vegans and they are all always stunned that it is not the "real deal"
Fear not for serving this to the masses!
You will win hearts with this one for sure!
Double Chocolate NY Style Cheesecake with a chocolate cookie crust and a super easy caramel topping is a marriage made in heaven.
My Cheesecakes are so easy to make since you just throw everything into the food processor and whiz it up!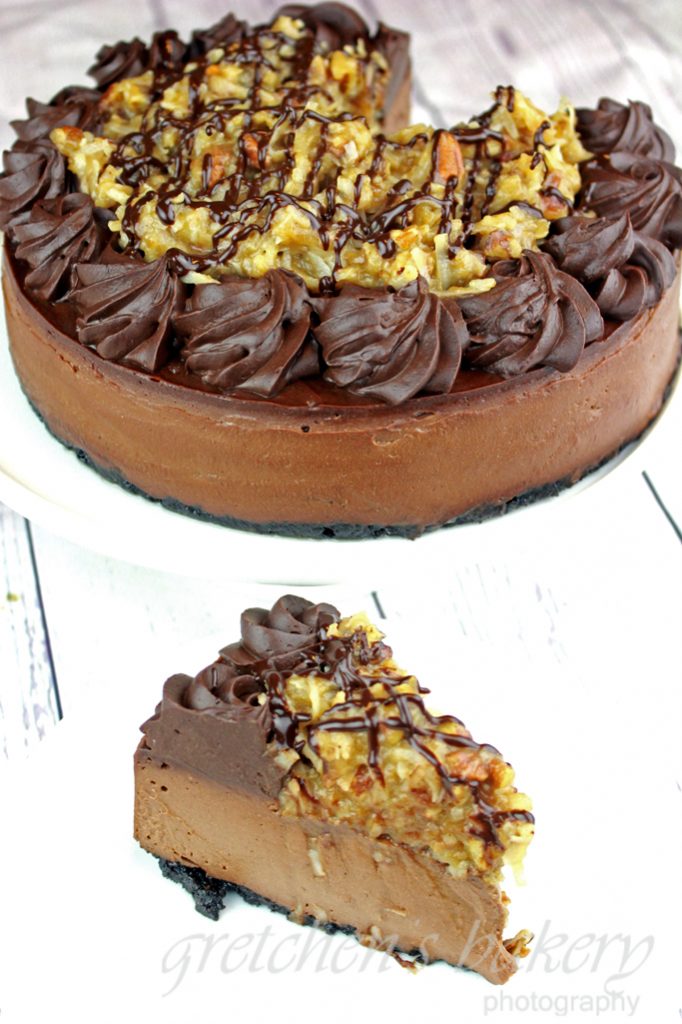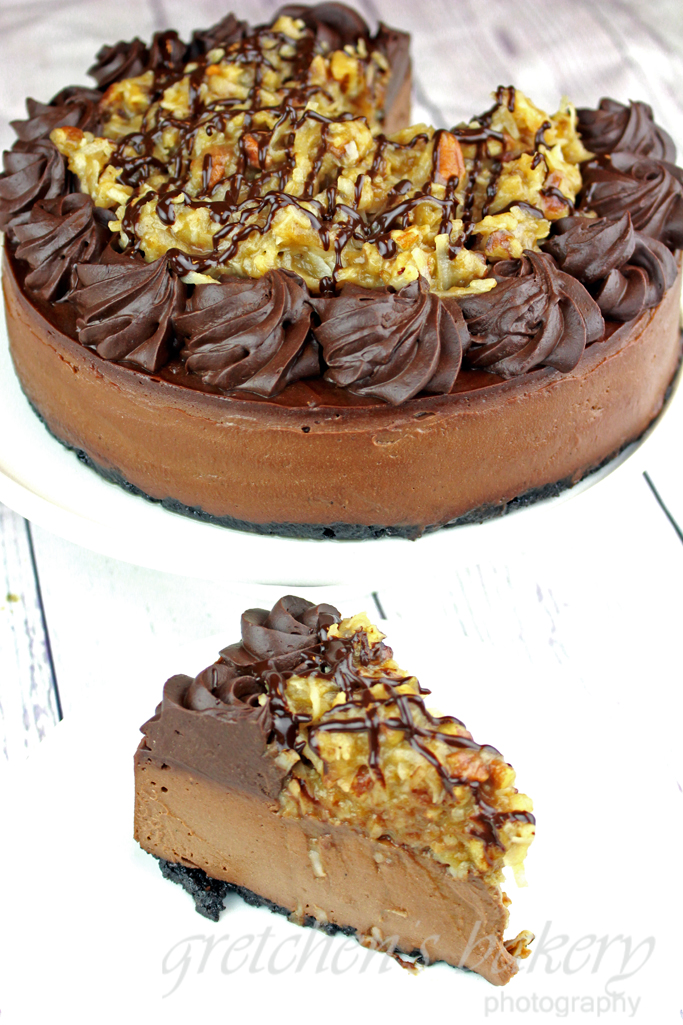 Notes for Success:
I will note that the only vegan cream cheese brand that has ever worked for me is Tofutti brand *not sponsored
Additionally if you are against dates for any reason you can absolutely make a traditional caramel sauce made with granulated sugar.
My best recipe for vegan caramel happens to be the one I made for my Snickers Brownie recipe.
Click through to that recipe if you want to check it out!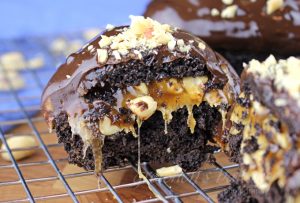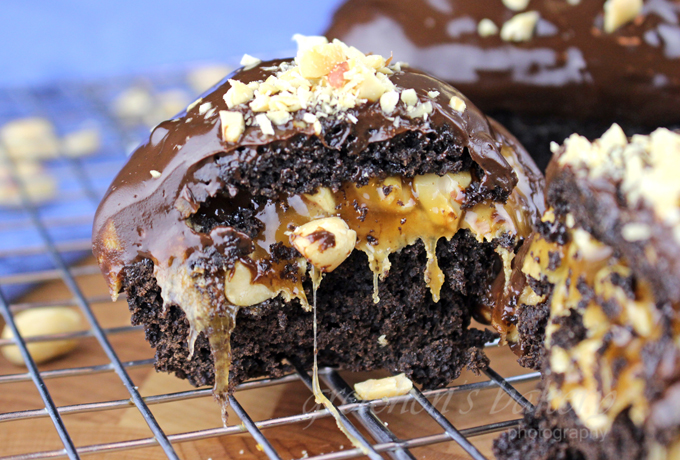 When measuring cornstarch I cannot stress enough that a kitchen scale is the best way to go.
Cornstarch is a very difficult ingredient to measure consistently with a volume spoons measure
So while I list both measures below I cannot stress enough how the grams measure with a scale is going to give you the best results.
Many times people have complained that their cheesecake is like rubber and they don't know why!
This is from a heavy measure of cornstarch when using volume measuring spoon vs the 100% accurate scale measure in grams.
You may notice that my base recipes for cheesecake are always the same with some slight variations to the sugar or an added spice depending on what flavor I am making.
At times I add an addition of firm tofu in place of some of the cream cheese for a lightened up version and to cut some of the fat calories.
I do not find an extremely noticeable difference in the outcome of straight vegan cream cheese versus the tofu addition,  so for me I like the tofu version.
Additionally I only use Tofutti Cream Cheese for my BAKED recipes.
*Not sponsored
I have not had success with any other brand in BAKED recipes.
For some reason the other more expensive brands I've tried have broken down into an oily mess when baked.
CLICK HERE FOR THE FULL STEP BY STEP YOUTUBE VIDEO TUTORIAL FOR HOW TO MAKE THIS CHEESECAKE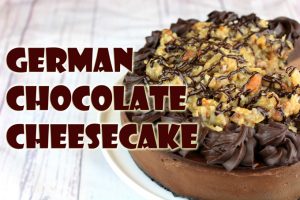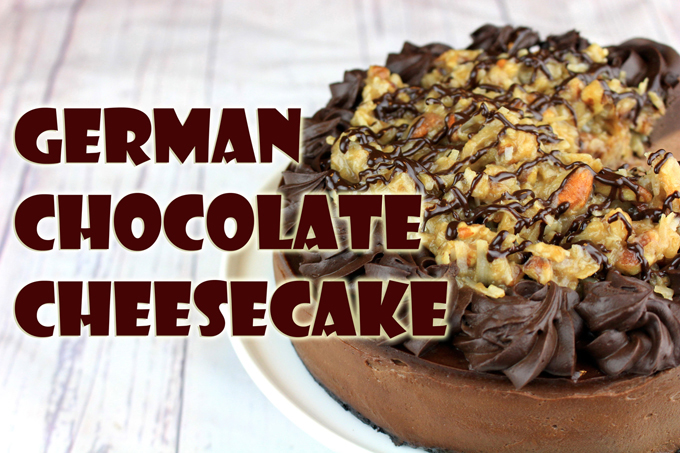 Vegan German Chocolate Cheesecake
Ingredients
For the Cheesecake:
Vegan Cream Cheese 2 package (16oz) (454g)
Vegan Semi Sweet Chocolate 1 cup (6 ounces)
Vegan Granulated Sugar ¾ cup (150g)
Cornstarch 2 Tablespoons (20g)
Cocoa Powder 2 Tablespoons (12g)
Salt ¼ teaspoon
Vanilla Extract 2 teaspoons (10ml)
Lactic Acid 1 teaspoon Apple Cider Vinegar 2 teaspoons
Vegan Butter 2 Tablespoons (28g)
Milk Alternative scant ¾ cup
For the Crust:
Vegan Chocolate Sandwich cookies 12
Vegan Butter 2 tablespoons
For the German Chocolate Topping:
Dates 6 ounces (approx 1 cup packed)
Almond Milk ½ cup (120ml)
Hot Water 2 Tablespoons (30ml)
Shredded Sweetened Coconut 1 cup
Toasted Pecans ¾ cup
For the ganache rosettes
Semi Sweet Vegan Chocolate 4 ounces
Soy or Almond Milk ¼ cup
Instructions
First prepare the crust by grinding the cookies in a food processor until fine. Add the melted vegan butter and process to the consistency of wet sand.
Press into the bottom of a greased and parchment lined 7" cake pan and freeze while you prepare the filling
For the cheesecake combine the vegan chocolate and soy milk in a sauce pot over low heat and melt while stirring constantly, whisk smooth
Add the cocoa powder and whisk smooth
Combine all the cheesecake ingredients together in a food processor along with the chocolate mixture (no need to cool) and process smooth
Pour into the prepared crust and bake in a water bath in a preheated 335°F oven for 1 hour
Turn the oven off and let the cheesecake cool in the oven
Refrigerate overnight
The next day prepare the ganache by combining the chocolate and milk in a small saucepot and melt over a low heat stirring constantly. Allow it to set at room temperature to a pipe-able consistency.
Then unmold the cheesecake and prepare the German Chocolate Topping by combining the dates, hot water, almond milk and salt in a high speed blender or food processor.
Blend smooth then fold in the coconut and toasted pecans
Top the cheesecake with the topping and serve
Notes
Cheesecake must be kept refrigerated.

Store in an airtight container for up to 10 days