When Taco Tuesday falls on 4/20 what else are you supposed to do besides make Taco Tuesday Cupcakes stuffed with dulce de leche!
At least that's what I'm doing.
I'm not quite sure why you wouldn't!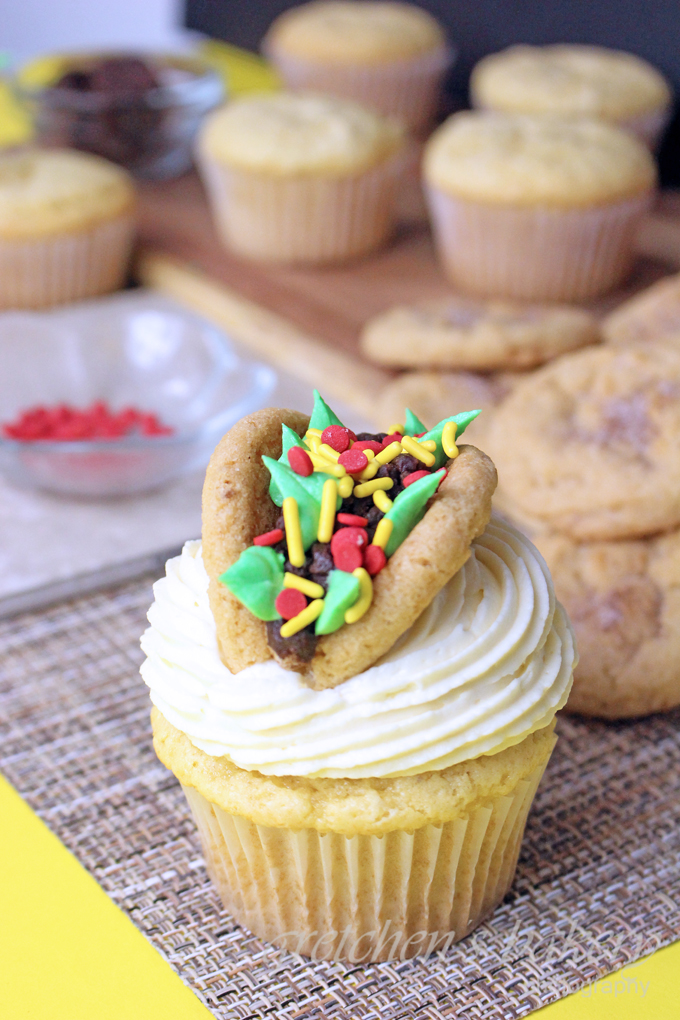 I had some leftover date caramel from my recent Snickers Cheesecake project so I stuffed these bad boys to the hilt!
I know what you are already thinking, "That's Not Dulce de Leche!"
Maybe 4/20 got to my head today because technically, yes you are correct it's not really a true dulce de leche 
A true Dulce de Leche filling would require a slow reduction of plant milk and sugar to a caramelized thick gooey consistency
But this date caramel is a passable and much quicker rendition for a healthier alternative that tastes just like the real thing!
In my opinion of course!
You can feel free to stuff these cupcakes with whatever you like or nothing at all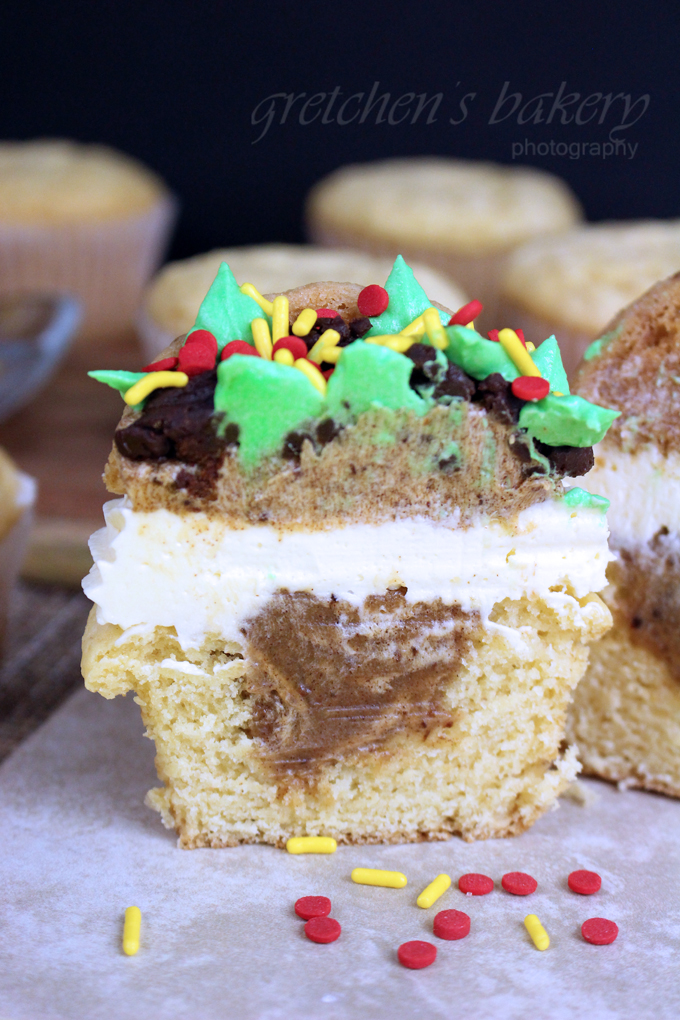 The main point for me today is that it's TACO TUESDAY!
So bake up some of your favorite cupcakes
Whip up a small batch of buttercream and then I am using my Snickerdoodle Cookies recipe for the "taco shells"
Chocolate cake crumbs or brownies for the "meat-less ground" and some yellow and red sprinkles for the "cheeze" and tomatoes!
Super cute, super easy and so fun too!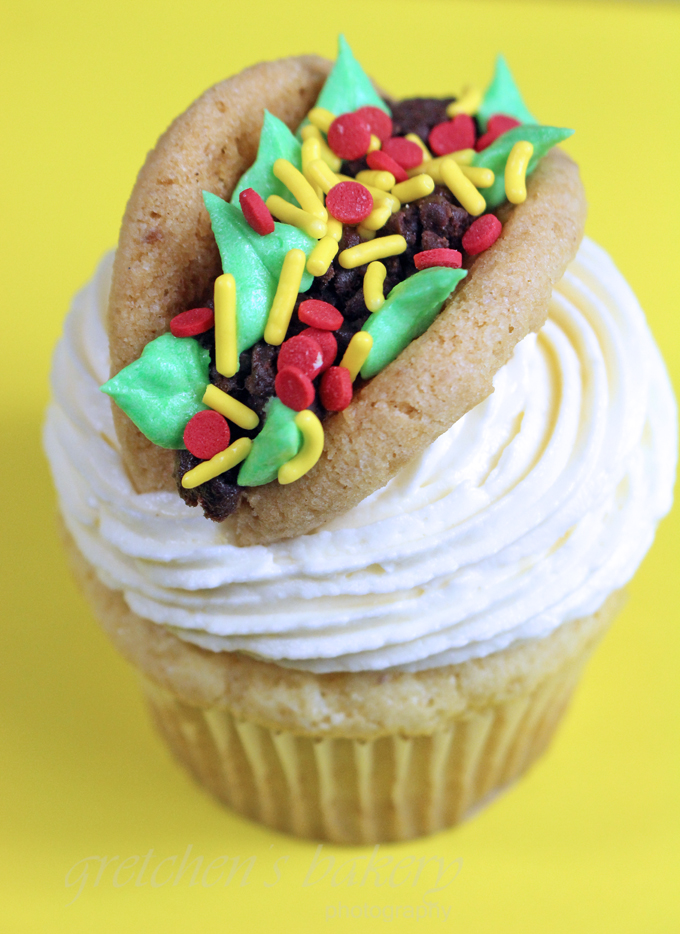 You can make your own sprinkles with my recipe here!
All you need is confectioners sugar, water or aquafaba and some yellow and red food coloring!
If you are making your own sprinkles though, you will have to prepare them in advance because they take several hours to dry before you can use them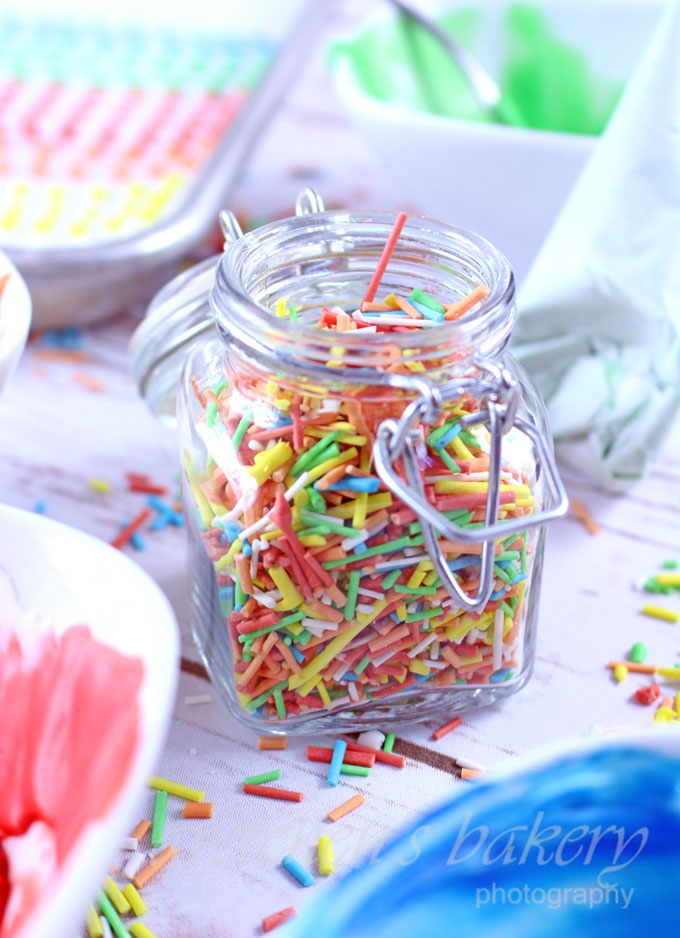 WATCH MY YOUTUBE VIDEO TUTORIAL FOR HOW TO BUILD THIS CUPCAKE IN LESS THAN ONE MINUTE!

Taco Tuesday~ Dulce de Leche Stuffed Cupcakes
Ingredients
For the decor items you will also need: either chocolate cake crumbs or brownie cake crumbs about ½ cup total and some yellow & red sprinkles
For the Date Caramel Recipe:
Medjool Dates 1 cup (approximately 10-12 large dates)
Nut Butter- I used tahini 4 Tablespoons
Vanilla Extract 2 teaspoons (10ml)
Soy Milk ½ cup (118ml) *any plant milk is fine
salt ¼ teaspoon
Instructions
Prepare the buttercream and then take out about ¾ cup for the green "lettuce"
Prepare your vanilla cake recipe as per the instructions and bake them into cupcakes.
Make the snickerdoodle cookies but scoop them with a #100 scooper
Prepare the date caramel by combining the dates, plant milk, salt, vanilla & nut butter into a food processor and process to a paste that is not chunky. You may have to add a tablespoon or more of plant milk to get it to a thinner sauce like consistency.
Once everything is prepare, core out the centers of the cooled cupcakes and fill with the date caramel
Pipe vanilla vanilla buttercream icing and then cut a snickerdoodle cookie in half and insert into the icing like a taco shell
Fill with a small amount of buttercream to stick on the chocolate or brownie crumbs to represent "meat-less ground"
Pipe green buttercream leaves for the lettuce and sprinkle the yellow & red jimmies for "cheeze" & tomatoes!
Notes
taco Tuesday Dulce de Leche cupcakes can be left at room temperature for about one day, they won't go bad as much as they may sag & droop from the heavy decoration

They stay much nicer in the refrigerator but will be best served at room temperature

Store cupcakes in the refrigerator for up to 4 days