This recipe is hands down the best carrot cake ever!
I have been told this by several people and 99% of them were not even vegan!
Believe me this is not just me tooting my own horn!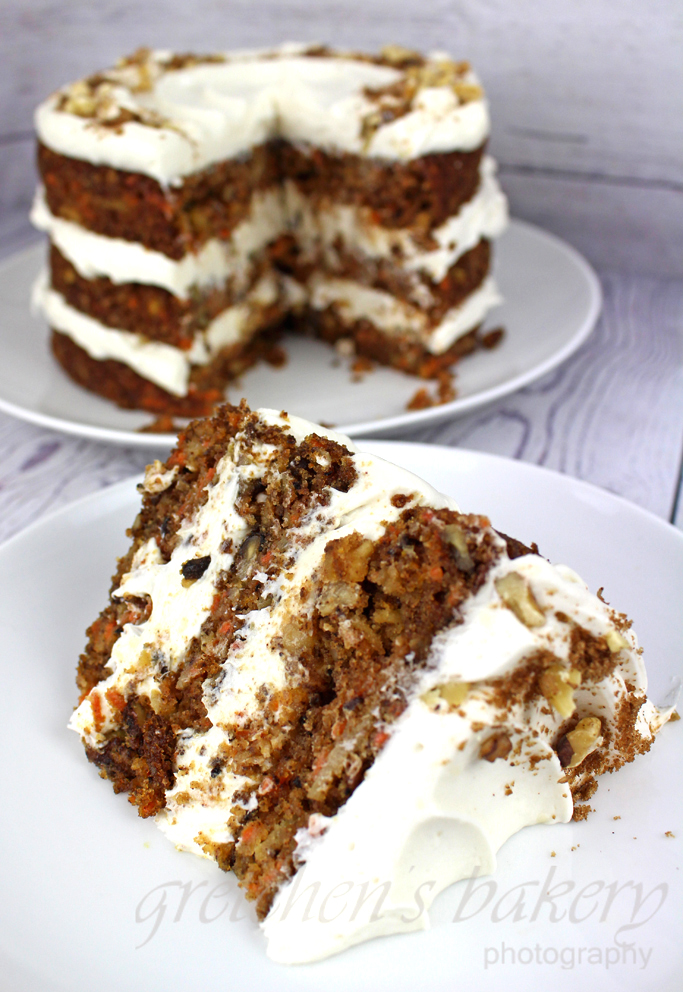 I don't know why it makes me so happy when non vegans tell me my desserts are the "best they ever had"
Well, maybe it's pretty obvious since most people have an instant adverse reaction to anything vegan
Even just the word vegan can get so many people in an uproar!
So to hear great things about these recipes is just a feather in the proverbial vegan hat.
The most recent comment I got on social media said: "Thanks to Gretchen Price for your fabulous carrot cake recipe. I tested 6 and yours was the best ❤"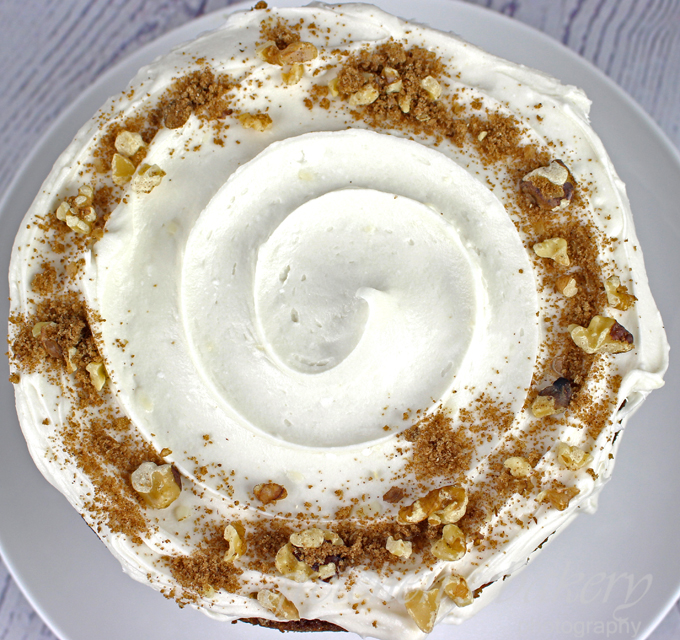 Whether you are vegan or not you have finally found the best carrot cake recipe ever!
But don't take my word for it, try it for yourself!
Quite possibly the easiest recipe to mix too since there is no mixer required!
Even the cream cheese icing can and should be done by hand
This is my go-to recipe whenever I want to impress the masses.
Isn't that odd?
Whoever would have thought a rustic old fashioned carrot cake could be a vegan converter!
CLICK HERE FOR THE FULL YOUTUBE VIDEO TUTORIAL FOR HOW TO MAKE THIS RECIPE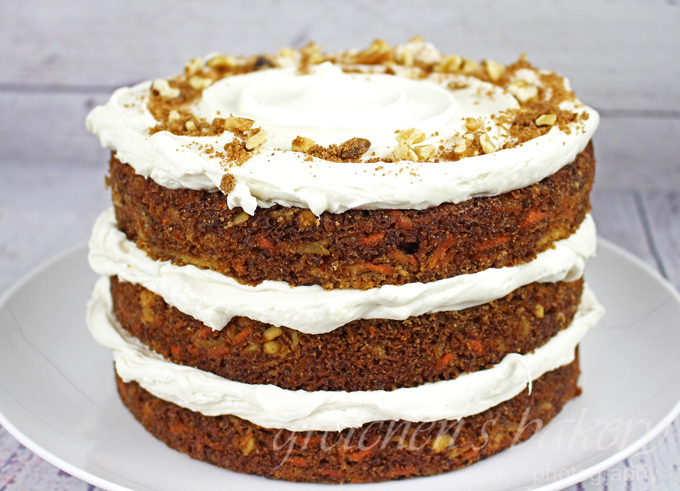 By the way if you are not into making an entire layer cake
This recipe is so fantastic as a bread or baked into a sheet cake with no icing at all!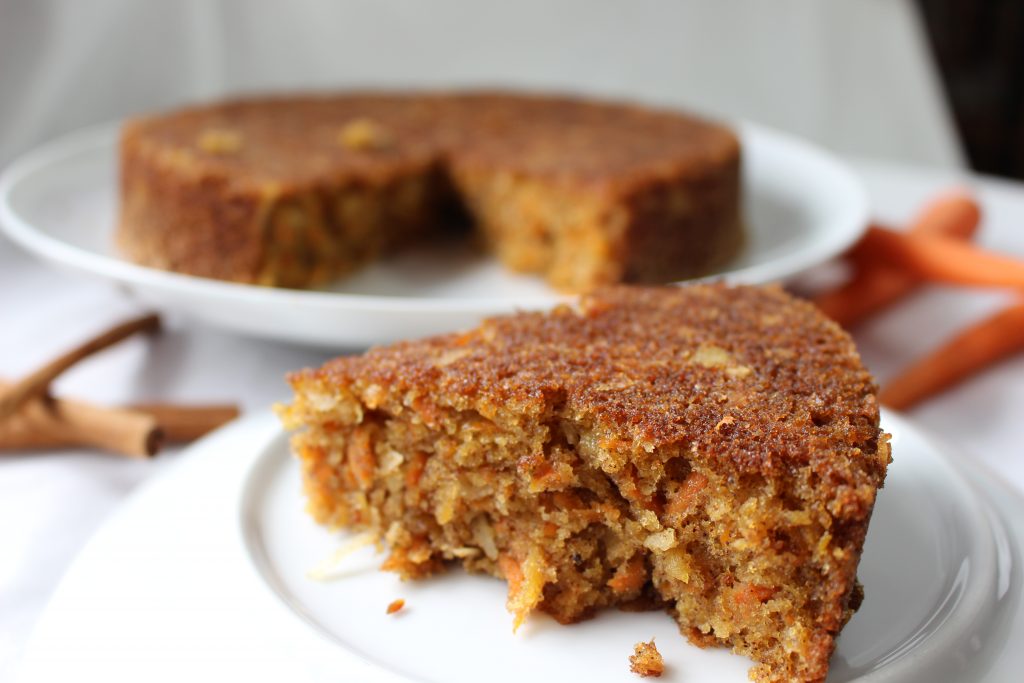 For those who are here looking for my original Tropical Carrot Cake Recipe
Here is the updated version of that one!
It's essentially this same exact recipe listed here only instead of the walnuts and apples, I use pineapple and toasted coconut!
Notes for Success:
For the cream cheese icing I often add about one cup of vegan buttercream to it for added stability, this is completely optional and can be left out
The cream cheese icing is very fragile to mix though and is best done by hand.
I usually cream the confectioners sugar & the softened vegan butter in the electric mixer then add the vegan cream cheese and mix by hand with a wooden spoon or spatula.
Vegan cream cheese can instantly turn to soup if you are not careful, so please just mix it by hand!
For more awesome veggie recipes click the links below!
The Best Vegan Carrot Cake Ever
Ingredients
Vegetable Oil ¾ cup (177ml)
All Purpose Flour 1 cup + 2 tablespoons (140g)
Cake Flour ½ cup (60g)
Baking Powder 1 teaspoon (4g)
Baking Soda 1teaspoon (4g)
Salt ¼ teaspoon
Ground Cinnamon 1¾ teaspoons
Brown Sugar ½ cup (105g)
Granulated Sugar ½ cup (100g)
Ground Flax Seeds 3 Tablespoons (24g)
Hot Water 6 Tablespoons (90ml)
Vanilla Extract 1½ teaspoons (7ml)
Carrots 4 medium (approx 2 cups 250g)
Granny Smith Apple 1 medium peeled approx ¾ cup
Orange Zest from ¼ large orange approx 1 teaspoon
Toasted Walnuts ¾ cup plus more for garnish *optional
Instructions
Combine the flax with the hot water and let stand to thicken
In a large bowl combine the sugars with the oil, vanilla extract and the flax mixture, whisk smooth
Add the orange zest
Then sift together all of the dry ingredients directly into the bowl and whisk smooth
Add the grated carrots and apple and the nuts then mix smooth
Pour batter into greased cake pans and bake immediately at 350°F in a preheated oven for approximately 25-40 minutes depending on the size of your pans. Bake Until they are Done
Cool cakes while you prepare the Cream Cheese Icing recipe below and then assemble cake as shown in the video
Vegan Cream Cheese Icing
Vegan cream cheese is super fragile, so using the stand mixer or any electric beater seems to turn this icing to soup! I find that mixing it all by hand is the best way to go!
Ingredients
Vegan Cream Cheese 2 Tubs (2cups) (454g)
Vegan Butter 1 stick (½ cup) (112g)
Confectioner's Sugar 2 cups (240g)
Vanilla Extract 1 teaspoon
Vegan Buttercream 1 cup *optional
Instructions
Smooth cream cheese and the softened vegan butter BY HAND with a wooden spoon or spatula
Add sifted confectioners sugar, mix evenly
Add extract then add optional vegan buttercream icing
Mix smooth