A holiday spin on the traditional Pineapple Upside Down Cake!
Ultra moist pumpkin cake with caramelized pumpkin in every bite!
Pumpkin Upside Down Cake is a fun way to dress up your holiday table this year!
Fresh pumpkin, brown sugar and all the fall spices!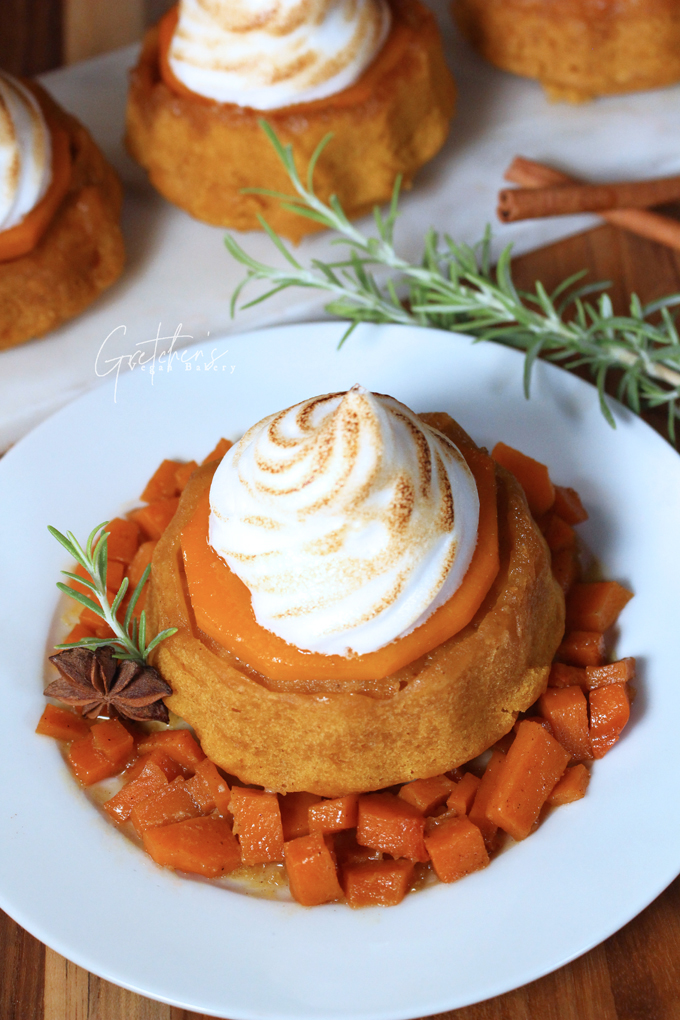 I baked mine into individual bundt pans because I just love the look of mini upside down cakes!
But you can make the entire recipe into one family style cake instead!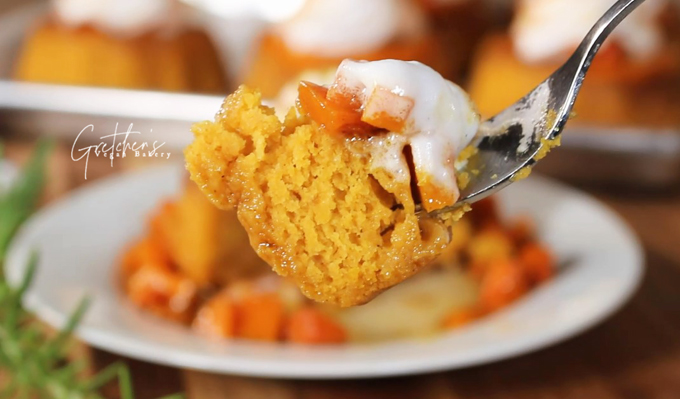 I've  sauteed up those scraps of pumpkin with more fall spice and vegan butter for an additional burst of pumpkin!
Since my mini bundts have that hole in the center I had to fill it up with something right??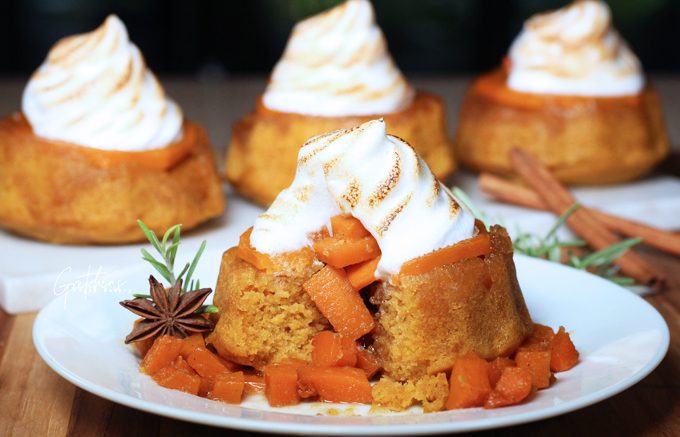 Aquafaba marshmallow is a perfect light topping that ties this whole dessert together beautifully!
If you didn't want to try this Italian Meringue Aquafaba topping though whipped cream would be an equally delicious topping!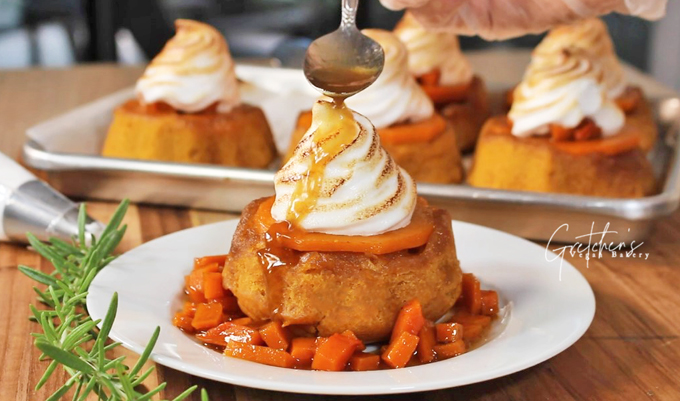 For a very helpful video tutorial on how to make Italian Meringue Aquafaba click the link here for Italian Buttercream
You will only make the meringue part with the cooked sugar and water and liquid aquafaba though!
You are not making the full buttercream recipe! So be sure to stop at that part!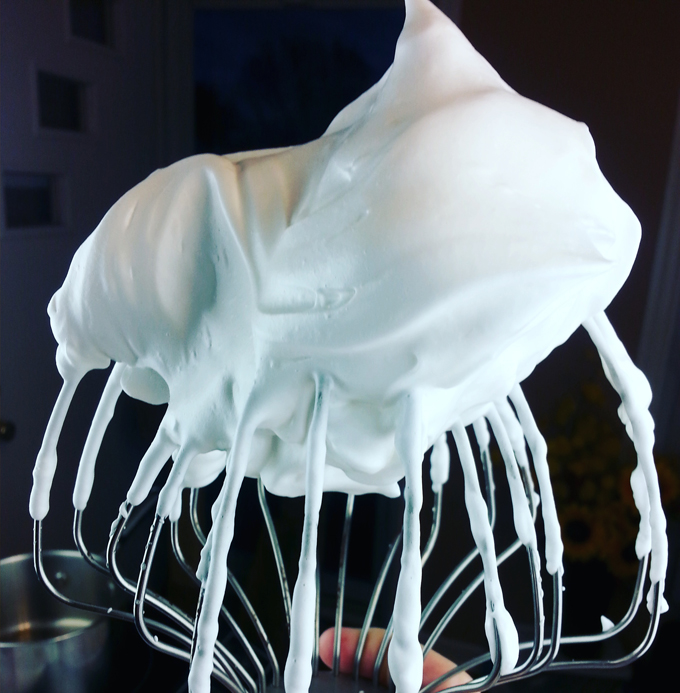 CLICK HERE FOR THE FULL YOUTUBE VIDEO TUTORIAL FOR HOW TO MAKE PUMPKIN UPSIDE DOWN CAKE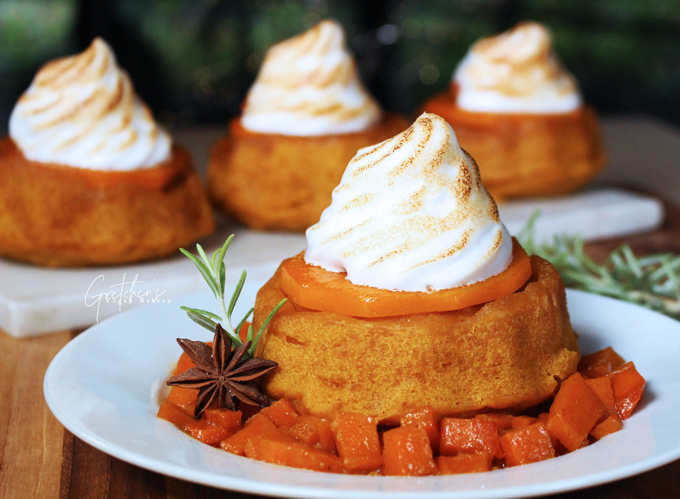 For more awesome fall desert ideas click the links below!
Fudge Brownie Pumpkin Pie Cups
Vegan Pineapple Upside Down Cake

Pumpkin Upside Down Cake
I am using mini bundt pans but you can prepare this entire recipe in 1-8" cake pan with no changes to the recipe
Ingredients
For the Pumpkin Cake
Plant Milk *I am using soy ¾ cup (188ml)
Canned Pumpkin 1 cup (240g)
Granulated Sugar ½ cup (100g)
Salt ¼ teaspoon
Melted Vegan Butter 8 Tablespoons (226g) *Or vegetable oil
Vanilla Extract 2 teaspoons (10ml)
Pumpkin Pie Spice ½ teaspoon
All Purpose Flour 1¾ cup (218g)
Baking Powder 3 teaspoons
For the Upside Down Layer:
1 medium Butternut Squash or Fresh Pumpkin *wedges cut to fit your cake pan approximately 6-8 slices (my butternut squash weighed 2.5lbs before peeling & seeding)
Vegan Butter 3 Tablespoons (42g)
Light Brown Sugar 6 Tablespoons (75g)
Optional Pumpkin Compote:
Squash scraps and remaining squash cut to small dice approx 1½ cups
Vegan Butter 1 Tbs (14g)
Pumpkin Pie Spice ¼ teaspoon
granulated or Light Brown Sugar 2 tbs (28g)
Brandy *optional 2 Tbs (30ml)
For the Aquafaba Topping: *optional
Aquafaba ¾ cup (188ml)
Granulated Sugar 1 cups (200g)
Water ⅓ cup (ml)
Cream of Tartar large pinch
Instructions
I am using a butternut squash but you can use any variety of pumpkin you like the best
Peel and remove the seeds from your squash and then cut slices no more than ¼" thick rounds to fit into the bottom of the mini bundt pans by using biscuit cutters to make a perfect fit & also to cut out for the center hole
First spray your pan generously with pan grease and with the ingredients listed under "For the Upside Down Layer" melt the 3 Tbs of vegan butter
In the bottom of each bundt pan pour ½ Tbs of the melted vegan butter and sprinkle 1 Tbs of the sugar over the butter
Next the slice of butternut squash that has been cut to fit perfectly
Spray an additional spray of pan grease on all the pans sides to ensure a clean release after baking
Preheat the oven to 350°F
Now prepare the pumpkin cake batter by placing the brown sugar, salt & spices along with the melted vegan butter and plant milk together in a large mixing bowl and whisk to a smooth batter
Add the pumpkin and vanilla extract and whisk smooth
Add the flour and whisk vigorously to develop the batter (about 50 strokes)
Divide the batter equally between all the prepared 6 pans and bake immediately in the preheated oven for approximately 25minutes or when a toothpick inserted comes out with moist crumbs, not raw batter
Cool for about 10 minutes in the pans then turn them out onto a parchment paper to catch any excess drips from the sugar glaze
Allow to cool while you prepare the optional pumpkin compote with the remaining squash
Dice the pumpkin/squash to small pieces while you heat a large saute pan with the vegan butter
Once the butter is melted, add the diced squash and the sugar and cook stirring occasionally until it is starting to brown
Add the spice and stir then add the optional brandy to deglaze the pan
Cook to tender, serve with the upside down cake by filling each cavity with pumpkin compote
and top with aquafaba marshmallow toasted!
Whip the cold liquid aquafaba with the cream of tartar on medium to high speed while you cook the sugar syrup at the same time
Combine the water and sugar together in a heavy bottom sauce pot and bring to a boil over high heat.
Attach a candy thermometer and cook to 240°F
It should take about 10 minutes to reach temperature which is approximately the same time it takes to get the AF to stiff peaks.
Slowly pour the hot sugar syrup into the whipping meringue as shown in the video.
Once all the sugar syrup is added continue whipping to cool down the meringue and you can help it cool faster by placing a bowl of ice water under the mixer bowl.