The classic french cake called the Fraisier Cake is the newest addition to my new series on YouTube
Classic Cakes Veganized!
Diplomat cream nestled between two slices of vanilla sponge cake and freshly chopped strawberries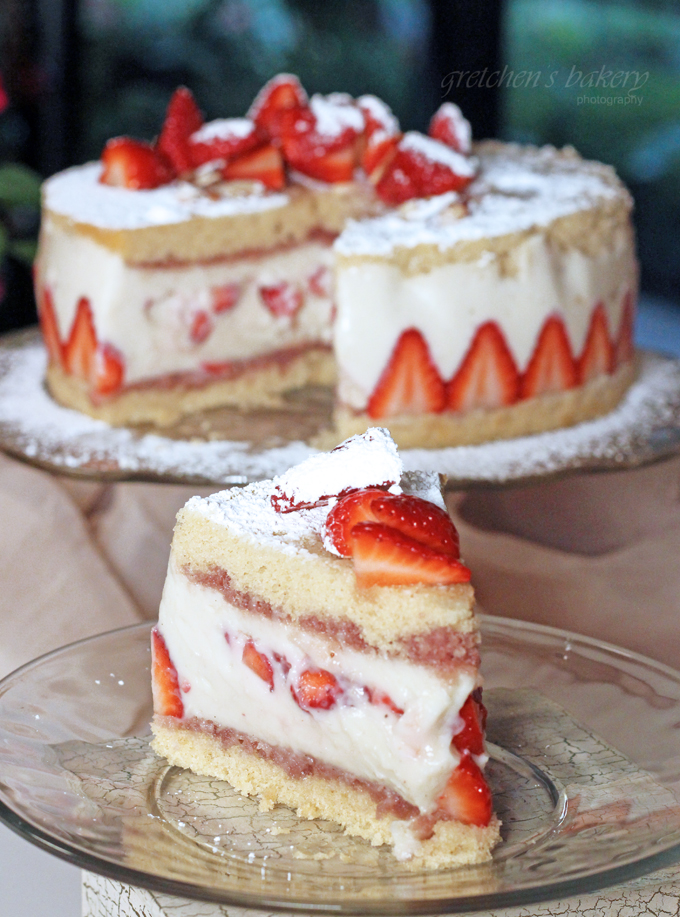 Quite possibly the reason the Fraisier Cake stops you in your tracks
Is from the beautiful halved strawberries standing at attention around the entire edge of the cake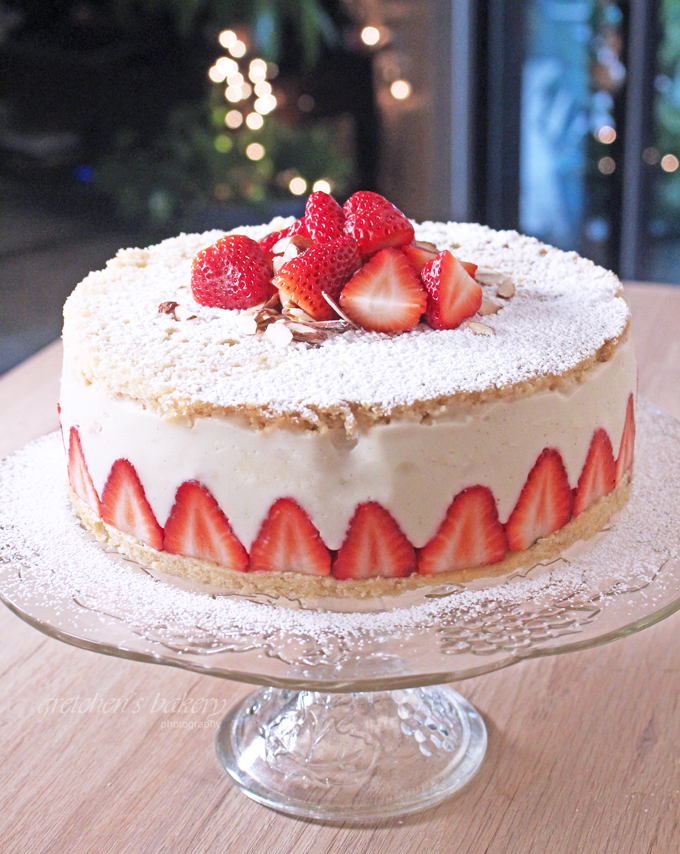 Before you even taste this classic french cake you already know it is going to be heaven
Diplomat cream filling is basically créme pâtissiér (also known as pastry cream) with whipped cream folded in
While this stunning cake may look impossible for the newbie to tackle
It is much easier to make than you would suspect!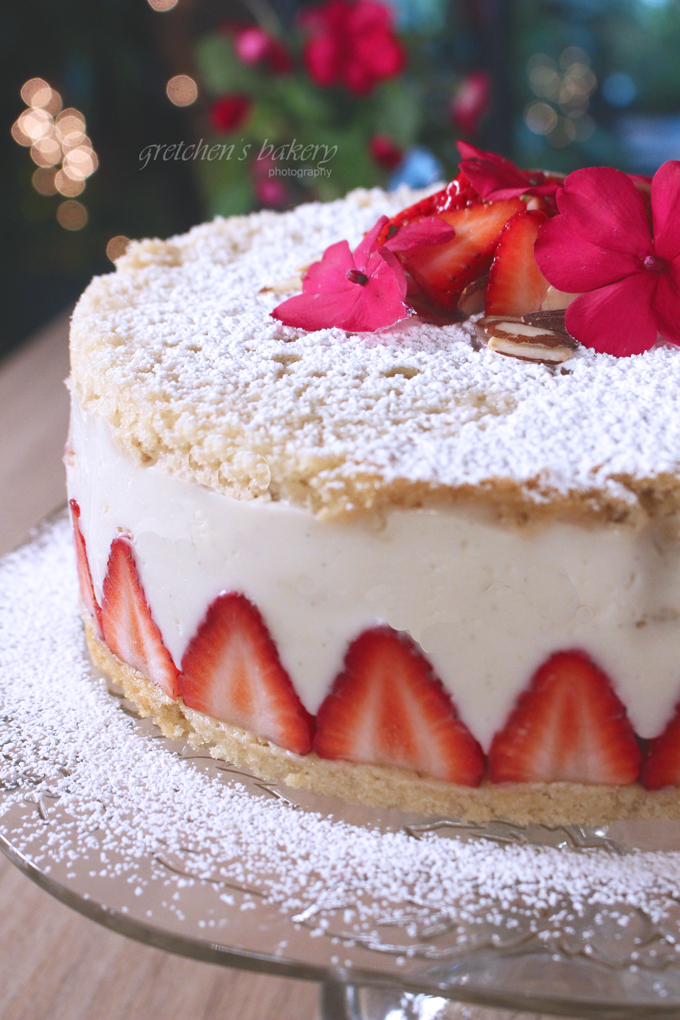 Below is the full step by step video tutorial showing all the components and timing needed for this cake
So be sure to click through and watch how it is done!
It's three easy recipes that mix up in no time, it's just the timing that has to be perfect!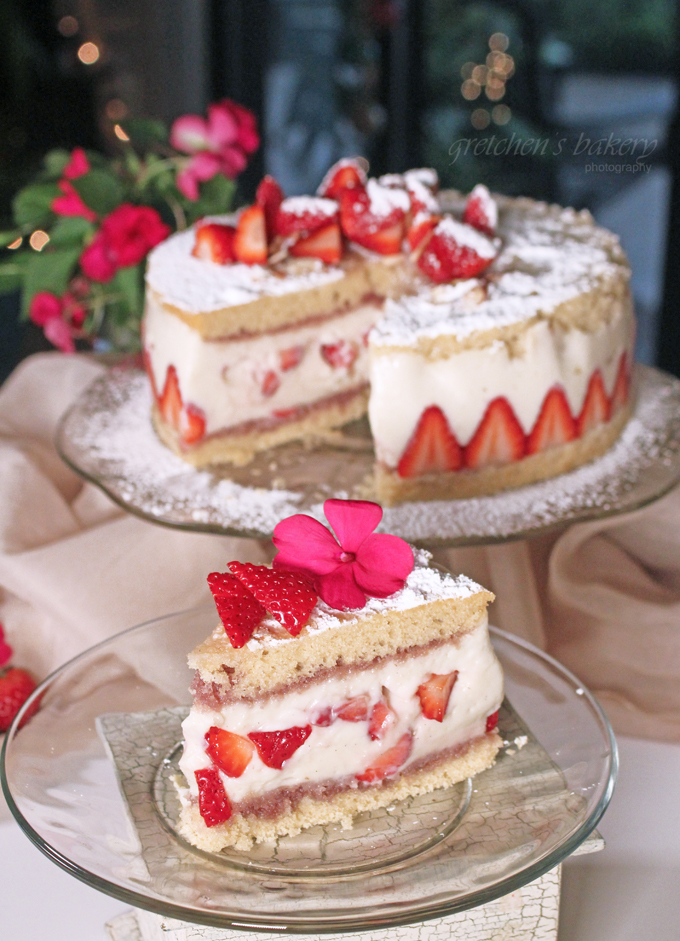 I explain in the video tutorial how to set yourself up for ease by thinking ahead and planning ahead
Also in the written instructions below
You may have seen this cake finished in a variety of different ways
From rolled marzipan on top to a strawberry gelée layer
For me the Fraisier Cake is best simply with powdered sugar and fresh strawberries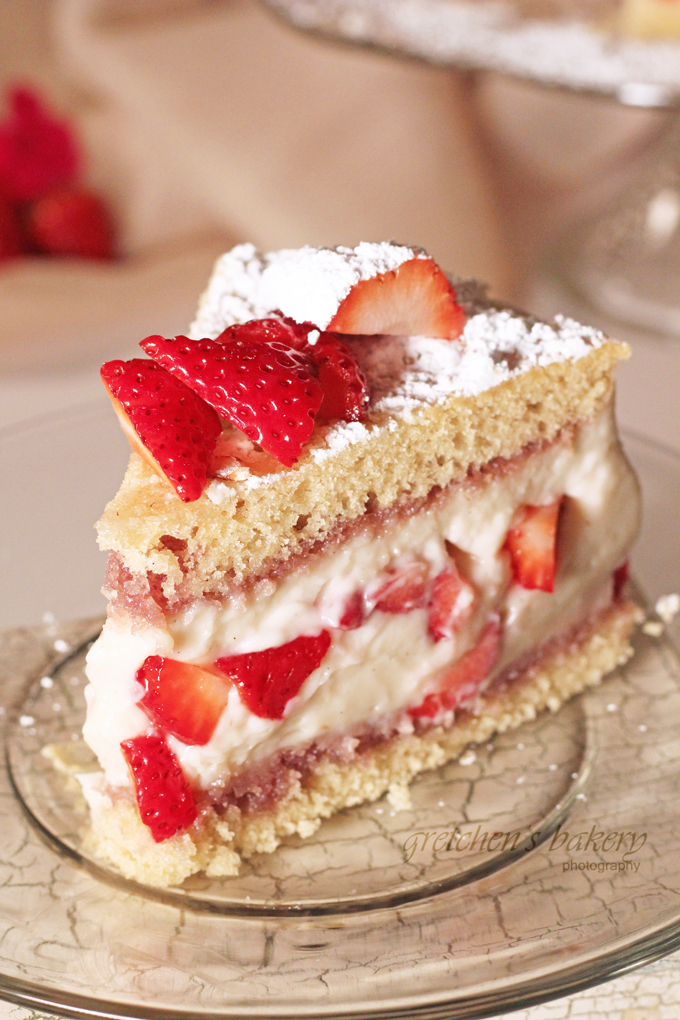 Some people like to add grand marnier or orange blossom water to the simple syrup soak for the sponge cake
Today I decided to add some strawberries to mine for a unique strawberry syrup
Whichever way you spin it I sure hope you will try it!
I am using a 9″ Springform pan for the ring mold to build this cake
Additionally the acetate cake strips are essential to the success of this cake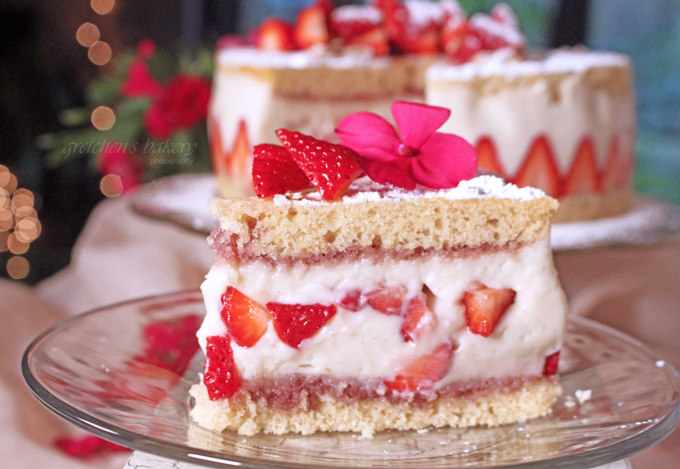 Notes for Success:
Cornstarch is a very difficult ingredient to measure consistently with a volume spoons measure
So while I list both measures below I cannot stress enough how the grams measure with a scale is going to give you the best results.
Many times people have complained that their custard is like rubber and they don't know why!
This is from a heavy measure of cornstarch when using volume measuring spoon vs the 100% accurate scale measure in grams.
Additionally agar can be a tricky ingredient in No Bake Desserts such as this one.
A heavy hand ~ even a pinch too much~ can be the difference between creamy delicious and rubbery inedible!
Pay attention to the strength of agar you are using in comparison to the one that author of the recipe is using
I use 900 Strength agar in my recipes
CLICK HERE FOR THE EXACT BRAND *not sponsored
CLICK HERE FOR MORE INFORMATION ABOUT USING AGAR IN YOUR RECIPES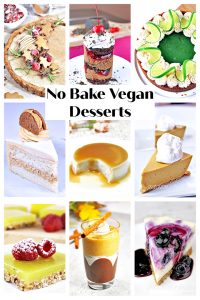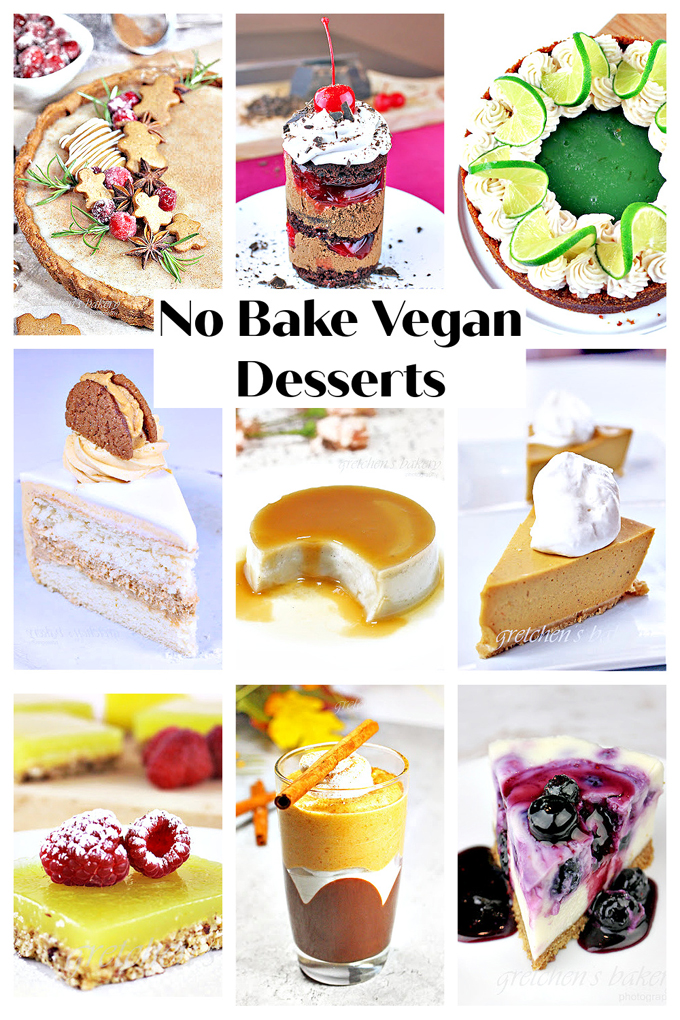 Last but not least the Vegan Whipped Cream to fold into the custard for the Diplomat Cream
I am fortunate to find SILK Brand Whipping Cream *not sponsored
So I use that more than anything now, but I have several recipes for you to choose from here for Vegan Whipped Cream
CLICK HERE FOR THE FULL YOUTUBE VIDEO TUTORIAL FOR HOW TO MAKE THIS FRAISIER CAKE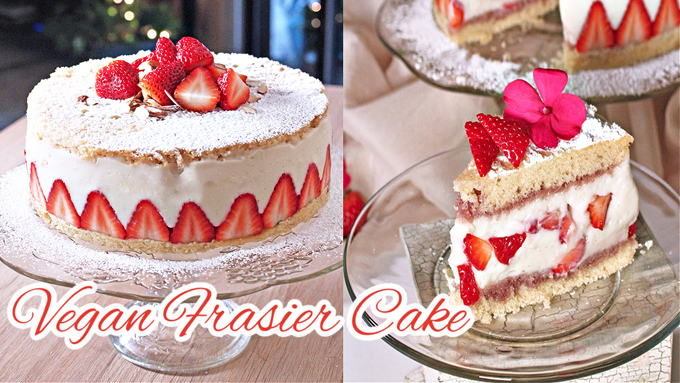 For more classic vegan cakes click the links below!
Dobos Torte~ The Original 7 Layer Cake
Yield: serves 12-16ppl
Vegan Fraisier Cake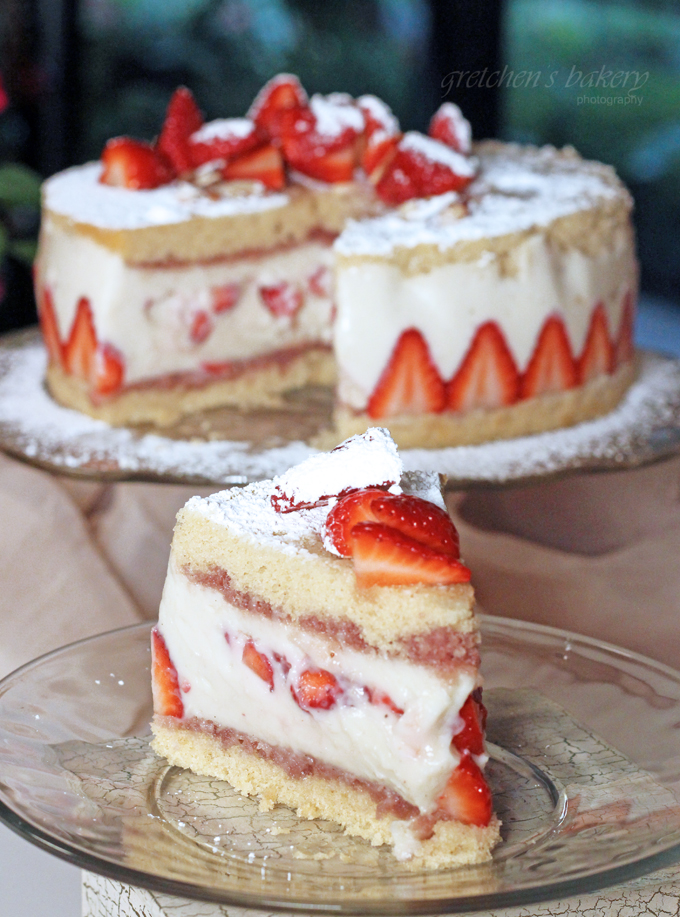 If you are making the sponge cake in the sheet pan as I showed in the video you will need 1 entire recipe of yellow cake. *remember I had some excess cake scraps this way
If you are baking 2 thin layers into 9" or 10" cake pans you will not have any scraps & you will only need to make a ½ recipe
Total Time
4 hours
20 minutes
Ingredients
For the Diplomat Cream :
Plant Milk 3 cups + 6 tablespoons (800ml)
Granulated Sugar 1 cup (200g)
Agar 1½ teaspoons
Cornstarch 9 Tablespoons (72g)
Vegan Butter 2 tablespoons (28g)
Vanilla Bean or vanilla Extract 1 pod or 3 teaspoons
2 cups Vegan Whipped Cream
For the Simple Syrup:
Sugar ¼ cup (50g)
Water ¼ cup (60ml)
Fresh strawberries 5 large chopped
Fresh Strawberries 12 same sized berries cut in half & 1½ cups chopped for the filling
Instructions
First decide if you are going to bake the batter into cake pans or a sheet pan like I showed in the video tutorial *see notes above in summary
Preheat the oven to 350°F and then grease & parchment line your cake pan(s)
Prepare the recipe for yellow cake as per the instructions on that page
Meanwhile make the simple syrup by combining the water & sugar together in a small sauce pot, bring to a rolling boil
Reduce heat, add the 5 large chopped strawberries & simmer for 3 minutes
Cool slightly then carefully pour the hot syrup with the berries into a blender and puree smooth, reserve until later
Separate 12 large~ same sized ~same height strawberries and cut the stems off each one
Then cut each one in half, reserve until later
Chop enough strawberries for the filling to total 1½ cups reserve for later
Once the cake is baked & fully cooled, trim if necessary and then line a 9" cake ring or a spring form pan *with the bottom removed* with acetate cake strips
Place one of the cold cake layers in the bottom and brush generously with strawberry simple syrup
Arrange the halved strawberries around the entire edge of the cake ring with the sliced side facing out
Next prepare the vegan whipped cream *I use SILK brand whipping cream *not sponsored and reserve in the refrigerator until needed
Prepare the pastry cream custard by combining the sugar with the cornstarch, vanilla bean pod *if using & agar powder and then add that to the plant milk in a large sauce pot
Bring everything to a full rolling boil over medium to high heat whisking constantly to avoid scorching
Once it comes to a full boil remove from the heat and add the vegan butter, whisk smooth
Transfer the hot custard to a large mixing bowl & whisk to release the intense heat.
Continue whisking every so often until the custard is slightly cooler than body temperature, once it is cool add the vegan whipped cream in 2 additions, whisking & folding gently to incorporate
Pour half of the diplomat cream over the sponge cake in the ring mold and be sure to cover the tops of the strawberries
Sprinkle the chopped strawberries over top of the cream and then add the last layer of sponge cake that has been brushed with more strawberry syrup
Gently press down to make a tight seal and refrigerate the entire cake for at least 4 hours or overnight
Remove the ring mold and then carefully remove the acetate strip
Powdered sugar, sliced strawberries & almonds are optional garnish!
Now~ Enjoy a giant slice for all your hard work!
Notes
Frasier cake must be kept refrigerated at all times. It will stay fresh in the refrigerator for up to 5 days.

I do not recommend to freeze the Frasier cake becau8se the strawberries will break down & turn mushy causing the custard to also break down