Maybe because I have been binge watching the British Baking Championship on Netflix, but I feel like I want to get back to the classics lately.
For me, there is nothing more elegant, sophisticated or brilliant than the Opera Cake.
Four thin layers of moist hazelnut cake with mocha and chocolate buttercream in between each layer.
Iced with silky chocolate ganache and then to prove just how rich this cake is, each slice gets bedazzled with gold leaf.
(Yes, I said bedazzled)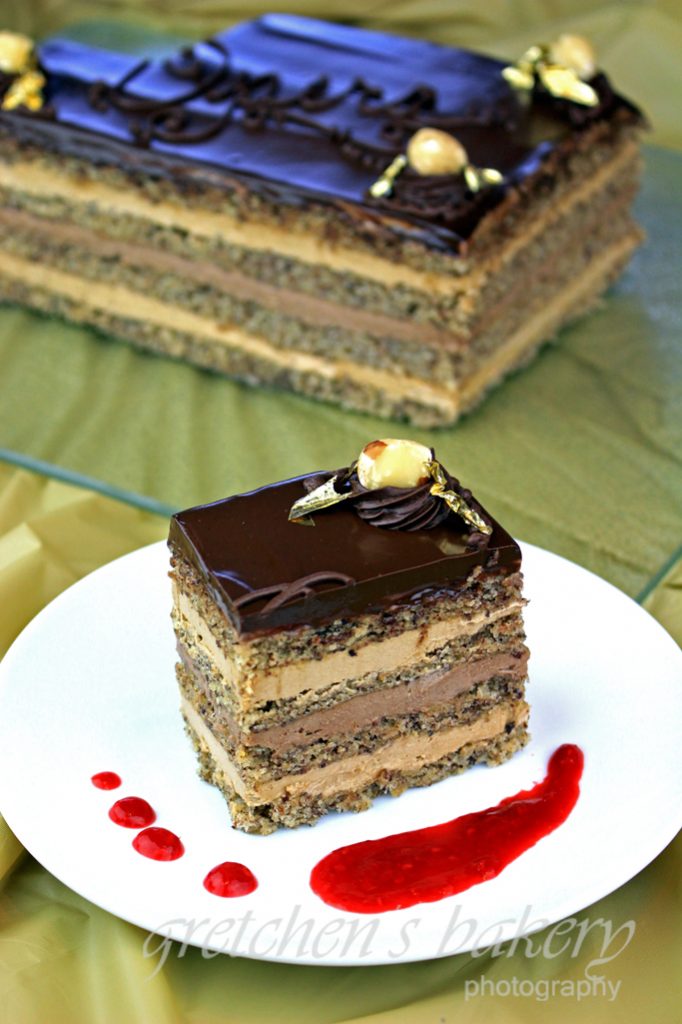 When I owned my bakery I sold this cake in 3 different sizes.
As an entremet (whole cake as I am making in the video below), individual slices and then petit four sized.
By making this cake sheet cake style you can change up the way you want to serve it and it freezes beautifully so if you want to keep it on hand for that unexpected dinner party you are in luck!
At first glance this cake may seem like an impossible project, but trust me we have building on recipes on our side so if you prepare your buttercream ahead of time, the rest is a breeze.
I am using my Aquafaba Swiss Buttercream recipe this time because it is way less sweet than the American style version, and this cake really deserves that extra effort.
After baking the cake layers, the assembly of the cake is done in minutes; but because Opera Cake is traditionally displayed open sided (the original naked cake?).
I do freeze it for about an hour to get perfectly clean cuts to showcase those luscious layers.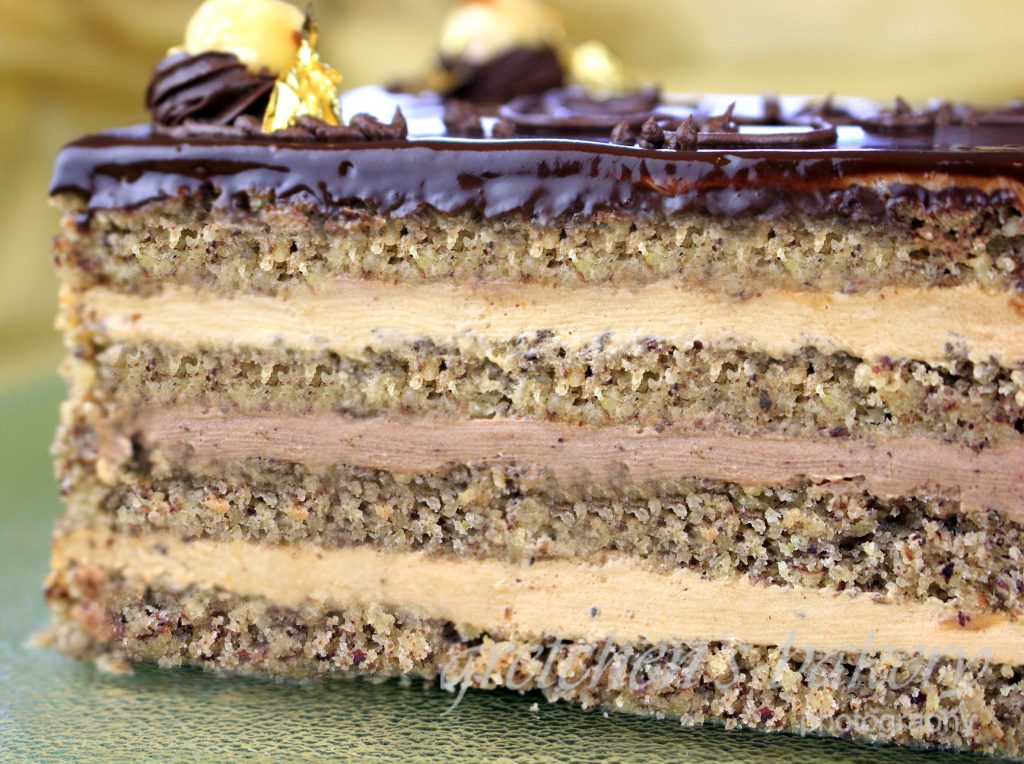 So without further adieu, let's get to making this classic masterpiece.
Oh one more thing. I understand many of you cannot get the Follow Your Heart Vegan Egg or just don't want to buy it, because yes it is expensive.
You can switch that out for  2 Tablespoon Cornstarch and increase the EnerG Egg replacer by another 1½ tsp
Oh wait one other thing, for the Raspberry Sauce I made a simple compote of about 1 cup of fresh raspberries a bit of water to help them cook down and a tablespoon or two of sugar
You can follow this video for Strawberry Puree as a guide to see how to easily make a fast sauce from any fruit you like!
Opera Cake
Since I use Earth Balance Vegan Butter which is salted, I always leave the salt out of my recipes. If you are using an unsalted vegan butter you can add ¼ tsp salt to the cake recipe
Ingredients
For the Cake:
Hazelnut Flour 1½ cup (145g)
All Purpose Flour ¾ cup (94g)
Confectioner's Sugar 1 cup (120g)
Follow Your Heart Vegan Egg 4 Tablespoons (32g)
Cold Water ⅓ cup (80ml)
EnerG Egg replacer 2 teaspoons
Flax Meal 3 Tablespoons (24g)
Warm Water 6 Tablespoons (90ml)
Baking Powder 4 teaspoons (20g)
Vegan Butter 6 Tablespoons (85g)
Granulated Sugar 6 Tablespoons (85g)
Vanilla Extract 1 Tablespoon (15ml)
½ Recipe Aquafaba Buttercream
Instant Coffee Granules 3 teaspoons
Hot water 1 Tablespoon (15ml)
Cocoa Powder ½ cup
For the Ganache:
Semi Sweet Vegan Chocolate 4 ounces
Soy Milk ¼ cup (60ml)
Instructions
For the cake:
Sift the flour, confectioner's sugar, baking powder and EnerG egg replacer together and then add the hazelnut flour.
Combine the vegan egg with the cold water, whisk smooth then add the vanilla extract
Combine the warm water with the flax meal and whisk smooth
Cream the vegan butter with the sugar on medium to high speed for about 3 minutes until fluffy
Add the vegan egg mixture and whip on high speed for another 30 seconds
Add the flax paste and mix smooth
Add the sifted dry ingredients all at once and mix on medium to high speed to combine well.
Pour batter into a lightly greased and parchment lined sheet pan (12" x18")
Bake in a preheated 375°F oven for 15 minutes then turn the oven temperature down to 325°F for another 10 minutes.
Cool completely while you prepare the Aquafaba Swiss Buttercream according to the instructions on that blog post.
Divide the buttercream into ¾ and ¼ and add ½ cup cocoa powder to the larger portion, whisk smooth
Add ½ cup of the chocolate buttercream to the smaller portion of buttercream and then combine the coffee granules with the hot water and add that to make mocha.
Cut the cooled cake into 4 equal squares (as shown in the video) and assemble by layering with the chocolate and mocha buttercream
Prepare the ganache by combining the semi sweet chocolate with the soy milk in a small saucepot over low heat and whisk smooth stirring constantly
Freeze the cake for at least 1 hour and then ice with ganache
Trim the edges and garnish as you like
I used a ganache rosette and a hazelnut with a sparkle of gold leaf
Notes
Keep refrigerated for up to 10 days in an airtight container.

It can stay at room temperature for up to a day as it is best served at room temperature.

You can freeze wrapped well for up to 2 months