When it comes to Funfetti Cake it's all about the sprinkles
And today we have a double feature vegan funfetti cake with an added bonus for how to make the buttercream drip!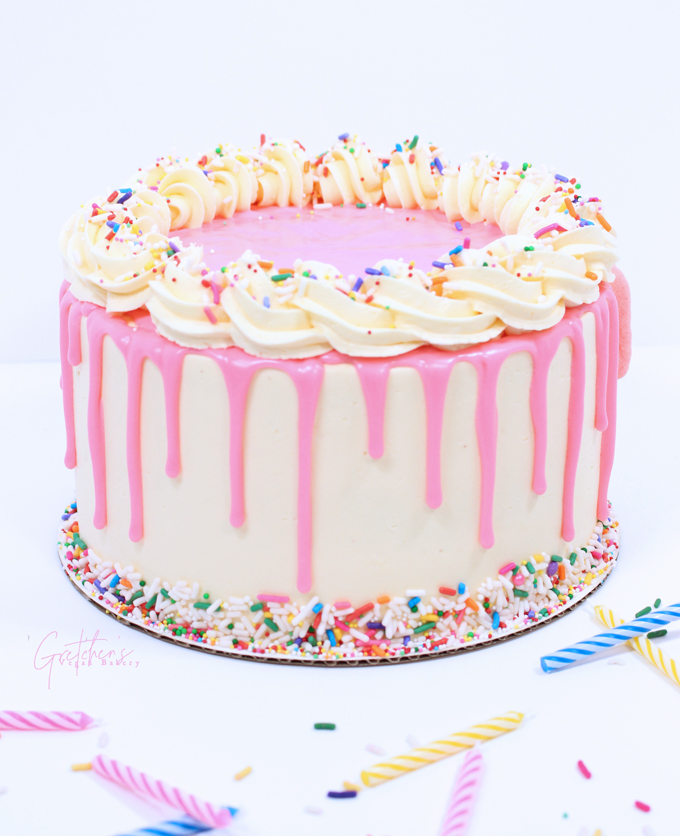 Stop messing around with white chocolate drips that are messy, expensive and hard to handle
Because this buttercream drip technique is going to change your life! And I have two ways for you to try it!
With my best recipe for American Buttercream OR using Betty Crocker accidentally vegan frosting in a can!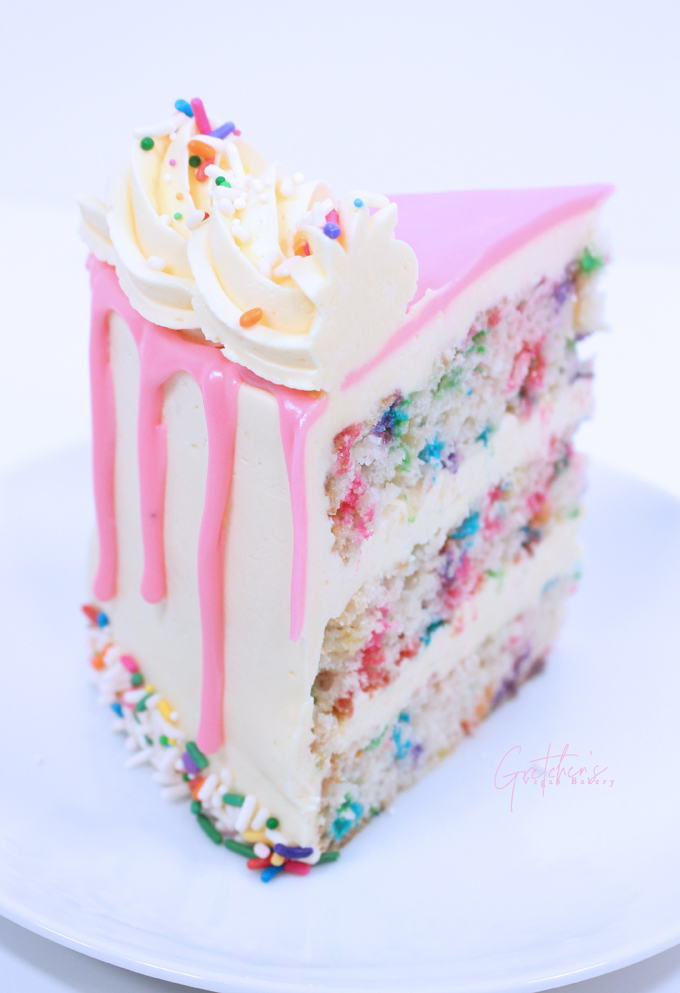 Starting with a perfectly white cake recipe loaded up with sprinkles and vanilla buttercream filling and icing
I have two recipes of white cake to choose from, one is a super easy box cake hack and the other one is equally as easy but all from scratch
So be sure to check out which recipe you prefer before starting!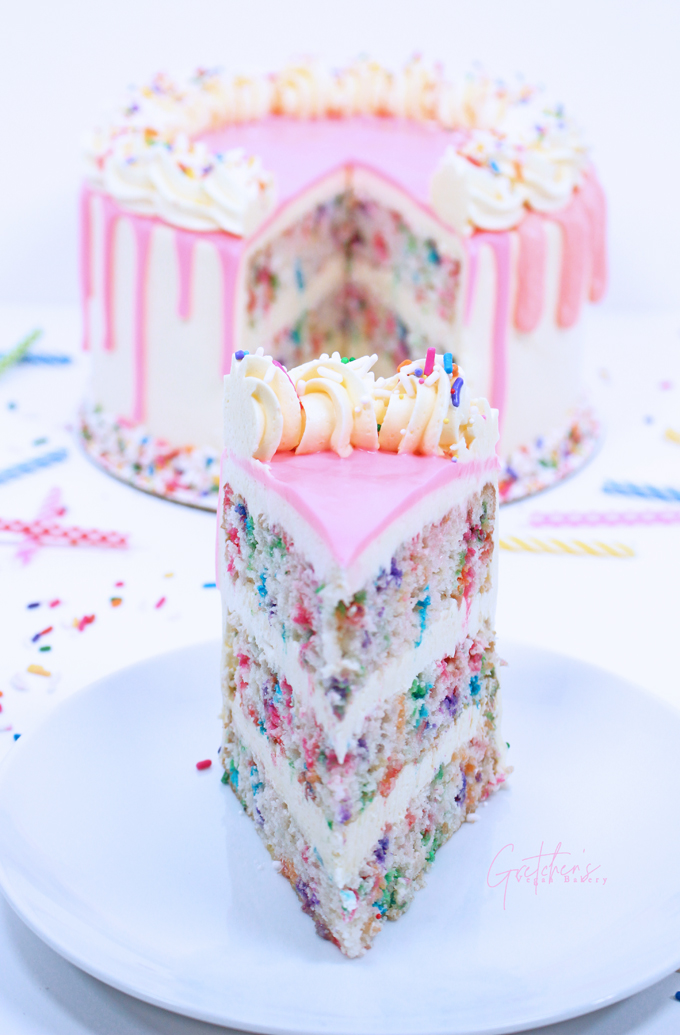 Buttercream Drip Technique:
Using homemade buttercream vs the Betty Crocker canned icing yields very different results.
While I loved the look of the Betty Crocker icing with it's shiny and thin perfect drips, the taste of it was very hard to stomach!
Homemade icing is so much tastier but the results were thick and chunky drips with a grainy finish.
Note: that I do not use shortening in my buttercream recipes so if you do, you may get different results yet!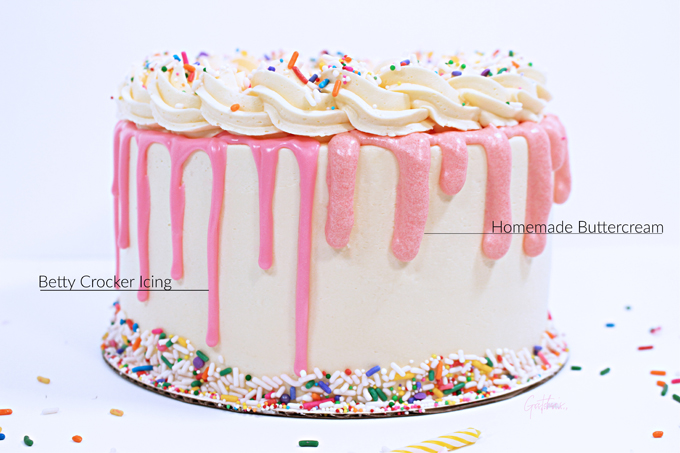 WATCH THE VIDEO TUTORIAL FOR HOW TO MAKE THIS CAKE FROM START TO FINISH!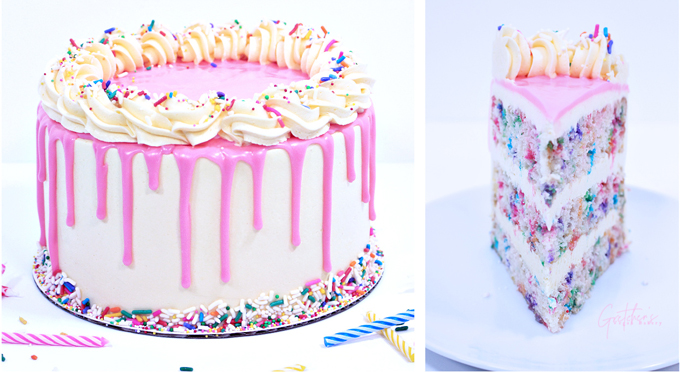 This website may contain links as part of the Amazon Affiliate program, which means when you click a link and make a purchase through my website I may earn a small commission at no additional cost to you
Notes For Success:
Vegan sprinkles can be hard to come by but I found a pretty good company that sells the largest package for the best price *not sponsored
Otherwise you can of course make your own sprinkles by following my recipe and video here
I have also found a vegan food color that I really like! *also not sponsored
The white cake recipe listed below is my updated "one bowl mix" but for those who want it even easier check out my Box Cake Hack for white cake
However one thing to note is that by adding sprinkles to a recipe it is essentially like adding more sugar so I reduced the sugar in my cake recipe by ¼ cup,
therefore the 1 cup of sugar listed below in the recipe is correct as the original recipe has 1¼ cup
And for the box cake hack do not add the additional sugar as noted in that recipe
My cakes are baked into 3 – 7″ round cake pans but this recipe will equally make a 2 layer 8″ cake if you prefer.
Tools I used for This Cake:
Yield: serves 10ppl
Funfetti Cake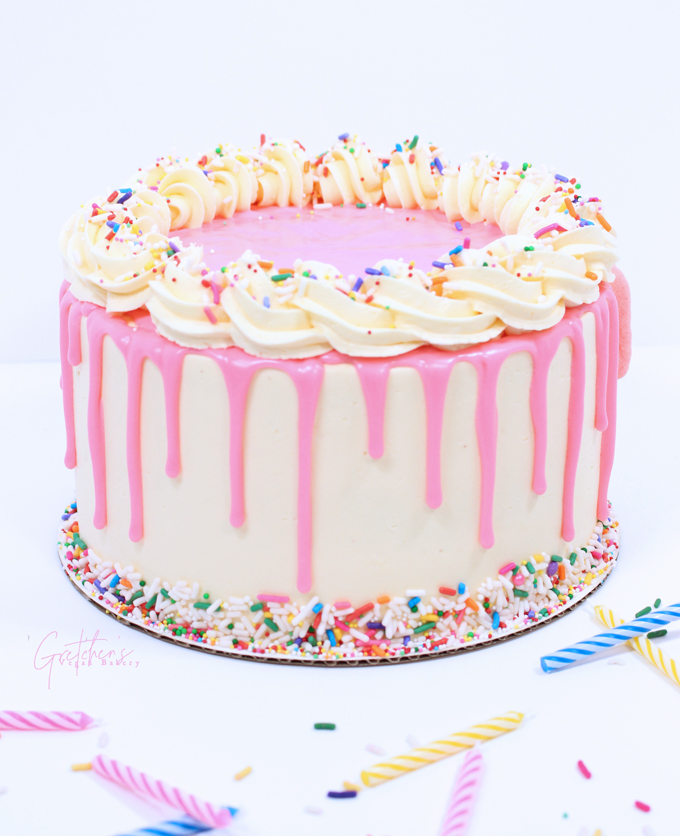 Total Time
2 hours
25 minutes
Ingredients
For the Easy One Bowl White Cake Recipe:
Vanilla Plant Milk 1¾ cup (414ml)
Vinegar 2 teaspoons
Vanilla Extract Extract 1 teaspoons (5ml)
All Purpose Flour 3 ¾ cup (469g)
Egg Replacer 3 teaspoons *I am using Bob's Red Mill
Granulated Sugar 1¼ cups (250g) *see notes
Baking Powder 3 teaspoons
Baking Soda 2 teaspoons
Salt 1½ teaspoons
Vegetable Oil 18 Tablespoons (270ml)
Vegan Sprinkles ½ cup
*optional 1 can Betty Crocker Vanilla Icing
Instructions
If you are making the box cake hack recipe you will follow the instructions for yellow cake but instead substitute in the white cake box mix
For the scratch white cake recipe first add the vinegar to the plant milk and then add the vanilla extract
For the egg replacer I typically do not reconstitute it as the packaging will advise, but rather add it to the dry ingredients (unless I am using flax meal then I reconstitute with some liquid from the recipe)
Next place all of the cake ingredients except for the sprinkles into a food processor and process until smooth batter (about 10 seconds)
OR in a large mixing bowl with a hand whisk combine everything and whisk smooth, approximately 50 strokes to develop the batter
Add in the sprinkles, folding to combine well
Pour batter evenly between the 3 greased and parchment lined 7" cake pans
Bake in a preheated oven at 350°F for 25-30 minutes or until a toothpick inserted into the center comes out clean.
Cool the cakes in the pans until you can safely flip them onto a cooling rack to cool to cold
Refrigerate while you prepare the buttercream recipe according to the directions on that recipe post
See video tutorial for comparing the Betty Crocker canned icing vs the homemade buttercream for the drip effect and decide which way you want to do it.
Add food color to approximately ½ cup of whatever icing you are using and heat in the microwave for just 10 seconds until it is pour able consistency
The Betty Crocker canned icing was perfect at 10 seconds, however if you watched the video you will see the homemade buttercream icing needed a few seconds more *be careful not to melt it!
Notes
Funfett cake with buttercream drip can be stored at room temperature for 1 day in a cool dry environment.
For longer storage keep refrigerated for up to 1 week loosely wrapped to prevent drying