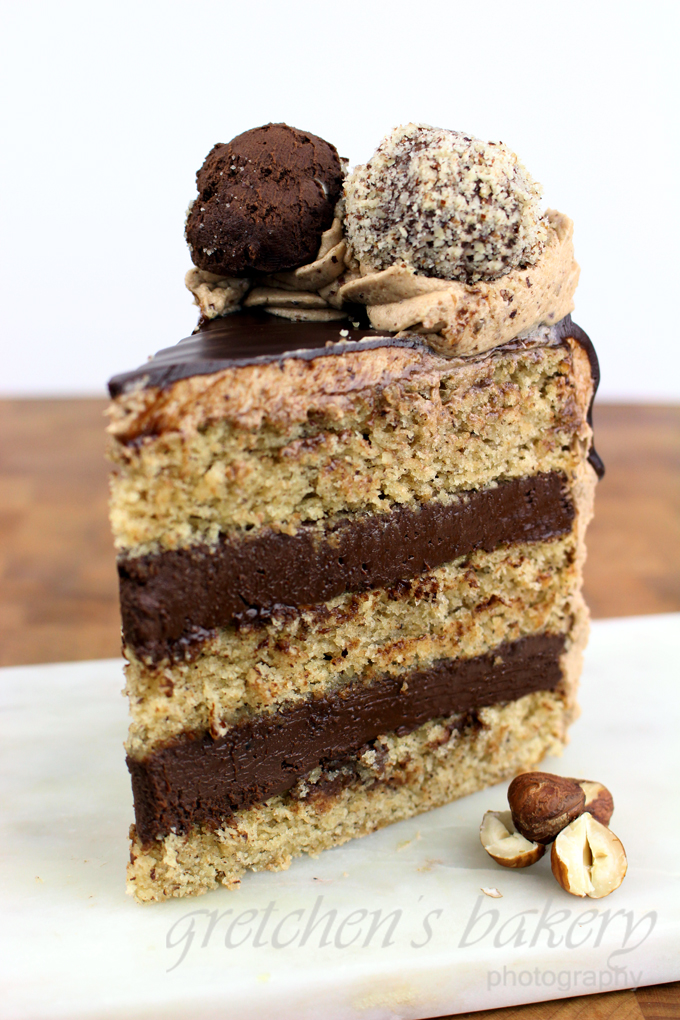 OMG OMG OMG! I am so excited right now!
This new recipe for Hazlenut Sponge Cake is literally an exact replica of the European Style Hazelnut Genoise from my "past life" (You know, that non vegan past life!?)
With chocolate truffle ganache filling and a light chocolate hazelnut buttercream icing.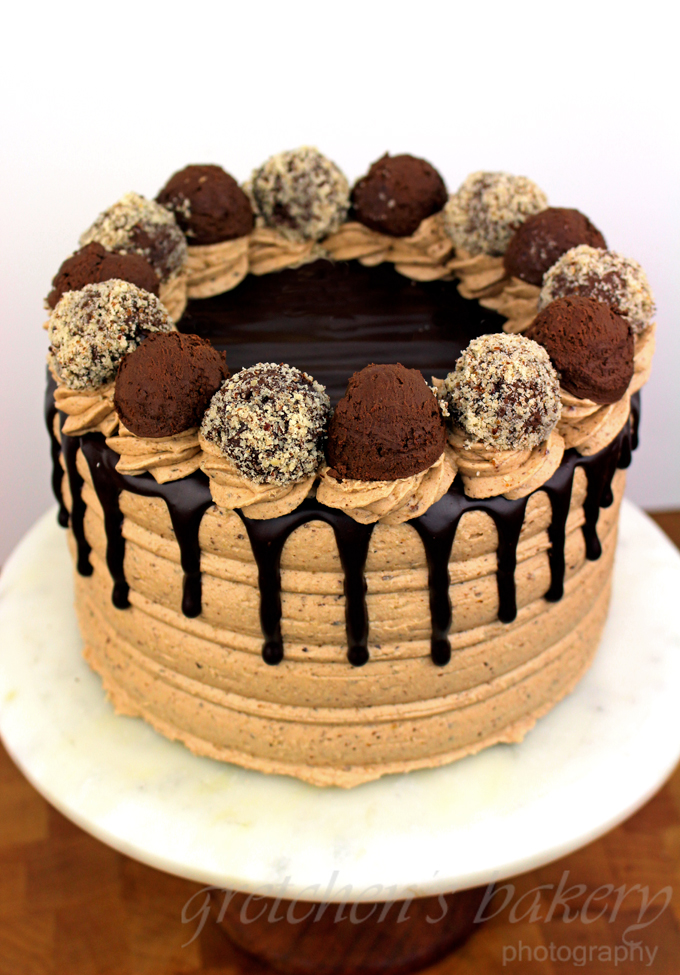 The easiest truffles for decor you will ever make and you have yourself this stunning and delicious cake that no one would ever bet was vegan!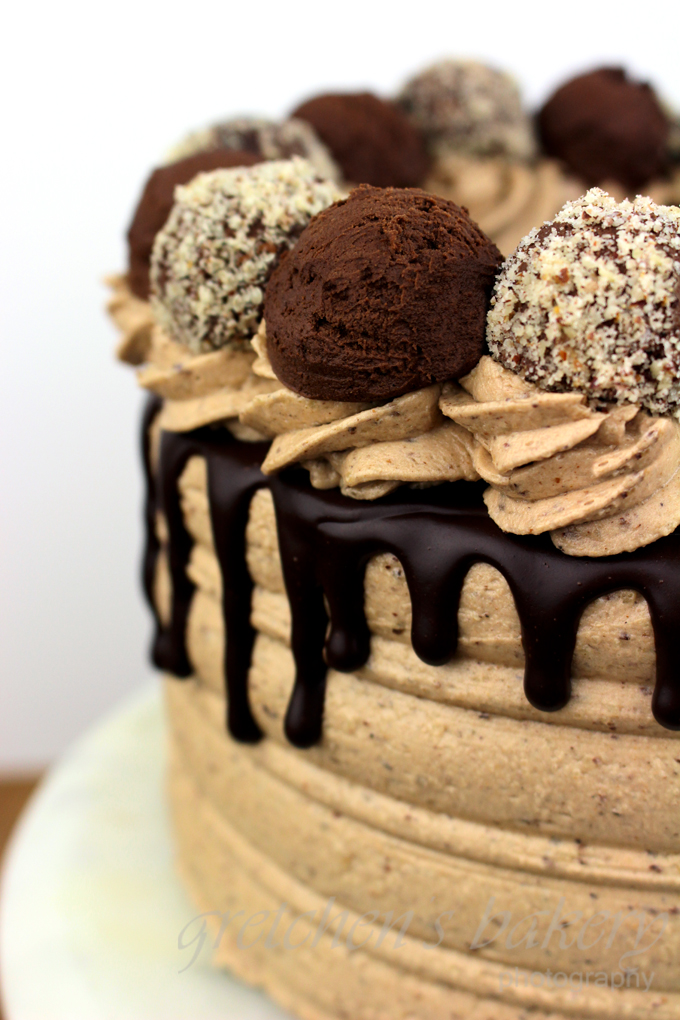 I am telling you this cake will rival any non vegan foamed egg recipe in the traditional style of genoise.
Genoise cakes are characteristically supposed to be on the "dry" side.
I hate to even say "dry" because I don't mean "dry" meaning "bad, I just mean dry meaning genoise cake. LOL
So without going on and on about the classifications of what each cake is and how they taste, just trust me on this one and make this recipe!
Note: You will definitely want to add a simple syrup to this cake, and one that is infused with hazelnut liqueur would be amazing!!!
Hazelnut Sponge Cake with Truffle Ganache Filling
I have made this recipe with Almond Flour with equally amazing results!
This recipe makes
3- 7" cake layers
but you can divide the batter equally between 2-8" cake pans if you do not have the 7" pans
Ingredients
For the Cake:
Vegan Butter 10 Tablespoons (140g)
Granulated Sugar 1½ cup (300g)
Plant milk *I am using soy milk but have used almond milk with good results 1 cup (237ml)
Apple Cider Vinegar 1 teaspoon (5ml)
Vanilla Extract 2 teaspoons (10ml)
All Purpose Flour 2 cups (250g)
Egg replacer 4 teaspoons *I am using the Plant Based Egg by Freely Vegan
Salt 1 teaspoon (6g)
Baking Powder 4 teaspoons (20g)
Hazelnut Flour 1 cup (105g)
Vegan Semi Sweet Chocolate 1lb. (454g)
Plant Milk *I am using soy milk but any one you prefer will work great 1 cup (237ml)
For the Chocolate Cinnamon Hazelnut Buttercream:
1 RecipeYour Favorite Vegan Buttercream *I am using American Buttercream click here for recipe
Cinnamon 1 teaspoon
Hazelnut Flour 6 Tablespoons
¼ cup of ganache from recipe above
Simple Syrup: ¼ cup water + ¼ cup sugar + 2 Tbs hazelnut liqueur optional
Instructions
First prepare the cake batter by creaming the room temperature vegan butter with the granulated sugar until light and fluffy and this will take approximately 5 minutes.
Combine the plant milk with the apple cider vinegar and vanilla extract and sift all the dry ingredients together (including the nut flour and the egg replacer. *The Plant Based Egg by Freely Vegan was formulated to add to the dry ingredients, so there is no need to reconstitute)
Add about ¼ cup of the liquid to the creaming mixture and mix well, stop & scrape the bottom and sides of the bowl to ensure an even non-lumpy mixture.
Add ⅓ of the sifted dry ingredients while mixing on low and mix just until incorporated
Add half of the remaining milk mixture and mix just until combined.
Always scrape the bottom & sides of the bowl when needed.
Add another ⅓ of the dry ingredients and then the last of the milk and then the last of the dry ingredients.
Mix well for about 10 seconds and then portion the batter evenly between your greased and parchment lined cake pans
Bake immediately in a preheated 350°F oven for approximately 35-40 minutes or when a toothpick inserted into the center comes out with moist crumbs.
Cool the cakes in the pans until you can easily touch them without burning your fingers then flip them out onto a cooling rack to cool completely.
Meanwhile prepare the vegan ganache by combining the finely chopped chocolate with the plant milk in a large heavy bottom saucepot over medium heat and stirring constantly until it is all melted and smooth.
Reserve to cool at room temperature while you prepare the buttercream recipe.
Prepare the buttercream of your choice as per the instructions on that blog post and then at the last stage of mixing add 1 -2 teaspoons of cinnamon (to your taste) the 6 Tbs of hazelnut flour and ¼ cup COOLED ganache, mix well.
For the simple syrup, bring the water & sugar to boil in a small sauce pot. let it boil for 1 minute, then remove from heat and cool to room temperature, add the liqueur
Assemble the cake as shown in the video tutorial, but be sure to brush each cake layer with about ¼ cup of that soaking syrup!
**To make the truffles for decor: when the ganache recipe is cooled a can be easily scooped, scoop balls and dip them in more hazelnut flour to coat.