Why even call them one hour vegan fudge brownies!?
By now you all have probably heard about the 100 hour fudge brownies challenge a viral video from Tasty where Alvin Zhou made his famous 100 hour brownies recipe!
If you are like me you are wondering why on earth can anyone wait 100 hours for a brownie!
But rather than call it click bait right away I decided to get to testing various recipes and so my trek began to get to the bottom of this and I found out some very interesting things!
What's all the hype about?
I mean, seriously I can make the most amazing vegan fudge brownies in just about one hour!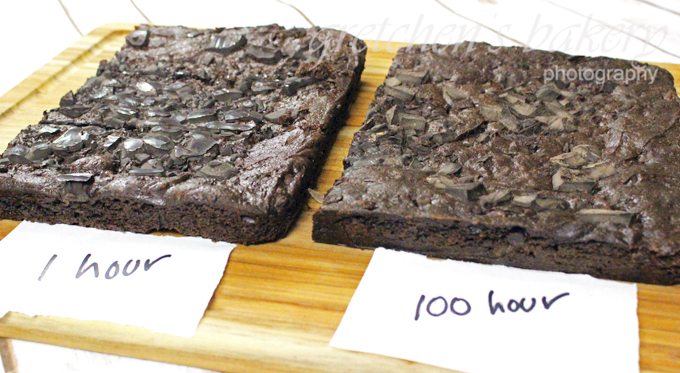 First things first though, I had to veganize the best fudge brownie recipe!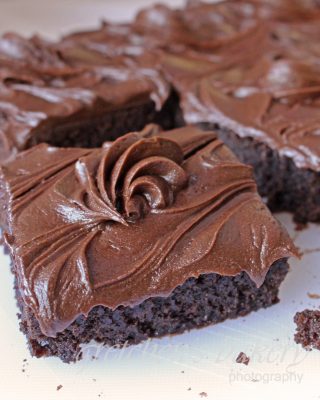 If you watch the video attached to this recipe linked below, you will see the process and my opinions regarding this whole idea.
But for those who just don't have time to sit through a 12 minute video I will give you the low down straight away.
Spoiler alert!
In my opinion there really was not much difference between the brownie batter that sat in the refrigerator for 100 hours before baking vs. my super easy mix and bake in less than 1 hour fudge brownie recipe!
I honestly couldn't tell the difference!
Have we been duped into believing all the hype that this amazing 100 hour brownie recipe is going to change your life?
Or perhaps vegan brownies are just superior with their magical goodness without making us wait days on end to enjoy the treasure!
But if you want to see for yourself go ahead and make the recipe below just as I did over a span of four days.
Then make it again and then bake them both at the same time.
I'd love to hear your comments if you do try the long version and comparison.
But I think I already know your comments if you just go for the easy one hour recipe as listed below and have yourself some brownies ASAP!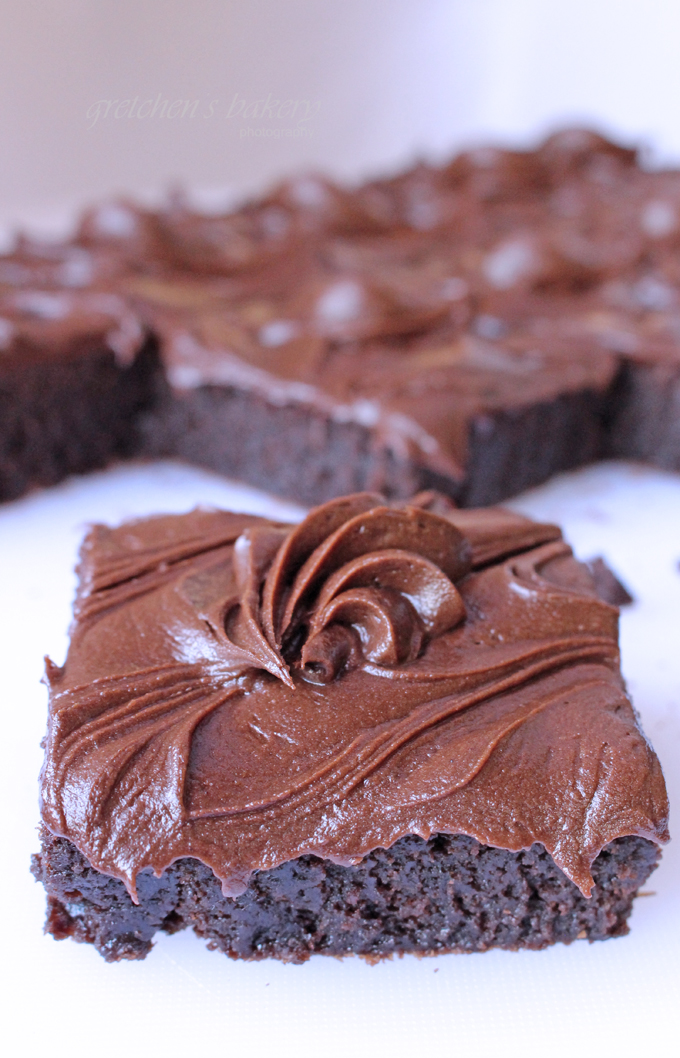 Notes for Success:
This recipe is being baked in a 1/4 sheet pan but can be done in an 8″ x 8″ pan as well
Many people are adverse to using coffee in their recipes; you can leave it out and use water instead but first understand that coffee brings out the best in chocolate and you will not taste the coffee in the final result
Molasses seems to be an ingredient not readily available to most so if you cannot get it just switch to light brown sugar and increase it by 1 extra tablespoon
Any cocoa powder will be fine for this recipe, read more about cocoa powder here
CLICK HERE FOR THE FULL YOUTUBE VIDEO FOR 100 HOUR BROWNIES!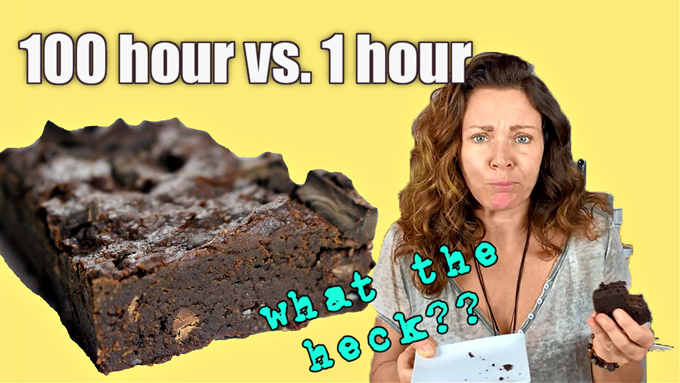 Yield: 15
Vegan Fudge Brownies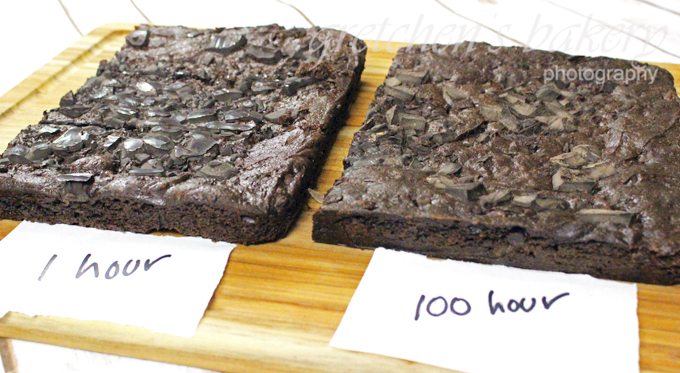 Ingredients
All Purpose Flour 2 cups (250g)
Baking Powder 2/3 teaspoon
Salt 2/3 teaspoon
Granulated Sugar 11oz (311g) *this is about 1½ cups + 1 Tablespoon
Vegan Butter 12 Tablespoons (170g)
Molasses 4 teaspoons * see notes
Strong Brewed Coffee 5½ fluid ounces (162ml) * see notes
Semi Sweet Chocolate chunks 3 ounces (85g)
Natural Unsweetened Cocoa Powder 1 cup + 2 Tablespoons (85g) * see notes
Vanilla Extract 2 teaspoons (10ml)
Chocolate chunks for topping 3 ounces (85g)
Chocolate Chips for the batter 2/3 cup
Instructions
Grease and parchment line a 1/4 sheet pan
If you are not resting the brownies for 100 hours before baking, preheat the oven to 350F
Bring the vegan butter & molasses to a boil in a medium sauce pot
Add the cocoa powder & first measure of chocolate chunks and whisk to melt smooth
Add the hot coffee and then transfer to a large mixing bowl, add the vanilla extract & the sugar
Whisk smooth
Sift the flour, baking powder & salt into the batter and stir just to combine, do not over mix
Add the optional chocolate chips to the batter
then spread into the greased & parchment lined sheet pan.
Add the other measure of chocolate chunks to the top
Bake in a preheated 350F oven for 25 minutes **Or follow the video and wait 4 days (approx 100 hrs) before baking by storing the brownie in the refrigerator.
Cool completely before cutting.
Notes
Brownies can be stored at room temperature in an air tight container for up to 1 week.

For longer storage, keep refrigerated for up to 2 weeks.

Freeze for up to 3 months
3.5.3251