Woo Hoo! It's peach season again!
There's nothing better than a fresh juicy peach at the height of the season!
Okay, okay except for this Peach Cream Pie!
This could quite possibly be better!
Fluffy peach mousse and whipped cream!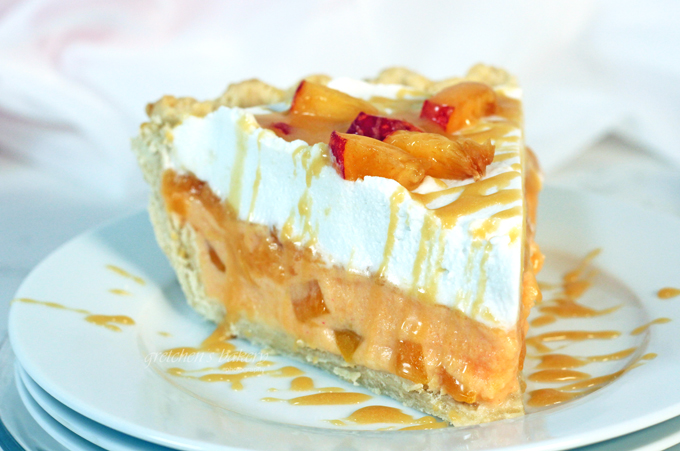 Make a traditional pie crust with the best recipe for vegan pie crust
Or keep the entire thing No~Bake with a cookie crust instead!
Whatever you do don't forget those luscious peach chunks nestled into every bite!
Peach Cream Pie can be tackled several different ways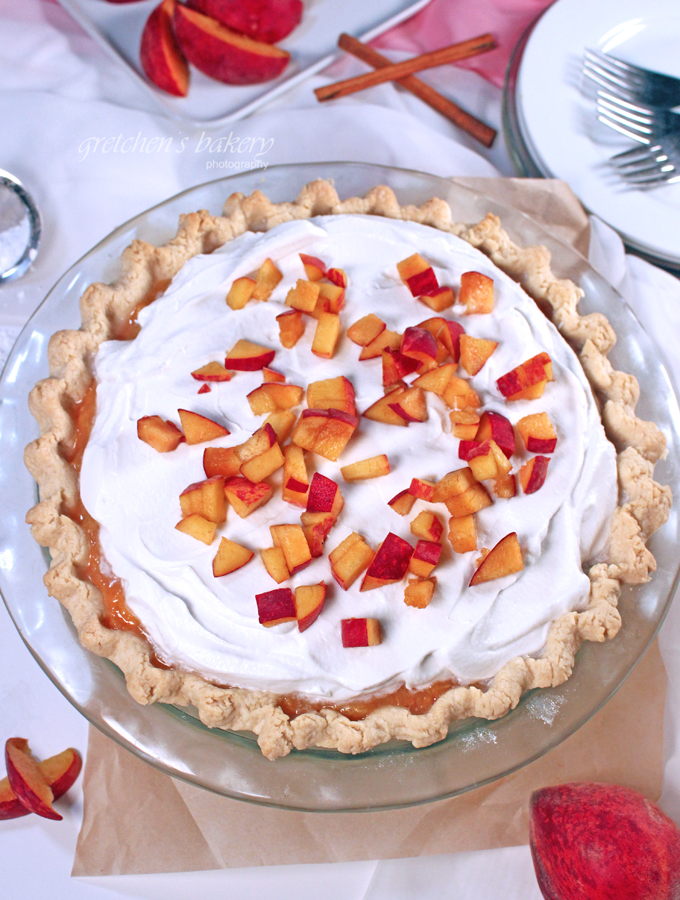 Whether you have fresh peaches or canned peaches
Or these Vanilla Poached Peaches from the Amish Wedding Kitchen like me *not sponsored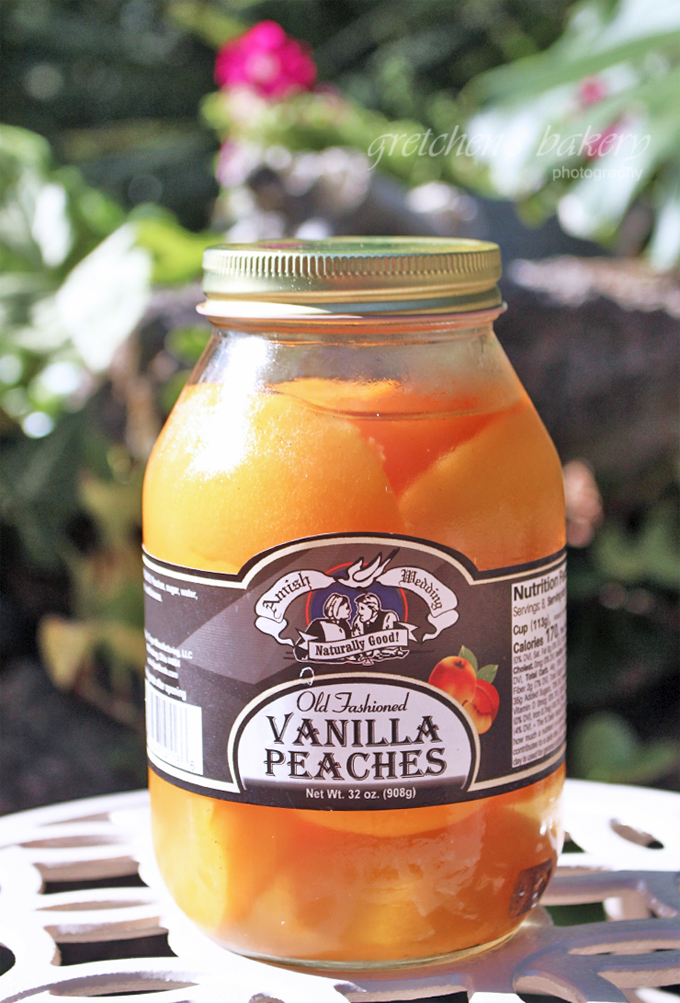 You can be sure this is one dessert that we all can make!
Peach Mousse is not as intimidating as the name implies
But in case you don't have vegan white chocolate you can make it into a diplomat cream instead
The alternative recipe for the custard is listed below but the method is the same
A simple stove top custard folded together with billowy vegan whipped cream!
The entire Peach Cream Pie can be prepared in about 90 minutes of total working time!
This is definitely one easy summer dessert!
The hardest part is waiting for it to set so you can cut it!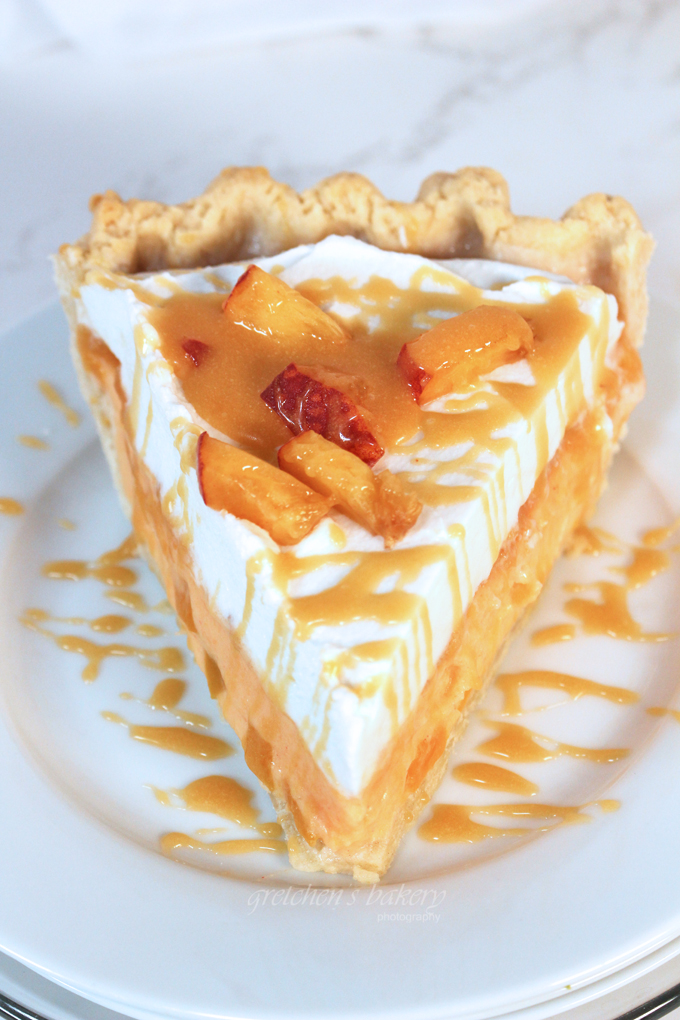 Notes for Success:
Agar can be a tricky ingredient in No Bake Desserts such as this one.
A heavy hand ~ even a pinch too much~ can be the difference between creamy delicious and rubbery inedible!
Pay attention to the strength of agar you are using in comparison to the one that author of the recipe is using
I use 900 Strength agar in my recipes CLICK HERE FOR EXACT BRAND
CLICK HERE FOR MORE INFORMATION ABOUT USING AGAR IN YOUR RECIPES
If you are making my recipe for homemade vegan whipped cream, be sure to plan one day ahead and read the entire recipe post before beginning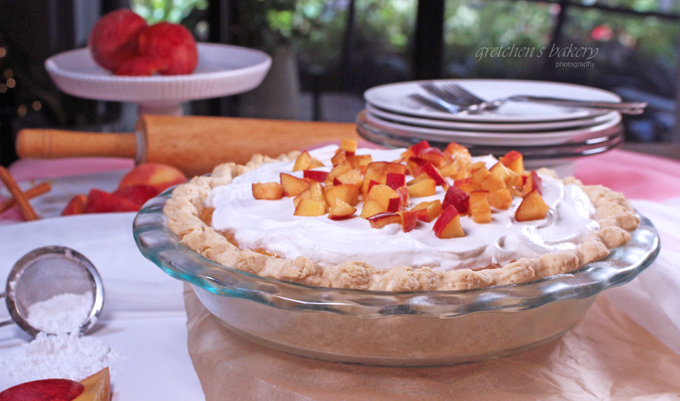 If you are making the Peach Diplomat Cream version of this recipe
Cornstarch is a very difficult ingredient to measure consistently with a volume spoons measure
So while I list both measures below I cannot stress enough how the grams measure with a scale is going to give you the best results.
Many times people have complained that their custard is like rubber and they don't know why!
This is from a heavy measure of cornstarch when using volume measuring spoon vs the 100% accurate scale measure in grams.
Today I am using Peach Extract from Olive Nation to kick up the peach flavor throughout this pie
Take advantage of a 20% off discount for anything you order with Olive Nation just for checking out this recipe!
By entering GVB20 in the discount code section at checkout

One last thing, for those wanting to forgo the pie crust and keep this whole thing No Bake~
Click here for the cookie crust recipe I use  for all my cheesecakes, just be sure to double the crust recipe listed
CLICK HERE FOR THE FULL YOUTUBE VIDEO TUTORIAL FOR HOW TO MAKE THIS PIE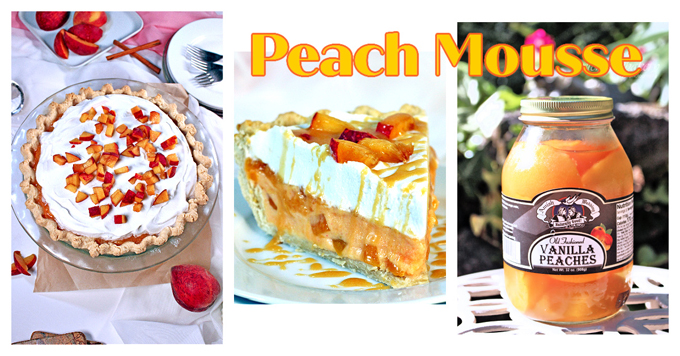 For more awesome summer recipes like this one, click the links below
White Chocolate Berry Cream Pie
Peach Cream Pie
Ingredients
1 Recipe Vegan Whipped Cream or your favorite vegan whipped cream~ you will need total 4 cups volume, of whipped cream for the mousse recipe & for the topping
For the Peach Mousse:
Vegan White Chocolate 4 ounce (113g)
Plant Milk *any one will do ~ I used soy milk ½ cup (118ml)
Peach Puree *from 2 medium fresh ripe, canned or poached peaches ¾ cup (177ml)
Granulated Sugar 2 Tablespoons (28g)
Agar *see notes for success ¾ teaspoon
Peach Extract 1 teaspoon (5ml)
Vegan Whipped Cream 1½ cups * this is the total volume of whipped cream needed * I used SILK brand heavy whipping cream
Additional fresh or canned peaches for folding into the mousse filling *optional 1 cup
For the Peach Compote:
4 Fresh Ripe or frozen peaches peeled & small diced
Granulated Sugar 2 Tablespoons (28g) *optional you can leave this out
White Wine OR Water 2 Tablespoons
Cornstarch 1 teaspoon *optional
Water for the cornstarch 1 teaspoon *optional see notes below in instructions
Instructions
**If you are making my recipe for homemade vegan whipped cream you must prepare the mix one day ahead of time for best results. Be sure to read that entire blog post for the whipped cream recipe before beginning
First prepare the pie dough recipe as per the instructions on that recipe post. *I make my pie dough the day before so it has time to chill & relax in the refrigerator overnight
Roll the pie dough into an un greased 9" pie plate & prick the bottom with a fork for steam vents
Blind bake it with pie weights *see video at 350°F for 10 minutes then remove the pie weights & parchment paper and bake for another 10 minutes until golden brown
Prepare the peach compote by cooking the chopped peaches, sugar & white wine or water over medium heat until the peaches break down slightly & it looks like thick peach jam or conserves.
If you think there is too much excess liquid you can make a slurry with the 1 teaspoon of cornstarch & 1 teaspoon of water
Add that to the boiling compote, let it bubble for about 10 seconds then remove from the heat and cool at room temperature until needed.
For the peach mousse First chop the peaches for the filling into small cubes and reserve.
Then puree the other measure of peaches with the plant milk and sugar and then transfer it to a sauce pot
Add the agar and then whisk smooth while cooking over medium to high heat stirring constantly to avoid burning.
Once it boils let it bubble for about 30 seconds then remove from the heat and add the vegan white chocoalte and the peach extract, stir smooth
Transfer to a large mixing bowl and monitor it as it cools, stirring occasionally to prevent gelling along the rim of the bowl
You want to cool it to to at least 90°F before folding in the whipped cream or you will melt it.
Once you are getting close to 90°F you should whip the cream and have it ready to fold in.
Once the mousse base is cooled fold the whipped cream in 2 stages.
Add the reserved 1 cup of chopped peaches and pour into the cooled pie shell
Refrigerate to set and then spread the peach compote over top
Whip the remaining whipped cream for the topping with optional confectioners sugar for sweetener *I use ¼ cup confectioners sugar per 1 pint of SILK brand heavy whipping cream.
Top the finished pie with chopped fresh peaches
Notes
Peach Cream Pie must be kept refrigerated and will stay fresh for up to 1 week wrapped loosely to prevent drying.

You can freeze the pie without the whipped cream topping wrapped well for up to 1 month
FOR THE PEACH DIPLOMAT CREAM VERSION:
Peach Cream Pie~ DIPLOMAT CREAM VERSION
Follow the recipe above for everything except for the peach mousse part. Instead make this peach diplomat cream with a stove top custard rather than the white chocoalte mousse base as listed above
Ingredients
Plant Milk *I used soy milk 1¾ cups (420ml)
Granulated Sugar ½ cup (100g)
Cornstarch 4½ Tablespoons (42g) *see notes for success
Agar Powder 1 teaspoon *see notes for success
Vegan Butter 1 Tablespoon (14g)
Peach Extract 2 teaspoon (10ml)
Vegan Whipped Cream 1½ cups total whipped volume
Fresh or canned peaches chopped to small cubes *optional 1 cup
Instructions
Prepare the pastry cream custard by whisking the sugar with the cornstarch & agar powder and then add that to the plant milk in a large sauce pot
Bring everything to a full rolling boil over medium to high heat whisking constantly to avoid scorching
Once it comes to a full boil remove from the heat and add the vegan butter and the peach extract, whisk smooth
Transfer the hot custard to a large mixing bowl & whisk to release the intense heat.
Continue whisking every so often until the custard is slightly cooler than body temperature approx. 90°F
Add the chopped peaches
Then add the vegan whipped cream in 2 additions, whisking & folding gently to incorporate
Pour into the baked and cooled pie shell and refrigerate to set
Proceed as the instructions above specify to finish the pie