Well, I always wanted to be a Princess.
I guess this is the closest I will ever get!
Making my own mini bundt cakes and sharing them with Winklebean under the big tree in my yard!
But seriously these little mini Peach Melba Princess Cakes are just perfect!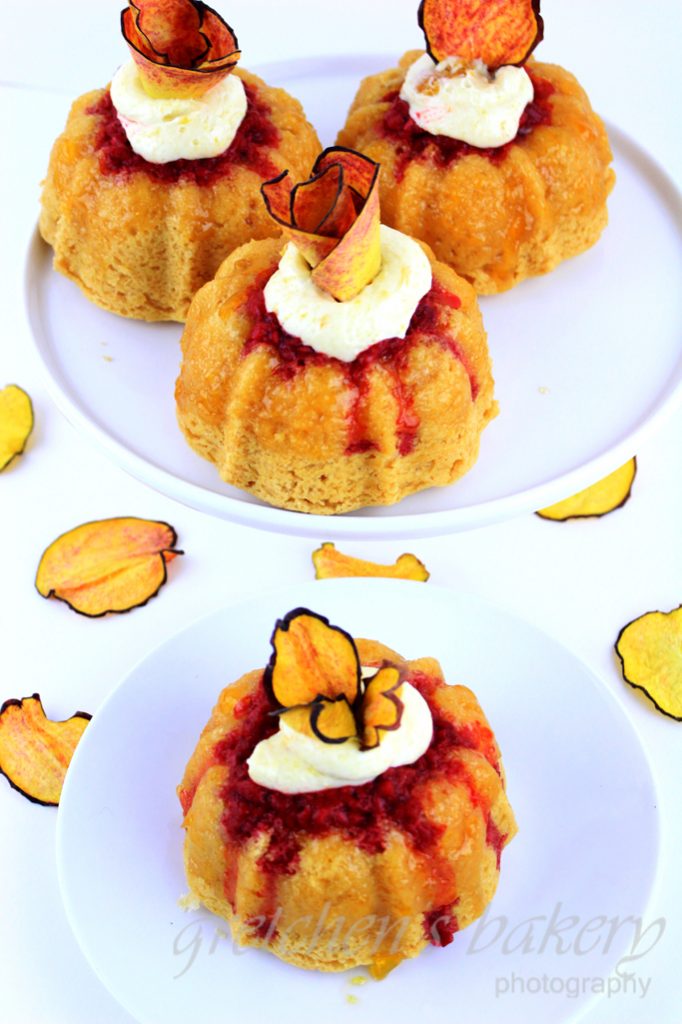 For those unfamiliar with Peach Melba~ it's a classic dessert that was invented way back around the late 1800's in honor of an Australian singer named Nellie Melba.
The flavors are always raspberry and peach and traditionally served with vanilla ice cream.
But I've twisted that classic into a Gretchen's Bakery cake recipe with a modern spin.
Super moist peach cake loaded up with raspberry compote and a touch of peach buttercream.
These little cakes are going to win your heart I promise and here's a bonus secret tip and trick: The peach puree in the cake can be substituted for any fruit puree, so this means you have endless variations on this one base recipe!
Who loves ya? Yep, ME!
But please! I beg you to try Peach Melba first! It is a classic dessert combination and so good!
Peach Melba Princess Cakes
Serves:
12 Mini Bundt Cakes
Ingredients
For the Cake:
Vegan Butter 8 Tablespoons (112g)
Cake Flour 3 cups (360g)
Light Brown Sugar 1¼ cup (263g)
Baking Powder 4 teaspoons (20g)
EnerG Egg Replacer 2 teaspoons
Salt ¼ teaspoon
Almond Milk ¾ cup (180ml)
Peach Puree ¾ cup (180ml)
Vanilla Extract 1 teaspoon (5ml)
Fresh or Frozen Peaches small diced 1 cup
For the Peach Puree:
4 medium peeled peaches approx 2 cups diced
For the Raspberry Compote
2 Pints Raspberries
½ Recipe Buttercream
Instructions
To make the Peach Puree: Slowly cook the peaches on a heavy bottom sauce pot over low to medium heat while stirring often.
Once the peaches start to break down and get mushy transfer to a blender or food processor (be careful if it is very hot) and blend to smooth.
For the Raspberry Compote:
Add sugar if you like, but I did not. Add up to ¼ cup to your taste.
Do the same as you did with the peaches, cook over low heat until soft and mushy. You can blend to a sauce or keep it chunky it is your preference
For the Cake:
Combine all the dry ingredients including the light brown sugar and the egg replacer in a mixing bowl and blend well.
Combine the almond milk with the vanilla extract then add the peach puree.
Add the vegan butter to the dry ingredients on the mixer bowl and blend on medium speed to a fine mealy consistency
Add the almond milk / puree mixture while mixing on medium speed until all is incorporated, then whip on high speed for 30 - 45 seconds
Portion the batter into the greased mini bundt pan and bake immediately at 350°F preheated oven for approximately 28 - 35minutes or until they start to get golden browned and springy to the touch when gently pressed in the centers.
Assemble as shown in the video
Notes
Princess cakes can be stored at room temperature, in a cool dry area for up to 2 days.

For longer storage refrigerate for up to 8 days (they will most likely go sale before they will go bad)

The unfinished cakes can be frozen wrapped well for up to 1 month