Vegan Peanut Butter Cupcakes Recipe.
It may seem as if I have made these before.
You are probably thinking of the Chocolate Cupcakes stuffed with Fudge and Peanut Butter Cheesecake Icing.
Here is how this new creation was born: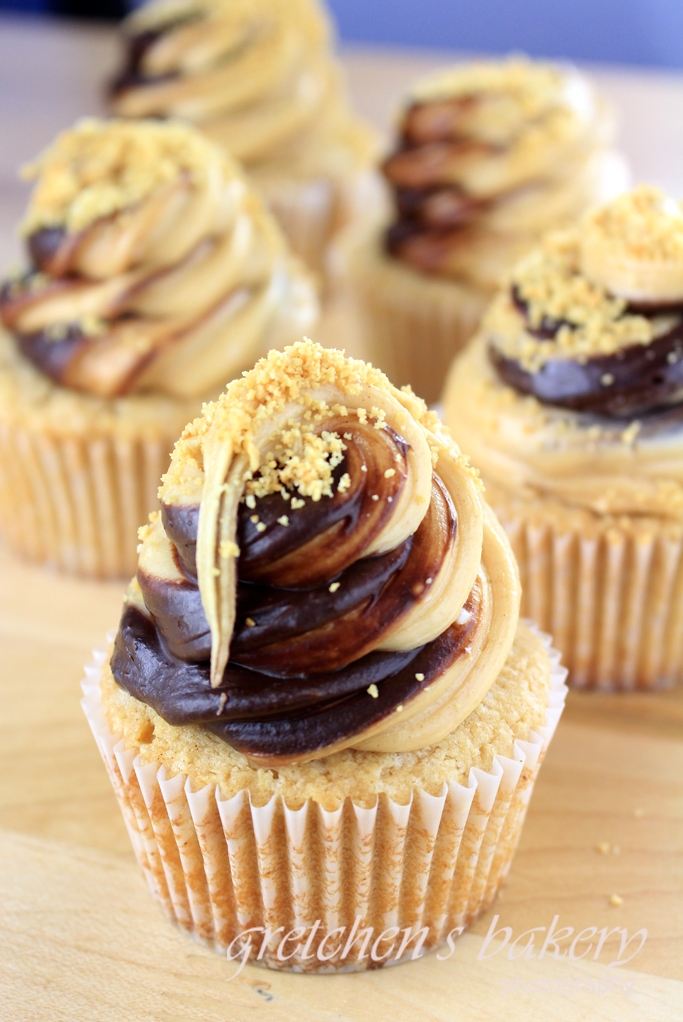 During a recent conversation with my "significant other" (hehe) discussing what to have for dessert after dinner; naturally I said chocolate peanut butter cupcakes.
He knew exactly what I meant and that was: "Chocolate cupcakes with a bit of peanut butter thrown somewhere in there….."
Like these: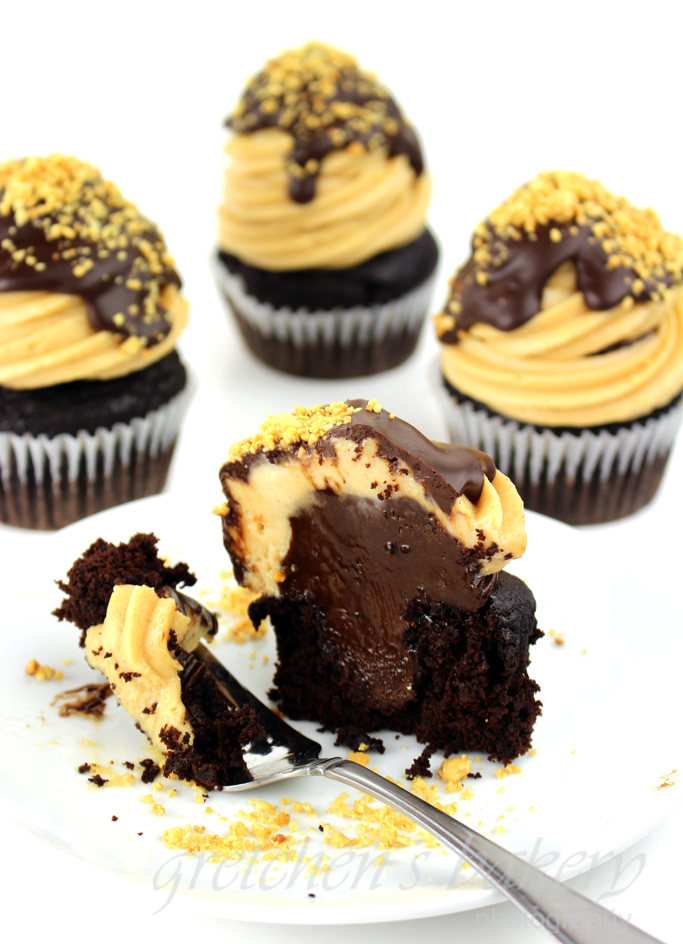 Does he know me? Or what?
He definitely knew where I was going with this and quickly suggested to make them straight up Peanut Butter Cake with Peanut Butter Icing.
I thought, "Yikes! That's a awful lot of peanut butter! I'm not sure about that!"
(Actually I said that out loud, it wasn't merely a thought)
But of course I wanted to give his suggestion a go; after all I had a private stash of fudge icing that I could always add to mine to make it … ummmm, Better.
But here's the deal, now listen, I can admit when I am wrong. And I am here to confess today, I WAS WRONG!
This Vegan Peanut Butter Cupcakes Recipe (double peanut butter cupcakes I should say) are out of this world amazing!
I really do have to give credit where credit is due, he knows a thing or two when it comes to good taste, after all he picked me didn't he!?
I call him my professional taste tester and critic when trying out new recipes.
He will always tell me the truth if something is not great or could be improved.
Which was why I was in the test kitchen for a week when it came to the No Bake Key Lime Pie Cheesecake nightmare several weeks ago!
After 5 attempts at that one we finally nailed it down and got the taste and texture perfect!
So why would this one be any different?
Well, the only difference here was it only took one try!
I did however make this recipe 4 times afterwards, but that was only because it is so good we couldn't get enough!
Check out this new recipe for Peanut Butter Cupcakes that are so moist you are going to flip your lid!
In my opinion, peanut butter cakes can tend to be a bit dry by nature but this is not the case here!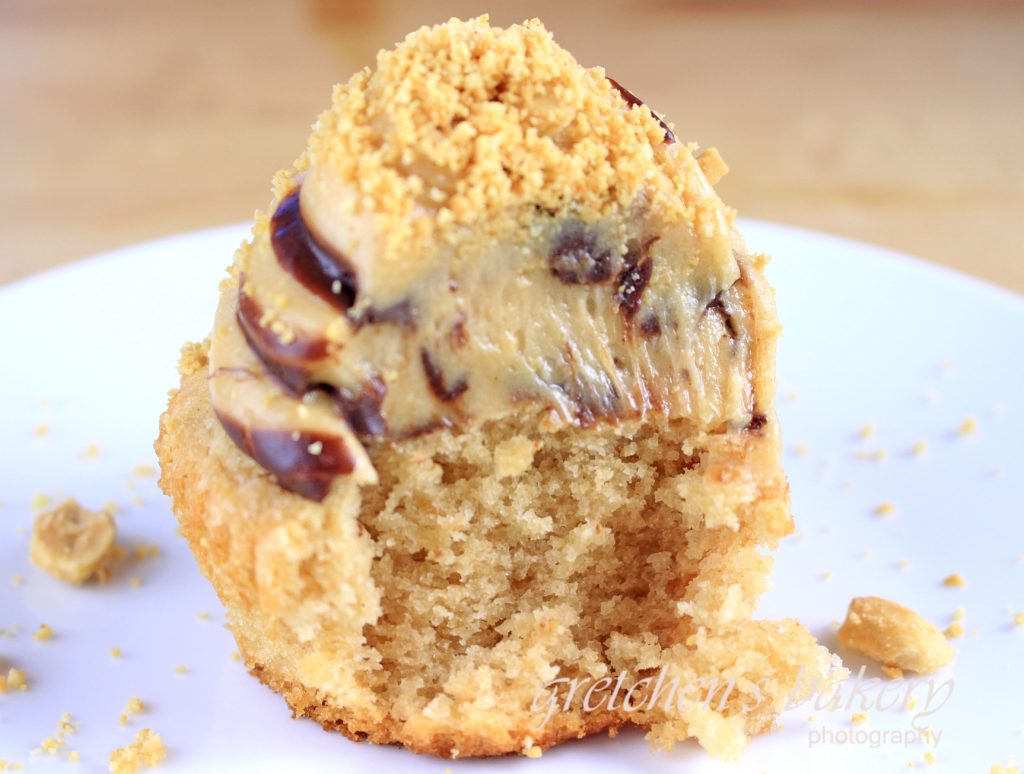 The addition of flax as the egg replacer makes this cake recipe super moist!
The icing is sort of a cream cheese icing / peanut butter buttercream mix.
It is not too sweet that is why I love to use it for cupcakes like this.
You can of course forgo the cream cheese icing altogether and just make a peanut butter buttercream.
Change it up however you like, but I am telling you the double peanut butter combo here is better than you would imagine!
Vegan Peanut Butter Cupcakes Recipe
I list the salt as optional here because I use Earth Balance Vegan Butter. I find it to be very salty so the addition of salt in my recipe is too much for me.
For a layer cake, DOUBLE the recipe ingredients below and portion the batter in greased and parchment lined cake pans for - 3-8" layers
Ingredients
For the Cake:
Vegan Butter 12 tablespoons (170g)
Granulated Sugar 1½ cup (300g)
Creamy Peanut Butter ⅔ cup (160g)
Flax Meal 3 Tablespoon (24g)
Warm Water ½ cup (120ml)
Vanilla Extract 2 teaspoon (10ml)
Soy Milk ½ cup (120ml)
Vinegar 1 Tablespoon (15ml)
All Purpose Flour 1¾ cup (220g)
Baking Powder ¾ teaspoon
*salt optional pinch
For the Peanut Butter Cream Cheese Buttercream Icing:
Vegan Cream Cheese 1 -8oz package (224g)
Vegan Butter 8 Tablespoons (113g)
Creamy Peanut Butter 1 cup (240g)
Vanilla Extract 1 teaspoon (5ml)
Confectioners Sugar 2 cups (240g)
*Optional fudge recipe for striping the icing as shown in the video, you will only need a small amount
Instructions
For the Cake:
Preheat the oven to 375°F
Sift the flour with the baking powder
Combine the flax meal with the warm water and set aside to thicken about 5 minutes.
Add the vinegar to the soy milk and then add the vanilla extract
Cream the vegan butter with the sugar on medium to high speed until fluffy about 3 minutes.
Add the peanut butter and mix well
Add the flax "egg" mixture and cream well to combine
Next add about ⅓ of the flour mixture and mix just until it is incorporated
Then add about half of the soy milk mixture, mix to combine
add another ⅓ of the flour and then the rest of the milk mixture
Ending with the last addition of flour.
Mix well then portion into cupcake liners, bake at 375°F for 12 minutes, then turn the oven down to 350°F and bake approximately 10 minutes longer or until they are springy to the touch when you gently press the centers.
Cool completely while you make the Icing:
Combine the vegan cream cheese with the softened vegan butter and cream to smooth
Add the peanut butter and mix well.
Add the vanilla extract and the sifted confectioners sugar and mix just until all combined
Refrigerate until needed