Caramel Pecan Bars the most popular dessert in my bakery!
It's hard to know what recipe is going to be a hit with the masses but let me tell you this one was a slam dunk!
I had customers calling ahead asking to reserve their personal stash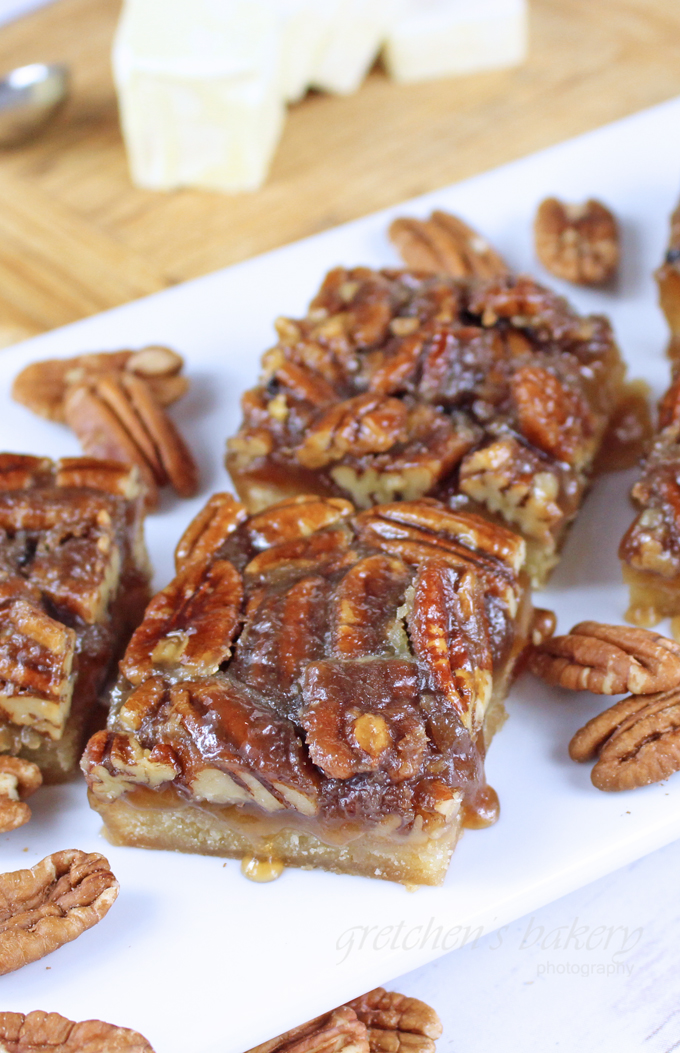 A unique spinoff from the traditional Pecan Pie you must try these luscious caramel pecan bars!
They are so easy to make and even easier to eat!
Starting with a shortbread cookie base, the cooked caramel pecan filling then gets poured over top and everything gets baked together to an ooey gooey caramel delight!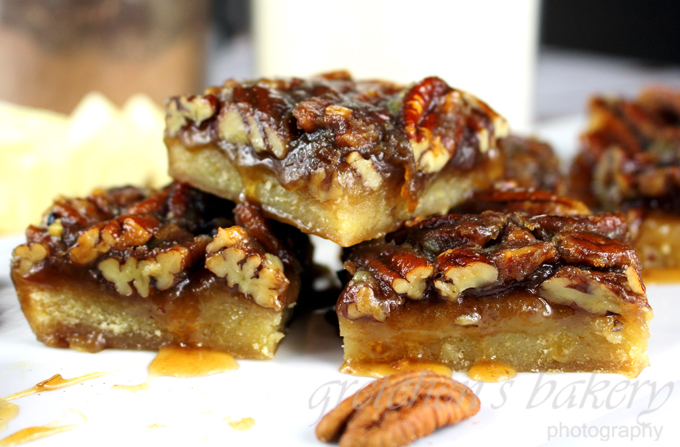 If you are not a fan of pecans or their price! You can use any other nut or combination of nuts instead.
Be sure to watch the full YouTube video tutorial for how I made these bars so you can get a sense of the flow of production needed to pull this off with ease.
CLICK HERE FOR THE FULL YOUTUBE VIDEO TUTORIAL FOR HOW TO MAKE THESE!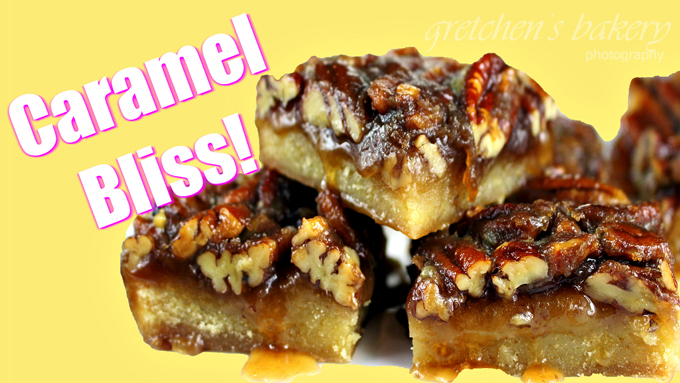 Notes for Success:
Cooking the caramel to the high temperatures needed for this recipe can get pretty dangerous not to mention once you pour it onto the shortbread base and walk it to the oven it can be a little bit daunting.
As with any caramel recipe you have to take precautions since cooking sugar to over 300°F can be really bad if you get even a drop on your skin!
I cannot stress enough to be careful!
You will notice in the video I used a 9″ x 9″ pan, whereas the full recipe listed below is for a 9″ x 13″ pan
There is an error in my Modern Vegan Baking Cookbook for this recipe.
For the shortbread base it says 2¾ cups of flour is 220g- this should read 345g
For more caramel recipes click the links below!
Yield: 9" x 13" pan
Caramel Pecan Bars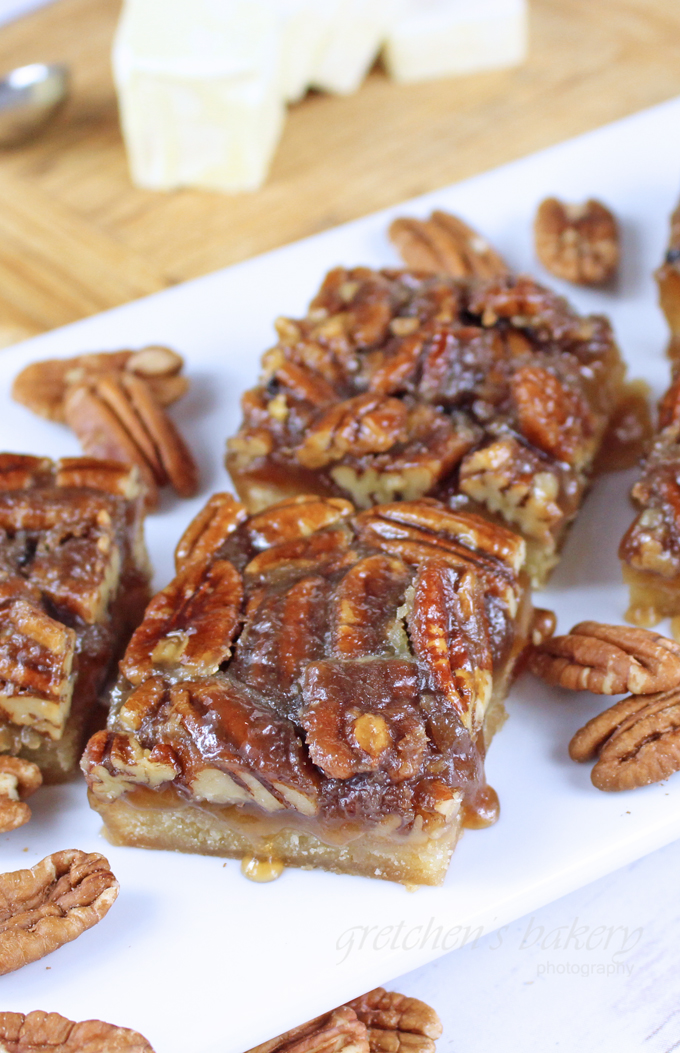 Total Time
1 hour
15 minutes
Ingredients
For the Shortbread Cookie Base:
COLD Vegan Butter 1¼ cup (280g)
Granulated Sugar ¾ cup (150g)
All Purpose Flour 2¾ cup (345g)
Salt ½ teaspoon
Vanilla Extract 1 teaspoon (5ml)
For the Caramel Pecan Filling:
Vegan Butter ¾ cup (170g)
Vegan Hon-ee, Maple Syrup, Golden Syrup Or Corn Syrup 1 cup (237ml)
Light Brown Sugar 1½ cup (310g)
Granulated Sugar 1/3 cup (67g)
Plant Milk 1/3 cup (80ml)
Pecan Halves or Pieces *NOT TOASTED 2½ cups (300g)
Vanilla Extract 1 teaspoon (5ml)
Instructions
Preheat oven to 350°F
Prepare a 9"x13" baking pan with professional bakery pan grease & a parchment paper cut to fit. *I did not do this in the video, but you can also make the parchment paper drape over the sides of the pan and this will help tremendously with the un-molding of the entire bar later.
First prepare the shortbread base by combining the flour & sugar together in a mixing bowl.
Add the salt if using & blend to mix well.
Add the cold diced vegan butter and blend on low speed until it resembles course meal.
Add the vanilla extract and continue mixing until it starts to come together but it is still crumbly.
You can grab a handful and see if it stays together in your hands and you will know it is done.
Turn the crumbly shortbread dough into the prepared pan and press it firmly into the bottom & sides.
Bake in a preheated 305°F oven for 20-30 minutes or until it is starting to get lightly golden brown.
Meanwhile prepare the pecan filling by combing the vegan hon-ee, both sugars and the vegan butter in a heavy bottom 6 qt pot.
Cook over medium -high heat while stirring often to dissolve the sugars & melt the butter.
Once the mixture comes up to a boil, stir it down to avoid it bubbling over and let it boil for about 1 minute.
Add the plant milk slowly and carefully so it does not boil up and over- this mixture is very hot and can burn you!
Stir it down again and then add the pecans.
Bring the entire mixture back to a rolling boil and then remove from the heat.
Add the vanilla extract and by this time your cookie base should be just coming out of the oven.
Pour the hot caramel pecan filling over the cookie base and then carefully return it all to the oven for another 20 minutes bake time at 350°F
The entire surface will be bubbling so be careful when you remove it from the oven to cool completely on the counter.
Once cool to the touch, refrigerate for about 30 minutes to set and then cut into desired portions
Notes
Caramel Pecan Bars can stay at a cool dry room temperature for up to 1 week.

For longer storage or for hotter humid temperatures, refrigerate for up to 2 weeks.

These bars can be frozen for up to 2 months, they may get slightly sticky from condensation on the thaw though.
I've also used this recipe in a much smaller batch size to accommodate
my 6 Desserts in One Tray recipe
!
Check it out!