OMG! I don't even know what to say!
Pecan Pie Cheesecake is going to change your world!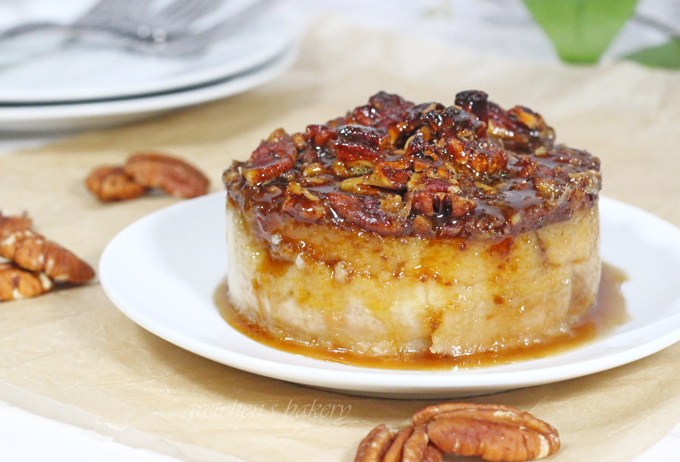 From the buttery shortbread crust to the creamy New York Style Cheesecake
Ooey gooey, drippy and decadent pecan pie on top!
I really don't know where to start with this one!
More realistically though, I didn't know where to stop!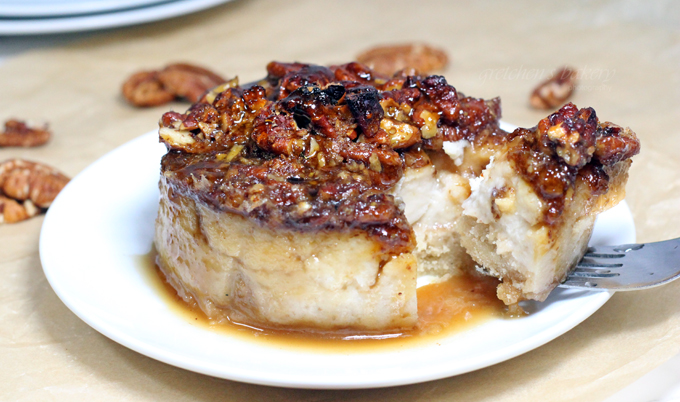 As I am filming the video tutorials for all my recipes, I always eat the few bites that I dig into for the last frames
Let me just tell you I could not stop eating this one!
This is pure decadence!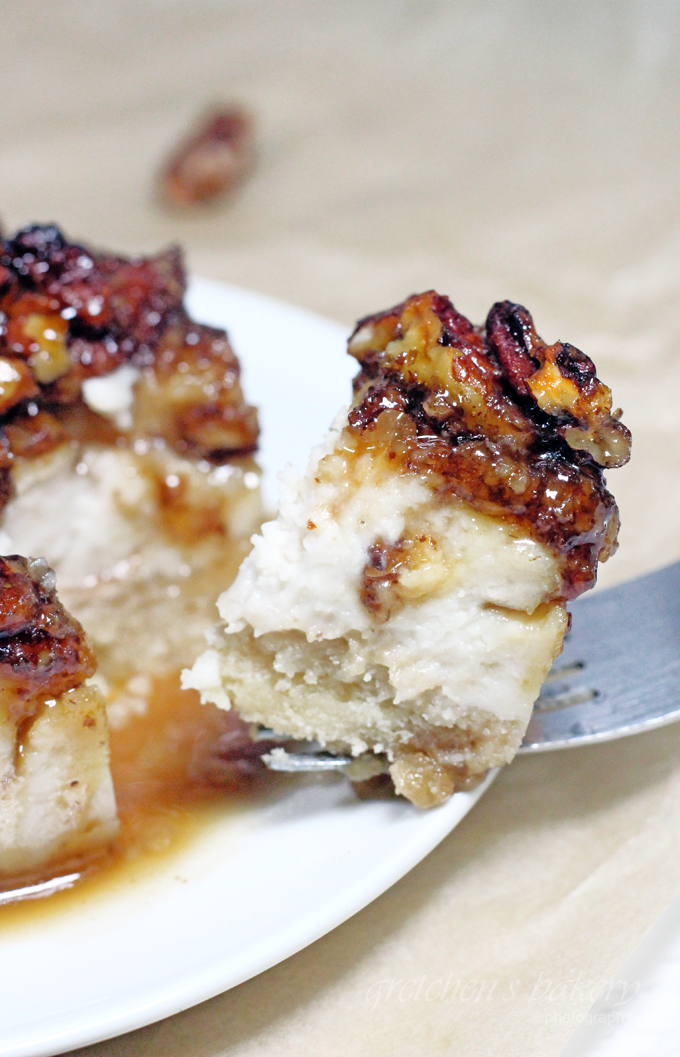 My famous Vegan New York Style Cheesecake recipe is the gift that keeps on giving
With a topping of pecan pie and thick shortbread crust
The ultimate dessert has just been created!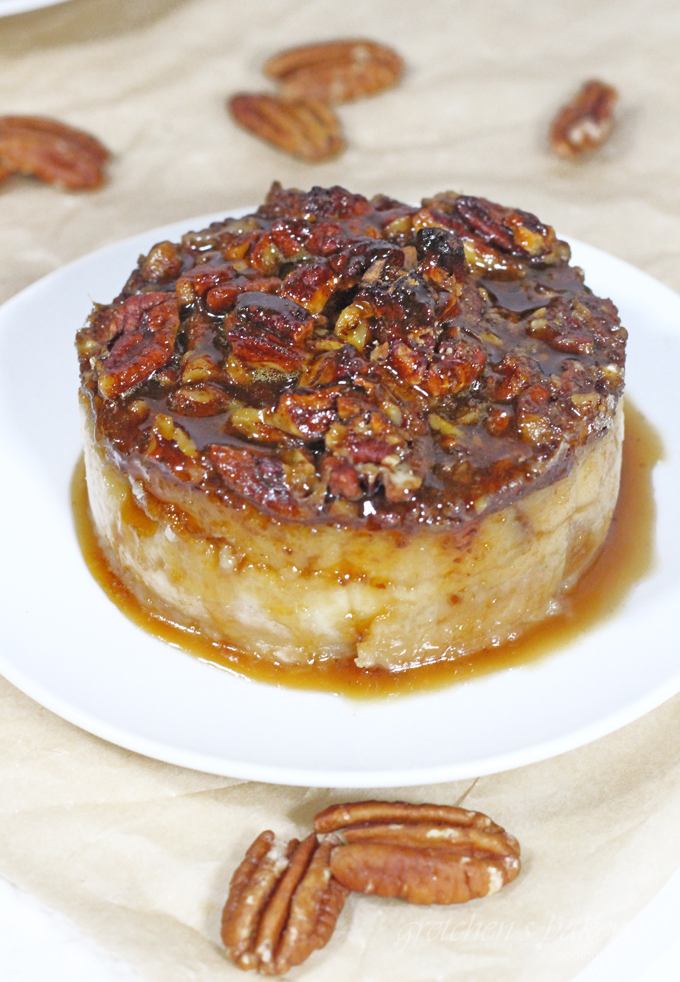 If you have not yet tried my vegan cheesecake recipe, perhaps today is your day!
As you see I used these little individual cheesecake 4″ tins today
But you can bake the entire recipe into an 8″ cake pan or springform instead
Although I never use springform pans for anything I prefer the cake pan method for baking my cheesecakes
CLICK HERE FOR MORE INFORMATION ON SPRINGFORM PANS & WHY I DISLIKE THEM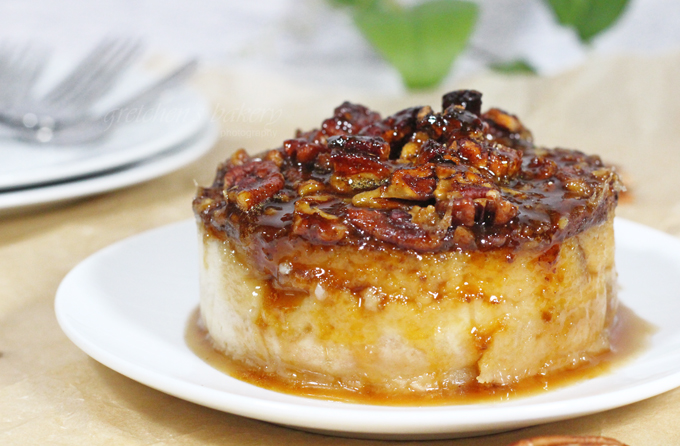 Notes for Success:
If you do opt for the larger size versus these small individuals, I would bake it for 45-50 minutes before adding the pecan pie filling
Also I would leave it in the oven for an entire hour after turning the oven off to make sure the whole thing sets properly
I only use Tofutti Cream Cheese for my baked cheesecake recipes. *not sponsored
I have not had success with any other brand in my baked recipes.
For some reason the other more expensive brands I've tried have broken down into an oily mess when baked.
When measuring cornstarch I cannot stress enough that a kitchen scale is the best way to go.
Cornstarch is a very difficult ingredient to measure consistently with a volume spoons measure
So while I list both measures below I cannot stress enough how the grams measure with a scale is going to give you the best results.
Many times people have complained that their custard or cheesecake is like rubber and they don't know why!
This is from a heavy measure of cornstarch when using volume measuring spoon vs the 100% accurate scale measure in grams.
For those who cannot get or do not wish to use corn syrup, you can use maple syrup or golden syrup instead
CLICK HERE FOR THE FULL YOUTUBE VIDEO TUTORIAL FOR HOW TO MAKE THIS PECAN PIE CHEESECAKE!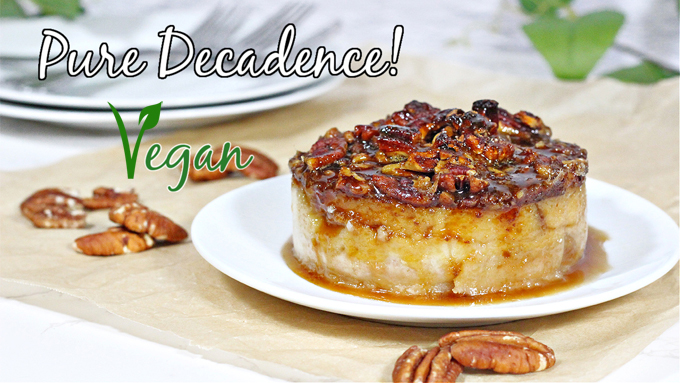 For more of the best most decadent cheesecake recipes click the links below!
Pecan Pie Cheesecake
I am using 5- 4" mini cake pans for this recipe but you can bake the entire thing into 1-8" cake pan
I never have dark corn syrup which is typically what is used in pecan pie, so I simply use light corn syrup with an addition of molasses.
Serves:
serves 10-12 pple
Ingredients
For the Shortbread Crust
COLD Vegan Butter - diced 10 Tablespoons(140g)
Granulated Sugar ⅓ cup (75g)
All Purpose Flour 1+1/3 cup (172g)
Salt ¼ teaspoon
Vanilla Extract 1 teaspoon (5ml)
For the Cheesecake
Vegan Cream Cheese *see notes 16ounce (454g)
Vegan Butter melted 2 tablespoons (28g)
Granulated Sugar 1 cup (200g)
Cornstarch 4 Tablespoons (32g) *see notes
All Purpose Flour 3 Tablespoons (24g)
Plant Milk *I use soy milk 6fl oz (177ml)
Vegan Lactic Acid or apple cider vinegar 1 teaspoon
Salt pinch
Vanilla Extract 3 teaspoons (15ml)
For the Pecan Pie
Ground Flax 2 Tablespoons (16g)
Aquafaba or water 4 tablespoons (60ml)
Vegan Butter melted 4 Tablespoons
Light Brown Sugar ¾ cup (150g)
Cornstarch 3½ Tablespoons (28g)
Salt ⅛ teaspoon
Dark Corn Syrup OR light corn syrup *but please see notes above ¾ cup (177ml)
Rum or Bourbon 2 Tablespoons (30ml) *optional, leave out with no changes
Vanilla Extract 3 teaspoon (15ml)
Chopped Pecans *not toasted 1½ cups (225g)
Instructions
Preheat oven to 350°F
Prepare your baking pan(s) with professional bakery pan grease & a parchment paper cut to fit into the bottom and then another strip of parchment to line the side of the cake pan(s).
First prepare the shortbread base by combining the flour & sugar together in a mixing bowl.
Add the salt if using & blend to mix well.
Add the cold diced vegan butter and blend on low speed until it resembles course meal.
Add the vanilla extract and continue mixing until it starts to come together to a soft dough
Press the dough firmly into the bottom of the prepared pan(s) then using a fork, dock it to allow for steam to escape
Bake in a preheated 305°F oven for about 20 minutes or until it is starting to get golden brown.
Remove from the oven to cool while you prepare the cheesecake
Placing all of the cheesecake ingredients into the work bowl of your food processor and pulse to blend
Scrape the sides of the bowl to ensure an even mix then blend again to a smooth mixture
Pour the batter into the crust and bake in a water bath in a preheated 350°F oven for 35- 40 minutes or when the cheesecake is starting to set but is not fully baked, it will be slightly jiggly but not liquid in the centers.
(**You need it to be firm enough to hold the pecan pie filling without sinking through to the bottom of the cheesecake)
While the cheesecake is baking, prepare the pecan pie filling by combining the aquafaba or water with the ground flax seeds and whisk smooth, it will thicken in about 5 minutes to a paste.
Next combine the light brown sugar with the cornstarch in a large mixing bowl.
Then add the dark corn syrup, (or the light corn syrup mixed with a teaspoon of molasses) the salt, melted vegan butter, vanilla extract , flax paste mixture from above and the rum (if using) whisk smooth
Once the cheesecakes are at the 35-40minute mark, carefully remove from the oven top with the chopped pecans then divide the pecan pie filling evenly amongst the pans if using multiple pans.
Return to the oven and bake for another 20 minutes
The pecan pie filling will be bubbling.
Turn of the oven but leave the cheesecake in for another 30 minutes to cool slowly
Take it out of the oven and then cool completely at room temperature and then refrigerate for at least 2 hours to set or overnight before un molding.
Vegan Cheesecakes unmold very easily, just submerge the cake pan into hot water to loosen the fats, run a thin spatula around the edges to release, then flip it out onto your serving platter
Remove the parchment papers and serve
Notes
Pecan Pie Cheesecake must be kept refrigerated and will stay fresh for up to 5 days wrapped loosely

I do not like to freeze vegan cheesecake as I find it changes the texture and causes sogginess on the thaw
Recipe here