For those on the go who don't have time to sit down to tea and a leisurely breakfast
This is an easy grab and go breakfast option.
Pumpkin Coffeecake Buns are here to warm up your fall breakfast table!
One of the best sellers when I owned my bakery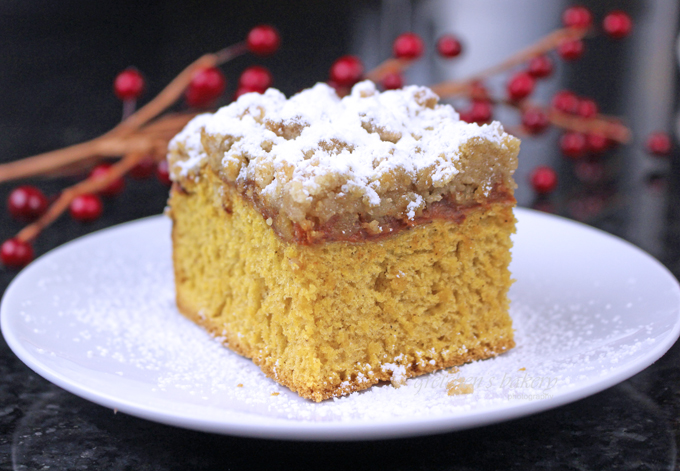 The crumb bun is a classic New Jersey staple
And today I've loaded it up with pumpkin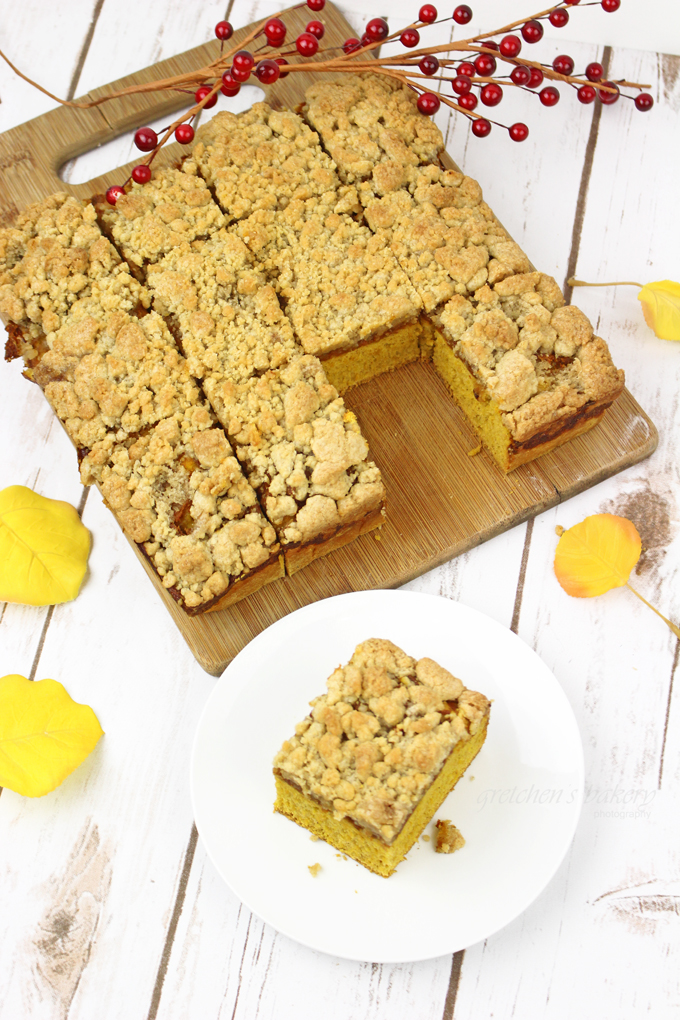 Light and airy pumpkin buns are not to be confused with crumb cake.
Not that there's anything wrong with crumb cake~ but this is not a cake!
Pumpkin Coffeecake Buns are yeast buns, similar to a cinnamon bun dough
Baked in a pan, layered with pumpkin filling and piled high with crunchy, buttery, streusel topping!
I know making dough can be intimidating to some people.
But don't be put off by the yeast dough portion of this recipe,it really is a simple recipe to make
Be sure to watch the YouTube video tutorial for how I make this recipe from start to finish!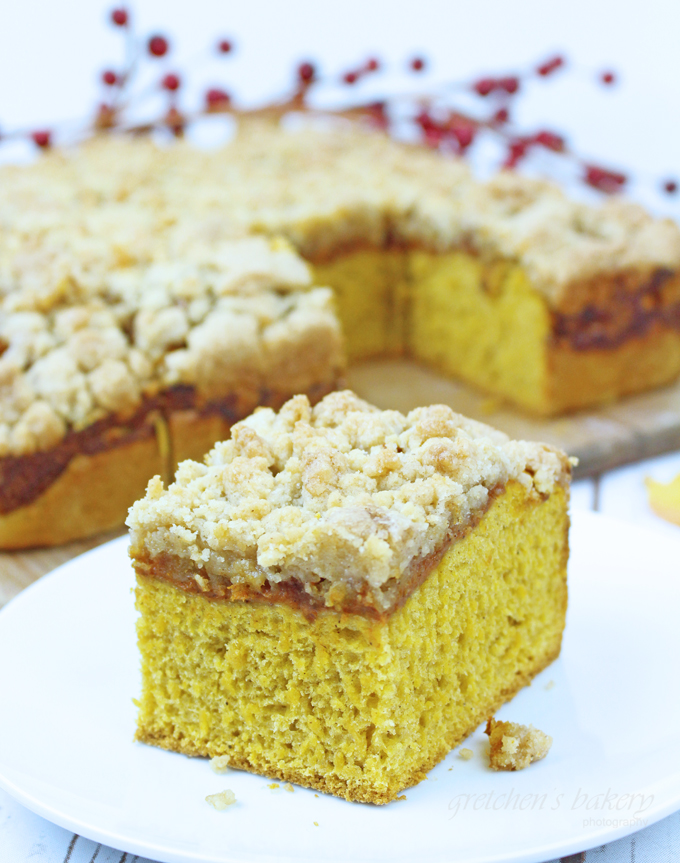 CLICK HERE FOR THE FULL YOUTUBE VIDEO TUTORIAL FOR HOW TO MAKE THESE PUMPKIN COFFEECAKE BUNS!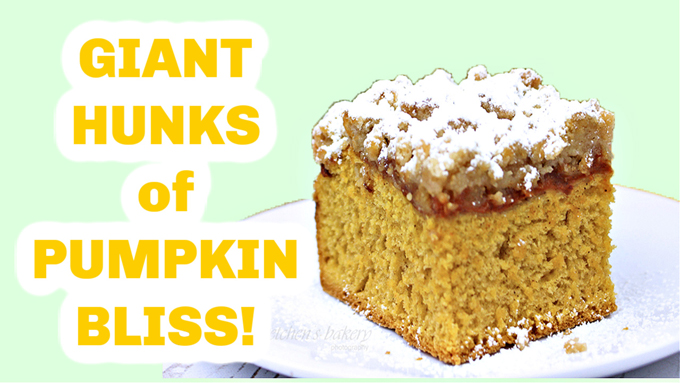 For more great breakfast pastry ideas click the links below!
The Only Muffin Recipe You Will Ever Need
Strawberry Cheesecake Cinnamon Buns

Pumpkin Coffeecake Buns
Ingredients
For the Bun Dough
Plant Milk ¾ cup + 2 tbs (207ml)
Oil or Vegan Butter melted ¼ cup (60ml)
Granulated Sugar ½ cup (100g)
Dry Yeast 1 teaspoon
Canned Pumpkin ½ cup (110g)
All Purpose Flour 3 cups (375g)
Pumpkin Pie Spice2 teaspoons *Or a combination of cinnamon ½ tsp, nutmeg ¼ tsp, cloves ⅛tsp & ginger ¼ tsp
Salt ½ teaspoon
For the Streusel Topping
Vegan Light Brown Sugar Packed ⅓ cup (70g)
Vegan Granulated Sugar ½ cup (100g)
Salt ½ teaspoon (3g)
Ground Cinnamon ½ teaspoon
Vegan Butter 10 Tablespoons (140g)
Cake Flour 1½ cups + 2 Tablespoons (195g)
For the Pumpkin Layer
Solid Pumpkin 1 cup (226g)
Light or Dark Brown Sugar ½ cup (100g)
Cinnamon ½ teaspoon
Nutmeg ¼ teaspoon
Ginger ½ teaspoon
Cloves ⅛ teaspoon
Instructions
First prepare the bun dough by combining the yeast and warm milk with a pinch of sugar
After 5 minutes it should be frothy and that proves it is working, so you can proceed to mix the recipe
Combine all of the ingredients including the yeast milk into the work bowl of your stand mixer with the dough hook attachment and mix for 2 minutes on low speed. Stop the mixer to scrape the bottom and sides of the bowl to help the dough incorporate evenly.
If the dough looks particularly sticky (meaning it won't gather up from the bowl to form a dough) you can add another tablespoon or 2 of flour
Mix for another 5 minutes then turn the dough out onto a generously floured surface and knead for 30-40 strokes until it forms a smooth ball of dough, adding flour if necessary but do not add too much or you will have a very stiff dough.
Place dough in a lightly oiled bowl cover and allow to rest for about 1 hour at room temperature.
Prepare the pumpkin layer by combining all the pumpkin filling ingredients together in a bowl, reserve.
Next prepare the streusel topping by creaming the cold butter with both sugars - about 2 minutes.
Add the cinnamon, salt and flour and mix just until combined and keep in the freezer until needed.
After 1 hour of resting the dough, begin preheating your oven to 375° F. (I also like to use a pizza stone for baking crumb buns, if you have one, Great! Use it!)
Remove the dough from the oiled bowl onto a lightly floured work surface and gently press the dough to release the gasses roll into a rectangle shape the size of your GREASED but NO Parchment paper pan - I am using a 9" x 13" pan
Dock the dough with a fork to allow steam to escape while baking
Spread with the pumpkin filling
Cover the entire bun with streusel topping but do not use too much pressure to push the streusel into the pan, but rather use a fluffing motion and gently toss the streusel around on top of the dough covering the entire dough
Bake on the center rack in on the pizza stone in a preheated 375°F oven for 30 minutes, then turn the oven down to 325°F take it off the pizza stone (just by moving it to another rack) and bake for another 15-20 minutes or until the streusel is no longer doughy. (You can check this simply by moving a larger piece of streusel to the side with a fork or spatula to see if the center is still raw)
Cool to warm before serving, cut into desired portions and sprinkle powdered sugar over the top of the buns.
Notes
Like any yeast pastry crumb buns are best served the day they are made, but you can wrap them tightly to keep them fresh for up to 4 days.

They will tend to dry out after a couple days, so I heat them wrapped in a damp paper towel in the microwave to make them slightly more moist to re-serve