Ok so I added this one to my 12 Days of Christmas Cookies recipe series, and I know it's not nearly a cookie!
But these Peppermint Cake Balls are a great addition to the holiday cookie platter!
They look so awesome and they taste even better!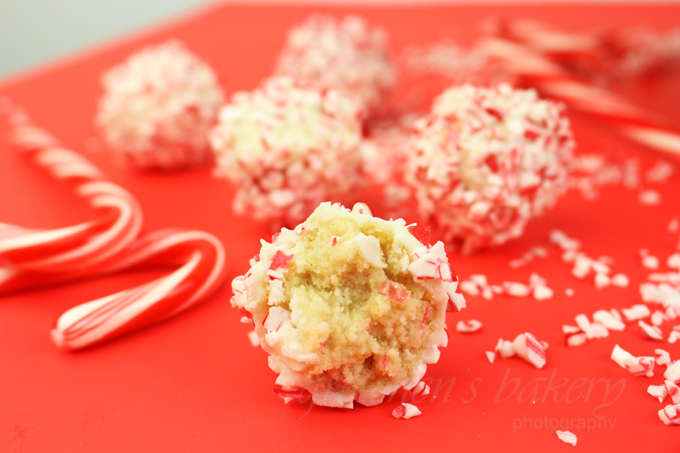 I am not a big fan of candy canes, I never really was; so I was a bit on the fence about rolling these balls so completely in the crushed canes.
I thought it would be overpowering and only a true candy cane lover would appreciate them.
But no! They are perfect!
Not too much cane at all!
It is a perfect balance of cake, buttercream, white chocolate coating and crushed candy cane!
It does not get any more perfect than this!
How many times did I say perfect?
There just is no other word!
Make these now!
You will be so happy you did and they are so easy!
Peppermint Cake Balls
The measure for the buttercream below is from ½ cup - 1 cup because I feel like everyone likes their cake balls slightly different . I tend to go super creamy so I go heavier on the buttercream, but use your judgement and only add a little at a time until you get to your perfect consistency
Also, I used the
American buttercream recipe
Ingredients
½ - 1 cup of your favorite Buttercream recipe
Peppermint Oil or Extract I used oil so I only used about 10 drops total, this is something you will also have to taste as you go
Crushed Candy Canes 1½ cup
Vegan White Chocolate 1½ cups (approx 12 ounces)
Instructions
Bake you cake recipe and prepare the buttercream ahead of time
Once the cake is completely cooled, break it up in a large bowl and add the vanilla buttercream and ½ cup of the crushed candy canes and peppermint oil
Mix to the consistency you desire by adding more or less buttercream to taste
Scoop the balls onto parchment lined sheet pans and then roll them for perfect shape. *Be sure to wear gloves to prevent any bacteria getting trapped inside the cake balls! No one wants to bite into a moldy cake ball!
Refrigerate while you melt the vegan white chocolate then dip them to coat completely, be sure to roll them into the crushed candy cakes before the chocolate sets
Notes
Cake balls can be stored at room temperature for up to 2 days, but are best in the refrigerator for up to 3weeks