Here's a different spin on the cookies and cream cake we are used to seeing
Most people use crushed up Oreo sandwich cookies
But today I decided to change it up
Adding chocolate chip cookies to my awesome white cake recipe!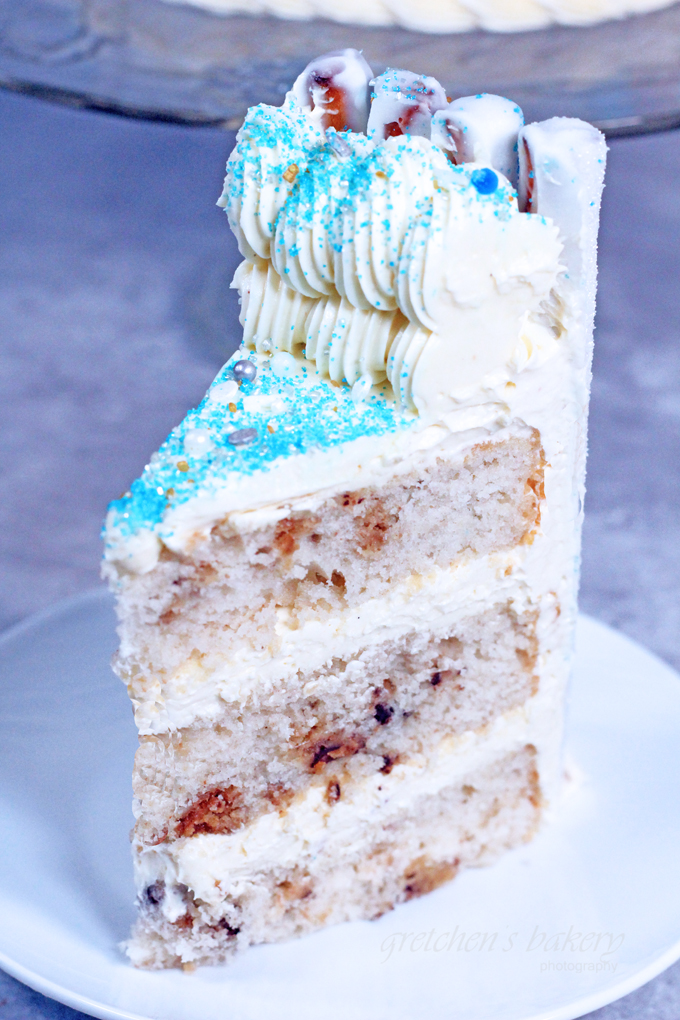 For a new and improved version of the Cookies and Cream Cake!
All dressed up for Hanukkah!
With white chocolate dipped pretzels and buttercream galore!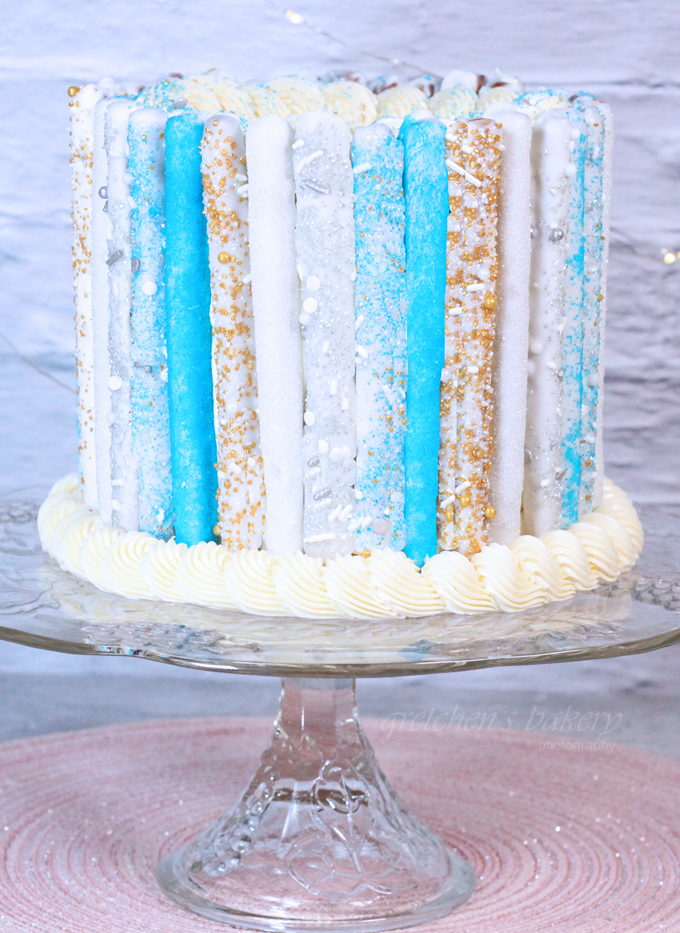 I also used my newest recipe for No Shortening Buttercream
It's super white to go along with the truly white white cake recipe!
I love everything about this cake
It's just perfect for a winter themed cake!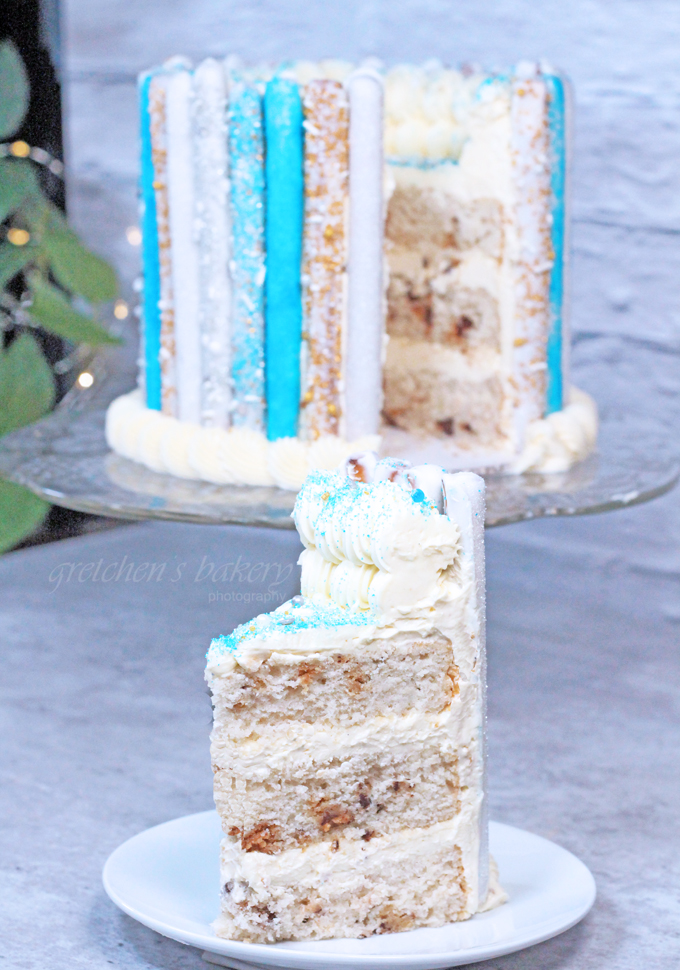 There are just three recipes you have to make and much of it can be prepared ahead of time!
Chocolate chip cookies are always stashed away in my freezer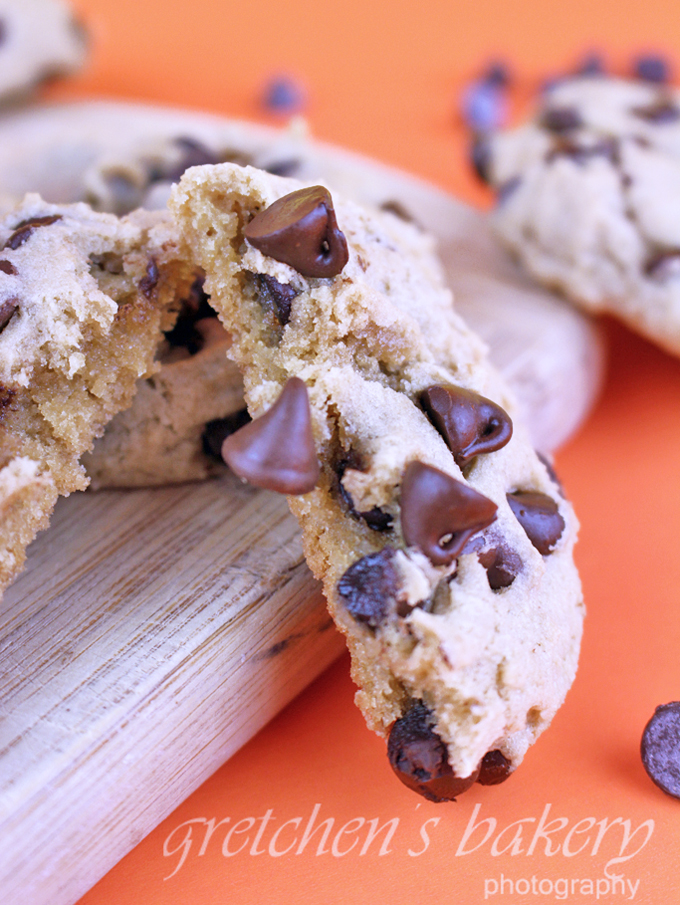 So for me that was easy I just grabbed a few and chopped them up to put into the cake batter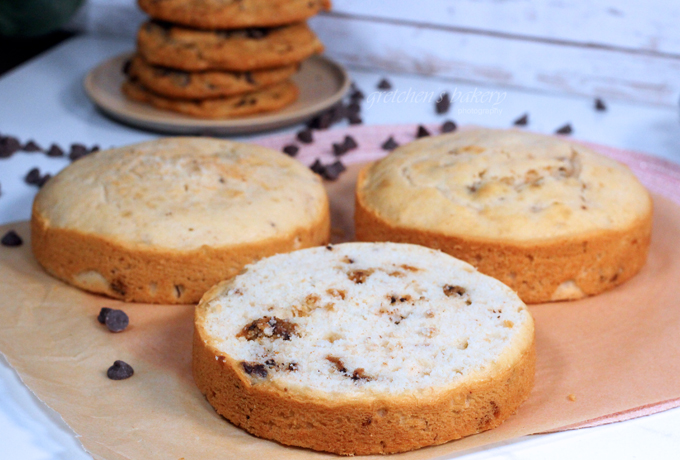 But if you are not channeling your inner squirrel then you will have to bake some cookies ahead of time!
Other than that it's a really easy cake mix and some buttercream!
On second thought, I guess I shouldn't over simplify this entire cake project, because let me tell you
Those fun white chocolate dipped pretzels turned into a nightmare pretty quick!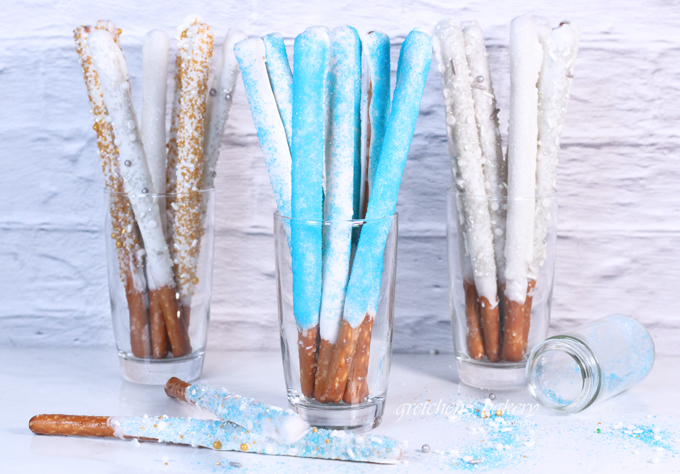 I needed a total of 24 to go around the entire outside of this 6″ cake
So keep in mind if you are making a larger diameter cake you are going to need more pretzels!
I ran out mid decorating and had to make an emergency run to the store for more!
Using a total of about one pound of vegan white chocolate too!
But that's ok the holidays are for splurging!
I use King David brand vegan white chocolate *not sponsored
However if you can't get that you can also use vegan white chocolate chips melted with a spot of coconut oil to thin it down for dipping
Sweetapolita for the best vegan sprinkles around and some blue colored sugar too!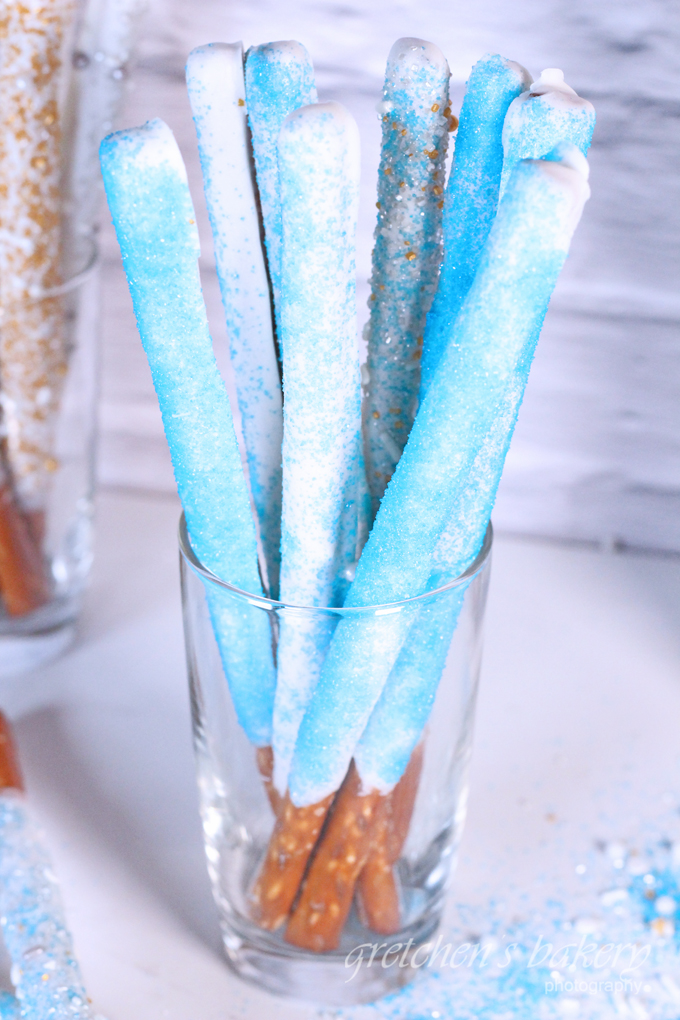 Notes for Success:
To ease the preparation of this building on recipes cake project
It is best to prepare your chocolate chip cookies ahead of time and store them in the freezer to cut down on the work all in one day
The white chocolate dipped pretzels can be dipped up to a week in advance and stored in a cool dry place wrapped well to prevent staling
The white cake recipe can be made a day or two ahead of time and stored in the refrigerator, wrapped to prevent drying
I always have buttercream that I can re whip at any time but you can prepare that while the cake is baking and cooling!
Be sure to read all the notes for success on the Truly White White Cake Recipe before you begin
Alternatively you can use my Fluffy Vanilla Cake recipe instead, it's really your option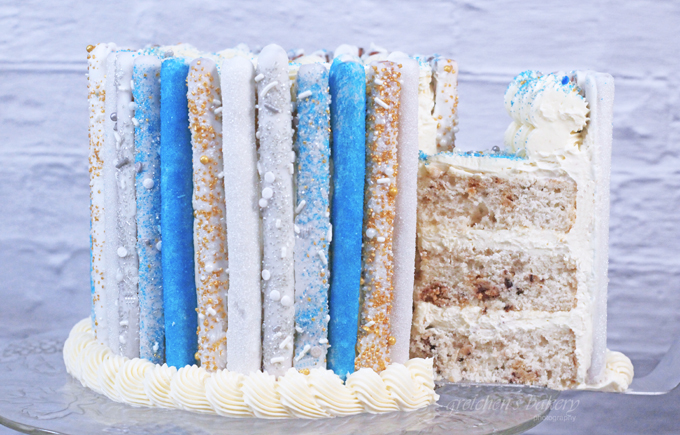 Also I only made 3- 6″ cake layers but realized that 4 would have been better because the pretzel rods were taller than my finished cake
So I had to cut each pretzel rod to make them shorter
Two times the recipe for White Cake will make 4-6″ cake layers which will be a tall enough cake for the best final aesthetic!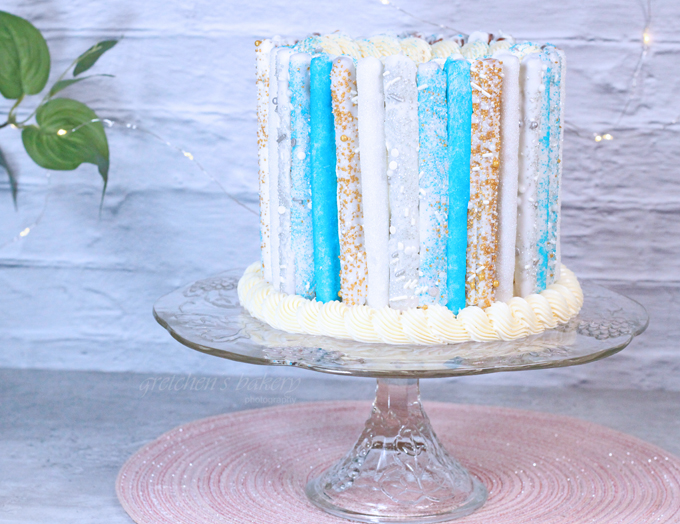 CLICK HERE FOR THE FULL YOUTUBE VIDEO TUTORIAL FOR HOW TO MAKE THIS CAKE!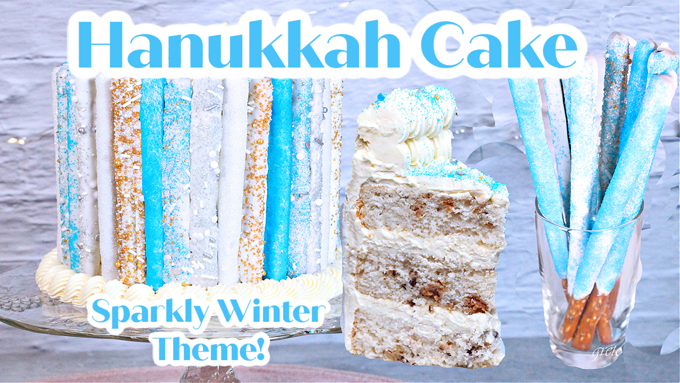 For more awesome holiday cake recipes click the links below!
How to Make a Grinch Cake Simple Two Recipe Cake
White Chocolate Cranberry Cake

Cookies and Cream Cake
Instructions
First prepare the chocolate chip cookie recipe as per the instructions on that recipe post
Once they are cooled, rough chop enough cookies to make approximately 1½ cups of cookie crumble
Next prepare the white cake recipe 2X recipe *be careful on your math & measuring!
Add the cookie crumble to the batter and fold in evenly
Distribute the batter evenly amongst 4-6" cake pans that have been greased & parchment lined.
Bake for approx 28-30 minutes or when a toothpick inserted into the center comes out with moist crumbs not raw batter.
Cool the cakes in the pan until they no longer burn your fingers when you handle them, then turn them out onto a cooling rack, remover the parchment paper & cool to cold
Meanwhile prepare the buttercream recipe as per the instructions
Separate 30 of the best pretzel rods then dip them in white chocolate and adorn with sprinkles as shown in the video
Assemble the cake as shown in the video tutorial
Notes
Cookie and Cream Cake can be kept at room temperature for a couple of days in cool temperatures.

For Longer storage keep refrigerated wrapped to prevent drying for up to 1 week.

Cake can be frozen (preferably without the decor) for up to 2 months