What better way to get through a chilly fall day in October in than with Pumpkin Streusel Muffins baking in the oven!
This is my original Pumpkin Bread Recipe from way back to the days of my bakery where we couldn't bake the loaves fast enough!
Now veganized for everyone to enjoy, and I will have to admit I think these taste better than I ever remember!?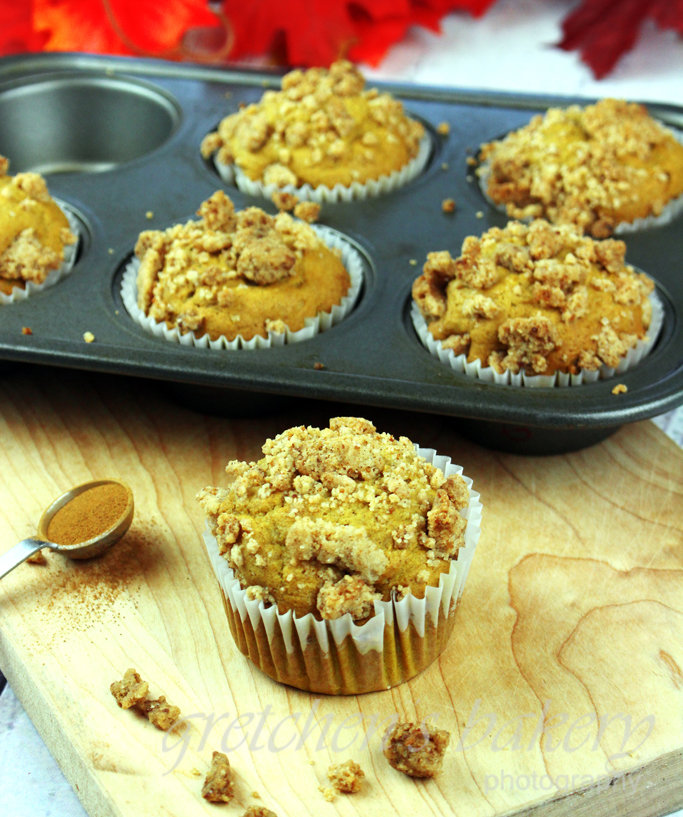 Topped with my crispy, crunchy, buttery streusel topping; this entire recipe was mixed up and baked in less than an hour!
Easy and delicious is the theme for today!
These muffins are seriously moist and fluffy and packed with pumpkin and warm fall spices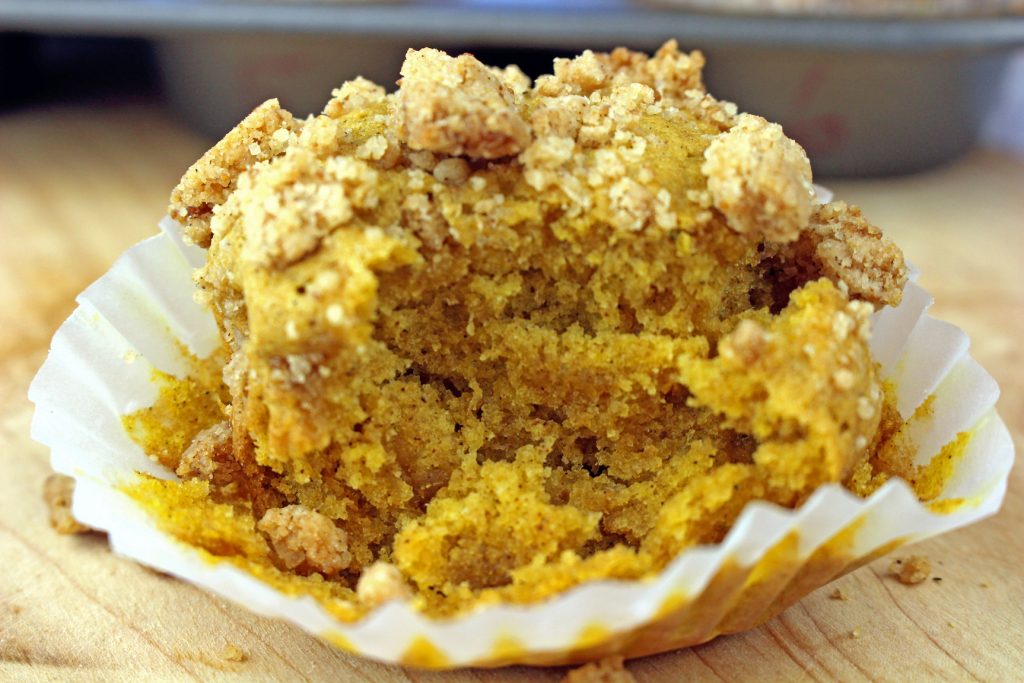 I bet you have everything you need right in your pantry to make these muffins!
I will give you a secret tip though- if you don't have pumpkin (or it's just not pumpkin season where you live)  substitute  super ripe mashed banana for the best banana muffins ever.
If muffins aren't your style then bake all the batter in a standard (9″X5″) loaf pan for a luscious pumpkin bread.

Pumpkin Streusel Muffins
This recipe can be made into a standard
9" x 5" loaf pan
if you do not want to make the muffins
If you are using Earth Balance vegan butter I find it to be salty, but the ½ teaspoon listed seems to be good for my tastes. You can omit the salt altogether
You will need to make the bulk streusel recipe from
Apple Pie ala Mode Nice Cream recipe
in advance (it stores in the freezer for up to 3 months)
Ingredients
Light Brown Sugar packed 1 cup (210g)
Coconut Oil or Vegetable Oil 6 Tablespoons
The Plant Based Egg egg replacer 2 teaspoons (4.8g)
Vanilla Extract 2 teaspoons
Solid Pumpkin 1½ cup (300g)
Almond Milk ½ cup (120ml)
All Purpose Flour 2¼ cups (280g)
Cinnamon 1¼ teaspoon
Ground Ginger ½ teaspoon
Nutmeg ¼ teaspoon
Ground Cloves pinch
Salt ½ teaspoon (6g)
Baking Soda 1 teaspoon (5g)
For the streusel:
¼ cup All Purpose Flour
pinch Cinnamon
3 Tablespoons Light Brown Sugar
1½ Tablespoons COLD vegan butter
Instructions
First prepare the streusel topping by combing the flour, brown sugar and cinnamon in a mixing bowl then add the cold diced vegan butter and mix just until it resembles coarse meal.
Best to freeze before topping the muffins so I usually make this part first
For the pumpkin batter, combine light brown sugar with the spices and whisk to distribute evenly, add the pumpkin, oil, almond milk and the vanilla extract and whisk smooth
Next sift together the flour with baking soda, the plant based egg replacer and the salt and add it to the sugar/pumpkin mixture in the bowl.
Whisk smooth
Fill paper lined cupcake molds with batter ¾ full then top each one with 1Tbs of the streusel topping
Bake in a preheated 350°F and bake for 20-25 minutes or until they are springy to the touch when you gently press the centers
(For the bread loaf it will take closer to 45 minutes to bake fully, insert a toothpick into the center to be sure it is done)
Notes
Store muffins in an airtight container at room temperature for up to 4 days.

For longer storage keep refrigerated for up to 1 week or freeze wrapped well for up to 1 month