A new spin on the classic Pumpkin Pie recipe!
This  year it is in a tart shell and with a 3 nut crust! Oh yeah!
This vegan pumpkin cream pie, tart or whatever you want to call it is like two desserts in one because that nut crust just won't quit!
It is so delicious just on it's own, but then pile on that creamy pumpkin pie filling and you are in pumpkin heaven! I promise!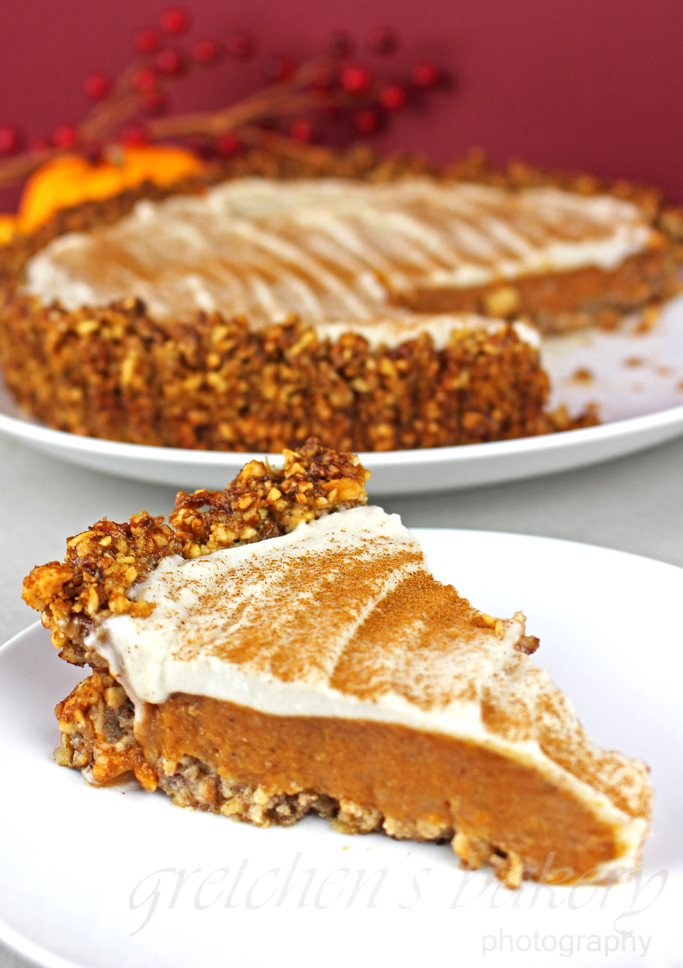 So whether you have some dairy or egg allergy people at your Thanksgiving dinner this year or you just want to follow a cruelty free lifestyle like me!
HERE IS YOUR RECIPE!
ENJOY!
Oh by the way- easy easy homemade VEGAN sweetened condensed milk if you can't find it in the store. (Recipe below!)
Pumpkin Cream Pie
The coconut whipped cream is optional, but if you do choose to make it, be sure to place the can in the refrigerator the night before
To make the vegan sweetened condensed milk simmer 3 cups of almond or soy milk with ½ cup of sugar for 2 hours until it is thick and about 1 cup volume
I am using a
10" Tart Pan
but you can make this into a pie just the same
Ingredients
For the Nut Crust:
3 Cups of your nut of choice (450g)
Coconut Oil 2 tablespoons (30ml)
Maple Syrup 2 Tablespoons
Ground Cinnamon 1 teaspoon
For the Pumpkin Pie Filling:
Canned Pumpkin 1¼ cup (360g)
EnerG Egg Replacer 4½ teaspoons
Warm Water 6 Tablespoons
Granulated Sugar ½ cup (100g)
Cinnamon 1 teaspoon
Ginger ½ teaspoon
Cloves ¼ teaspoon
Nutmeg ¼ teaspoon
Salt ¼ teaspoon
Almond milk ½ cup (120ml)
Vegan Sweetened Condensed Milk ¾ cup
For the Coconut Cream Topping
1 can full fat coconut milk refrigerated over night
¼ cup confectioners sugar
1 teaspoon vanilla extract
Instructions
Grind the toasted nuts in a food processor and then add the cinnamon, coconut oil and maple syrup
Press into the tart pan or pie plate and freeze while you prepare the filling for the pumpkin pie
Add warm water to the egg replacer and whisk smooth
Combine all the pie ingredients together in a large mixing bowl and whisk smooth
Pour into frozen crust and bake at 350°F oven for approximately 35-40 minutes until it is no longer liquid in the center, it will jiggle like Jell-O but not be liquidy
Cool completely then skip the solid fat from teh can of coconut milk (discard the liquid or use it in another recipe) whip the coconut fat with the confectioners sugar and vanilla to a whipping cream consistency, top the tart with the whipped cream
Notes
Pumpkin Cream Pie must be kept refrigerated but can stay out at room temperature for up to 4 hours.

Leftovers will store in the refrigerator for up to 10 days