Your favorite Girl Scout Cookie just got veganized!
Introducing Vegan Samoa Cookies
Thin crisp shortbread cookie with gooey, delicious caramel coconut topping!
Just the right amount of chocolate ties it all together!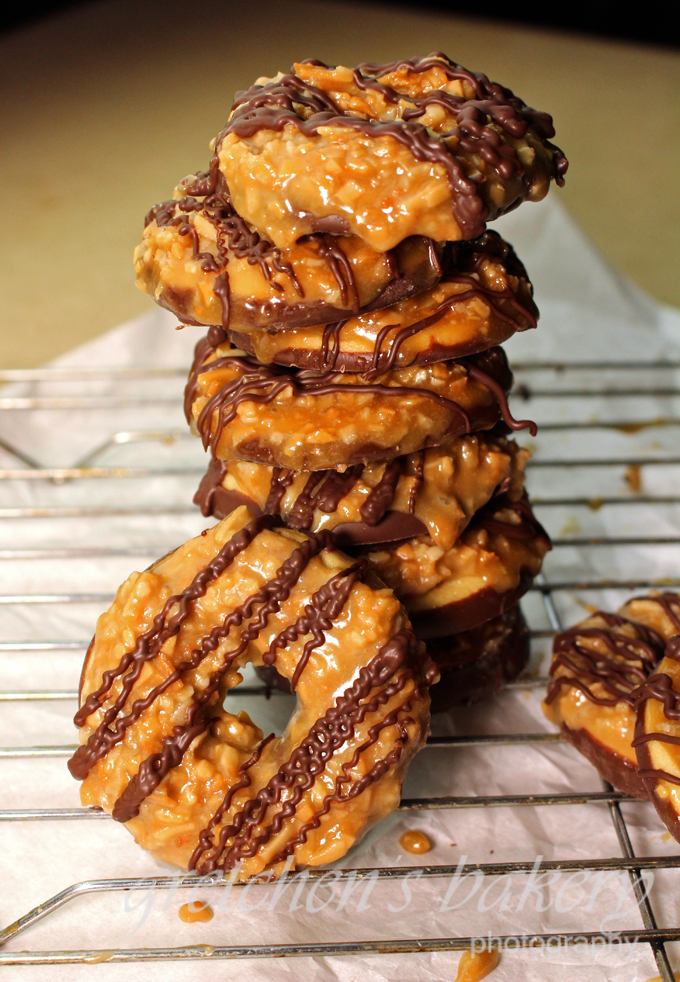 I'll warn you in advance this is not a 1-2-3 recipe
You will have to prepare a caramel recipe in advance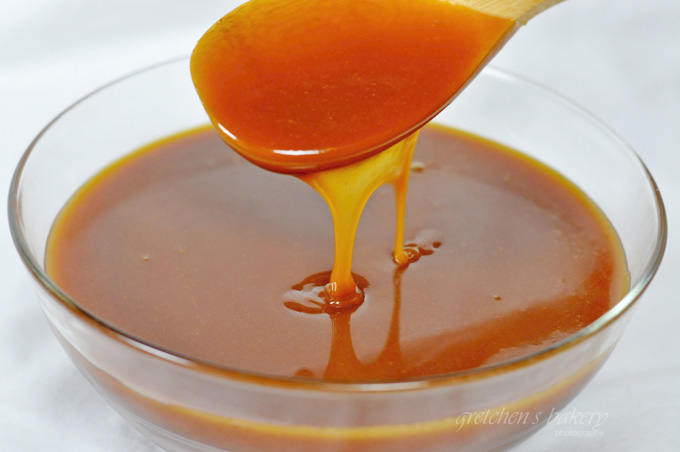 The shortbread cookie is my best sugar cookie cut out recipe that I use for just about everything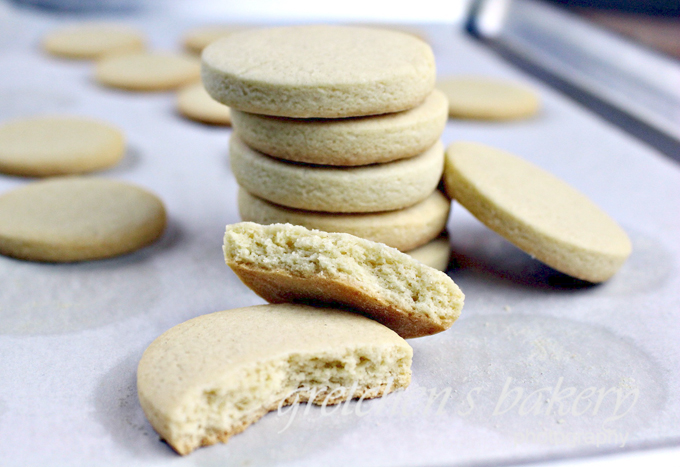 The topping of the caramel coconut mixture onto the cookies was a bit nerve racking I will admit.
Because it was really difficult to pipe it into the  cookie
But since the mixture needs to be quite thick and the coconut is jagged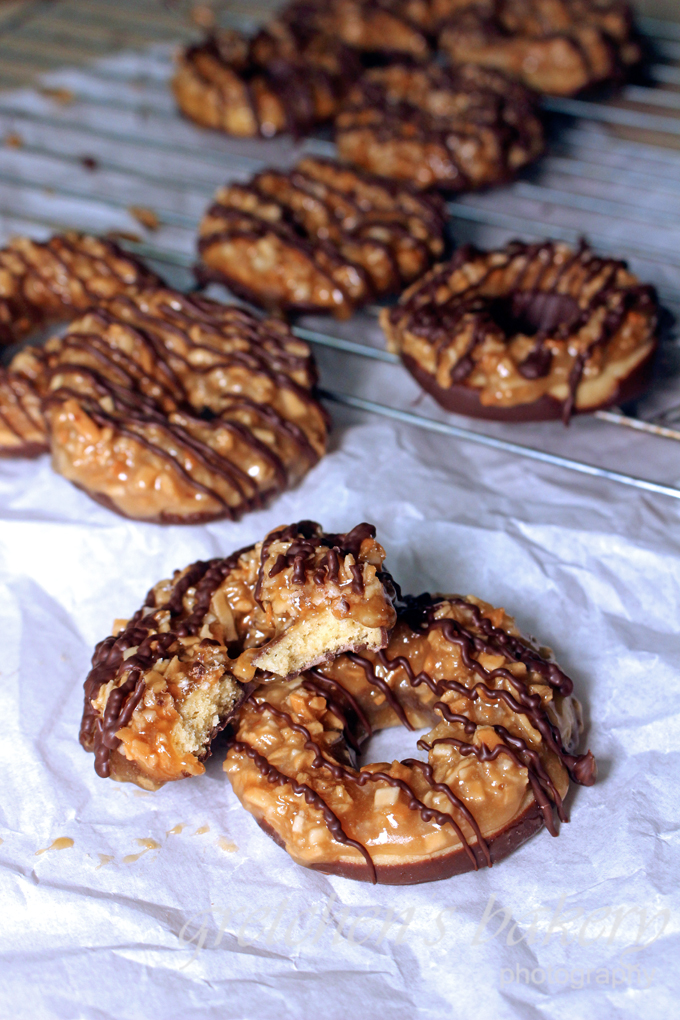 It just wouldn't flow out of the pastry tube nicely
So I had to mound it on each cookie by hand which was more than a pain in the arse.
However it's all worth it when you bite into that crispy buttery shortbread with caramel coconut and lacy chocolate stripes.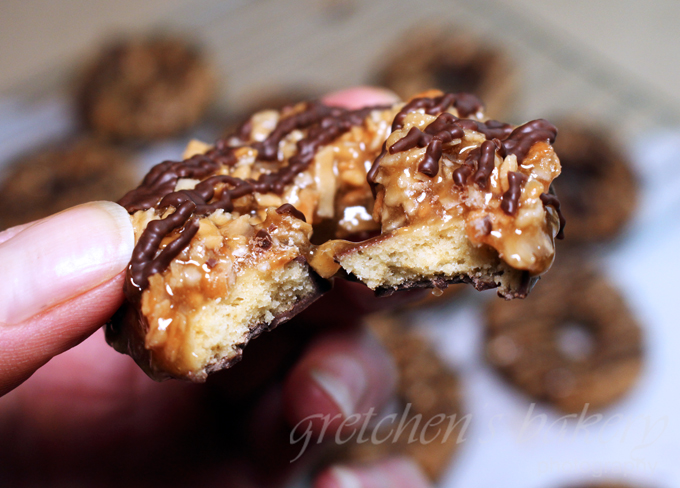 I take you through the process in the video tutorial below!
CLICK HERE FOR THE FULL YOUTUBE VIDEO TUTORIAL FOR HOW TO MAKE THESE SAMOA COOKIES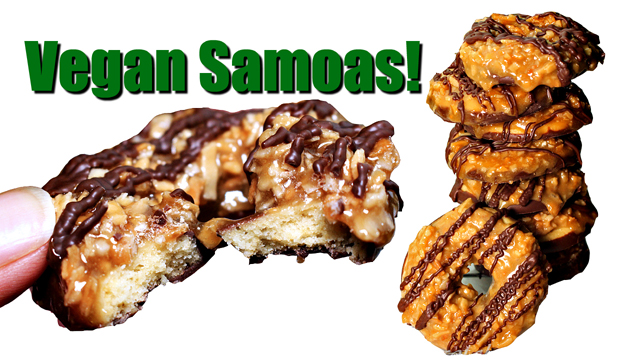 Notes for Success:
Making the cookie dough ahead of time is a really great idea.
It can stay in the refrigerator for up to 2 weeks
Or better yet roll it and cut out your shapes and then freeze the dough for up to 2 months!
The caramel sauce needs to set up in the refrigerator so this also can be made at least a day ahead or up to 1 week
I'm a stickler for wanting people to use tempered chocolate for coating and striping
But if you don't want to go to all that trouble (believe me I hear you!)
Be sure to use a non temper chocolate like King David brand *not sponsored
Or use chocolate chips melted with a spot of coconut oil for a nice easy glaze
I prefer to use unsweetened flake coconut for this recipe since the caramel is so sweet already
For more Copy Cat Girl Scout Cookie recipes click the links below!
VegVenturefuls~ Copy Cat Girl Scout Cookie Recipe
Vegan Thin Mint Girl Scout Cookies- Copy Cat Recipe
Copy Cat Tagalong Cookie Recipe
Vegan Samoas Recipe - Copy Cat Girl Scout Cookie
Ingredients
For the Cookie:
Vegan Butter COLD 10 Tablespoons (140g)
All Purpose Flour 1¼ cup (157g)
Confectioners Sugar ½ cup + 2 Tablespoons (75g)
Baking Soda ⅛ teaspoon
Salt pinch
Vanilla Extract 1 teaspoon (5ml)
1 Recipe Caramel *recipe below
Toasted Coconut 1¾ cup (sweetened flake or unsweetened, your choice- I prefer the unsweetened since the caramel is so sweet already)
Compound Chocolate or Tempered Chocolate 8 ounces (226g)
Instructions
Prepare the caramel sauce ahead of time so it can cool and thicken. *See recipe below
Once it is cool and thick combine with the toasted coconut and mix well, then set aside.
For the cookie dough:
Combine the flour, baking soda, salt and confectioners sugar in a large mixing bowl.
Blend on low speed to combine, the add the diced cold vegan butter and continue blending on low to medium speed. It will seem that this is taking forever to come together and you will think there is something wrong with the recipe. Just wait. It may take close to 5 minutes
It will eventually come together and at that point you can add the vanilla extract and blend on high for 10 seconds to incorporate well.
Turn the very soft, sticky dough out onto a floured silicone mat and roll to 8" x 11" (about ¼" thick)
Cut the dough with a 2" cookie cutter and place them spaced ½" apart on a parchment lined (or non stick) sheet pan.
Cut out the center holes with a ¾" cookie cutter, then re roll the dough and repeat until all dough is gone.
Bake in a preheated 350°F oven for 15 minutes or golden browned and then transfer them to a cooling rack while.
Dip the bottom of the cooled cookies in tempered chocolate and place on a parchment paper to set
Top each cookie with some of the coconut caramel and then drizzle with chocolate
Notes
These cookies (once set) will stay fresh at room temperature for up to 1 week in an airtight container.

Can be frozen for up to 2 months
For the Caramel Recipe from my Snickers Brownies, skip 2:20 to in the video below to get to the caramel part
Vegan Caramel Recipe
WATCH VIDEO BELOW FOR TUTORIAL
Ingredients
1 cup Palm Sugar Paste or another sugar you prefer (*Watch video to the end for reference to this!!)
½ cup coconut milk (120ml)
Salt pinch
Vanilla Extract 1 teaspoon
Instructions
To make the caramel combine the palm sugar and coconut milk together in a sauce pot and whisk smooth until it starts to boil
Once it boils reduce heat to medium and stop stirring and let it reduce to almost half the original volume (which would be about 1 cup) this should take about 5 minutes, not much longer
Add the salt and vanilla extract and swirl the pan to combine
Pour into a heat proof container to cool completely then refrigerate overnight (or until cold and thick)