Lemon Blueberry Cheesecake is actually a layer cake!
Lemon Blueberry Cake layers and luscious creamy blueberry cheesecake filling!
Two of my best recipes joined together in delicious matrimony!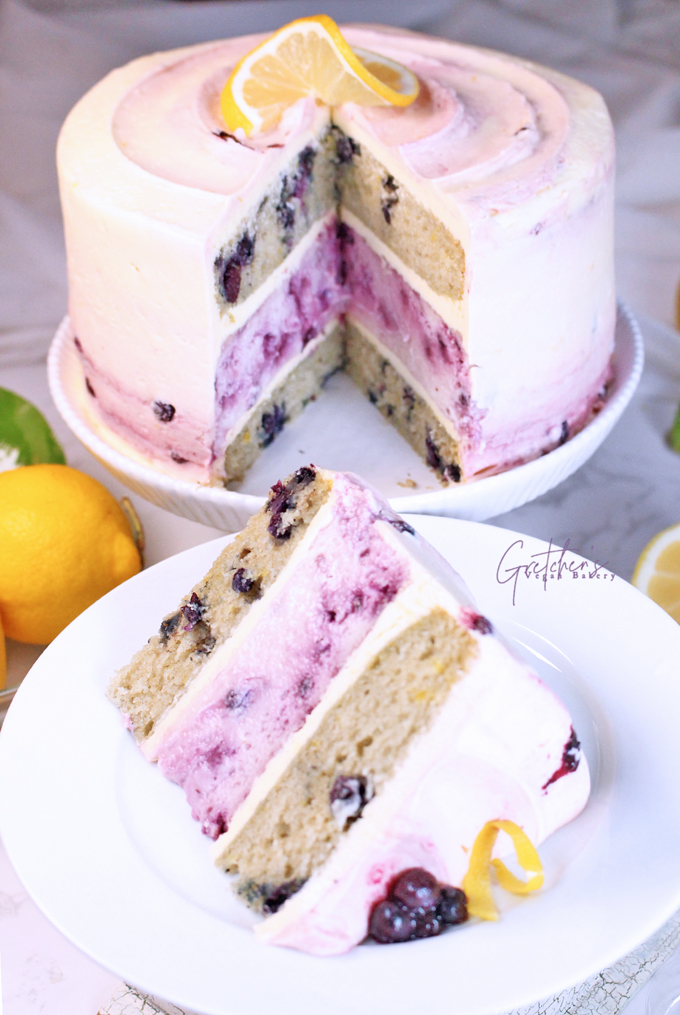 My bakery style yellow cake is at it again only this time adapted for blueberry lemon layers
The best vegan cheesecake recipe you have ever tried just got a bunch of blueberries added to it
Sandwich these two lovelies together for an amazing Lemon Blueberry Cheesecake experience!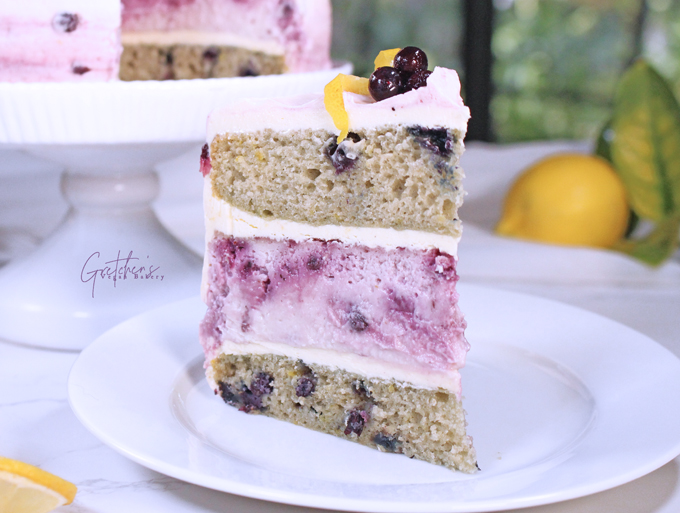 But wait! There is a bonus to this recipe too!
Since the start of the new year I have been experimenting with sugar free and reduced oil recipes!
Guess what? These two recipes adapt like a dream come true!
Reduced oil and sugar free cake layers and a no sugar added cheesecake too!
By using monkfruit sugar in both the cake and the cheesecake recipes with applesauce in place of the some of the oil in the cake I have drastically reduced the calories!
But of course you can follow the original recipe as listed below!
Check out my Sugar Free baking tutorial so you can adapt the sponge cake and cheesecake to your liking!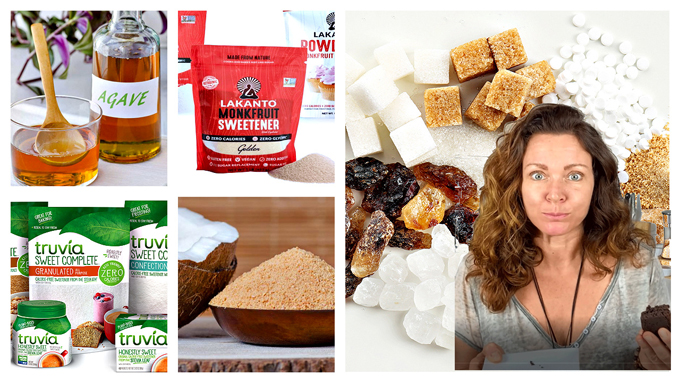 Dreamy Lemon Buttercream is the literal icing on this cake
With a zingy lemon cream cheese buttercream!
Of course if you are trying to keep the calories and sugar low with the sugar free variations you may want to skip the icing part!
Notes for Success:
I only use Tofutti Cream Cheese for my BAKED recipes *not sponsored
I have not had success with any other brand in BAKED recipes; for some reason some other brands I've tried have broken down into an oily mess when baked.
However more recently some of my viewers have commented on some of those brands that now seem to work in baked recipes?
One noted having success with Violife, another person stated they used Miyokos original and it turned out divine,
While Treeline cream cheese in Connecticut; and in the UK, the Asda supermarket brand works great
Cornstarch is a very difficult ingredient to measure consistently with a volume/spoons measure
So while I list both measures below I cannot stress enough how the grams measure with a scale is going to give you the best results.
Many times people have complained that their cheesecake is like rubber and they don't know why!
This is from a heavy measure of cornstarch when using volume measuring spoon vs the 100% accurate scale measure in grams.
I bake all my cheesecakes in 7″ cake pans so be sure to bake your lemon blueberry sponge cake layers in the same size pans.
WATCH THE YOUTUBE VIDEO TUTORIAL FOR HOW TO MAKE THIS CHEESECAKE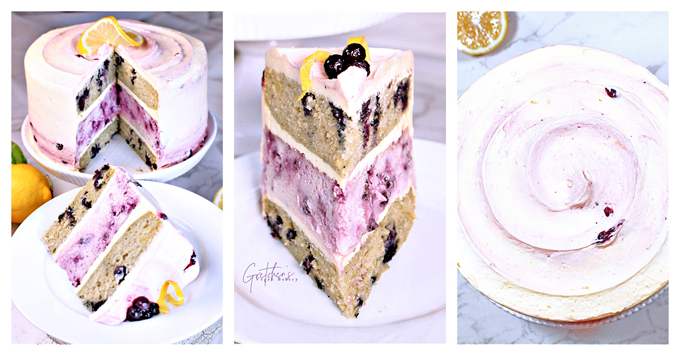 For more awesome cheesecake recipes click the links below!
Death by Peanut Butter Fudge Brownie Cheesecake
Twix Cheesecake ~ Vegan & Gluten Free
Yield: serves 12ppl
Lemon Blueberry Cheesecake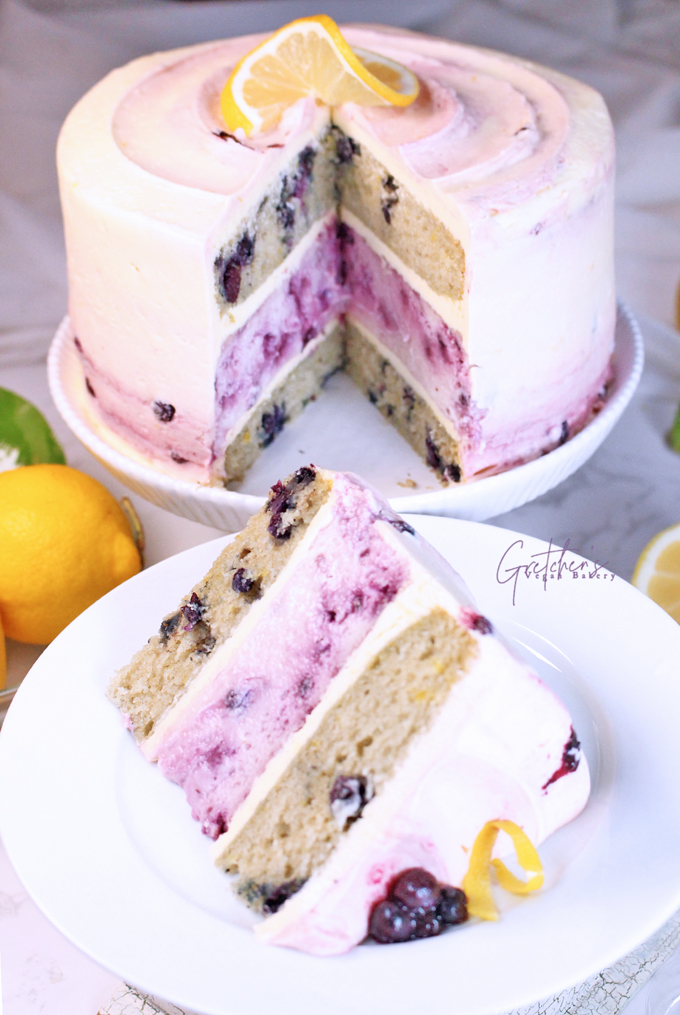 Ingredients
For the Blueberry Cheesecake:
Vegan Cream Cheese *see notes 16ounce (454g)
Vegan Butter melted 2 tablespoons (28g)
Granulated Sugar 1 cup (200g)
Cornstarch 5 Tablespoons (40g) *see notes
Plant Milk *I use soy milk 6fl oz (177ml)
Vegan Lactic Acid or apple cider vinegar 1 teaspoon
Salt ¼ teaspoon
Vanilla Extract 3 teaspoons (15ml)
Fresh or frozen blueberries 1 cup
For the Lemon Blueberry Sponge Cake:
Soy Milk ¾ cups (177ml)
Lemon Juice 2 Tablespoons (30ml)
Vanilla Extract 1 teaspoon (5ml)
Lemon Zest from 1 lg lemon (approx 2 tsp)
Vegan Butter or Vegetable Oil 4 tablespoons (56g)
Applesauce ¼ cup (56g) *see note above
All Purpose Flour 1½ cups (188g)
Granulated Sugar 14 Tablespoons (175g)
Baking Soda 1 teaspoon
Salt 1 teaspoon
Fresh or Frozen Blueberries 1 cups
For the Lemon Cream Cheese Buttercream:
Vegan Butter 2 lbs (908g)
Confectioners Sugar 2 lbs (909g)
Vegan Lactic Acid 2 teaspoons
OR apple cider vinegar or Lemon Juice use 2 teaspoons
Instructions
Grease & parchment line your cake pans Preheat the oven to 350°F
First prepare the lemon blueberry cheesecake by placing all of the cheesecake ingredients (except the blueberries) into the work bowl of your food processor and pulse to blend
Scrape the sides of the bowl to ensure an even mix then blend again to a smooth mixture
Add the blueberries and pulse just one or two times
Pour the batter into the greased & parchment lined cake pan and bake in a water bath in a preheated 350°F and bake for 60 minutes
After 60 minutes turn the oven off but leave the cheesecake in the oven with the door cracked open to cool slowly for another 60 minutes
Remove the cheesecake & cool completely at room temperature and then refrigerate for at least 2 hours to set or overnight before unmolding.
For the lemon blueberry sponge cake layers,combine the soy milk with the lemon juice and then add the vanilla extract and the lemon zest, let stand to thicken for about 5 minutes.
In a large mixing bowl combine the flour, sugar, baking soda and salt and whisk together to incorporate all the ingredients very well.
Add the liquids: the mock buttermilk, melted vegan butter or oil, vanilla and the applesauce, whisk smooth.
Fold in the blueberries and then divide the batter evenly between your prepared pans.
Bake immediately in a preheated 350°F oven for approximately 18-20 minutes
I like to do the "toothpick" test to make sure there is no raw batter
Cool the cakes in the pans until you can safely touch them with your bare fingers and then flip them out carefully to cool the rest of the way.
Once the layers are completely cooled prepare cream cheese buttercream recipe in a large mixing bowl with an electric mixer, cream the room temperature vegan butter on medium to high speed until light & fluffy I usually let this go for about 5 minutes
Add the sifted confectioners sugar and vegan lactic acid (*or apple cider vinegar or lemon juice) Mix on low speed until all is incorporated, then increase the speed to medium high and whip for 1 minute & add the lemon zest at the last stage of mixing.
Assemble the lemon blueberry cheesecake as shown in the video tutorial
Notes
Lemon Blueberry Cheesecake must be kept refrigerated and will stay fresh for up to 10days
I do not like to freeze vegan cheesecake as they tend to get soggy & separate on the thaw.