New recipe for Fluffy Vegan Lemon Cake!
Zesty, lemon-y goodness that quite honestly doesn't even need icing!
But of course I added more lemon juice and lemon zest to the buttercream for a lemon cake that is going to have you begging for more!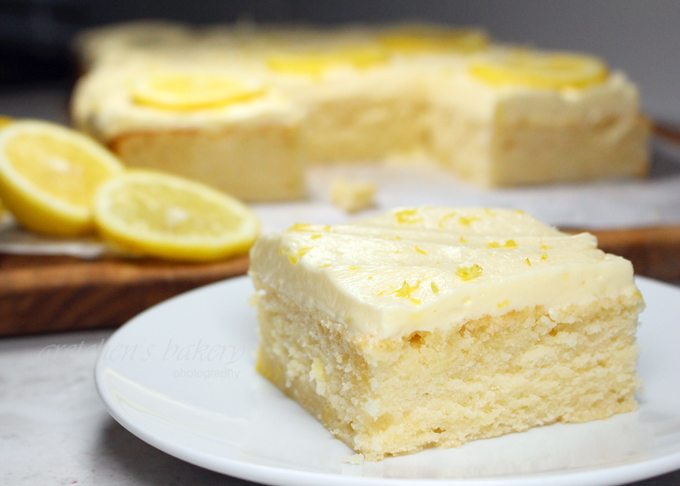 This time I baked all the batter into a 9″ x 13″ cake pan for an easy sheet cake
However this recipe will also yield 2-8″ cake layers or 3-7″ cake layers as well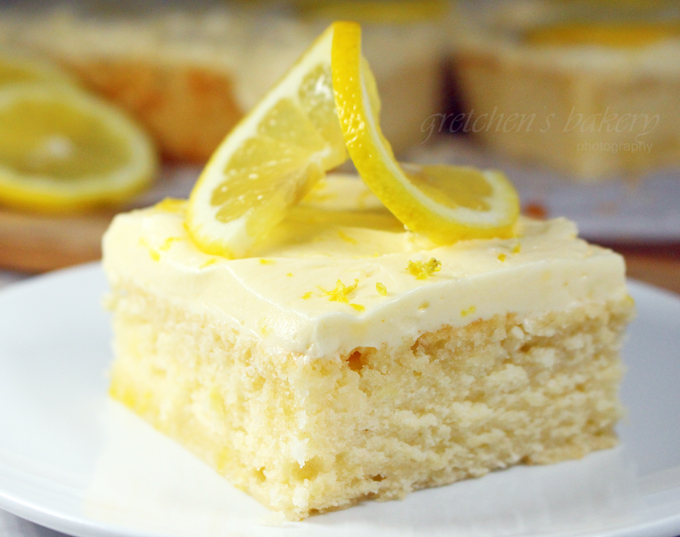 The texture of this cake reminds me of my cream cheese pound cake from my past life
Except there is no cream cheese in this recipe, just velvety lemon good that literally melts in your mouth!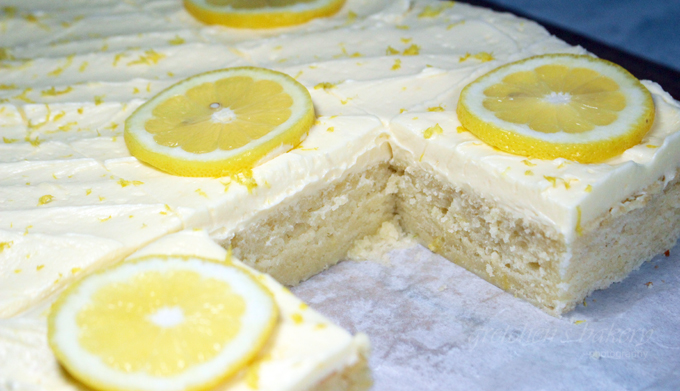 Bakes into cupcakes too, just be aware that this cake will not dome so your cupcakes will be flat
Fill the cupcake liners slightly more than half full and bake at 350°F for 18 minutes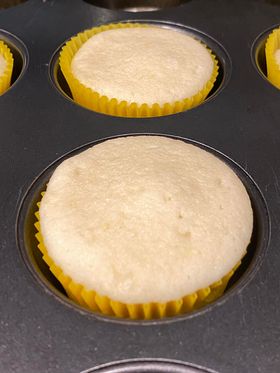 CLICK HERE FOR THE FULL YOUTUBE VIDEO TUTORIAL FOR HOW TO MAKE THIS CAKE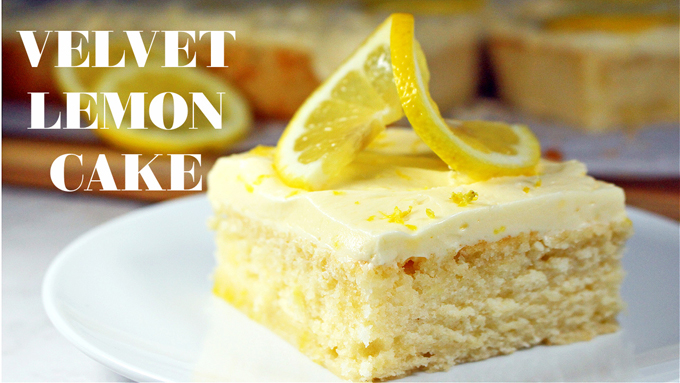 Notes for Success:
Because of the mix method I have created here for this super fluffy cake, it is essential to have the high speed power AND balloon whip attachment of an electric stand mixer. *see video for more
When measuring cornstarch I cannot stress enough that a kitchen scale is the best way to go.
Cornstarch is a very difficult ingredient to measure consistently with a volume spoons measure, so while I list both measures below I cannot stress enough how the grams measure with a scale is going to give you the best results.
For best results I am using cake flour, if you don't have that you can use all All Purpose flour but the total quantity should be only 3 cups total weight (360g)
All of your ingredients should be at room temperature before mixing
Since coconut oil is rarely solid, I have used it as liquid in conjunction with the vegan butter with great results
You can also use all vegan butter if you do not have coconut oil
This is a very delicate cake batter, so be sure to bake it immediately no hotter than 350°F or it will get too brown and slightly dry on the edges
For larger cakes I will turn the oven temperature down to 325°F after the first 20minutes of baking
This recipe will make 1 sheet cake baked into a 9″ x 13″ pan or it will also make 2-8″ layers OR 3-7″ layers.
bake time will vary depending on pan size so be sure to check cakes at 20 minutes

For more Easy Cake Recipes click the links below!
One Hour ~One Bowl Vegan Chocolate Cake Recipe
Truly White ~ Vegan White Cake Recipe
Yield: 9" x 13" cake
Fluffy Vegan Lemon Cake Recipe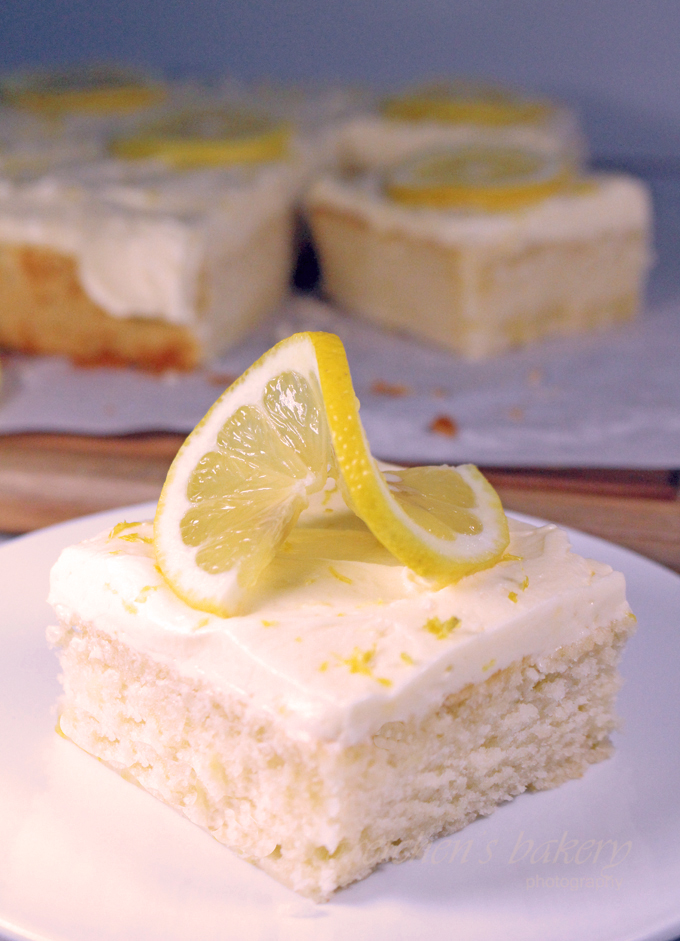 Total Time
1 hour
15 minutes
Ingredients
Lemon Juice from 2 large lemons *Approximately 4 Tablespoons
Zest from 2 large lemons *Approximately 2 Tbs
For the Cake Batter:
Vegan Butter 8 tablespoons (113g)
Coconut Oil 8 Tablespoons (113g)
Granulated Sugar 1¾ cup (350g)
Plant milk ½ cup (118ml) * I use soy milk
Lemon Juice ½ cup (118ml)
Lemon Zest 1-2 teaspoons
Lemon Extract 1 teaspoon (5ml)
All Purpose Flour 6 Tablespoons (48g)
Cake Flour 3 cup (360g) *see notes above
Baking Powder 4 teaspoons
Salt ½ teaspoon
Cornstarch 2 Tablespoon (16g)
Aquafaba ¾ cup (177ml)
Instructions
Grease and parchment line your cake pans and preheat the oven to 350°F
Prepare your favorite buttercream recipe as per the instructions and add the zest of 1-2 lemons along with the juice at the last stage of mixing.
Prepare the cake batter by creaming the vegan butter with the coconut oil and the sugar on high speed until light and fluffy
Combine the plant milk with the lemon juice, extract & zest and then combine the cornstarch with the aquafaba.
Once the sugar/butter mixture is light and fluffy - this should take approx 5 minutes, switch to a balloon whip attachment on your stand mixer
Scrape the bottom & sides of the mixer bowl and then add the cornstarch/aquafaba mixture and whip on high speed to emulsify. *the mixture will look severely curdled but will come together to a smooth silky batter by whipping on high speed. Be patient!
Once it has come back together, switch back to the paddle attachment
Meanwhile sift together both flours, the baking powder and salt and then add about 1/3 of the dry ingredients to the mixer bowl while mixing on low-medium speed.
Add half of the milk/lemon mixture and mix just until incorporated
Add another 1/3 of the dry ingredients mixing just until incorporated lightly then add the last of the liquid and the last of the dry
Whip on high for 30 seconds to develop the batter
Pour the batter into your prepared pans and bake in the preheated 350° oven for 25-35 minutes or when a toothpick inserted into the center comes out clean.
Cool in the pan then flip out onto your serving platter and ice with buttercream, or build a layer cake as you desire!
Notes
Lemon cake with lemon buttercream icing can stay at room temperature for up to 3 days.

For longer storage wrap loosely and keep refrigerated for up to 1 week.

The cake layer(s) can be frozen wrapped well for up to 1 month
3.5.3251