I have now completed my collection of the most important cake recipes you all should have in your repertoire!
From my bakery recipe for yellow cake to a one bowl one hour chocolate cake
We now have triple strawberry cake to add to the list!
All tested and all truly perfection!
This strawberry cake is a triple win since it is not only super moist strawberry cake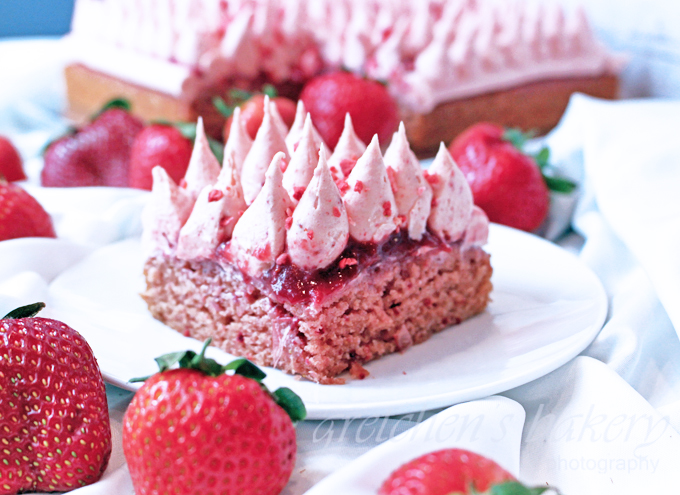 But it has a strawberry compote and strawberry buttercream too!
While this cake alone can definitely stand up on it's own
The added buttercream & compote brings this cake over the top!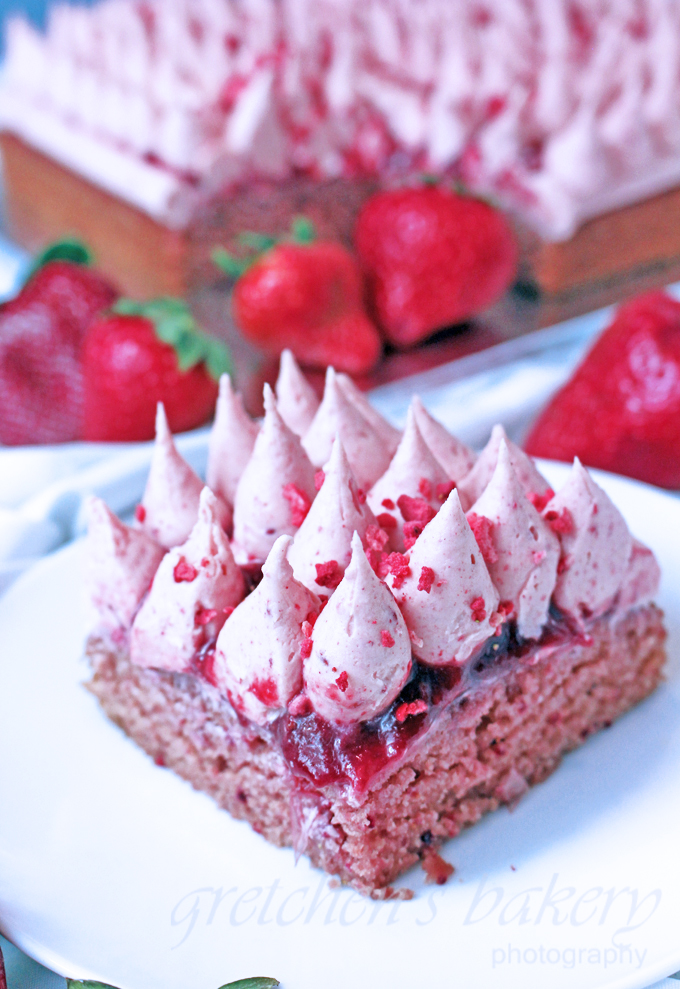 Click here for more information about flavoring your buttercream!
I baked this entire recipe into a square pan 9″ x 9″ so I would recommend to double the recipe for a larger 9″ x 13″ size pan
It also bakes great into round cake layers and cupcakes too!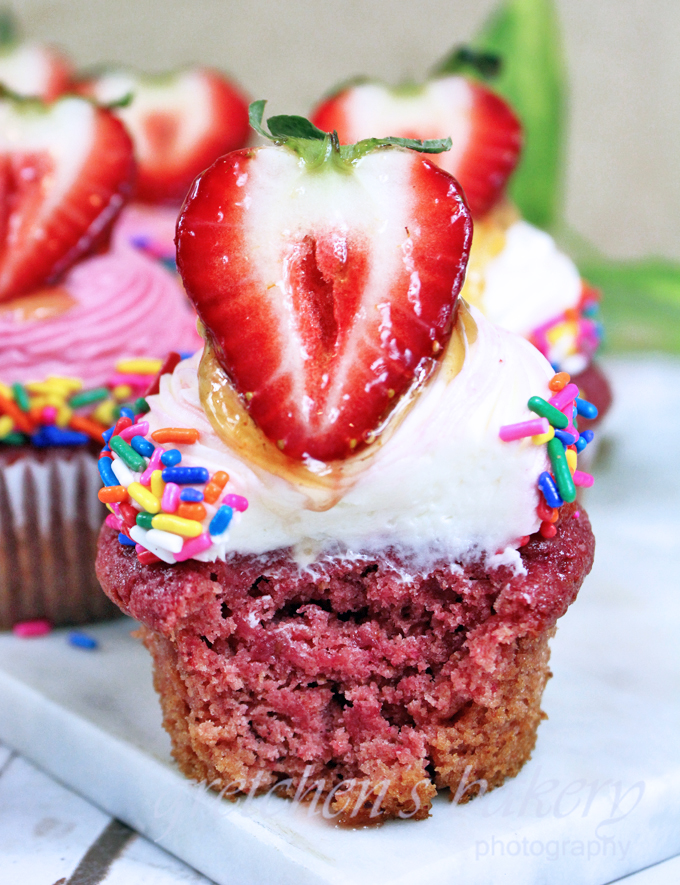 Just fill whatever size cake pans you are using, 3/4 of the way full
Check at around 20 minutes with a toothpick to gauge the bake time but 25-35 minutes is usually the sweet spot!
This is the same recipe I used for my Awesome Neapolitan Cake!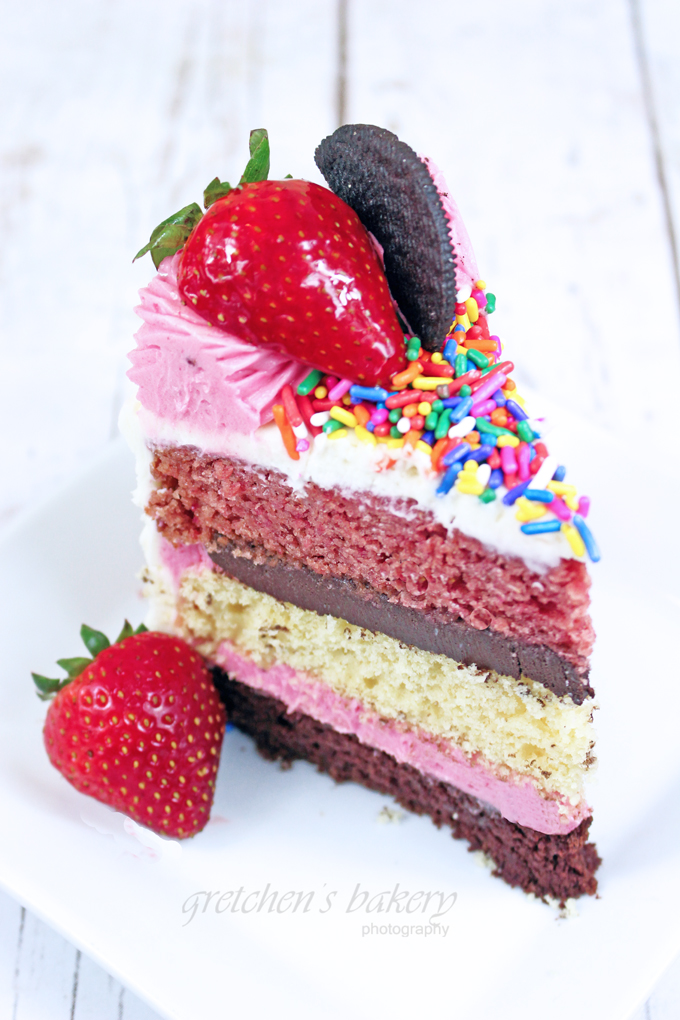 Notes for Success:
I am using beet root powder in addition to the freeze dried strawberry powder for intense color
You can simply use all fruit powder if you do not want to buy beet root powder, just increase the fruit powder by 2 Tbs
I love the addition of the strawberry compote as a layer between the cake and the icing, but this completely optional
However in the cake batter I add 2 Tbs of that same strawberry compote
So if you are omitting the fruit compote altogether, be sure to replace those 2 Tbs with applesauce or more oil to the cake batter
Strawberry buttercream can also be made with the strawberry fruit compote of freeze dried fruit powder
It is completely your option if you want to forgo the recipe of compote to eliminate one whole recipe
CLICK HERE FOR THE YOUTUBE VIDEO OF HOW I MADE THIS CAKE!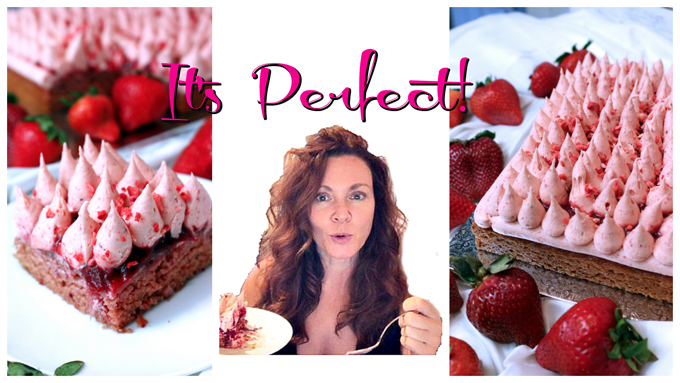 For more of the best vegan cake recipes click the links below!
One Hour ~One Bowl Vegan Chocolate Cake Recipe
Bakery Recipe for Perfect Yellow Cake
Truly White ~ Vegan White Cake Recipe

Vegan Strawberry Cake Recipe
You will need strawberry compote/puree for the cake batter, the buttercream and also for a layer to spread over the cake before the icing.
Be sure to prepare the compote recipe first, and this can be done up to 1 week ahead and store in the refrigerator until needed.
Ingredients
All Purpose Flour 1½ cup (188g)
Beet Root Powder 2 Tablespoons * see notes for success
Strawberry Powder (from freeze dried strawberries) 5 Tablespoons
Baking Powder 2 teaspoons
Salt ½ teaspoon
Egg Replacer 1 teaspoon *I used Bob's Red Mill
Granulated Sugar 1 cup (200g)
Vegetable Oil ⅓ cup (78ml)
Strawberry Compote/Puree 2 Tablespoons (28g)
Soy Milk *Or any plant milk of your choice 1 cup (237ml)
vanilla Extract 2 teaspoons (10ml)
1 recipe your favorite buttercream
Strawberry puree ½ cup
For the Strawberry Compote: **see notes for success in text of article above recipe section
Fresh or Frozen Strawberries 1 pint (454g)
Granulated Sugar *optional 1 Tablespoon - ¼ cup ~ adjust sweetness to your liking
Cranberries *optional ½ cup * see notes for success
Instructions
First prepare the strawberry compote by placing the strawberries & cranberries (fresh or frozen) in a medium sauce pot and cook over low heat stirring occasionally to avoid scorching the bottom.
If using fresh berries add a tablespoon or two of water to help the cooking process along.
Sugar is optional depending on how sweet your berries are and how sweet you like your compote.
I usually add a couple tablespoons especially when using cranberries
Cook until the berries have almost completely broken down, then cool slightly and transfer to a blender to puree smooth
Next prepare the cake batter
Preheat the oven to 350°F
Grease and parchment paper your cake pan(s)
In a large mixing bowl combine the sugar, oil, vanilla, plant milk and strawberry puree and whisk smooth
Sift together the flour, beet root powder, strawberry powder, salt, baking powder and egg replacer then add to the liquids in the bowl.
Whisk smooth
Pour into the prepared pan and bake for 25 minutes or until a toothpick inserted in the center comes out clean.
Cool in the cake pan, then flip onto a serving platter.
Prepare your favorite buttercream recipe and add ½ cup strawberry puree OR more strawberry fruit powder (4 Tbs) at the last stage of mixing.
Spread the remaining fruit compote over the cooled cake then ice with strawberry buttercream
Notes
Strawberry cake will stay fresh at room temperature for up to 3 days

Refrigerate for longer storage, up to 1 week covered to prevent drying