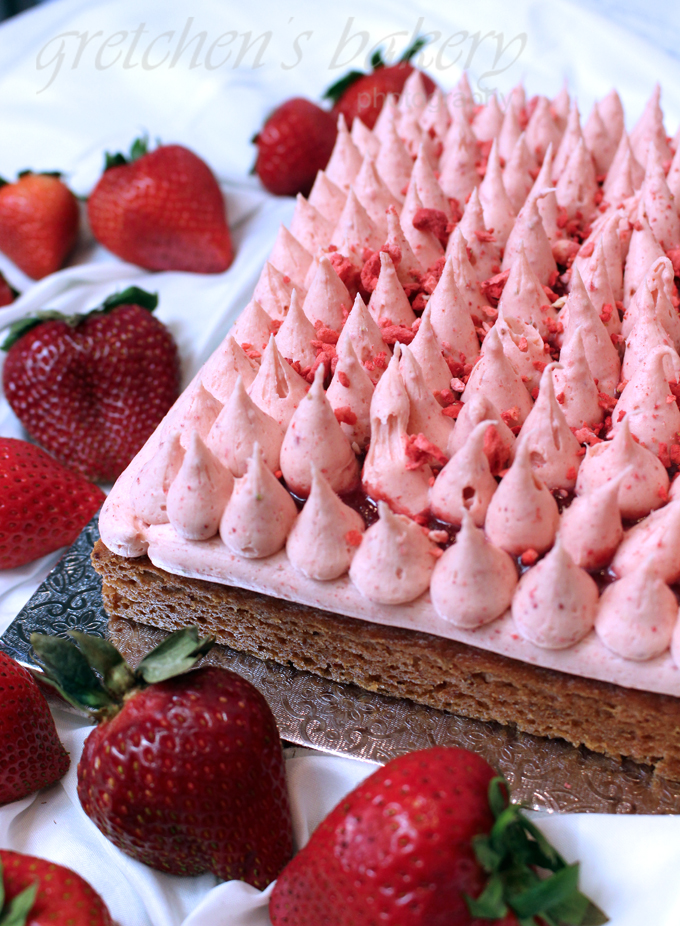 Finally it's here!
The cake I have been talking about since October!
I have now completed my collection of the most important cake recipes you all should have in your repertoire!
All tested and truly perfection!
This strawberry cake is a triple threat since it is not only super moist strawberry cake, but it has a strawberry compote and strawberry buttercream too!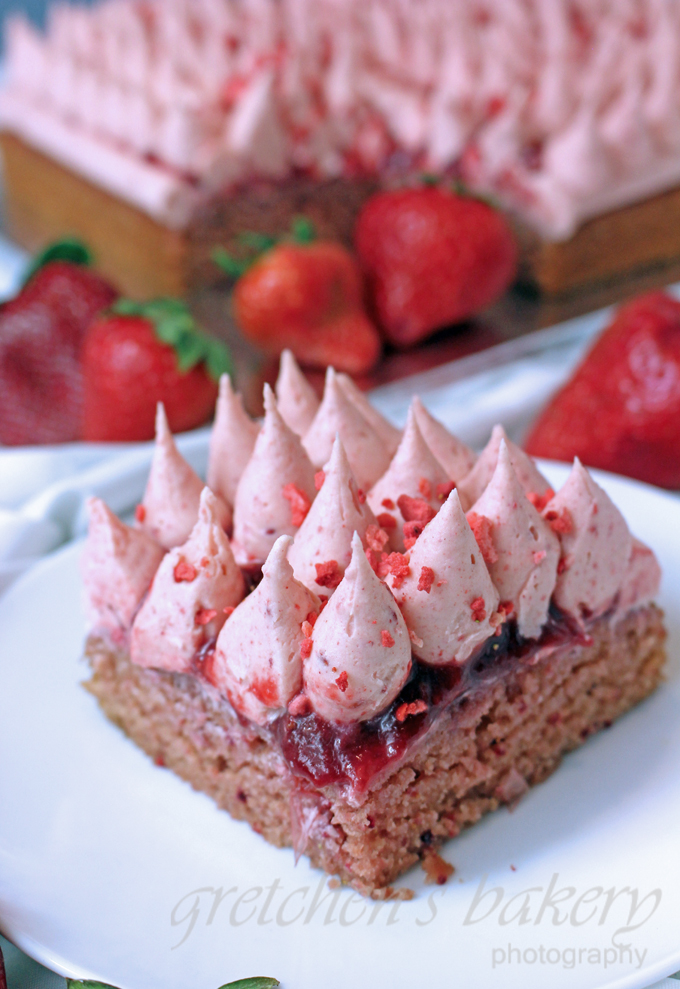 However this cake can definitely stand up on it's own, the buttercream & compote brings this cake over the top!
Click here for more information about flavoring your buttercream!
This is the same recipe I used for my Awesome Neapolitan Cake!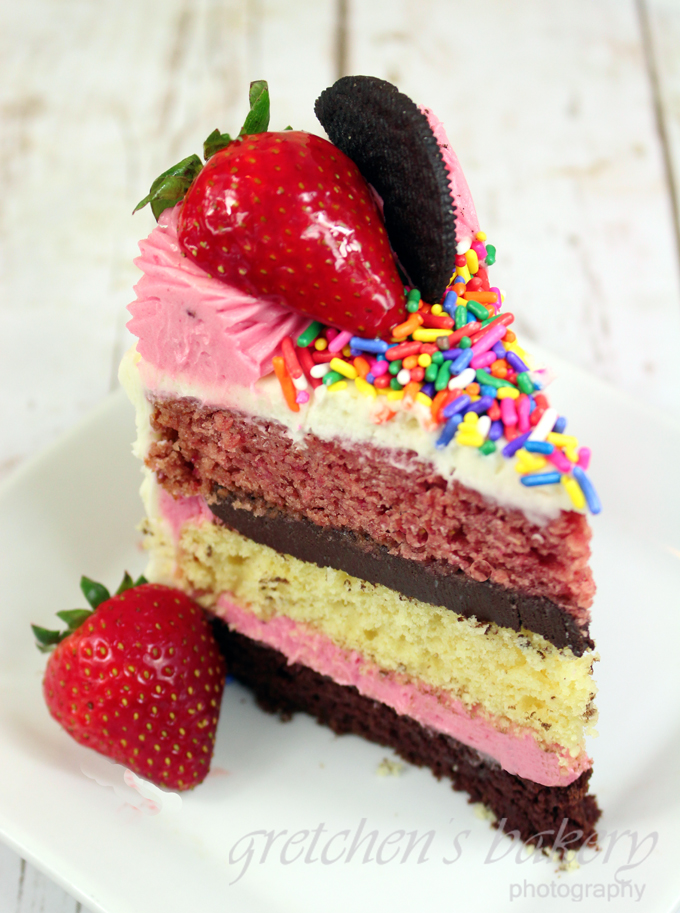 AND Strawberry CupCakes!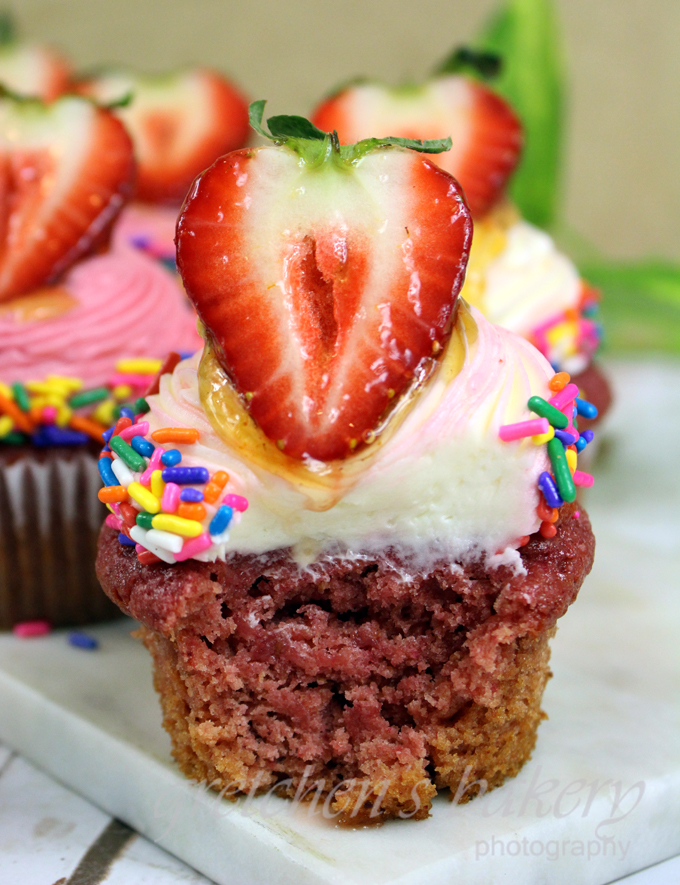 Vegan Strawberry Cake Recipe
I baked this cake in a single layer 9" x 9" pan
If you want to make a 3 layer 7" cake be sure to double all the recipe ingredients below
I had 1 bag of 1.2oz (34g) freeze dried strawberries and this was perfect for the cake recipe and the buttercream.
If you are using fresh strawberries for the compote, add a few tablespoons water to help the cooking down process
Ingredients
All Purpose Flour 1½ cup (188g)
Beet Root Powder 2 Tablespoons
Strawberry Powder (from freeze dried strawberries) 5 Tablespoons
Baking Powder 2 teaspoons
Salt ½ teaspoon
Egg Replacer *I used The Plant Based Egg by Freely Vegan 1 teaspoon
Granulated Sugar *vegan 1 cup (200g)
Vegetable Oil ⅓ cup (78ml)
Strawberry Compote/Puree 2 Tablespoons (28g)
Soy Milk *Or any plant milk of your choice 1 cup (237ml)
vanilla Extract 2 teaspoons (10ml)
1 recipe your favorite buttercream
1 recipe strawberry compote:
Fresh or Frozen Strawberries 1 pint
Granulated Sugar *optional 1 Tablespoon - ¼ cup ~ adjust sweetness to your liking
Cranberries *optional ½ cup
Instructions
Preheat the oven to 350°F
Grease and parchment line a 9"x9" baking pan
In a large mixing bowl combine the sugar, oil, vanilla, milk and puree and whisk smooth
Sift together the flour, beet root powder, strawberry powder, salt, baking powder and egg replacer then add to the liquids in the bowl.
Whisk smooth
Pour into the prepared pan and bake for 25 minutes or until a toothpick inserted in the center comes out clean.
While the cake is baking prepare the strawberry compote by cooking the frozen strawberries with the cranberries and sugar and bring to a boil.
Reduce eat and simmer for 5 minutes or until the cranberries start to burst.
Puree the berries to a chunky compote, refrigerate until needed, it will thicken as it sits.
Cool in the cake pan, then flip onto a serving platter.
Prepare your favorite buttercream recipe and add ½ cup strawberry powder at the last stage of mixing.