This recipe for Copy Cat Trinidad Sweet Bread was created for two reasons.
#1 I wanted to recreate this coconut bread at home since my boyfriends family goes nuts for it!
Every time they go back to Barbados they bring home loaves and loaves!
But #2 I always have so much coconut water leftover from making Coconut Whipped Cream!
My version of this Trinidad favorite uses slightly different ingredients but the result is…ummm, the same?
Ok, Ok I won't say that!
But it is delicious and I'll just let you decide what you think of my Copy Cat Recipe for Trinidad Sweet Bread.
I'm not sure if you have ever tried the real thing, I have had it several times both direct off the plane from Barbados and from a local Bajan woman right here in New Jersey who makes her authentic recipe from her home country.
The traditional loaf uses candied fruit mix like green and red cherries and some raisins or currants.
But since I really don't like candied cherries I decided to use cranberries, raisins and even some minced crystallized ginger!
I had to be careful of stepping on any Caribbean toes though, by putting my own twist on things.
But I was reassured by my Bajan friends that this bread can rival the real thing!
Go ahead! try it!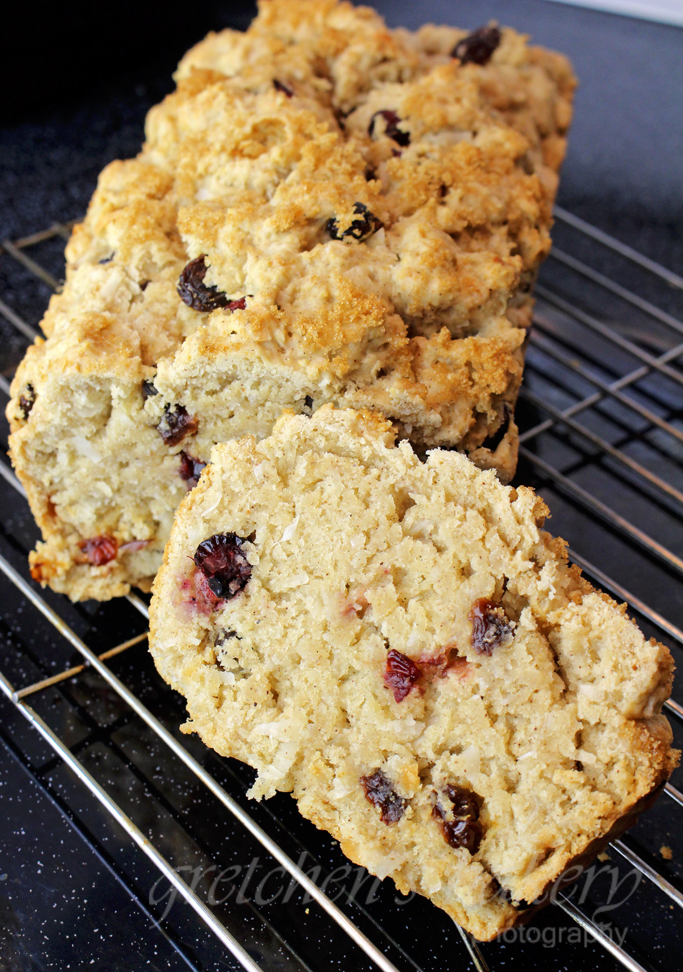 Trinidad Sweet Bread
Ingredients
All Purpose Flour 3 cups (375g)
Cold Vegan Butter 8 Tablespoons (113g)
Ground Cinnamon 1 teaspoon
Ground Nutmeg 1 teaspoon
Light Brown Sugar 1 cup (210g)
Salt 1 teaspoon (5g)
Baking Powder 3 teaspoons (15g)
Orange Zest 1 teaspoon
Lemon Zest 1 teaspoon
Coconut Water 1 cup (237ml)
Vanilla Extract 1 teaspoon
Dried Fruit Mix (for example: raisins, apricots, currants, cranberries) 1½ cup total
Grated Coconut 2 cups
Instructions
Combine the flour, sugar, baking powder and spices together in a large mixing bowl
Cut in the cold vegan butter with a pastry blender or a fork until it resembles course meal
Add the zests, vanilla extract and coconut water and mix to a stiff, but sticky dough
Add the fruits and the coconut and then knead it all by hand until it comes together
Place the dough in a greased loaf pan and bake in a preheated 350°F oven for 45 minutes or until it is golden browned and no longer raw on the inside
Cool before turning out of the pan then slice and serve warm with vegan butter