Another vegan replica from my past life: Vegan Bailey's Irish Cream Cupcakes!
Super moist chocolate cupcakes spiked with whiskey and loaded up with Bailey's Irish Cream liquor buttercream!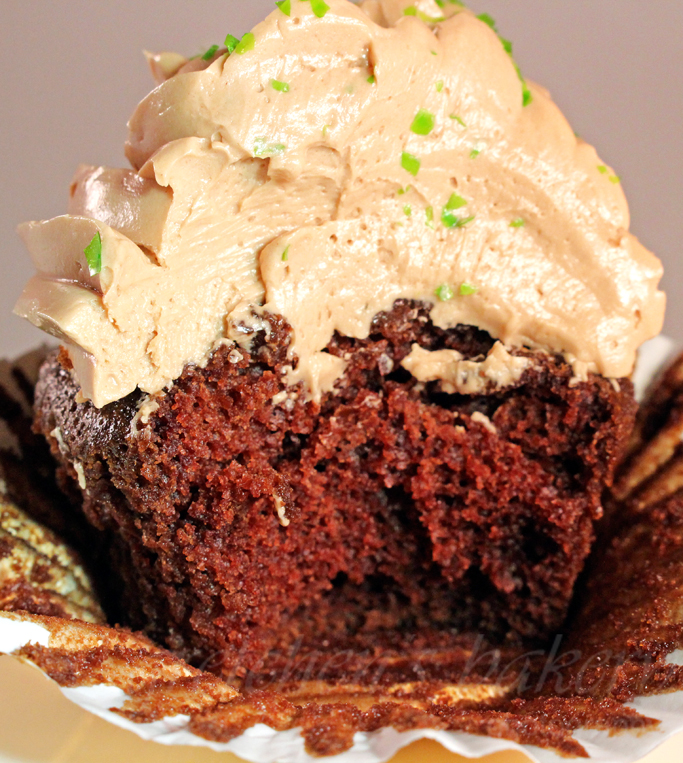 Yes Bailey's now makes a vegan Irish Cream!
These cupcakes are decorated with an extra special cupcake topper handmade with fondant and I show you step by step in the video below!
Vegan Bailey's Irish Cupcakes
The buttercrema recipe will make more than you need, but I always like to make a full batch and keep the rest in teh refirgerator until I need it for something else. You can freeze it for up to 2 months
Ingredients
For the Cupcake Batter:
Vegan Butter 8Tablespoons (113g)
Vegan Semi Sweet Chocolate 3ounces (85g)
Unsweetened Applesauce 2 Tablespoons
Light Brown Sugar ½ cup (105g)
Granulated Sugar ½ cup (100g)
Flax Meal 2 Tablespoons (16g)
Warm Water 5 Tablespoons (75ml)
Vanilla Extract 2 teaspoons (10ml)
Whiskey 2 Tablespoons (30ml)
Strong Brewed Coffee ½ cup (120ml)
*Or do what I did and use 1 tablespoon instant coffee granules and hot water
All Purpose Flour 1 cup + 1 Tablespoon (133g)
Natural Cocoa Powder 3 Tablespoons (30g)
Baking Soda ½ teaspoon
Baking Powder ¼ teaspoon
Salt ¼ teaspoon
For the Bailey's Irish Cream Buttercream:
Vegan Butter 1½ Cups (3 sticks) (336g)
Hi Ratio Solid Vegetable Shortening1½ Cups (336g)
Vegan Confectioners Sugar 6 cups 720g)
Vanilla Extract 2 teaspoons
Salt ¼ teaspoon *Unless you are using Earth Balance which is salted, then leave out the salt!
Bailey's Vegan Irish Cream ½ cup (120ml)
Ganache ¼ cup
Instructions
For the cake combine the flax meal with the warm water and let stand to thicken about 10 minutes
Combine the instant coffee with the boiled water
Melt the vegan butter with the chocolate over a low heat stirring constantly
Sift together half of the sugar(s) with the flour, baking powder, baking soda, salt and cocoa powder
In a mixing bowl combine the other half of the sugar(s) with the flax paste, applesauce, vanilla extract, coffee and whiskey, mix well.
Add the melted chocolate and butter and mix well.
Add the sifted dry ingredients a heaping spoonful at a time while mixing on low until it is all incorporated
Pour into cupcake liners and baker in a preheated 375°F oven for approximately 25 minutes or until springy to the touch when you gently press the centers
Prepare the Buttercream recipe by whipping the vegan butter and shortening in the Kitchen Aid (or stand mixer) bowl with the paddle attachment
Whip on medium to high speed for about 3 minutes.
Scrape the sides and bottom of the bowl to make sure it is evenly mixed and add the salt and extract
Stop mixer and add the sifted confectioners sugar all at once.
Mix on low speed until incorporated
Increase speed to high and whip for another 2 minutes
Divide the buttercream in half (since you will only need half recipe) and add the melted cooled ganache and the Vegan Bailey's Irish Cream liquor mix well