Today you're going to Get to Know Your Cookie Dough
So from now on you can make your vegan cookie dough exactly the way you love your chocolate chip cookies the most!
When it comes to cookies are you a thin and crispy person or a soft and chewy lover? Or maybe you are like me and want all of those things rolled into one!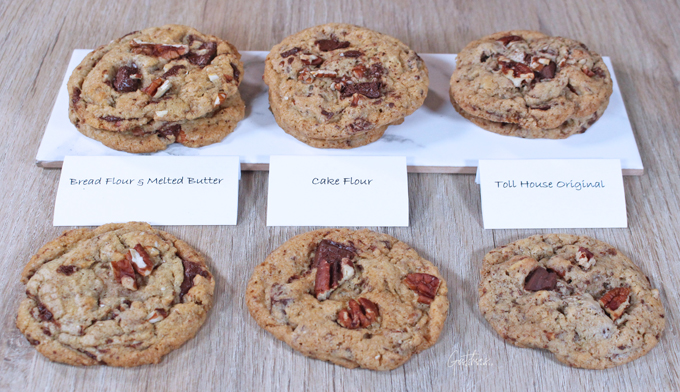 Starting with the iconic Toll House Chocolate Chip Cookie recipe by none other than Ruth Wakefield herself
We are first going to veganize this classic and then make two other variations, so you can see first hand how tweaked just an ingredient or two can alter the outcome of your vegan cookie dough!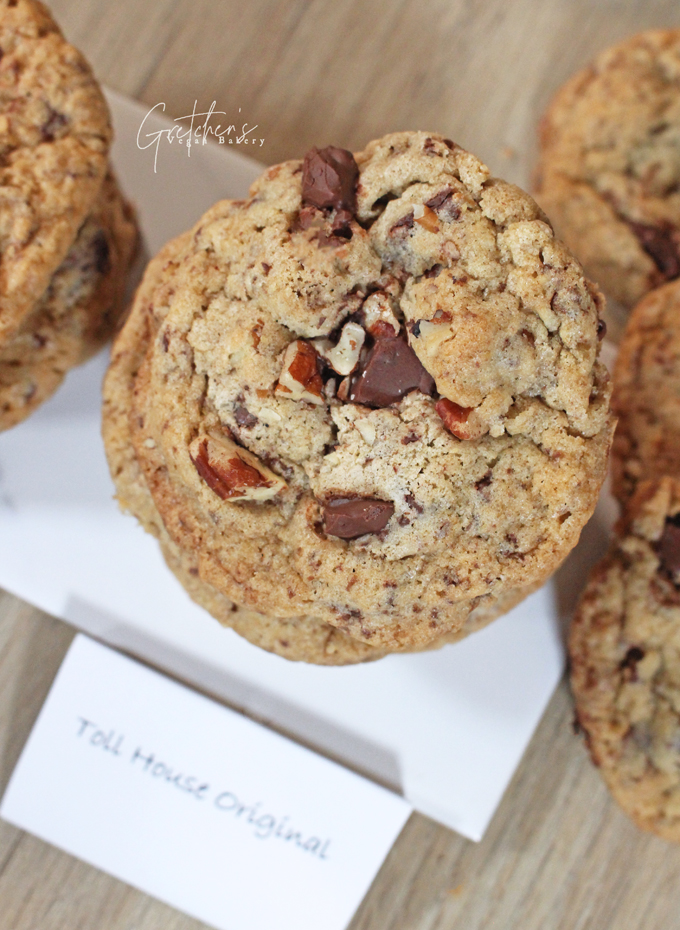 One variation makes a Thin and Crispy cookie and the other will give you thick, chewy and soft batch cookies!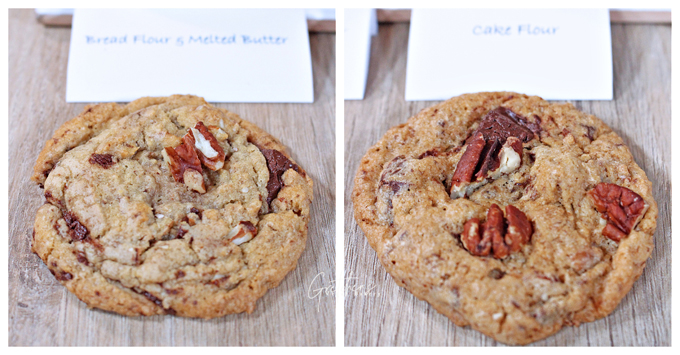 Be sure to watch the full video tutorial where I break down all of the ingredients in the cookie recipe so you can understand why certain ingredients give you different end results!
CLICK HERE FOR THE YOUTUBE VIDEO DEMO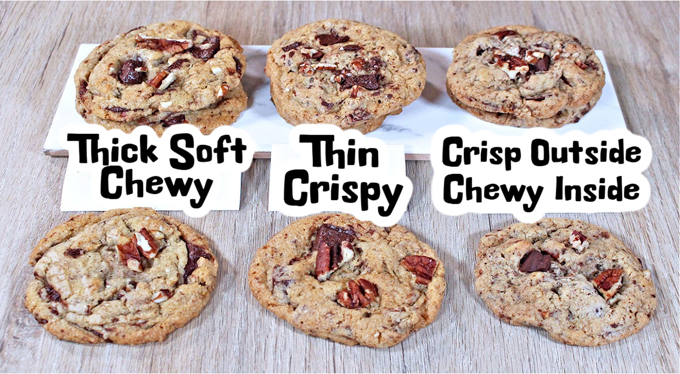 Notes for Success:
There are three recipes listed below for each variety and all the base ingredients are the same with the only difference in the flour and mix method
Aquafaba, cornstarch, flax combination is my choice for the egg replacer in most cookie recipes, but you can use another egg replacer of your choice equivalent to two eggs
Cornstarch is a very difficult ingredient to measure consistently with a volume/spoons measure, so while I list both measures below I cannot stress enough how the grams measure with a scale is going to give you the best results.
The Toll House Recipe for Chocolate Chip Cookies called for 2¼ cups of flour, however in my experiments over the years I have found that adding additional flour to the original recipes to compensate for the missing eggs seems to help the structure of vegan bakes almost more than the egg replacer itself!
Except for the variety made with bread flour and melted butter which must be chilled before scooping, I did not chill the dough for the other two varieties
Some people like to chill the dough before baking to prevent excess spreading of the cookie dough, but if your formula for the dough is correct you will not have to worry about that at all!
Weighing your ingredients will be the best way to ensure your formula is correct with consistent perfect results every time
My favorite variety is the Thick and Chewy variety made with Bread Flour and melted vegan butter combo!
*Here's a secret if you can't get bread flour, it still works pretty great with all purpose!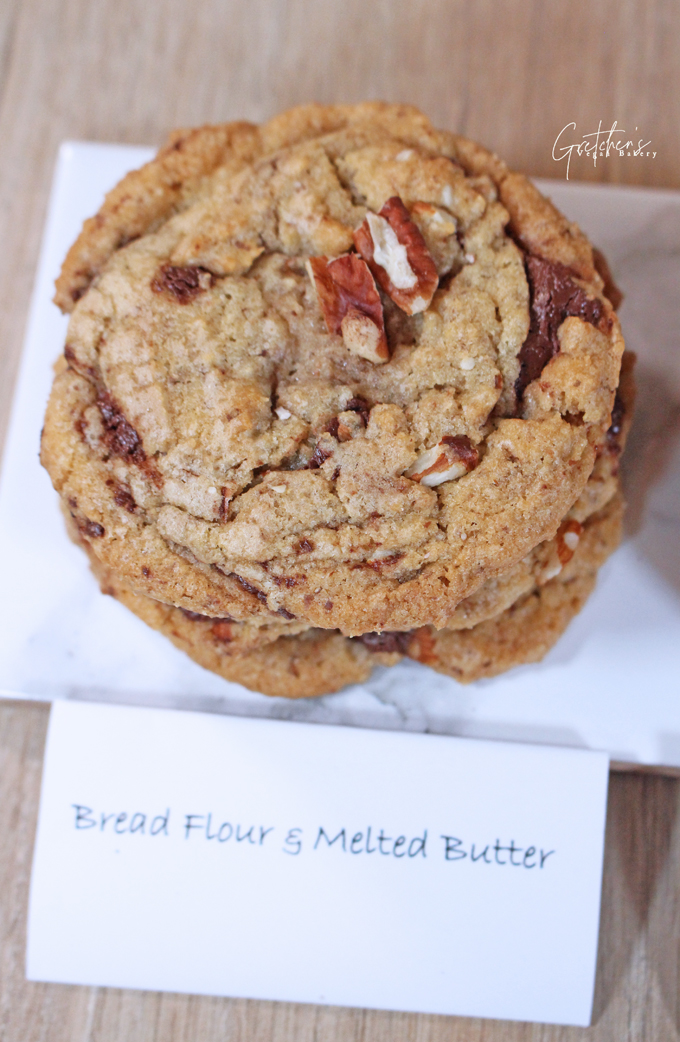 All of the tools I am using for this recipe are listed here!
*I am an Amazon affiliate so by clicking through my unique links I make a few extra pennies! Thanks!
Original Toll House Variety
Ingredients
Vegan Butter 1 cup (226g)
Granulated Sugar ¾ cup (150g)
Light Brown Sugar ¾ (150g)
Aquafaba ¼ cup (60ml) warmed to 100°F
Ground Flax Meal 2 Tablespoons (16g)
Cornstarch 2 teaspoons (3g)
Baking Soda 1 teaspoon
Water 1 teaspoon
All Purpose Flour 2½ cups + 2 Tablespoons (328g)
Baking Powder ½ teaspoon
Salt 1 teaspoon
Vanilla Extract 1 teaspoon
Chocolate Chips 2 cups (336g)
Chopped Nuts 1 cup (125g)
Instructions
First whisk together the warm aquafaba, flax and cornstarch and set aside
Sift together the all purpose flour. salt and baking powder
Combine the baking soda with the water and whisk smooth
Preheat the oven to 375°F and line a sheet pan with parchment paper
In the work bowl on an electric mixer combine the soft yet cool vegan butter with both sugars and cream on medium to high speed until light & fluffy
This usually takes 3-5 minutes while stopping to scrape the bottom & sides of the bowl often
Add the aquafaba mixture while continuing to mix on medium speed, then whip on high speed for 10 seconds to emulsify
Scrape the bottom & sides of the bowl again
Now add half of the sifted flour mixture mixing on low speed just to combine and then add the baking soda solution mixing to combine
Now add the rest of the flour and mix just until combined
Add the chopped nuts & chocolate chips and mix well while adding the vanilla extract last
Scoop the cookie dough with a 2ounce cookie scoop or by rounded tablespoons onto a parchment lined sheet pan spaced 2½ inches apart (one 12" x 18" sheet pan bakes 12 cookies perfectly)
Bake in the preheated oven for 10-12 minutes or golden browned
Notes
Chocolate chip cookies will stay fresh at room temperature for about a week in an airtight container
Freeze raw dough balls for up to 2 months in a ziploc bag
Thin & Crispy Cookies
Ingredients
Vegan Butter 1 cup (226g)
Granulated Sugar ¾ cup (150g)
Light Brown Sugar ¾ (150g)
Aquafaba ¼ cup (60ml)
Ground Flax Meal 2 Tablespoons (16g)
Cornstarch 2 teaspoons (3g)
Baking Soda 1 teaspoon
Water 1 teaspoon
Cake Flour 2½ cups + 2 Tablespoons (315g)
Baking Powder ½ teaspoon
Salt 1 teaspoon
Vanilla Extract 1 teaspoon
Chocolate Chips 2 cups (336g)
Chopped Nuts 1 cup (125g)
Instructions
First whisk together the warm aquafaba, flax and cornstarch and set aside
Sift together the cake flour, salt and baking powder
Combine the baking soda with the water and whisk smooth
Preheat the oven to 375°F and line a sheet pan with parchment paper
In the work bowl on an electric mixer combine the soft yet cool vegan butter with both sugars and cream on medium to high speed until light & fluffy
This usually takes 3-5 minutes while stopping to scrape the bottom & sides of the bowl often
Add the aquafaba mixture while continuing to mix on medium speed, then whip on high speed for 10 seconds to emulsify
Scrape the bottom & sides of the bowl again
Now add half of the sifted flour mixture mixing on low speed just to combine and then add the baking soda solution mixing to combine
Now add the rest of the flour and mix just until combined
Add the chopped nuts & chocolate chips and mix well while adding the vanilla extract last
Scoop the cookie dough with a 2ounce cookie scoop or by rounded tablespoons onto a parchment lined sheet pan spaced 2½ inches apart (one 12" x 18" sheet pan bakes 12 cookies perfectly)
Bake in the preheated oven for 10-12 minutes or golden browned
Notes
Chocolate chip cookies will stay fresh at room temperature for about a week in an airtight container
Freeze raw dough balls for up to 2 months in a ziploc bag
Thick & Chewy Cookies
Ingredients
Vegan Butter 1 cup (226g)
Granulated Sugar ¾ cup (150g)
Light Brown Sugar ¾ (150g)
Aquafaba ¼ cup (60ml)
Ground Flax Meal 2 Tablespoons (16g)
Cornstarch 2 teaspoons (3g)
Baking Soda 1 teaspoon
Water 1 teaspoon
Bread Flour 2¾ cups (357g)
Baking Powder ½ teaspoon
Salt 1 teaspoon
Vanilla Extract 1 teaspoon (5ml)
Chocolate Chips 2 cups (336g)
Chopped Nuts 1 cup (125g)
Instructions
First whisk together the warm aquafaba, flax and cornstarch and set aside
Sift together the bread flour, salt and baking powder
Combine the baking soda with the water and whisk smooth
Preheat the oven to 375°F and line a sheet pan with parchment paper
Melt the vegan butter over medium heat and then transfer it to a large mixing bowl and add both sugars and the salt and whisk smooth
Add the aquafaba mixture along with the baking soda solution and the vanilla extract and whisk everything smooth
Add the flour all at once and mix just until combined
Add the chopped nuts & chocolate chips and mix well
This dough must be chilled for about 15 minutes before you are able to scoop the batter
Once it is chilled, scoop the cookie dough with a 2ounce cookie scoop or by rounded tablespoons onto a parchment lined sheet pan spaced 2½ inches apart (one 12" x 18" sheet pan bakes 12 cookies perfectly)
Bake in the preheated oven for 10-12 minutes or golden browned
Notes
Chocolate chip cookies will stay fresh at room temperature for about a week in an airtight container
Freeze raw dough balls for up to 2 months in a ziploc bag