Another Classic Cake Veganized! Today it's the Concorde Cake!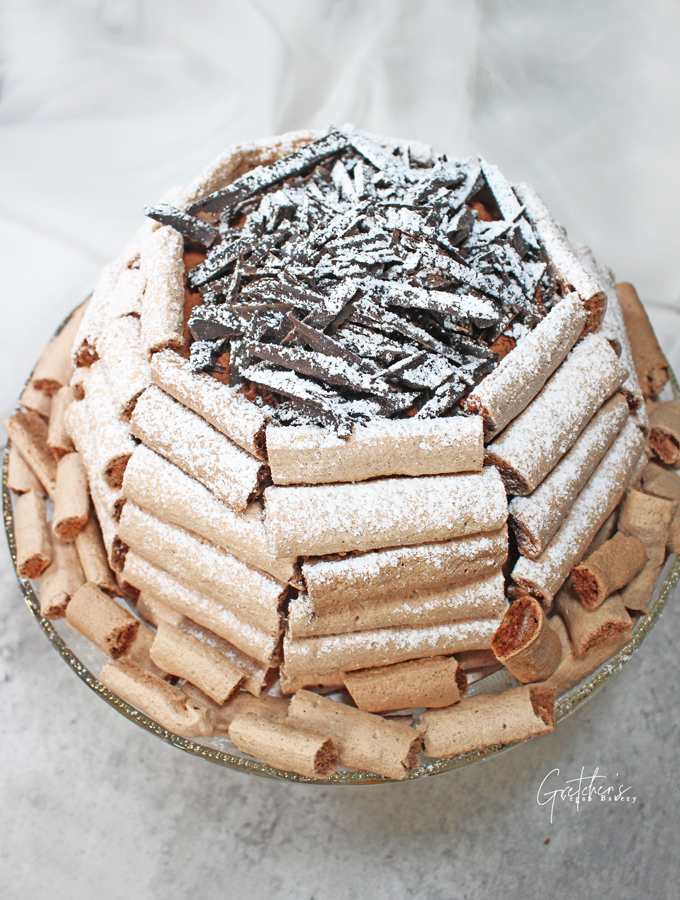 What in the world is a Vegan Concorde Cake you ask?
Well it's a crunchy, creamy, luscious and whimsical cake that is a chocoholic's dream!
With crisp and chewy meringue layers sandwiched with silky chocolate mousse, all hiding under a shower of chocolate meringue sticks!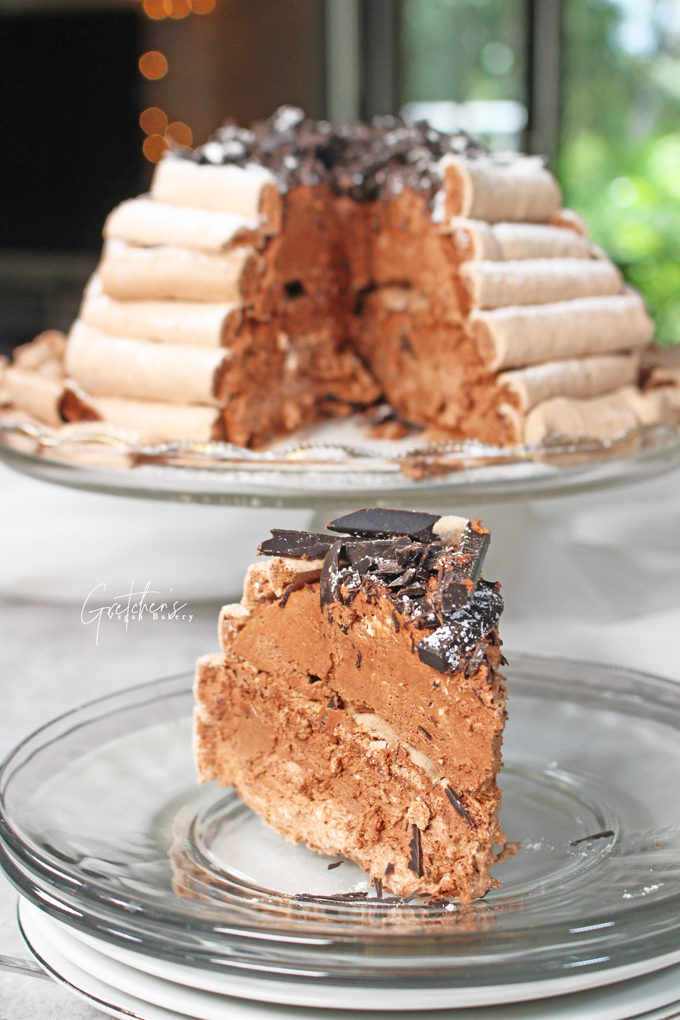 The Concorde Cake was created by French Pastry Chef Gaston Lenotre in 1969
Honoring the brand new Concorde airplane which was considered a marvel in both engineering and luxury travel.
This aircraft was used mainly by wealthy passengers who could afford to pay a high price in exchange for the aircraft's speed and luxury service.
It's no wonder that this cake in all of it's richness and glory paid homage to an airplane of equal stature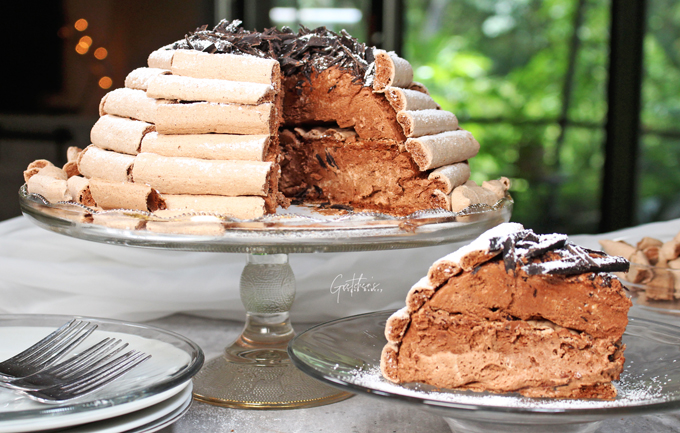 Vegan Meringue:
Now I'm not going to lie, vegan meringue is a pain in the "boop"!
Aquafaba is a wonderful ingredient we all use as a substitute for egg whites in vegan baking as it is simply the water from a can of chickpeas that when whipped mimics the properties of an egg white meringue!
While it is simple to achieve a beautiful, thick and glossy meringue from aquafaba in just minutes, it is not as easy to bake it because the meringue by itself does not like high temperatures
Which is why I am implementing the Italian Meringue method of making vegan meringue
An instant read thermometer is needed since you will have to boil sugar and water together and bringing it to 240°F and then slowly streaming the hot sugar syrup into the whipping aquafaba the resulting meringue is much stronger than making a straight French whip meringue
Additionally I prefer to use a dehydrator  but it can be done in the lowest setting of you oven.
My oven does not go below 170°F and my dehydrator obviously has much lower settings and while 170°F technically is not a high temperature, I still like to control it by staying at 155°F and lower.
Either way it will take 2 – 3 hours to dry them out.
Whipping aquafaba gets some help and stability from cream of tartar but if you do not have that ingredient you can simply leave it out, or wipe the inside of your mixer bowl with lemon juice or vinegar before beginning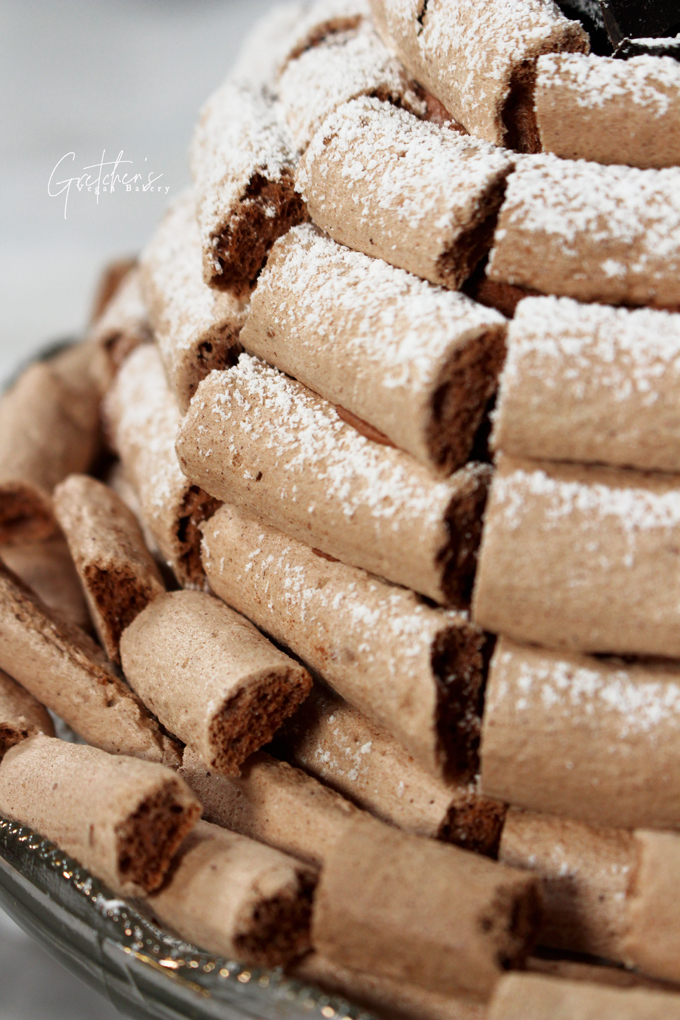 The Chocolate Mousse:
My favorite recipe for chocolate mousse includes more aquafaba meringue!
This is the classic preparation for a true chocolate mousse and the meringue addition is what contributes to the lightness of an authentic chocolate mousse recipe
You can of course leave that part out of the recipe if you want to skip one whole step, but this will give you a much thicker and denser mousse
Coffee is added to my chocolate mousse recipes to enhance the natural properties of chocolate as coffee and chocolate are perfect partners
If you do not want to use coffee simply use hot water instead
Vegan Whipped Cream is one topic that deserved an entire video and article so you may want to check that out fiorst to decide which vegan whipped cream you will be using for this recipe.
I am using Country Crock *not sponsored as this is the only brand I can find near me and although I love my homemade recipe #imlazy
WATCH THE YOUTUBE VIDEO TUTORIAL FOR HOW TO MAKE THE VEGAN CONCORDE CAKE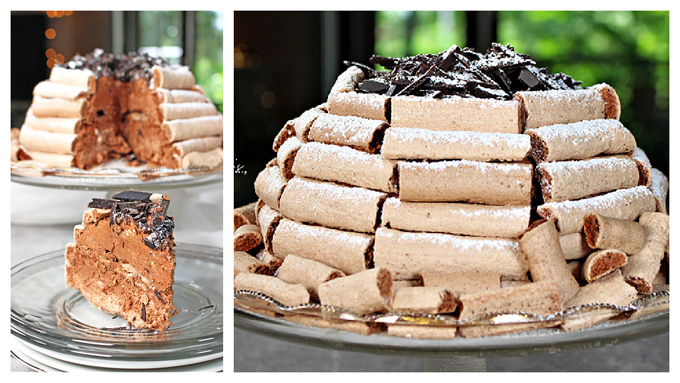 More Notes for Success:
I am using an 1 Quart capacity 8″ diameter bowl to mold my cake but you can equally use an 8″ cake ring or springform pan with the bottom removed
Read more about vegan meringue above in the notes about Vegan Meringue!
For more recipes like this one click the links below!
Vegan Concorde Cake
Ingredients
For the Meringue:
Aquafaba ¾ cup (177ml)
Cream of Tartar ¼ teaspoon *see notes
Granulated Sugar ¾ cup (150g)
Water ⅓ cup (80ml)
Confectioners Sugar ¼ cup (30g)
Unsweetened Natural Cocoa Powder ¼ cup (20g)
For the Chocolate Mousse:
Semi Sweet Vegan Chocolate Finely Chopped 1½ cups (226g)
Hot Strong brewed coffee 5 Tablespoons (75ml) *see notes
Granulated Sugar 4 Tablespoons (50g)
Aquafaba ⅓ cup (80ml)
Cream of Tartar ¼ teaspoon *see notes
Optional Garnish: Shaved Chocolate 2 ounces
Powdered Sugar for sprinkling 2 Tbs
Instructions
First prepare the pans for the meringue sticks & discs and you will need 2 sheet pans lined with parchment paper
On the one parchment paper for the round discs of meringue trace the diameter of the vessel you are using (*I am using an 8" diameter bowl) and then 2nd circle will be slightly smaller for the center layer of meringue in side the cake.
Now prepare the Italian meringue by combing the sugar & water together in a small sauce pot and bring to a boil, do not stir after the solution has come to a boil or you will get sugar crystals.
Add an instant read thermometer to the pot and continue cooking to 240F
Meanwhile start whipping the aquafaba & cream of tartar in the mixer bowl of your stand mixer *see notes
By the time the sugar reaches 240F the meringue should be to thick & glossy peaks at which point you will start to slowly pour in the sugar syrup while continuing to whip on high speed
Once all the syrup is added remove from the mixer and gently fold in the sifted confectioners sugar & cocoa powder
Transfer the chocolate meringue to a large pastry bag with a round tip inserted (*I use a coupler with no tip)
First pipe the round discs and the remaining meringue is for the chocolate sticks, but piping long strands from one end of the pan to the other *see video tutorial
Bake in a dehydrator set at 155F or the lowest setting in your oven at 170F for at least an hour to 3 hours or until they have dried out and are completely crisp
Once the meringue is finished start the chocolate mousse
First line your vessel *I am using an 8" diameter bowl with plastic wrap for easy removal later
Melt the vegan chocolate in a large mixing bowl then add the sugar to the hot brewed coffee
Add the coffee mixture to the melted chocolate and whisk smooth
Prepare the aquafaba meringue by whipping it together with the cream of tartar to firm glossy peaks
Next whip your vegan whipping cream to medium firm peaks
Fold half of the whipped cream into the chocolate base inn the bowl and then fold in all of the whipped aquafaba
Last fold in the remaining whipped cream and then pour half of the mousse into the prepared bowl or pan
Place the smaller of the 2 circles in the center and then add the remaining chocolate mousse over top
Lay the final meringue disc over the chocolate mousse and refrigerate or freeze until set (approx 2 hours)
Un-mold the mousse onto a serving platter and then break up the chocolate meringue sticks to cover the entire mousse cake
Chocolate shavings and confectioners sugar go on top last
Notes
Concorde cake must be kept refrigerated at all times however this is what causes the meringue to get soggy. The Concorde cake is recommended to be prepared and served all on the same day to keep the integrity of the crisp meringue, however there is nothing wrong with eating it for several days after, just be aware that the crisp meringue will no longer be crisp after the first day