The original Tower of Death Cake has been for years one of my most popular desserts for those willing to take on such a feat of excellence!
Also known as the Death to Diets cake you can quickly see why!
I will issue an early warning though
Death by Peanut Butter Fudge Brownie Cheesecake is not for the weak!
Nor is the eating of these cakes as a matter of fact, since they are aptly dubbed The Death to Diets Cake(s)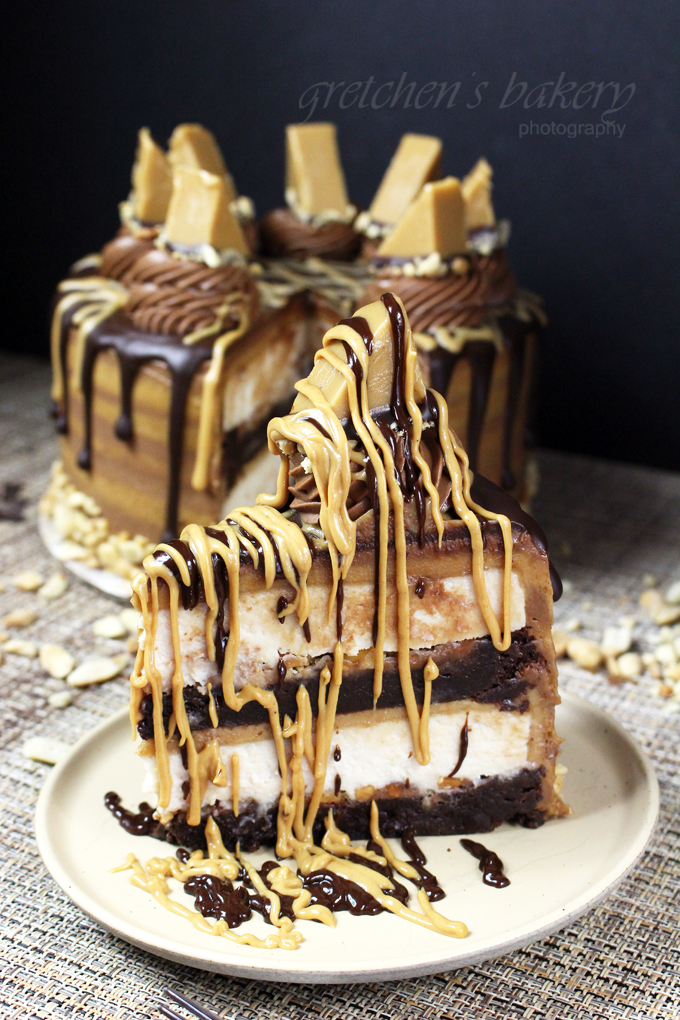 These are intense Building on Recipes projects where you are going to have to give yourself ample time to gather all the recipes together ahead of time before starting the build
Not too long ago I finally made the counterpart to the original chocolate monstrosity in pure Vanilla and Strawberry love form
Appropriately named the Tower of Love Cake.
While that one is a vanilla and a fruit lovers dream come true; don't let all that frilly, fruity vanilla fool ya!
But today seemed like the right time to create yet another Death by Dessert!
Introducing Death by Peanut Butter Fudge Brownie Cheesecake!
This cake weighed almost 7 pounds!
As the name so beautifully describes this towering cake
Made from layers and layers of brownies, cheesecake, peanut butter fudge and both dark ganache chocolate and light buttercream filling.
Clouds of peanut butter buttercream and ganache drips makes this cake perhaps the most diet disastrous than any of them!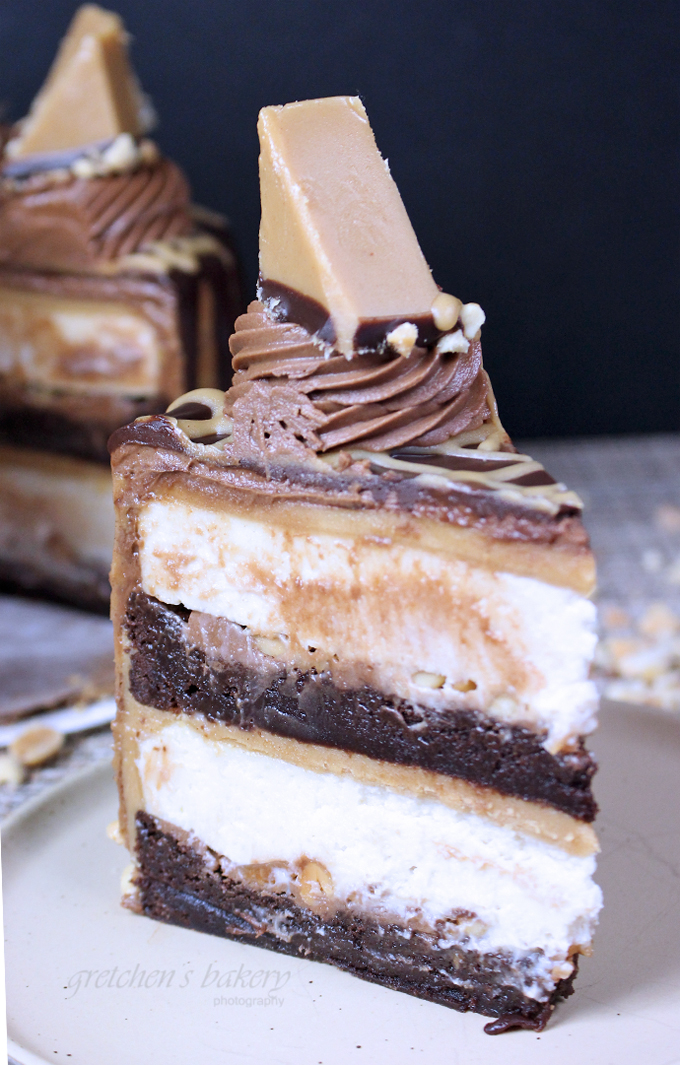 The Peanut Butter Refrigerator Fudge is not only for the layers inside this cake but also a bonus fudge garnish!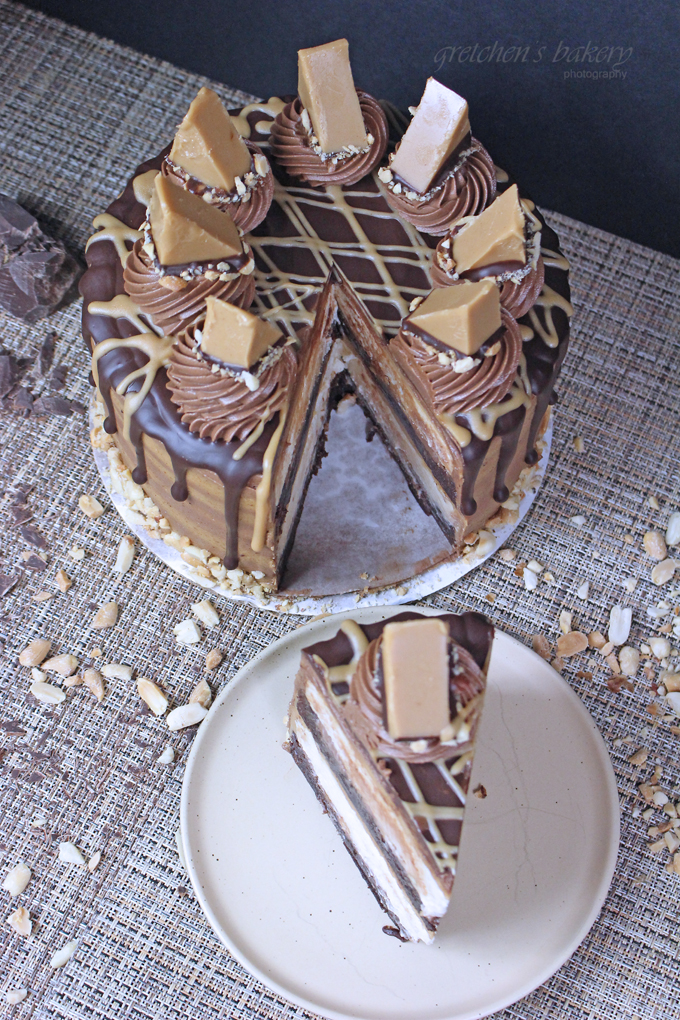 Dipped in ganache & crushed roasted peanuts, that fudge can actually be a main dessert all on it's own!
Clearly you see how all these recipes come together to make the most EPIC Building on Recipes ever!
I know it seems like a huge amount of work, but just look at the result!
Is this not worth it?!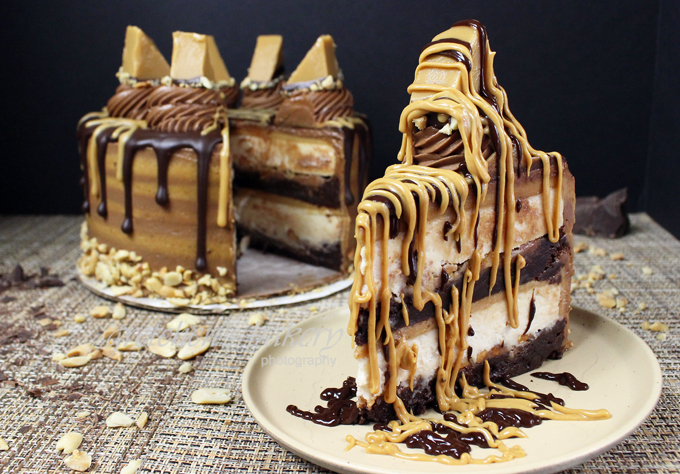 Just give yourself a two day window to get everything done.
Follow along in the instructions below and the video tutorial on YouTube for the step by step approach to making this cake a breeze!
CLICK HERE FOR THE FULL YOUTUBE VIDEO TUTORIAL FOR HOW TO MAKE THIS CAKE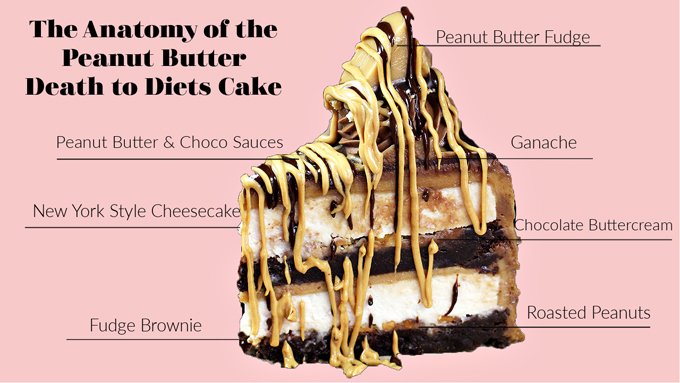 Notes for Success:
The Brownie and Cheesecake layers can be baked the day before and the refrigerated to firm and set for much easier handling.
I basically always have buttercream in my refrigerator so for me, that part was already done.
Add some cocoa powder and it's instant chocolate!
Vegan ganache has become a regular occurrence in my kitchen, it seems that I whip up a batch of ganache as often as my morning oatmeal!
The Peanut butter fudge is the only recipe that has to be made ala minute because you want it to be a pour able consistency to fill the cake, and also to make that bonus fudge garnish!
I don't often tell you that "you must buy this" or "you must buy that" but I will recommend to invest in a roll of Acetate Cake Strips for the assembly of cakes such as this one!
When measuring cornstarch I cannot stress enough that a kitchen scale is the best way to go.
Cornstarch is a very difficult ingredient to measure consistently with a volume spoons measure
So while I list both measures below I cannot stress enough how the grams measure with a scale is going to give you the best results.
Many times people have complained that their cheesecake is like rubber and they don't know why!
This is from a heavy measure of cornstarch when using volume measuring spoon vs the 100% accurate scale measure in grams.
I only use Tofutti Cream Cheese for my BAKED recipes. *Not sponsored
I have not had success with any other brand in BAKED recipes.
For some reason the other more expensive brands I've tried have broken down into an oily mess when baked.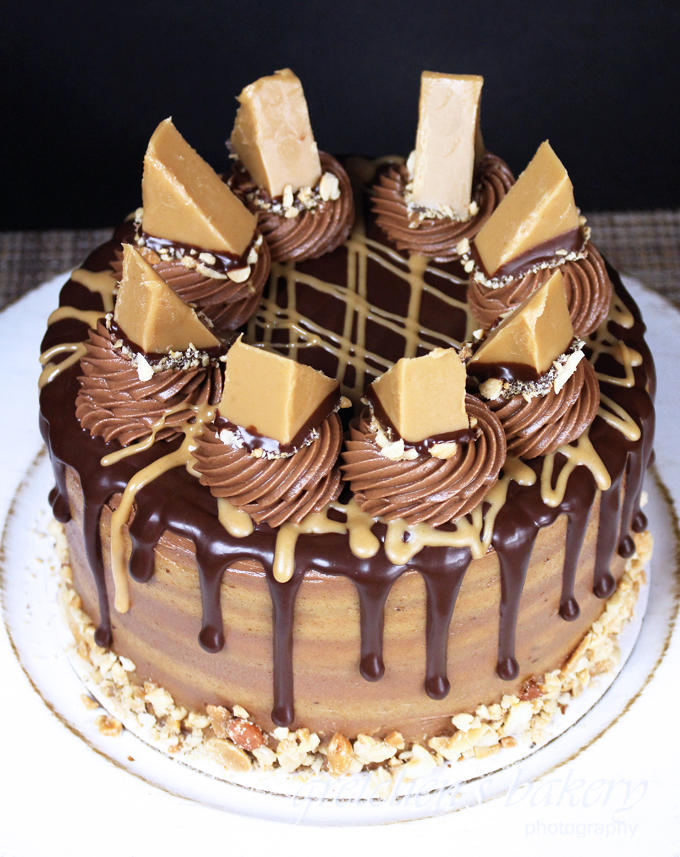 For More Peanut Butter Recipes click the links below!

COPY CAT REESE'S PEANUT BUTTER CUPS
Death by Peanut Butter Fudge Brownie Cheesecake
Death by Peanut Butter Fudge Brownie Cheesecake Prep time: 24 hours Cook time: 35 mins Total time: 24 hours 35 mins Serves: serves 10 I only use Tofutti Brand Cream Cheese for baking *not sponsored~ it's the only one that works for me in BAKED recipes
All of the recipes below *except for the peanut butter fudge can be made as far in advance as 4-5 days. Just keep everything wrapped well and refrigerated until you are ready to build the cake
Ingredients
1 Recipe Fudge Brownie baked into 2-7" pans
Cocoa Powder ¾ cup
For the Cheesecake:
Vegan Cream Cheese *see notes above 16ounce (454g)
Vegan Butter melted 2 tablespoons (28g)
Granulated Sugar 1 cup (200g)
Cornstarch 4 Tablespoons (32g)
All Purpose Flour 3 Tablespoons (24g)
Plant Milk *I use soy milk 6fl oz (177ml)
Vegan Lactic Acid or apple cider vinegar 1 teaspoon
Salt ¼ teaspoon
Vanilla Extract 3 teaspoons (15ml)
For the Peanut Butter Fudge:
Creamy Peanut Butter 1 cup
Agave Syrup ½ cup
Coconut Oil ½ cup
For the Peanuts Layer and garnish: toasted & chopped Peanuts~ 1½ cups
Instructions
Prepare 4- 7" cake pans with professional bakery pan grease & parchment paper lining.
Prepare the cheesecake batter by placing all of the cheesecake ingredients into the work bowl of your food processor and pulse to blend
Scrape the sides of the bowl to ensure an even mix then blend again to a smooth mixture
Divide the batter equally into 2 portions and pour into the greased & parchment lined cake pans and bake in a water bath in a preheated 350°F oven for 40 minutes.
Prepare the brownie as per the instructions on that recipe and divide this batter into 2 equal portions into the other 2 cake pans.
Bake with the cheesecake layers at 350°F for approximately 30 minutes, I like to keep my brownies slightly under baked **optional
Cool both the cheesecake layers and the brownie layers in the pan completely and then turn out just the brownie layers onto a cooling rack.
Keep the cheesecake in their pans until ready to build the cake.
Prepare the buttercream recipe as per the recipe instructions on that post and add ¾ cup cocoa powder at the last stage of mixing for a chocolate buttercream.
Prepare the ganache recipe and reserve keeping warm to a pour able consistency
When you are ready to assemble the cake, prepare the peanut butter fudge by combining the peanut butter, coconut oil and agave in a medium heavy bottom sauce pot and heat over medium heat whisking often until melted & smooth.
If you have a silicone mold for butter sticks like I did, pour some of the peanut butter fudge into 1 cavity of the mold for the peanut butter fudge garnish, the rest will go as layers in the cake.
The peanut butter fudge will only set in the refrigerator so keep that in mind, you will have to set it to unmold it, and cut it for the garnish. Keep this in mind as the peanut butter fudge is a "refrigerator fudge recipe" so if your finished cake is sitting out at room temperature too long, the fudge will start to melt
Start building the cake by setting up a cake ring mold lined with an acetate cake strip or a springform pan with no bottom attached.
Start by spreading a small amount of chocolate buttercream over the brownie layer and then about ½ cup of the roasted peanuts
Unmold one of the cheesecake layers directly onto the first brownie layer and then pour half of the peanut butter fudge over top.
Allow it to set and then repeat the exact layering process with the remaining brownie, peanuts, cheesecake and peanut butter fudge.
Refrigerate to set for at least 1 hour then remove the cake ring and acetate strip and ice the cake with the remaining chocolate buttercream.
Ganache drips and large rosettes of chocolate buttercream for the garnish
Additional roasted peanuts for the bottom border garnish and then place the ganache dipped fudge triangles on each piece.
Notes
Death by Peanut Butter Fudge Brownie Cheesecake must be kept refrigerated at all times and will stay fresh loosely wrapped in the refrigerator for up to 10 days
3.5.3251
3.5.3251