Vegan crepe cake in stunning powder blue natural food color!
There's just something about Easter that paves the way to powder blue food!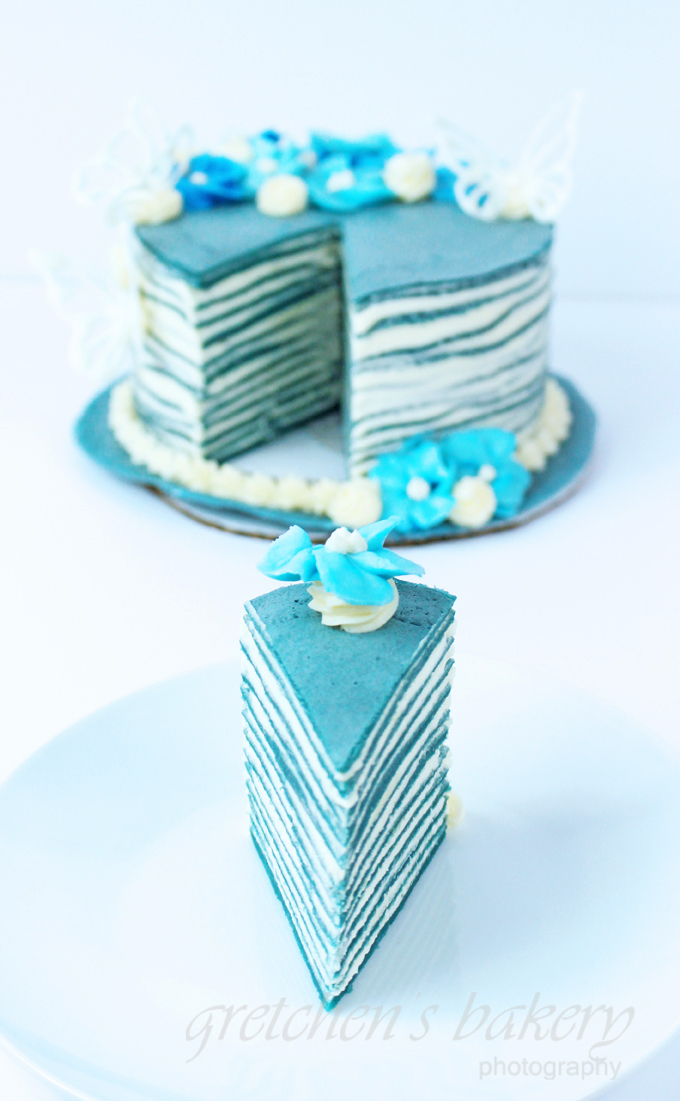 If you love crepes then vegan crepes are a no brainer!
They are so easy to make the only thing you kinda need is a crepe pan or at least a small non tick frying pan to get the job done.
Crepe batter is a simple, "throw it all in the blender" mix method
Let the batter thicken up in the refrigerator for about an hour before frying up the crepes.
Today I added blue butterfly pea flower for a natural and stunning super color burst
*not sponsored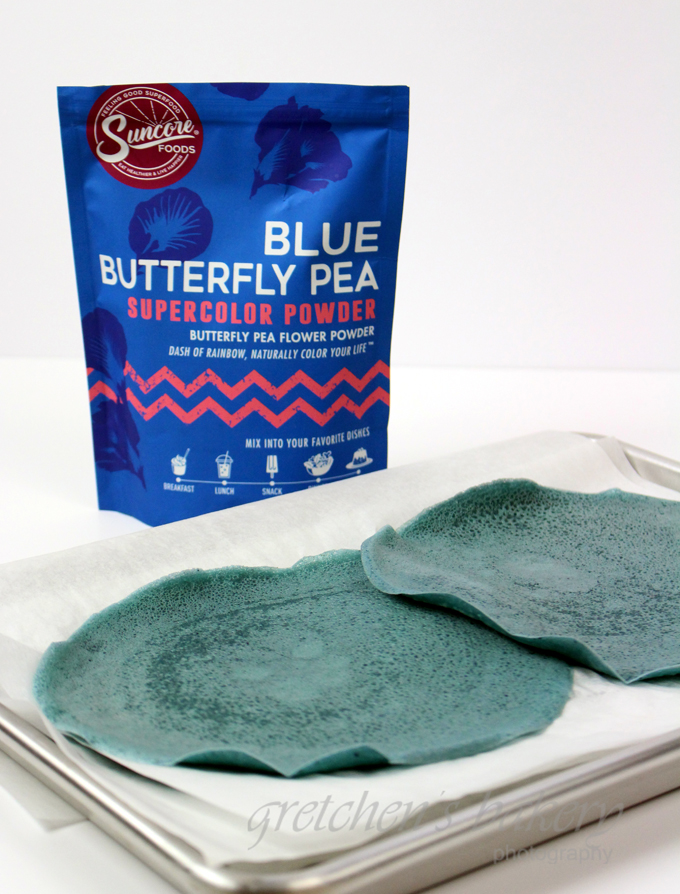 Making a crepe cake is not difficult you just have to have some patience because you can only fry up one crepe at a time.
But by layering them on a parchment lined sheet pan you can honestly get this part of the project done a day ahead of time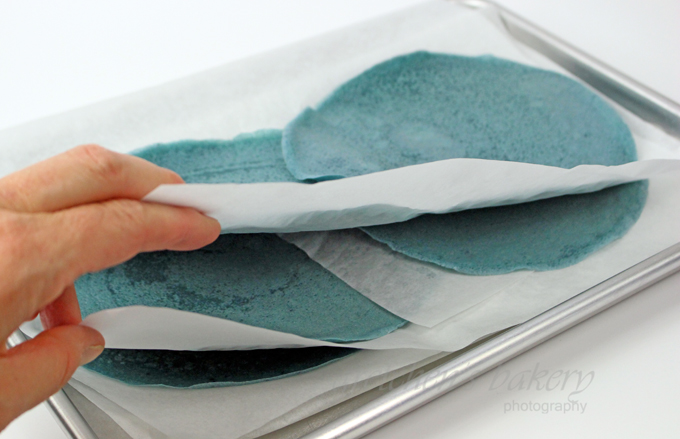 Assembling the cake takes less than an hour.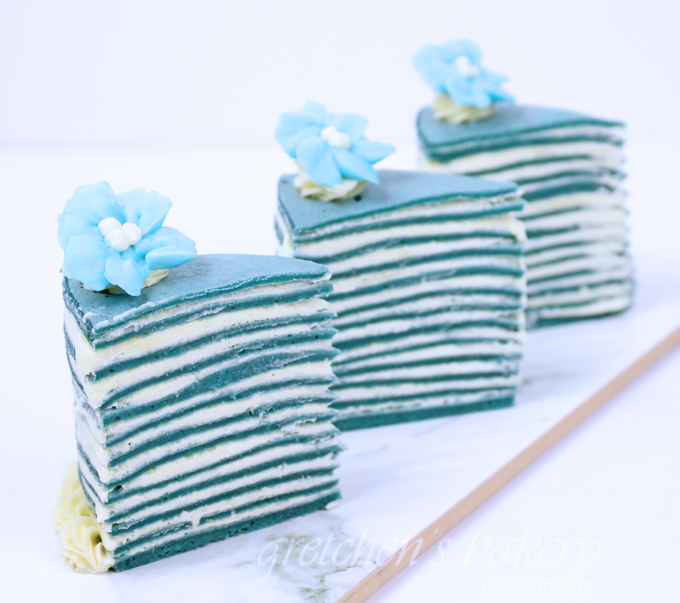 I am using vanilla buttercream for the filling because the crepes are not sweet at all
So the buttercream doesn't overpower the cake in any way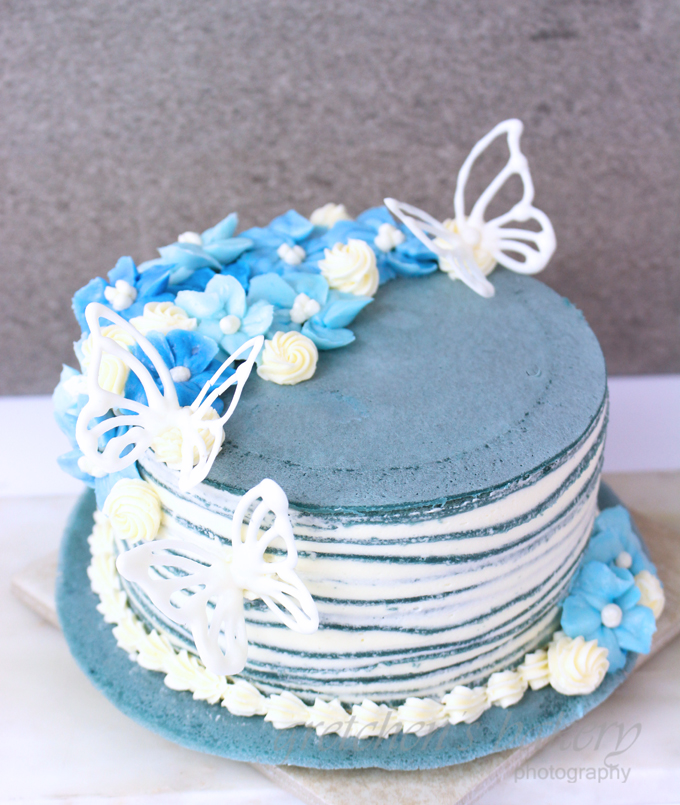 Of course Vegan Whipped Cream would be amazing here as well
I have a few recipes you can choose from if you want to make your own vegan whipping cream
CLICK HERE FOR THE FULL ARTICLE ABOUT ALL THE VEGAN WHIPPED CREAM OPTIONS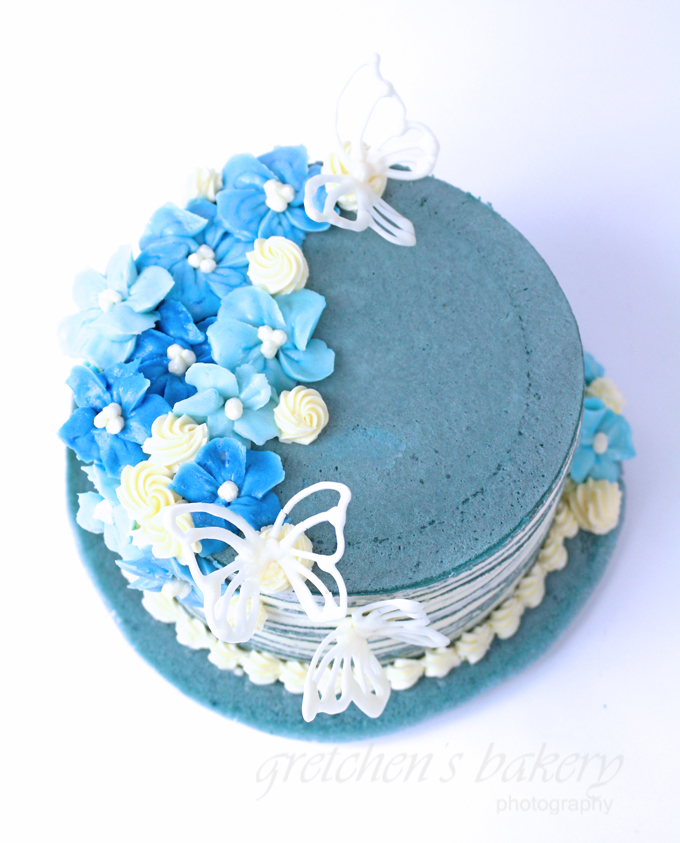 If you don't have the Blue Butterfly Pea Flower Powder you can still make this recipe!
You can equally use blue spirulina as food color or even another food color of your choice.
Or just keep it neutral!
The delicate white chocolate butterfly is an optional garnish but I just really loved the look!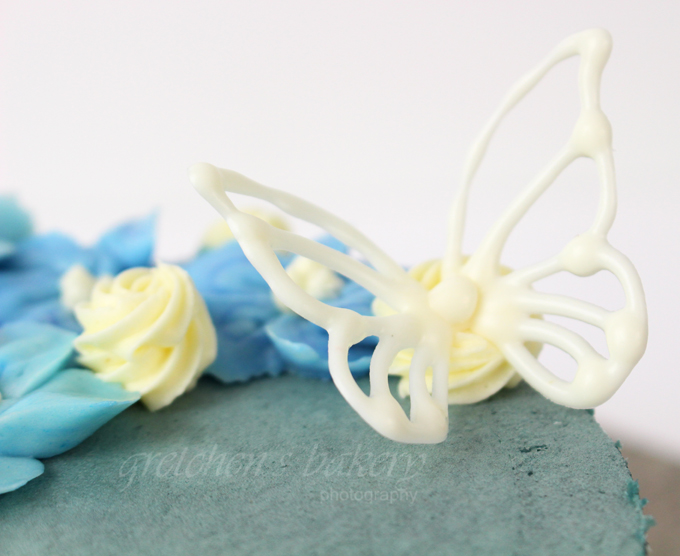 I use King David Vegan White Chocolate for all my white chocolate baking & decor!
The Buttercream flowers are also optional but really bring together the entire theme of this spring butterfly pea flower cake!
CLICK HERE FOR A FULL YOUTUBE TUTORIAL FOR HOW TO MAKE BUTTERCREAM FLOWERS
One last thing for those who really don't want to get into a whole cake project but love eating crepes!
Why not just stuff them with a berry compote and add some vegan whipped cream for a perfect fruity breakfast!
See the recipe below the recipe for how to make the berry compote!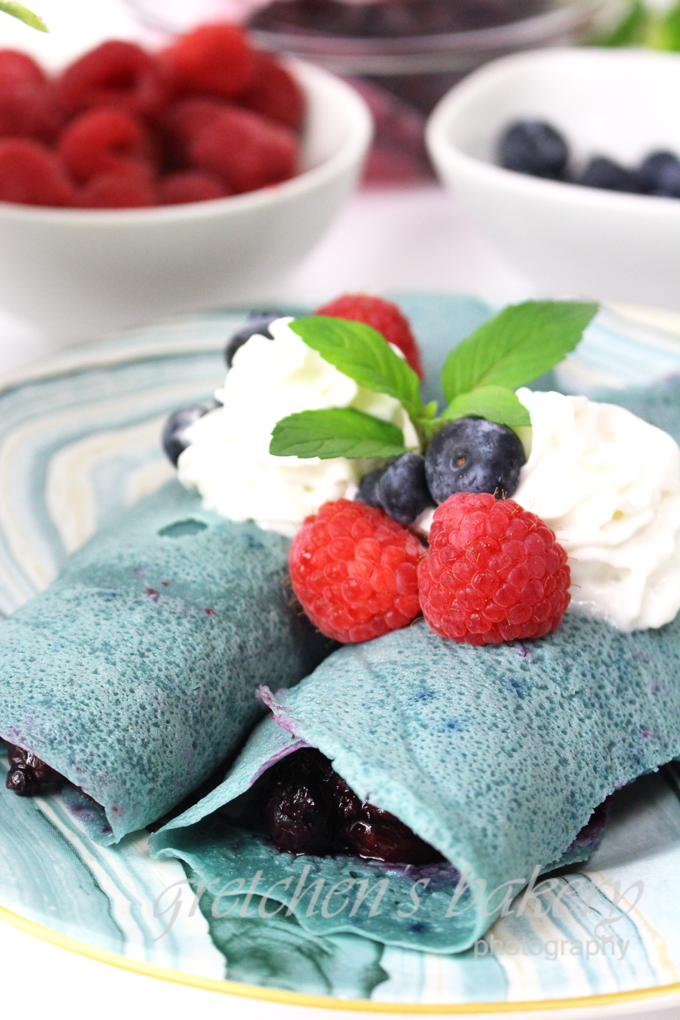 CLICK HERE FOR THE FULL YOUTUBE VIDEO TUTORIAL FOR HOW TO MAKE THE CREPE CAKE!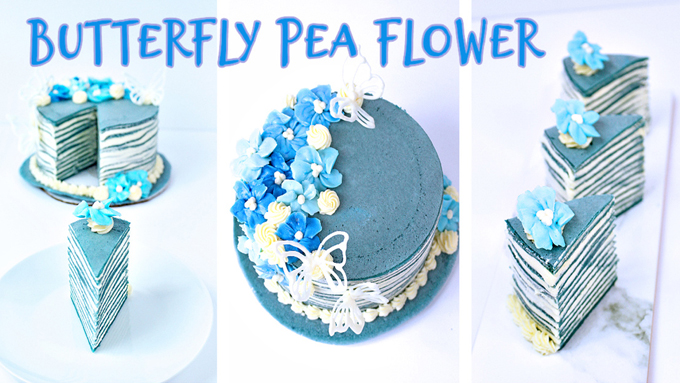 For more great layer cake recipe click the links below!
Matcha Cake Recipe ~Vegan Green Tea Cake
White Chocolate Strawberry Cake

Yield: 12 crepes
Vegan Crepe Cake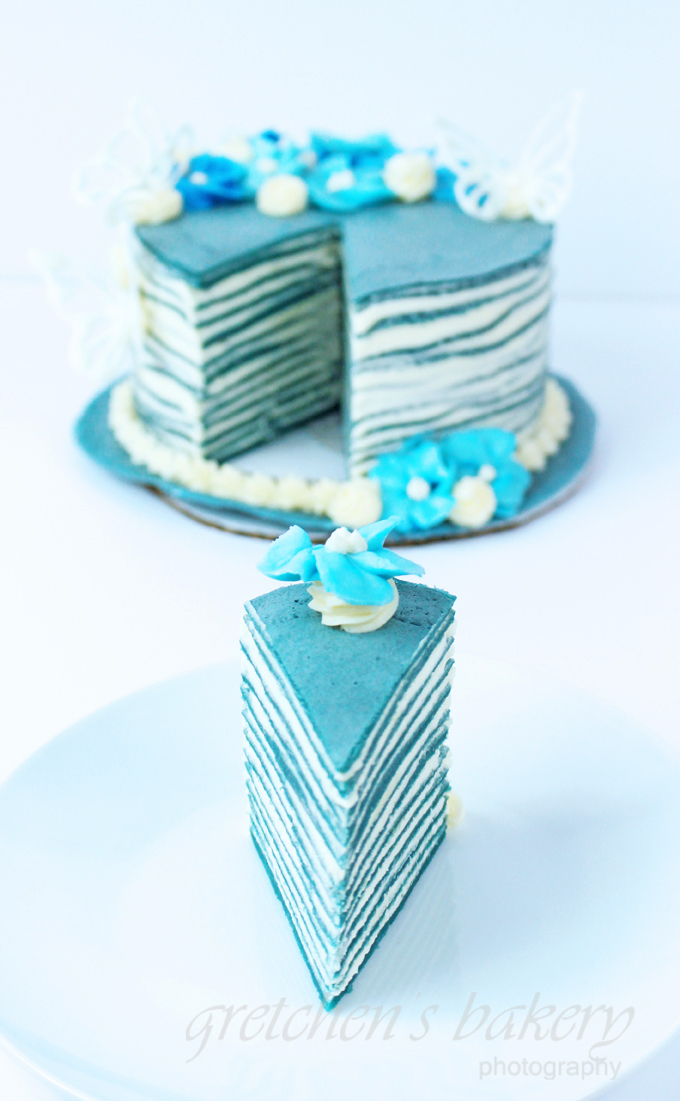 The recipe below is for 12 crepes
This is the recipe I used to make the 6" crepe cake as shown.
Ingredients
For the Crepe Batter:
All Purpose Flour 1½ cups (185g)
Butterfly Pea Flower Powder 3 teaspoons
Cornstarch 1 Tablespoon (8g)
Sugar 3 Tablespoons (45g)
Baking Powder 1 teaspoon
Salt ¼ teaspoon
Vegan Butter melted 3 Tablespoons (45g)
Plant milk * I used soy milk 2 cups (475ml)
Vanilla Extract 1 teaspoon (5ml)
OR
Instructions
If you are making the crepe as a cake like I did, you may want to prepare your vegan whipping cream recipe OR vegan buttercream recipe a day ahead of time.
Be sure to read those instructions *especially for the vegan whipped cream before beginning.
For the Crepe Batter:
Combine all the ingredients for the crepe batter into a high speed blender or food processor and blend smooth
Let it run for 30 seconds and be sure to scrape the sides of hte blender carafe for an even mix
Pour the batter into a container and refrigerate for at least 1 hour or overnight
Stir it vigorously before frying the crepes.
With a crepe pan or non stick 6" diameter frying pan get it hot over a medium to high heat.
Lightly spray it with cooking spray and then pour a scant ¼ cup of crepe batter into the hot pan then tilt it all around to get the batter to spread evenly.
Cook for approximately 1-2 minutes and then loosen the edges with a small spatula and flip it over carefully to cook on the other side.
Be careful not to brown the crepes, you want to keep the vibrant blue color, so you will have to monitor your heat
Transfer the cooked crepe(s) to a parchment lined sheet pan
Repeat the process until all the crepes are cooked with a very small spray of grease in between each crepe.
Layer the crepes on the sheet pan with parchment between each layer do not stack cooked crepe on top of each other with out a parchment liner.
Once the crepes are cooled you can build the cake with 2 ounces of buttercream or whipped cream between each layer
Notes
Crepe batter can stay in the refrigerator for up to 3 days, re-blend before using.
Crepe cake made with buttercream can stay at room temperature for up to 2 days, whipped cream filled crepes must be kept refrigerated at all times.

You can freeze cooked crepes wrapped very well for up to 1 month
For the mixed berry compote I don't typically do measurements
But for a 2 cup yield I started with 3 cups of frozen berries.
Any combination will be great, but I always like to add cranberries for added natural thickening.
I also use frozen berries more often than fresh because they tend to be sweeter and break down much easier without the need for added liquids.
But if you want to start with fresh berries you may have to add a few tablespoons of water to help the cooking process.
I added 1/3 cup of sugar to the 3 cups of berries and this can always be adjusted up or down to your liking.
Cook the berries over medium – low heat for about 30 minutes stirring often
The berries will naturally start to break down as they cook and thicken up as they cool
Berry compote will stay fresh in the refrigerator for up to 1 week.