Now that we have veganized and mastered so many of the Classic Cakes and Pastries
We can move onto what is probably one of the most advanced pastries to make:
The Vegan Croquembouche!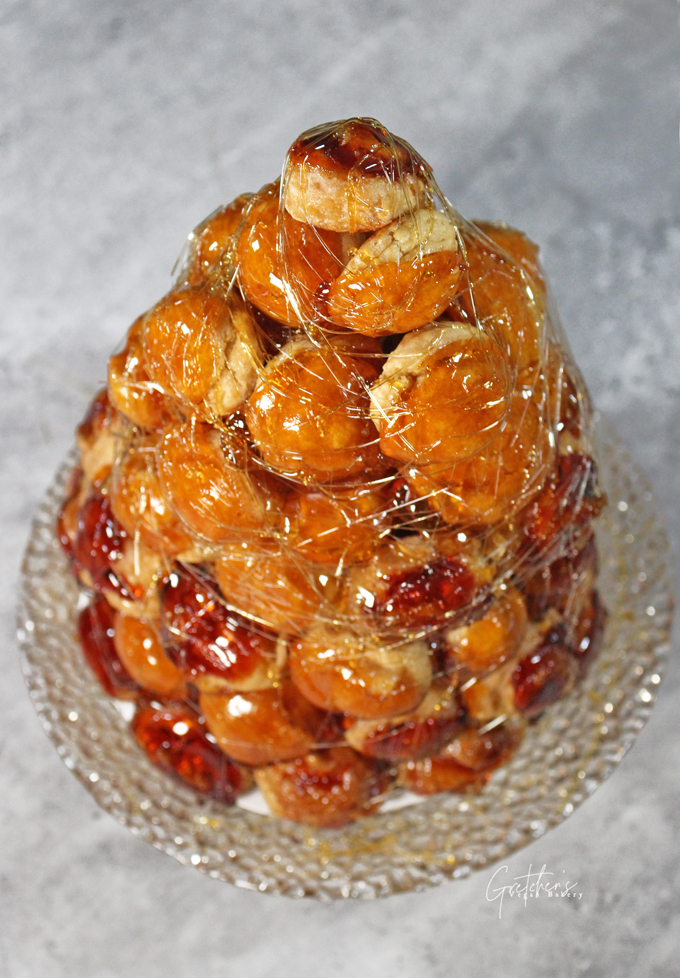 Croquembouche is very simply tower of cream puffs all bound together with caramel!
But this simple idea is definitely not for the faint of heart or the beginner pastry chef! Believe me!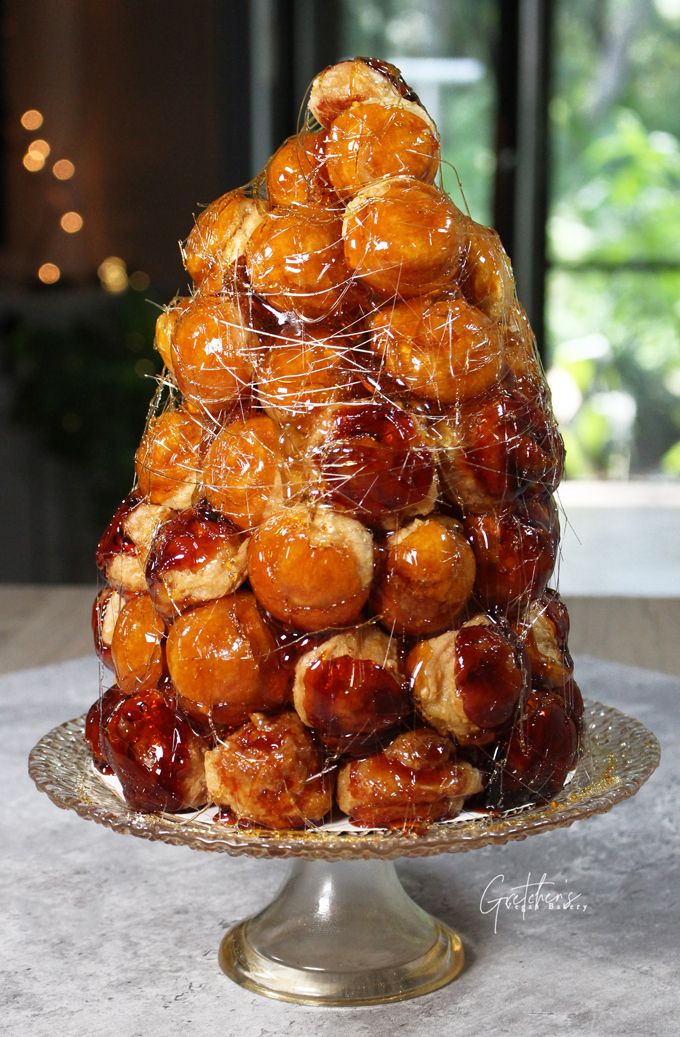 But for those ready for a challenge this one is for you!
We already know how to make the best vegan cream puffs and caramel is an easy one
Now all you need is time and a ton of patience!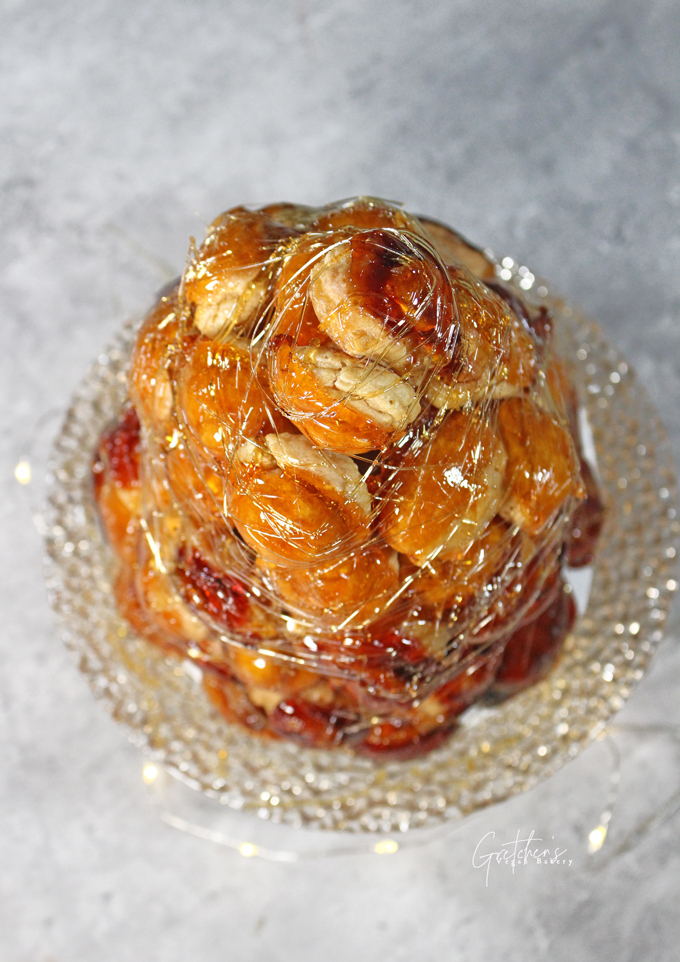 Notes for Success:
Cream puff Choux Pastry (a.k.a Cream Puff Shells) can be prepared well in advance but not filled with the pastry cream until the day you are ready to assemble the Croquembuche
I am using a #10 Ateco tip with a coupler to fill the puffs
The caramel must be made ala minute since it has to be hot and drippy to act as the glue that holds it all together!
You may end up needing more caramel than the specified amount I listed below, so be prepared to make a second batch (or a 4th batch if you are me! Uggh)
You will notice corn syrup is listed for the caramel this is not essential however corn syrup is an invert sugar which helps to prevent crystallization
Additionally when making caramel is is imperative that you DO NOT STIR the sugar solution once it has started to boil or you will get crystals
WATCH THE YOUTUBE VIDEO FOR HOW TO MAKE THE CROQUEMBUCHE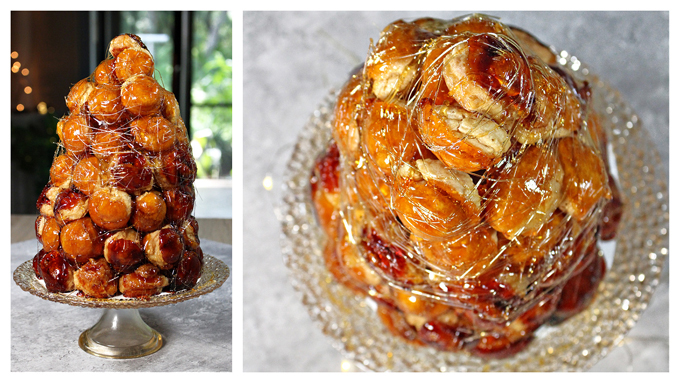 Croquembouche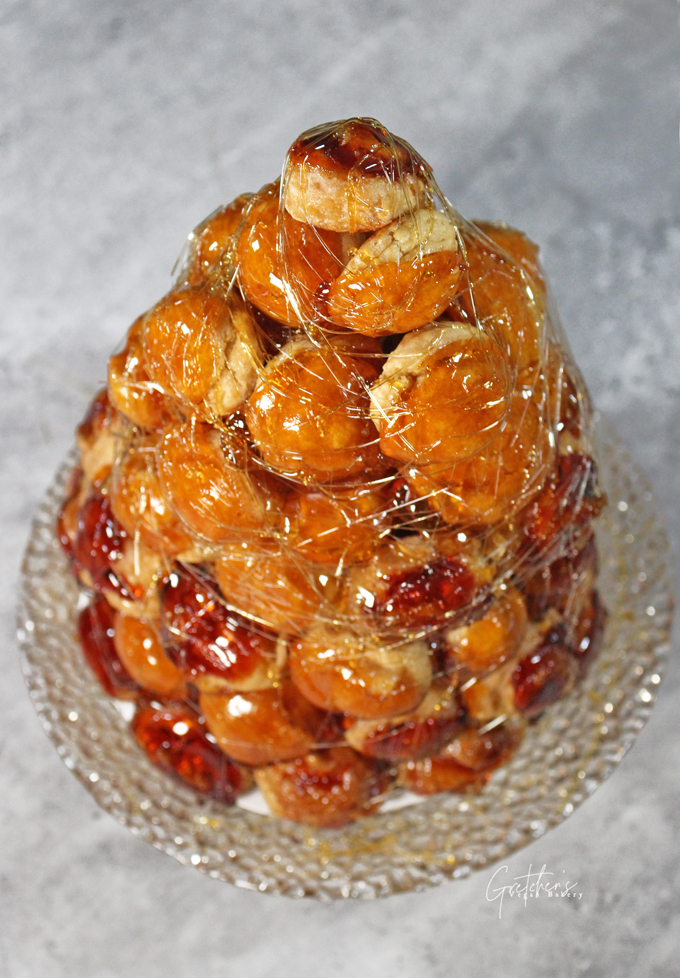 Total Time
4 hours
35 minutes
Ingredients
For the Custard:
Plant Milk 3 cups (700ml)
Granulated Sugar 1 cup (200g)
Cornstarch 7 Tablespoons (56g)
Vegan Butter 3 Tablespoons (42g)
Vanilla Extract 1½ teaspoons (7ml)
For the Caramel:
Granulated Sugar 2½ cups
Water ½ cup
Corn Syrup *optional 2 Tablespoons
Instructions
First prepare the pate a choux recipe according to the recipe & video tutorial for that recipe
You will pipe approximately 48-54 miniature puffs each one to teh size of about 1¼ in in diameter onto a silicone baking mat or parchment paper lining
Prepare the pastry cream custard by combining the sugar with the cornstarch & then add that to the plant milk in a large sauce pot
Bring everything to a full rolling boil over medium to high heat whisking constantly to avoid scorching
Once it comes to a full boil remove from the heat and add the vegan butter and the vanilla extract, whisk smooth
Transfer the hot custard to a large mixing bowl to cool before filling the puffs
Refrigerate until ready to fill the puffs
Poke a small hole in the bottom of each puff and with a pastry bag and small round tube (Ateco #10) pipe the cold custard into each puff shell
Next prepare the caramel by combining the sugar with the water and optional corn syrup (corn syrup prevents crystallization)
Once the sugar solution comes to a boil DO NOT STIR!
Once the color starts to turn a light amber color remove from heat & shock the pot in an ice water bath to stop the cooking
Allow the caramel to settle down for about 3-4 minutes and then carefully dip the tops of each puff into the hot caramel *I CANNOT STRESS ENOUGH TO BE CAREFUL WHEN WORKING WITH HOT CARAMEL
Next start gluing the filled caramel dipped cream puffs onto a 6" cake board making sure that the caramel top is facing outward~ so this will mean you are stacking the puffs on their sides to build the tower. You may have to rewarm the caramel several times as you are working since it will eventually start to set
Continue stacking, gluing & building until you form a complete tower
Next using the remaining caramel (or you may have to make a new recipe?) using a fork slowly drizzle drips of caramel all around the Croquembuche to for a spun sugar cage
Notes
Croquembuche is meant to be made and served on the same day. The caramel will not withstand refrigeration (and custard filled cream puffs must be kept refrigerated) therefore this dessert creates a conundrum.
The Pate a choux can be baked well in advance and frozen until you are ready to fill them with custard, but once you do you must build the Croquembuche